New Arterra Porcelain Pavers Are Perfect For Outdoor Living
July 13, 2021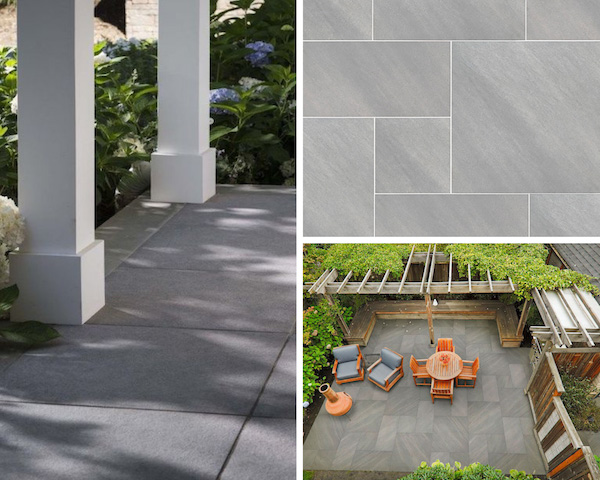 After a long day at work, you probably want to sit back and relax with the family. Doing so is especially enjoyable if you have an outdoor living space! But if you're still in the process of designing your outdoor space or your existing area needs some sprucing up, you may be in the market for an outdoor flooring option like porcelain pavers — and we don't blame you! As an alternative to natural stone, you'll be able to create a one-of-a-kind outdoor space with an understated elegance but at a much more affordable price point. To help clarify why installing outdoor porcelain tile is a no-brainer, we've outlined the benefits of Arterra porcelain pavers and shared a few of our favorite selections.
Why Install Arterra Porcelain Pavers Outdoors
There's no better place to spend quality family time than in your home's outdoor living space. But to make your dream outdoor space come to life, there's a lot of elements that need to be perfectly selected — including the flooring. If you're questioning porcelain vs. ceramic tile during your search for the optimal flooring option, we're here to help. To make the decision a bit easier, we've put together a list of the benefits of installing porcelain pavers.
Cost
Home improvement projects are all fun and games until you get the final bill. If you're concerned about the seemingly never ending list of costs, you may be wondering what outdoor flooring option you can get within your budget. While you may love the look of natural stone, you probably don't like its expensive price point — and we're with you there! That's why we often recommend porcelain pavers for outdoor spaces. You'll be able to get the look of natural stone that you want but at a fraction of the cost! That's a win-win for aesthetics and affordability!
Durability
Because you'll be installing this flooring outdoors, you can't just select the first option you find and call it a day. Instead, you need to find pavers that are durable enough to stand up to whatever Mother Nature throws their way. Plus, if you're installing the pavers in an area with heavy foot traffic you need to make sure they're up for the job! Porcelain pavers are extremely durable which is why they're a popular choice for outdoor applications. You can have peace of mind knowing that they'll be able to hold their own no matter the weather outside.
Water-Resistant
There are few things worse than experiencing damage to something you invested a lot of time and money into. Imagine installing pavers, only to have them become stained or damaged after a rainstorm. Certain pavers are made out of materials that absorb moisture, which can cause structural damage or staining — neither of which you want for your pavers. Instead, opt for a less porous option like porcelain pavers that are essentially water-resistant. This means that they'll be able to maintain their luxurious appearance even after Mother Nature makes her mark.
Ease of Maintenance
For the most part, you want your outdoor hardscaping to be out of sight, out of mind — and by that, we mean you want to admire its beauty and not have to worry about visible damage or blemishes detracting from its appearance. If you select a paver with a more porous composition, you're going to find yourself constantly sealing, scrubbing, power washing your pavers to keep them looking sharp. Instead, you can install porcelain pavers that are resistant to much wear and tear. As a result, you'll be able to keep them looking their best without spending hours on the weekend maintaining them.
Transitional
One of the best parts about porcelain pavers is that they look good in a variety of applications, both indoors and outdoors! This allows you to create a seamless transition between your indoor and outdoor living space by incorporating your porcelain pavers in both areas. Not only will they create your desired aesthetic in your outdoor space, but will allow you to elevate your indoor space and build a cohesive aesthetic that will leave your guests speechless.
Find out more about MSI's Arterra porcelain pavers that are ideal for a variety of applications:
MSI's New Arterra Porcelain Pavers
Interested in porcelain pavers, tile, and stone but not sure where to get started? Don't fret — we've got the lowdown on the best porcelain pavers for your home's outdoor living space. MSI's True Bluestone and Fossil Snow porcelain pavers are reminiscent of natural stone, particularly of slate, and can be laid in concrete or atop grassy landscapes to create your dream outdoor setting. Here's why we recommend either of these new Arterra porcelain pavers.
True Bluestone Porcelain Pavers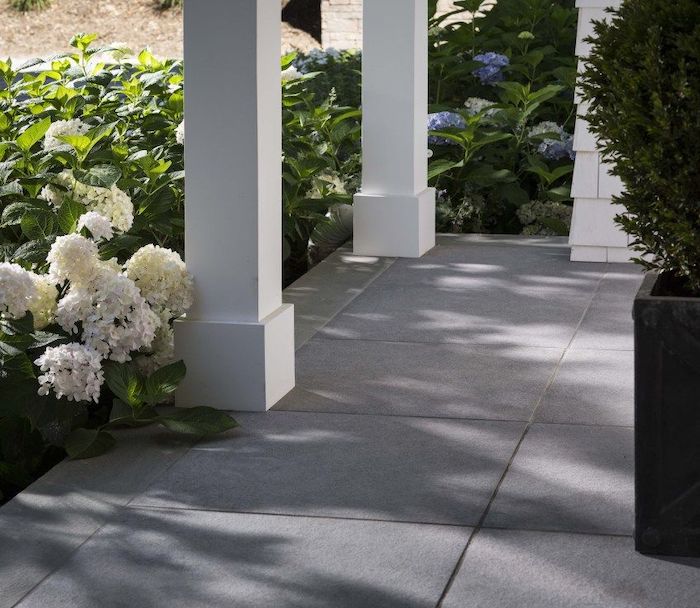 Photo Credit: @belgard.com on Pinterest
For a chic appearance, look no further than our truly remarkable True Bluestone Porcelain Pavers. In a shade of blue-gray, these sleek porcelain pavers are perfect for a variety of applications. Whether you plan to set them in concrete or lay them in a wow-worthy pattern in grassy beds, you won't be disappointed in your selection. With their moody coloration, they give off a rustic look without causing any damage to the pavers — but are resistant to fading and won't show signs of wear and tear after facing the outside elements! True Bluestone porcelain pavers are available in three sizes, 24"x24", 24"x48", and jumbo, making it easy for you to completely customize your outdoor living space and arrange the pavers in the pattern of your dreams!
Fossil Snow Pattern Arterra Porcelain Pavers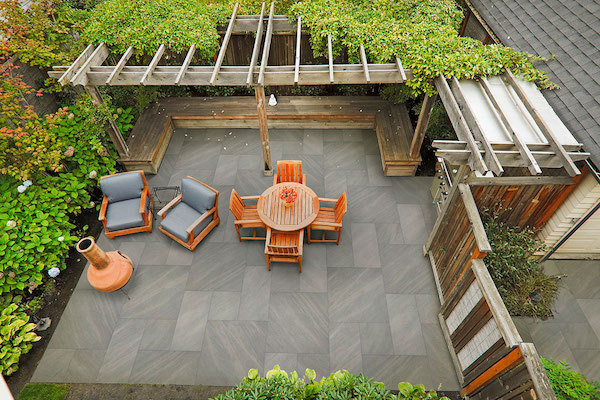 You may want to create a classic, yet sophisticated outdoor space. But navigating the transition from a luxurious indoor living space into an outdoor space can be more difficult than you expected! Instead of stressing out about how you're going to create a high-end outdoor space, consider MSI's Fossil Snow Pattern Arterra Porcelain Pavers featuring an icy white tone in a subtle pattern with a matte finish. With their classic but luxurious appearance, they're the perfect paver choice for indoor and outdoor applications, allowing you to create a seamless transition between your indoor and outdoor spaces. Get the look of an expensive natural slate without the hefty price tag with this modern tile. Instead, you can create your desired aesthetic with the help of Fossil Snow porcelain pavers that are available in oversized and pre-set patterns.
READ MORE ABOUT OUTDOOR SPACES with PAVERS AND PORCELAIN TILE:
Alfresco Living with Our New Concerto Indoor & Outdoor Porcelain Tile Collection
Can Porcelain Tile Be Used Outdoors?
Coordinate Your Indoor & Outdoor Spaces with Matching Porcelain Tile & Pavers
How to Install Arterra Porcelain Pavers for Perfect Outdoor Living