How To Successfully Pair Real Marble With Marble-Look Porcelain Tile
November 20, 2018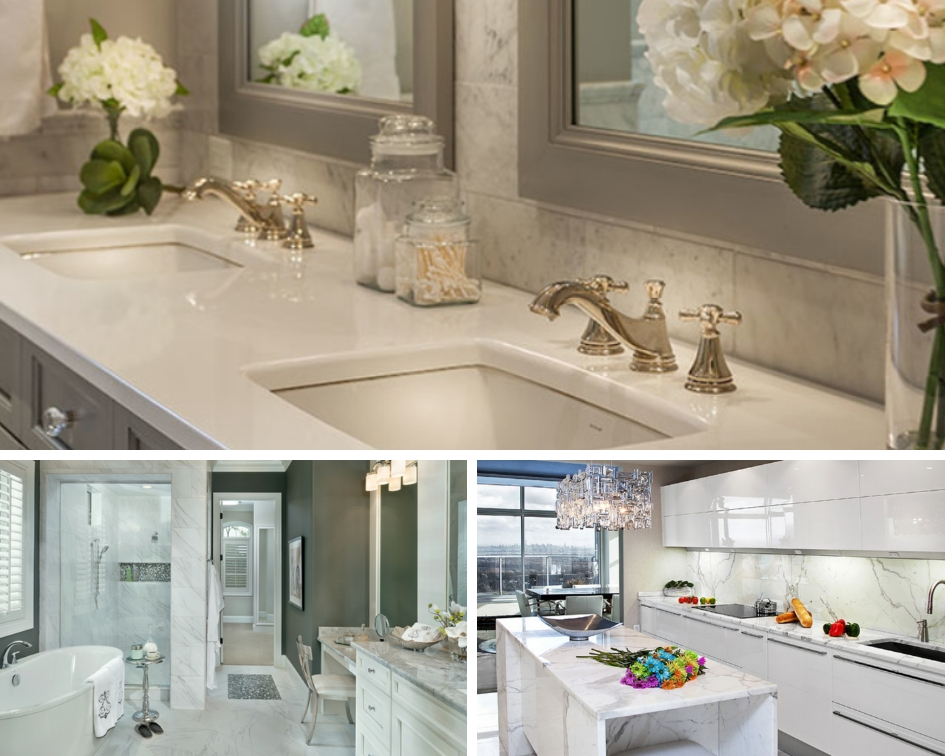 We all love the beauty of natural marble, which instantly evokes a sense of luxury and glamor. Still, as much as we wish we could afford it, natural marble throughout an entire project is out of reach for many homeowners. Never fear, because real marble can be used alongside high-quality marble-look porcelain tile, and no one will be the wiser!
With the advent and perfection of ink jet printing on porcelain tiles, you can achieve the look of natural marble in realistic patterns and colors. So, go ahead and create a seamless luxury look with budget-friendly porcelain alongside the more expensive natural marble…and enjoy your new high-end look! Here are a few of our favorite pairings.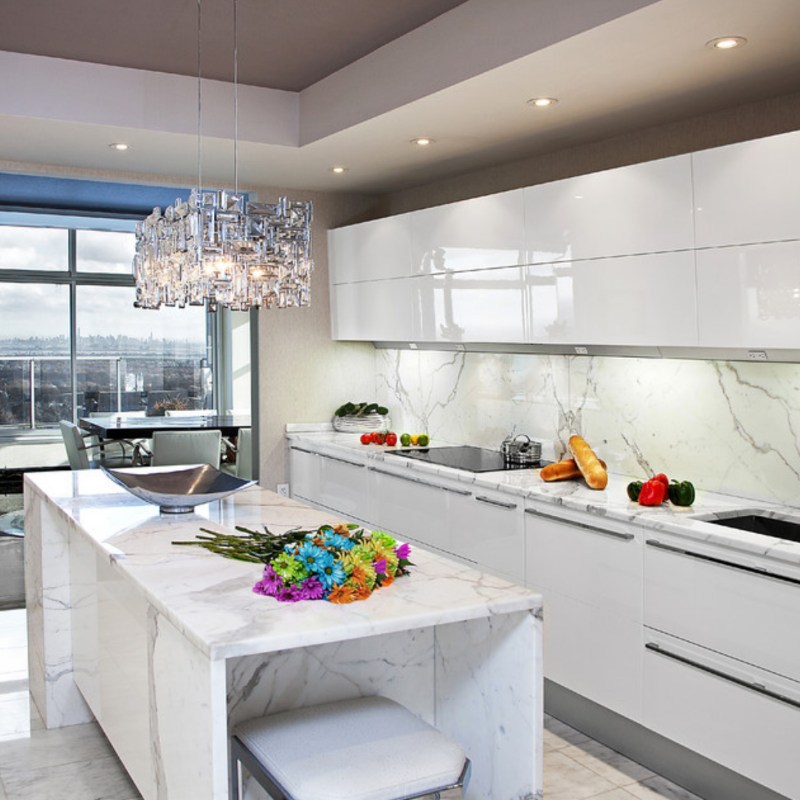 Get this look with MSI's Statuario Bari Polished Porcelain Slab backsplash and Calacatta Marble countertop (Photo Credit: Houzz)
Let's start in this stunning kitchen! Here, a gorgeous slab of Calacatta marble was chosen for both the countertops and island. The soft white and gray veins complement the modern tone of the high-gloss flat-front cabinetry. Surprisingly, the backsplash is also a slab—Statuario Bari, from our Stile porcelain slab collection. This seamless backsplash mimics the look of the Calacatta marble beautifully, and no one will ever know that this gorgeous kitchen pairs natural marble and porcelain slabs.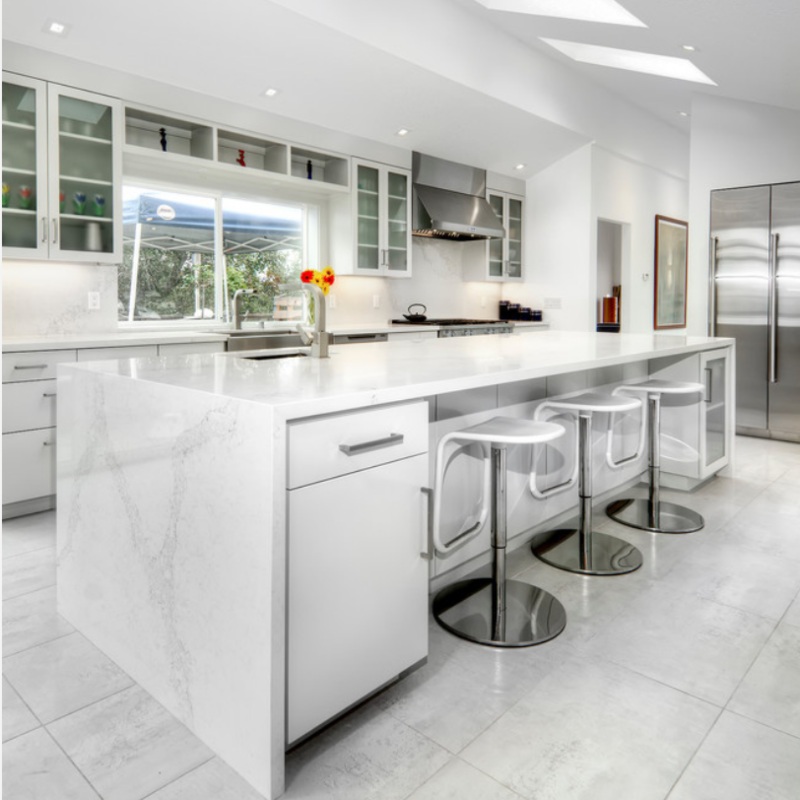 Get this look with MSI's Carrara Praia Porcelain Tile flooring with Absolute White Marble countertops (Photo Credit: Houzz)
Here is another kitchen that marries natural stone marble and marble-look porcelain tile perfectly. Again, natural slab marble is used on the countertops and the cascading waterfall island. In addition, the elegant floor features Carrara Praia tile that features the realistic, iconic color and veining of fine Carrara marble. The combination of Absolute White marble slab counters and the flooring gives this kitchen its breath-taking modern elegance.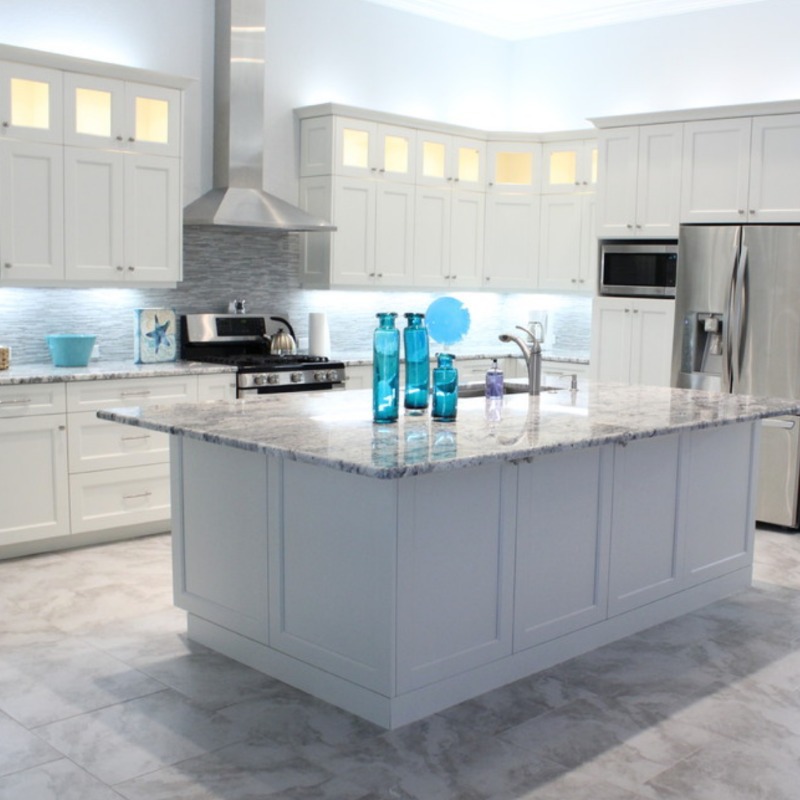 Get this look with MSI's Adella Gris Porcelain Tile flooring and Arctic White Marble Ledger Panel backsplash with Super White Marble countertop (Photo Credit: Houzz)
The iconic look of fine natural marble brings to mind a white background with gray swirls and veins. The intensity of the pattern and gray hue depend on the type of marble. Mixing marble colors can work well, as you see in this charming transitional kitchen. Here, three different products are used for the countertop, floor, and the backsplash. Super White marble slabs top the counters, while the backsplash was treated to Arctic White marble split-face stacked stone, and the floor was adorned with elegant Adella Gris porcelain tile. Overall, these three products meld to create a sophisticated and cohesive look.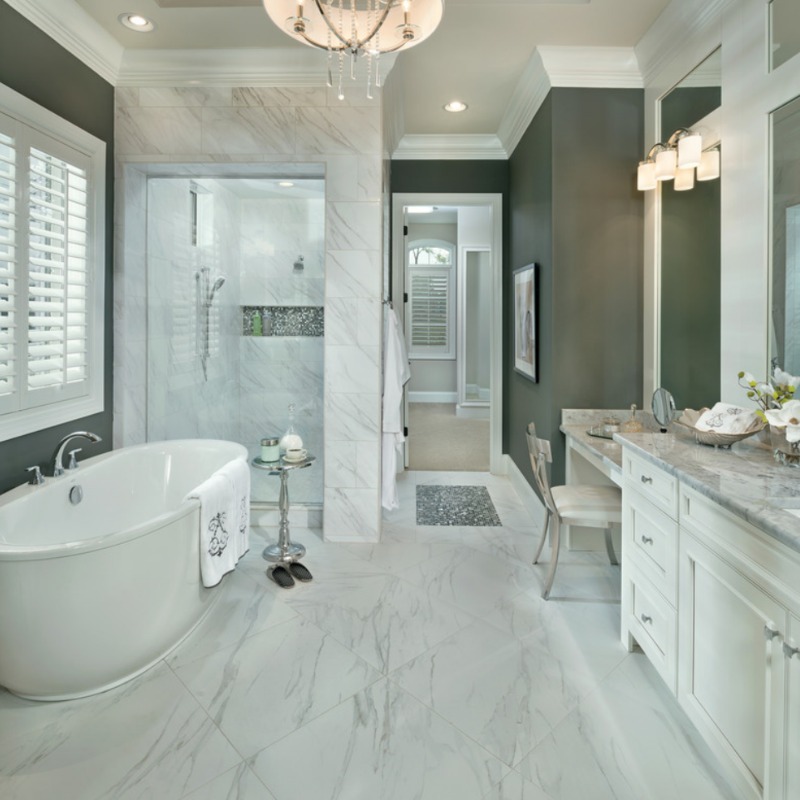 Featured: Pietra Calacatta Porcelain Tile flooring and wall tile with Temple Grey Marble countertop
Not to be outdone, natural marble and marble-look porcelain tiles are an elegant bathroom design idea that can create the luxurious master retreat you long for—within you budget. From floor to ceiling, this grand bathroom features the look of marble on the floors, walls, and countertop. And yet, the only true natural marble is the Temple Grey marble slab countertop. The floor tile and the shower tiles are Pietra Calacatta porcelain tile, which does an exquisite job of mimicking the look of fine natural marble.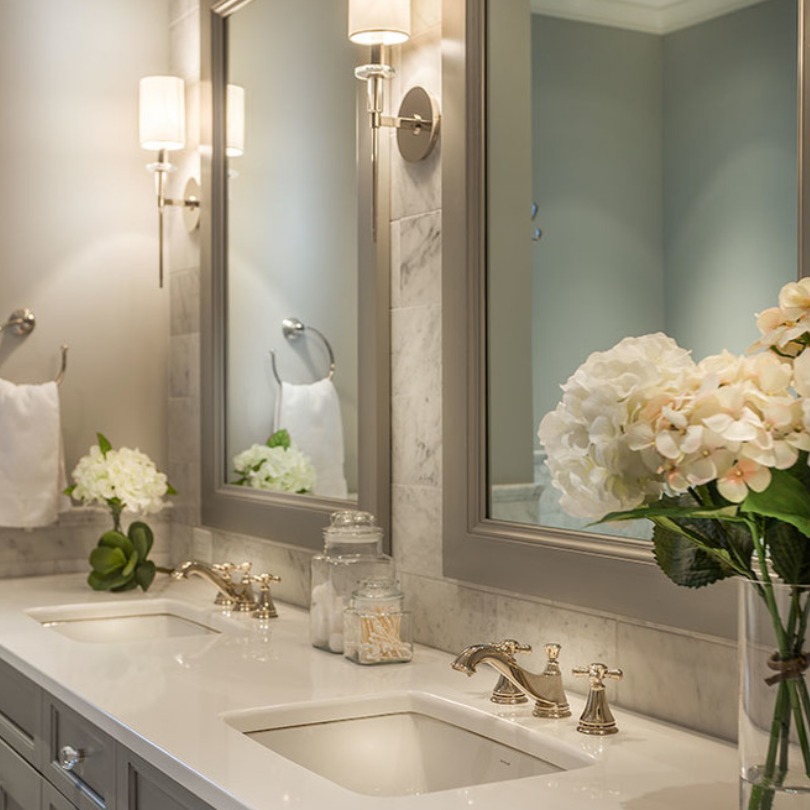 Get this look with MSI's Pietra Carrara Subway Tile 2x4 backsplash and Mystery White Marble countertop (Photo Credit: Houzz)
To create a natural marble and marble-look porcelain tile design for your project, use our visualizer tools to mix and match materials until you get the look you desire. Maybe your dream bathroom will feature a marble-look porcelain backsplash like Pietra Carrara subway tile, partnered with the subtle beauty of our Mystery White marble slab countertop. The options are virtually endless to create the look you desire, within your budget.
READ MORE ABOUT PORCELAIN TILE with NATURAL STONE LOOKS
Add Classic Style and Warmth with Asturia Marble-Look Porcelain Tiles
THE REGALLO COLLECTION OF MARBLE LOOK PORCELAIN TILE
Porcelain Tile That Looks Like Marble
The Delicate Look of Athens Marble In Durable Porcelain Tile