5 Fabulous Granite Colors And Backsplash Combos
December 23, 2020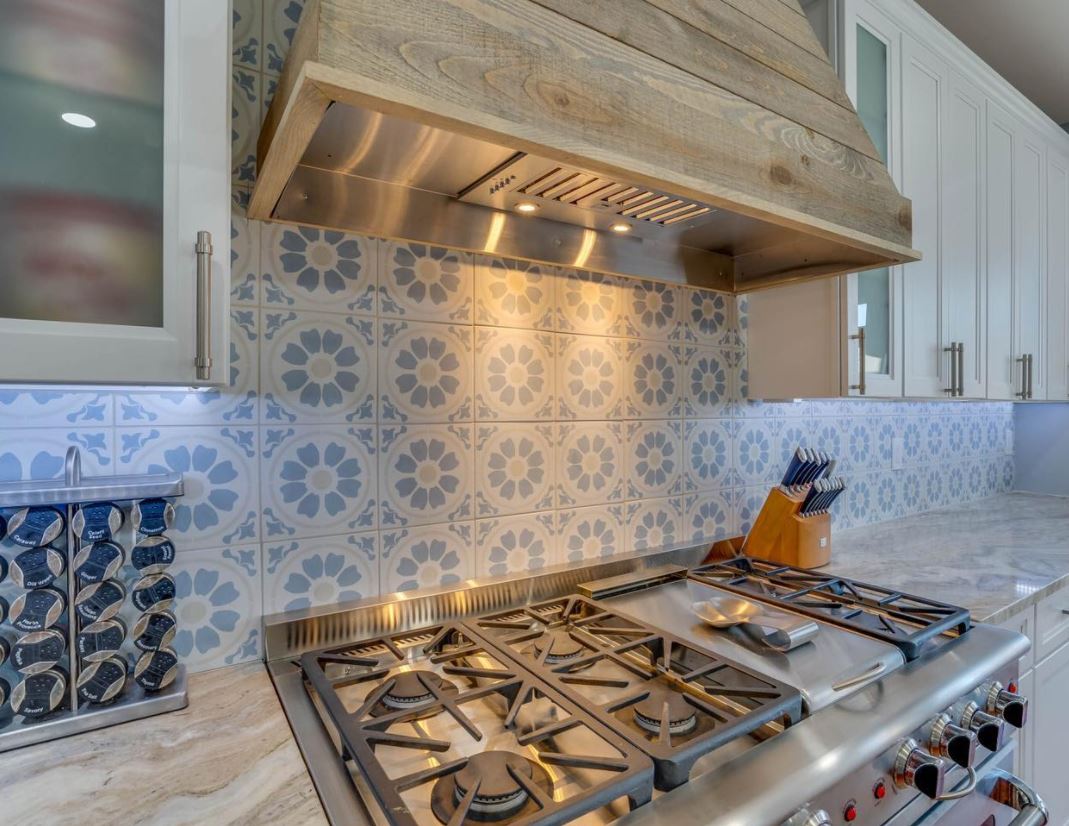 Your personality gets to come out in your newly remodeled kitchen — but getting from Point A to Point B can be a tricky road to navigate. With so many decisions to make, from backsplash tile and quartz vs. granite to flooring wood grains and granite colors, it can be hard to nail down your final choices.
Deciding between granite and quartz countertops is stressful enough — choosing your backsplash and countertop combination doesn't have to be! It should be a fun experience where you get to let your personality and creativity shine through in your selection! To make the decision process a bit less stressful, we've put together a guide to pairing your countertops and backsplash.
Tips for Pairing Your Granite Counters and Backsplash
Whether you've chosen granite countertops with a lot of movement or a more subtle pattern, there are endless backsplash options for you to choose from. Ultimately, the decision comes down to what you want — it's your kitchen! — but we've put together some tips to help you feel more confident in your decision.
Choose from a Family of Colors – Once you've chosen your granite countertops, you need to narrow down the color scheme for your backsplash. We recommend using a color wheel and holding it up to your counters to find complementary shades that will look best paired together.
Consider the Movement in Your Granite – Does your granite have a lot of veins and colors running through it? Or did you opt for a more neutral look with your countertops? If your counters have a lot of movement, it's best to opt for a less busy backsplash.
Add a Pop of Color and Design – If you choose a more neutral color palette for your granite countertops, you can be more adventurous with your backsplash choice. Consider a backsplash that is a fun color or a busier pattern.
Determine Your Kitchen's Focal Point – Which element in your kitchen do you want to be the focal point of the room? Some people want their counters to be the wow-worthy feature, while other homeowners prefer their backsplash to add flair to the room. If you want your backsplash to be your kitchen's focal point, you can play around with a fun color palette.
Granite Colors and Backsplash Combinations
We've paired together some of our favorite granite color and backsplash combinations to help make your search a bit easier. If you need help picturing what the combination will look like in your kitchen, try our granite visualizer tool.
Choose Classic Opposites
What is the most classic color combination you can think of? For us, it's the timeless look of black and white. Add some dark and dramatic vibes to your kitchen with Nero Mist Granite. It's soft gray veins and flecks pair perfectly with the charming Whisper White Subway Tile to create a traditional and timeless look for your kitchen. This perfect and contrasting color combination is dreamy, yet dramatic, and allows you to add a touch of color through other decor elements in the space.
Blend Busy Patterns
When you're looking for a combination that's timeless but fun at the same time, look no further than this classic combination with a bit of flair. Granite slabs like Black Galaxy Granite offer the sleek black look with small gold or white flecks to make this choice out of this world. But the pizazz doesn't have to stop at your countertops — add in a backsplash that takes a classic look with its own twist. Bytle Bianco Herringbone tile is the perfect backsplash to tie in and combine perfectly with the black granite. Separately these are both beautiful, but paired together they create a visual interest that is unmatched.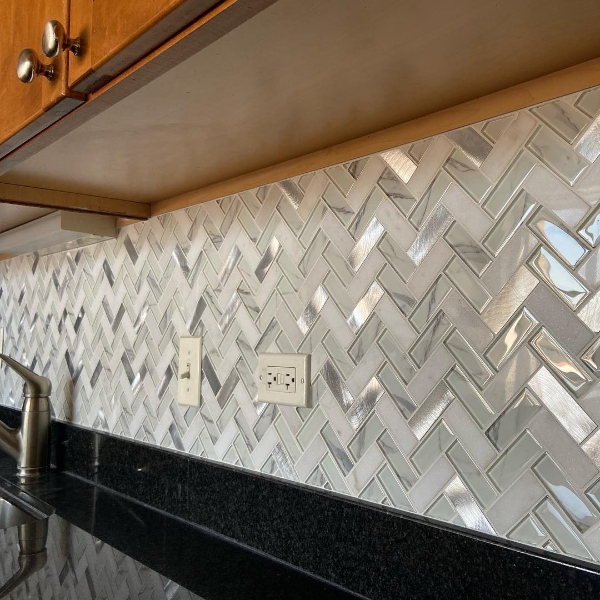 Select Similar Colors
Although a contrasting countertop and backsplash are a popular combination, you don't always have to choose opposites! One of our favorite looks is when homeowners choose a similar color palette for their combination. Whether you're a fan of warm beige tones or cool greys, pick a color family and play around with different patterns and styles. Consider Alaska White Granite with a frosty blend of pale silver and frosty whites — being composed of so many neutral tones, you have a lot to work with when choosing the color for your backsplash. These counters pair seamlessly with Bianco Arabesque, which features the traditional style of a glass arabesque tile. Blend these two styles to create a luxurious and eye-catching kitchen.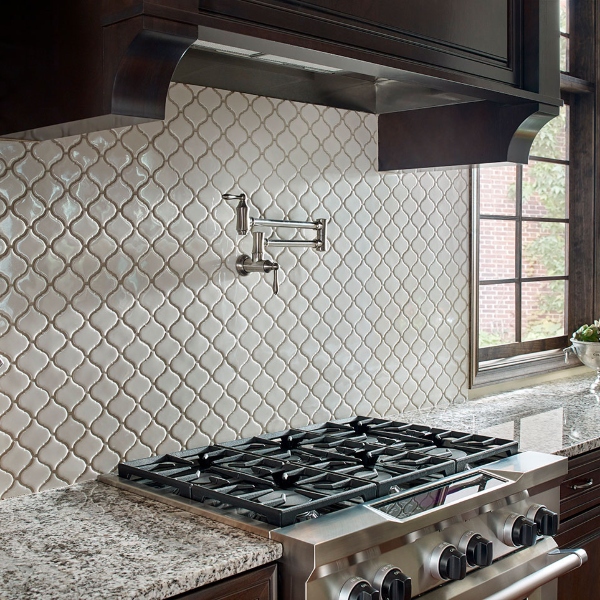 Play with Subtle Movement
You can never go wrong with a classic granite counter like Alpine Valley that offers white-warm tones with dark subtle veins and flecks flowing throughout the slab. The movement within the counters draws the eye throughout the kitchen in a visually appealing manner and perfectly blends into the movement of the Gris Travertine subway tile. The glossy finish, beige background, and darker contrasting striations offer additional movement without taking away from the look and feel of the wow-worthy granite countertops.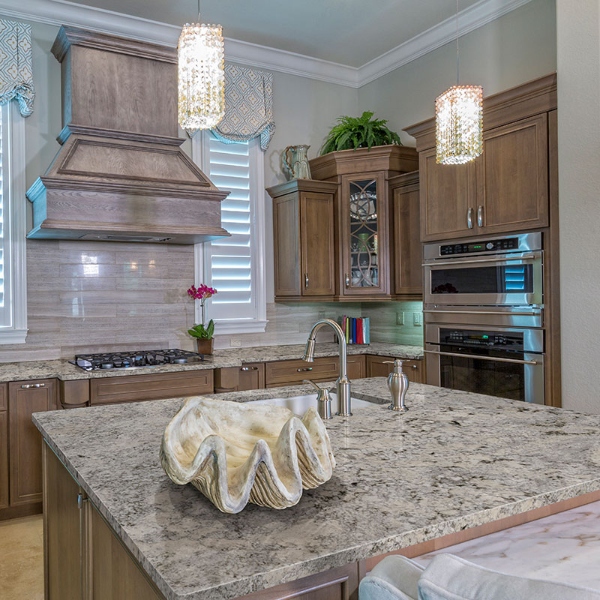 Choose the Focal Point
When you want to blend a traditional and contemporary look and feel, combine a busy and plain element in your kitchen. We love the look of a busier backsplash like Gray Cliff Interlocking Glass Mosaic Tile that offers a combination of colors and shapes with a more neutral countertop. Silvestre Gray Granite is a sleek and subtle countertop option with slight movement, allowing the backsplash to be the focal point of your kitchen. It's the perfect blend of a classic look with a little bit of spice to shake things up! It's sure to leave your guests oohing and aahing over it.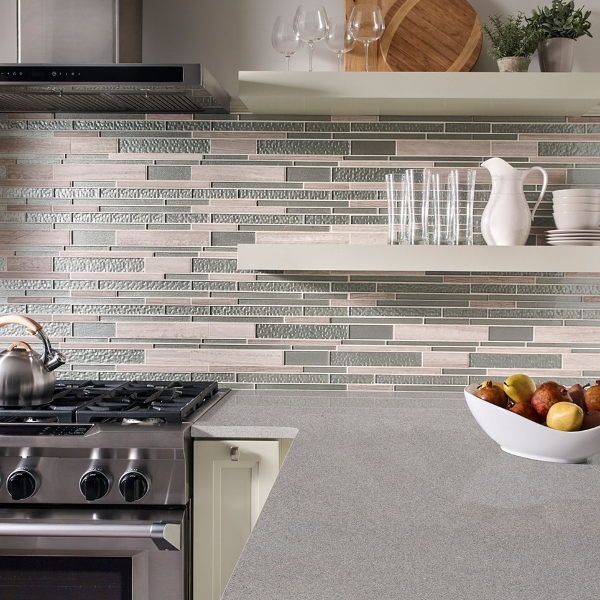 Need help narrowing down your dream kitchen countertop? We're here to help make the process a bit easier. Use MSI's Image Search Tool to find countertops by picture upload — we can show you all the options at your disposal that are similar to your desired look! You can each use it to find a backsplash.
READ MORE ABOUT GRANITE COUNTERTOPS
2013 Granite Color Trends: White, Grey, Gold Granite Countertops
5 Best Granite Countertops for Cherry Cabinets
5 Common Myths About Granite Countertops
READ MORE ABOUT MSI BACKSPLASH TILE
10 Fresh Ideas For Your Kitchen Backsplash
2015 Hot Kitchen Trends – Part 2: Backsplashes & Flooring
5 Blue Backsplashes That (Really) Make A Splash