The Coast Is Calling With Trendy Porcelain Tiles
March 25, 2020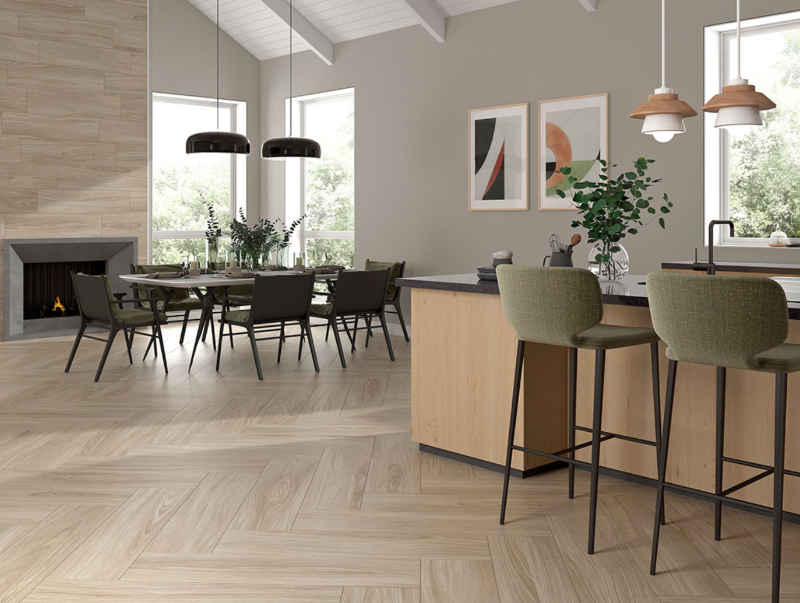 If you desire an endless summer by the ocean, then consider incorporating coastal style to give your interiors exactly what you need! That's because beachside living is more than just a look; it's a way of life. Not only is the styling easy, breezy, and comfortable, but the mindset of navigating through life is also. And no, you don't need to live seaside to relax and reside in a coastal-inspired space. No matter how far you are from the sand and water, you can count on light color palettes and natural materials to help achieve a beachy vibe. And, incorporating low-maintenance materials like wood-look porcelain tiles can create a look that's also a breeze to keep up. Read on to learn more about what coastal style is, what colors and materials are used, and how styles vary. After, you'll definitely want to implement the look in your room using trendy tiles and more.
Coastal Style Defined
Coastal style evokes the breeziness of the beach, features an array of natural materials, and includes pieces that spotlight casual comfort and relaxation. But, don't think that coastal design is all the same. It can easily go contemporary to traditional as long as you stick to a clean aesthetic with lots of natural light and soft tones that may also include colorful accents. Best of all, it leans on minimalism by doing away with heavy layers and having lots of open space.
Coastal Style Colors
Inspired by the colors of the beach, coastal style relies on a mostly neutral color palette to achieve a light, airy space. This includes bright whites, sandy blondes, pebble greiges, or driftwood grays as primary colors and either additional beachy neutrals or pops of color for secondary colors. Think blues and greens inspired by the clear skies, turquoise waters, and nautical navy or hints of brighter hues like sunshine yellow, classic coral, or even lobster red.
Floor color greatly impacts a space, and using modern tile made of porcelain or luxury vinyl planks can not only ground your space in a light tone but also replicate a natural hardwood style. Using a wood-look porcelain tile like Cottage Smoke is the perfect low-maintenance neutral for any coastal design. With characteristics similar to light birch hardwood, it offers soft tones accented by dove gray grains and knots and a matte finish for a more organic look and feel. From bedrooms to bathrooms, the realistic wood-look planks create gorgeous flooring even in wet areas where real wood wouldn't hold up.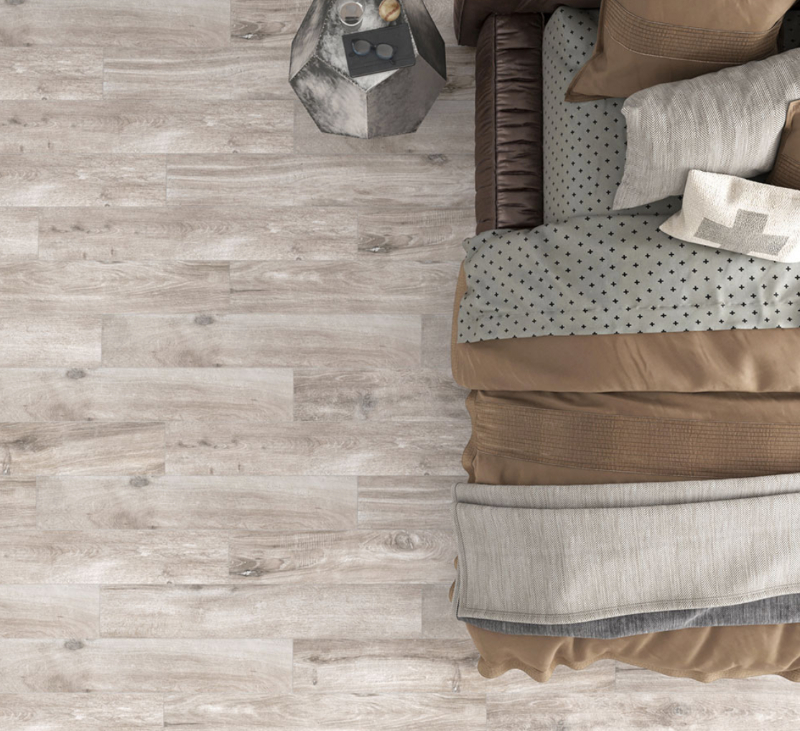 Cottage Smoke
Another way to add color to a space is by using pattern tile. Kenzzi Tamensa is an 8x8 porcelain tile with a creamy-white background and a blue-and-beige geometric floral print. The durable tile adds subtle color and interest to floors, backsplashes, and showers. Even though the hues aren't overpowering, keeping the rest of the design light and airy balances the busier print with the easy, breezy minimalism of coastal style.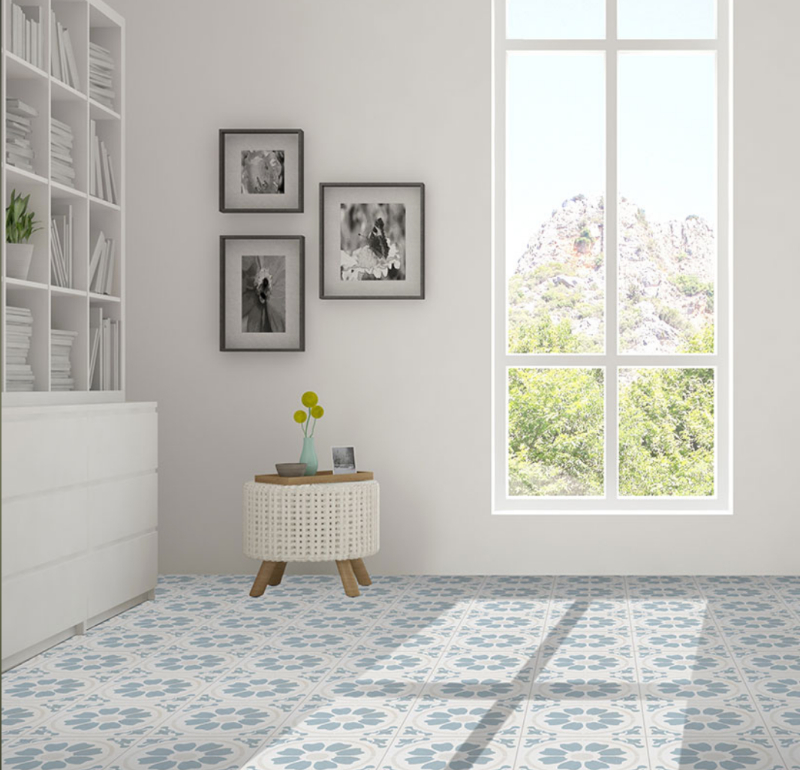 Kenzzi Tamensa
Coastal Style Materials
Materials from Mother Nature and lots of texture are the epitome of coastal design, but you can still get natural looks by incorporating durable man-made materials like indoor and outdoor porcelain tile, quartz countertops, and LVT.
Weathered, whitewashed, or blonde woods for furnishings are popular choices, while wicker, bamboo, or rattan are other options, too. Use of upholstered cotton linen and burlap, sheer white curtains, and natural fiber rugs all help give an organic, relaxed feel. Wall treatments like shiplap or grasscloth wallpaper also emphasize the style.
Neutral natural stone is right at home, and marble can create flawless floors and backsplashes that are as cool as it is sophisticated. Cecily Pattern is a polished marble mosaic tile that features soft creamy whites and beige accent pieces that create an interesting pattern. Whereas Angora Herringbone is a polished marble imported from Vietnam with a fabulous pattern of cream, gold, gray, and brown undertones that work with lighter or darker color schemes and can be installed horizontally or vertically for totally different results.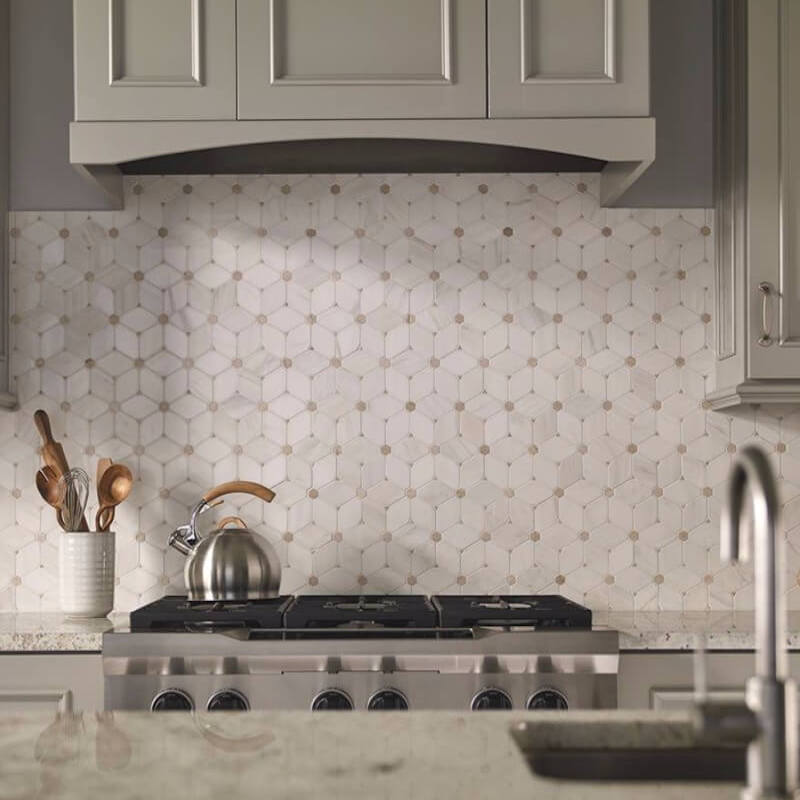 Cecily Pattern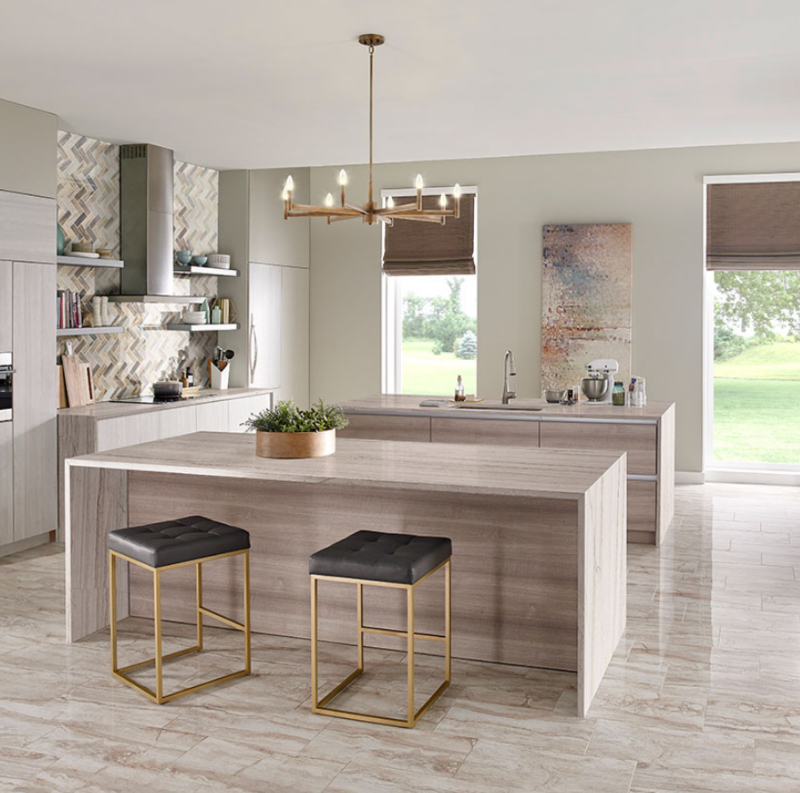 Angora Herringbone
Coastal Style Types
There are many different interpretations to coastal style, but the three most popular are American coastal, Island coastal, and Mediterranean coastal. Each have their own unique features, but you can also combine them for an eclectic take on coastal style. For instance, this bathroom features influences from all three, with the nautical-inspired navy vanity to the tropical teak-inspired accents to the black metal sconces. One of the main features is the Havenwood Dove wood-look porcelain tile with several soft beiges for an authentic hardwood look that simulates sand and also beautifully bounces around natural light.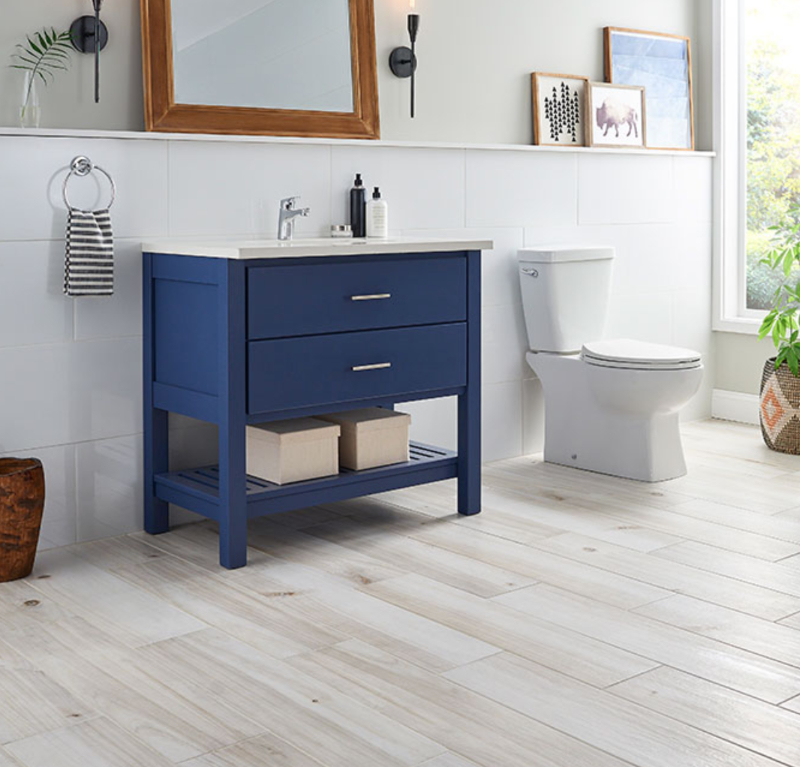 Havenwood Dove
American Coastal
It's no surprise that the American coastal style is one of the most popular in the U.S. since comfort and relaxation are at its design core. Yet, sub-styles like contemporary to cottage coastal are popping up coast-to-coast and play around with the same features, such as lots of natural light, white and blue hues, comfy furnishings, glistening surfaces, and nautical touches.
Island Coastal
Around the world, people are picking island coastal style inspired by islands of the great Pacific known for its native people and the turquoise waters and lush greenery that surround them. While it also summons an easygoing mood, the main features are amped up a bit with a brighter color palette, tropical patterns, natural woods, and shells you'd find along the island shores.
Mediterranean Coastal
The Mediterranean coastal style may elicit visions of Greece's classic blue-and-white buildings, but inspiration also comes from coastal towns in Italy and Spain, too. While this style also incorporates a lot of natural light, the main elements may be a bit heavier with bright sunshine tones, terra cotta, black iron, and heavy woods with carved details.
More Coastal Style Inspiration
You'll always feel connected to nature when you spend your days and nights surrounded by a coastal style design. Using unfussy materials like porcelain pavers and tiles as well as LVT make caring for your shoreline-inspired space something to sail through quickly. And who doesn't want less maintenance and more time to sit back and enjoy the fruits of your labor!
READ MORE ABOUT THE BENEFITS OF PORCELAIN TILE
The Best Way to Clean Stains From Porcelain Tile Flooring
The Commercial Side Of Porcelain Tile: Exquisitely Simple, Beautiful & Practical
The Different Grades Of Porcelain Tile