Tips From The Trade: Common Misconceptions About Quartz Countertops
April 06, 2018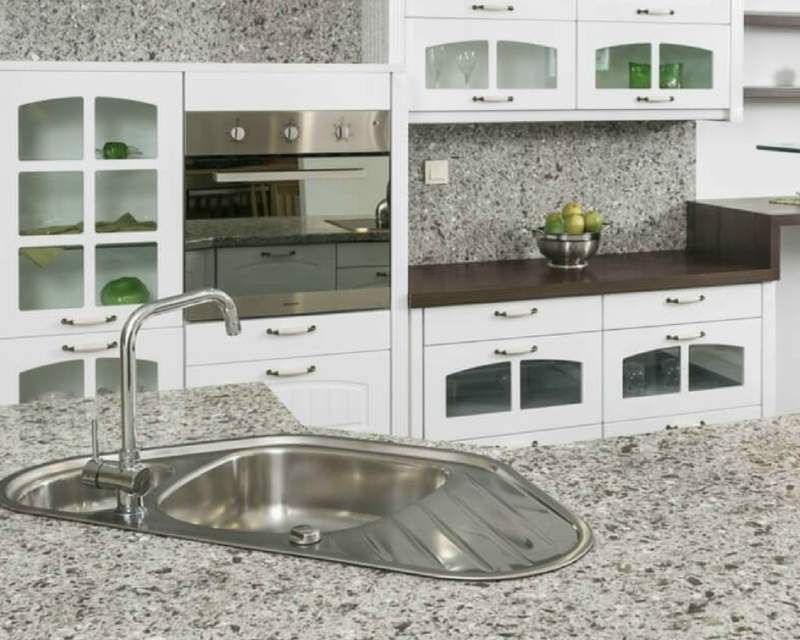 Although quartz countertops have been around for decades, the material is still the new kid on the block compared to other premium materials, especially granite and marble. As a result, it's really no wonder that a world of myths and misconceptions has grown up around issues such as the durability and variability of quartz.
MSI offers a wide range of quartz colors and designs, in addition to all the more traditional natural stones, such as marble and granite. With our expertise in a broad range of materials, we are pleased to be able to clear up any maintenance and care misconceptions surrounding quartz. MSI is also good at debunking home decorating myths about where and how to use this premium material.
First, it's important to understand what modern quartz actually is. Yes, it's real stone. But unlike granite and limestone, the quartz mineral is extracted from the earth and then mixed with resin that bonds the stone to other minerals, coloring and antibacterial chemicals. The mixture is then poured into molds and cooked at high temperature and under high pressure.
The result is a highly versatile surface that comes in many quartz colors and designs. The premium material is also extremely hard and resistant to heat, chips and stains. That's just one more good reason modern quartz is a perfect choice for busy kitchens and baths.
But there's even more to learn about quartz before making your final material selection. Here are the top five myths that surround quartz countertops.
Myth #1:
Quartz is Cheap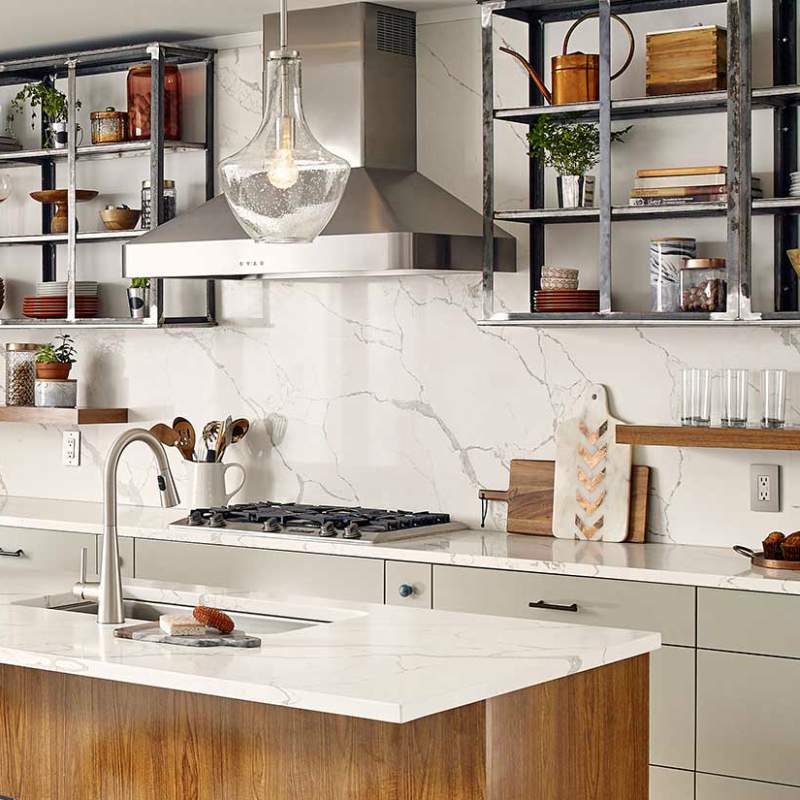 Featured: Calacatta Laza Quartz
No, quartz is not a low-cost surface like laminates. In fact, a quartz countertop cost is more on par with granite and marble. Modern quartz costs $40 to $100 per square foot—certainly less than the most exotic granites, which can top $300 per square foot—but still pricier than laminate countertops, which top out at around $65 per square foot.
The bottom line is that you get what you pay for. Quartz is far more durable than laminate, which can easily scorch, scratch, chip and stain. In addition, quartz is non-porous, so it laughs at water and wine spills. Plus, it's a tough customer that is hard to scratch and burn, unless you really try.
Myth #2:
Quartz is the Same as Quartzite
Wrong again. Quartz is an engineered material that combines natural mined quartz with polymers and resins. In contrast, quartzite is a mined, metamorphic rock that is extremely hard. Quartzite also contains recrystallized quartz, which provides the stone's characteristic sparkle.
Myth #3:
Quartz Costs Top Marble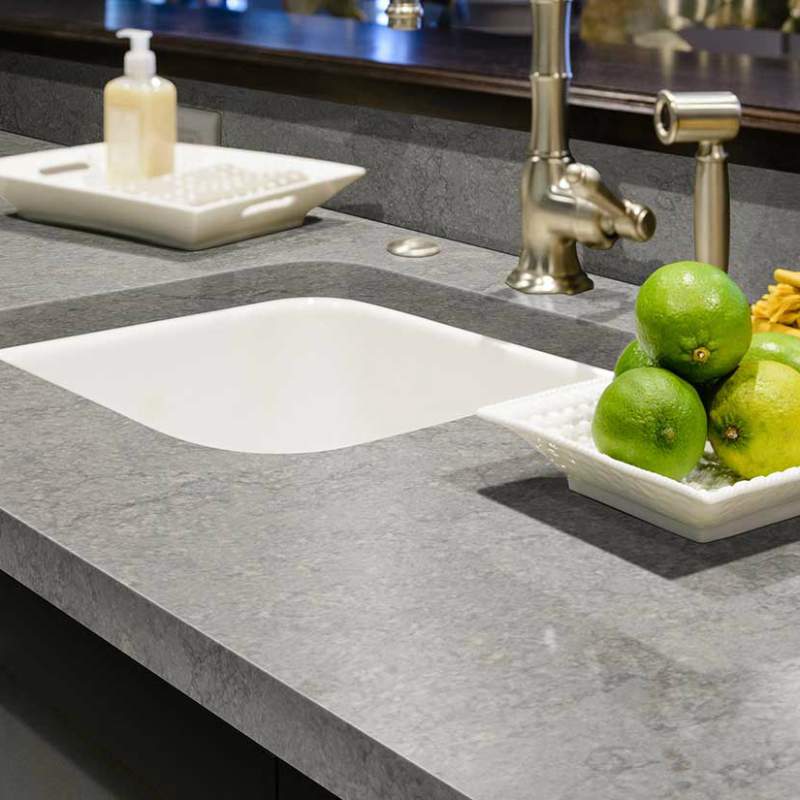 Featured: Gray Lagoon Concrete Quartz
Although quartz is not a low-budget material, it's not quite as expensive as marble, which ranges from $50 to $150 per square foot. Happily, some quartz countertops look so much like marble that it's hard to tell the two materials apart.
Myth #4:
Quartz Lacks Variety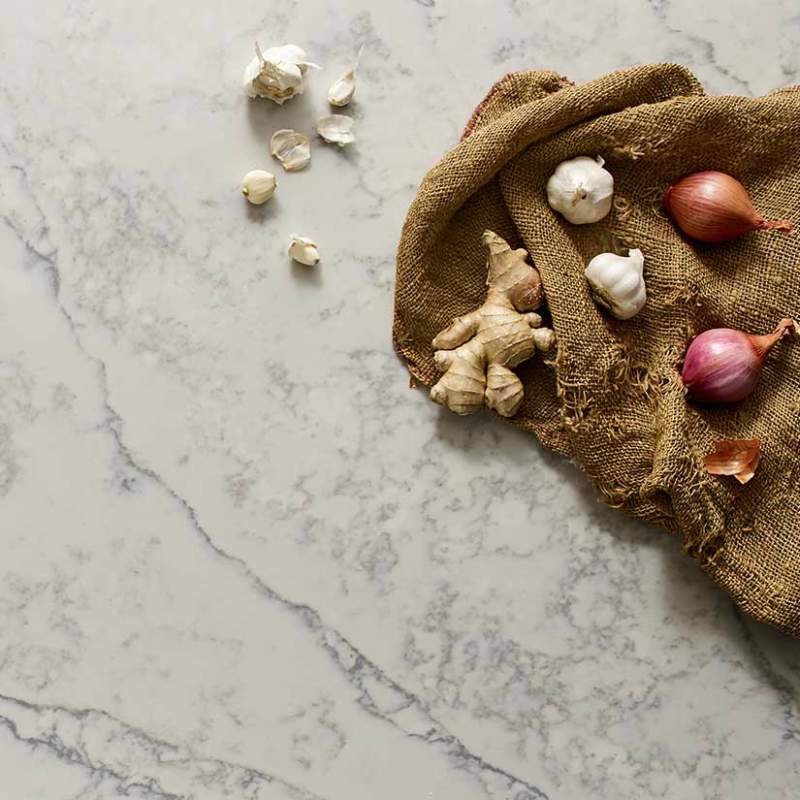 Featured: Calacatta Pearl Quartz
Nature loves variety, and that's why no two slabs of natural granite and marble are exactly alike. But since quartz is manufactured in a factory, it is a completely uniform material. However, that doesn't mean it lacks variety. Quartz color and design is limited only by your imagination. Although speckled designs are popular, quartz countertops also come in solids and designs that convincingly mimic granite, marble, limestone and concrete.
Myth #5:
Quartz Burns Easily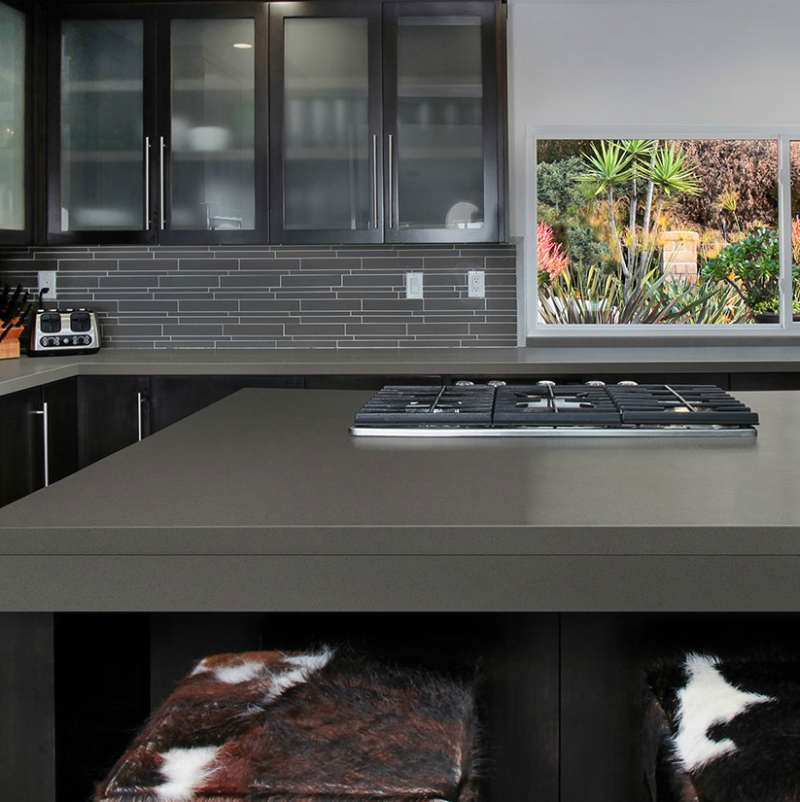 Featured: Manhattan Gray Quartz
You really have to try hard to burn quartz counters, which are extremely strong and resistant to heat damage. That said, any stone—and remember, quartz contains stone—can discolor or crack if you place a scorching pot or pan directly on it. So, it pays to always protect your beautiful quartz counters—or any natural stone counters, for that matter—from direct heat by using hot pads and trivets.
Hopefully we've cleared up any misconceptions you may have had about quartz, but you really need to see the variety of looks available to believe it. Check out MSI's complete collection of quartz countertop colors and patterns, and decide for yourself if you've finally found your perfect look!
More on Quartz Countertops
Here's Why Quartz Countertops Are the Best Choice to Busy Families
10 Reasons Why We Love Quartz Countertops
Have You Considered Quartz Countertops for Your Kitchen Remodel
What Is It About Quartz Countertops That Has People Talking
Monochromatic Quartz Colors are the Perfect Canvas for Kitchen Creativity