Get Ready For Summer With A Stacked Stone Pool Water Feature
May 21, 2021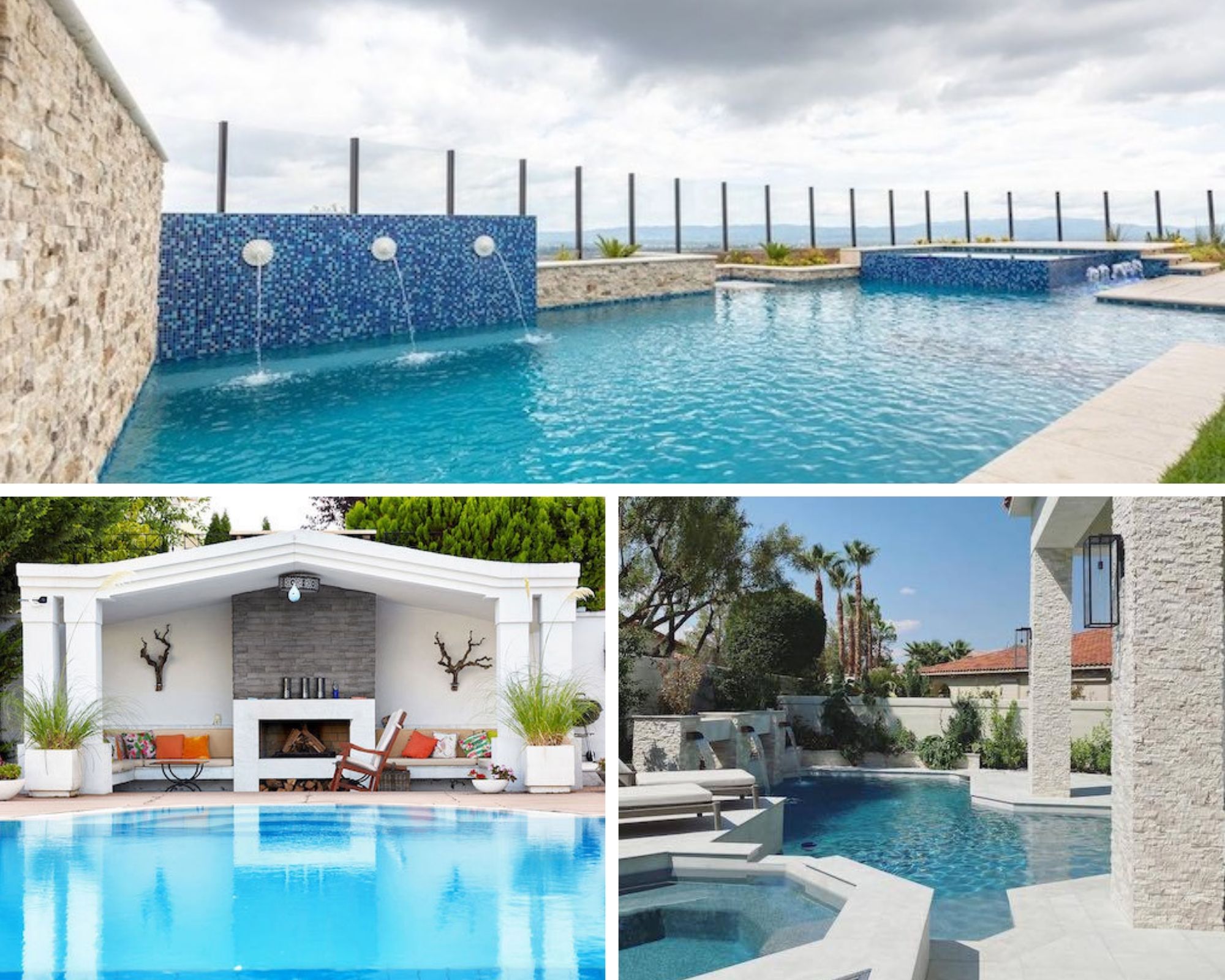 A creative thoughtfully built stacked stone water feature is lovely to the eyes, peaceful to the ears, and relaxing to touch. It gives a sense of restoration to the soul, taking an ordinary swimming pool and turning it into an oasis with the feel of a luxury vacation resort.
Your water feature can be a bold, impressive waterfall that serves as the centerpiece for every other hardscaping element that surrounds it. Or, if your tastes are more subtle, a peaceful trickling fountain may be just enough to give your pool area serenity and character. It needs to fit your own personal taste — and also your budget.
One of the challenges of decorating with a water feature is knowing exactly how to construct it, what materials to use, and what elements to complement the design. Stacked stone veneer is the perfect product for the job. Even when used in abundance, stacked stone won't overwhelm the size of your pool or even a small yard. Better still, stone panels allow you to create the look of luxury for an affordable price, with fast installation that won't hold you back from enjoying your summertime plans.
In this article, we offer a few of MSI's most popular natural stacked stone colors along with some inspired ideas for creating a pool water feature in your own backyard.
Golden Honey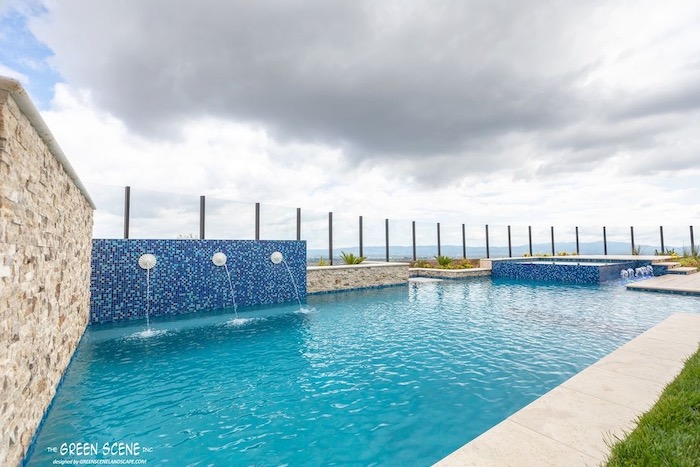 @thegreensceninc
One of the best ways to capitalize on the natural beauty of stacked stone is by combining it with other types of stone or tile. As shown here, a fountain wall of deep blue and aqua ceramic tiles enhances the inviting blue hue of the swimming pool below. A simple poolside fountain such as this one serves multiple purposes — it helps the pool water stay cool and refreshing in hot climates, provides a relaxing sound, and adds immeasurable beauty. Why bother with an ordinary submerged outlet returning the filtered water to the pool when you can do it with much more elegance?
Here, stacked stone tile plays an important role by adding balance and contrast. Crafted from natural split-faced quartzite in a variety of sizes and shapes, Golden Honey's warm shades of white, gray, and golden-beige along with its charming texture pairs well with this contemporary pool design.
Arctic White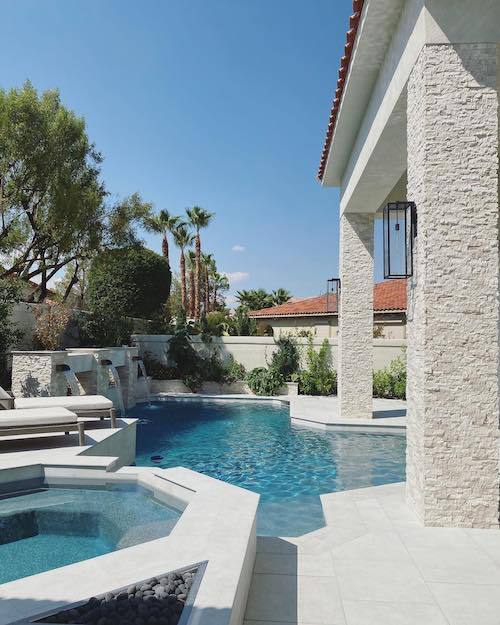 MSI's stacked stone ledger panels are durable enough to withstand constant exposure to swimming pool water, since they are made of real pieces of natural stone instead of an inferior imitation. Because of the texture, however, many homeowners prefer to install them as hardscaping on walls and columns around the pool rather than within it.
As you can see in this photo, Arctic White ledger panels are the ideal backdrop for a poolside fountain, where the water is directed in an arc away from the stone wall. It is also ideal for enhancing the look of columns, rather than leaving them plain. Matching corner pieces are available, which makes installations such as this a breeze and provides a professional-looking finish.
Arctic White natural stone ledger features natural white marble with a split-faced texture, arranged with a variety of sizes and shapes at staggered depths. This elegant stone wall material is popular for many different applications, including interior accent walls as well as exterior cladding.
Silver Travertine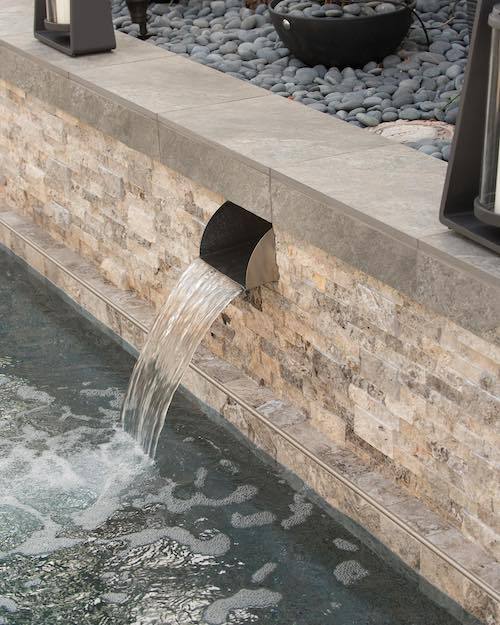 Homeowners can choose from several shapes and sizes for a poolside water feature, including this small waterfall shape. Fountains such as these are popular in areas where background noises such as traffic and other people might distract from the serenity of your own space, as they provide a form of relaxing white noise to drown out the others.
Another element shown here is the way stacked stone wall tile can imitate an expensive section of masonry hardscape. Walls such as these are particularly useful when working with an uneven lot or a hill that needs terracing. Natural stone ledger can also create gorgeous raised beds for landscape plantings that soften the stark, straight angles in many pool designs.
Silver Travertine panels are crafted with natural split-face travertine in soft tones of gray. The texture and variation is subtle and refined, and right at home in contemporary settings that need a bit of natural beauty.
Copen Ash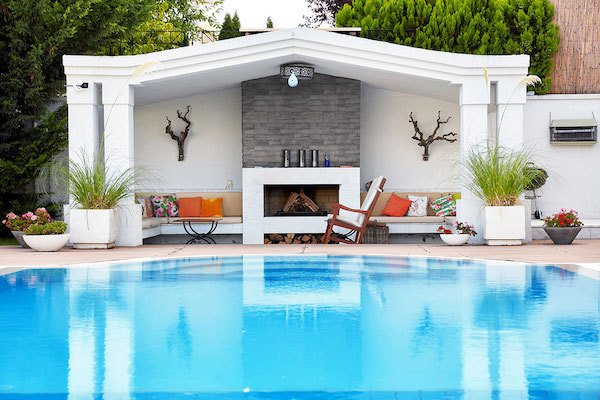 Today's backyard pools are so much more than just a spot where you can cool off and swim a few laps for exercise. They have evolved into elegant backyard retreats, elegant spaces reminiscent of luxury vacation resorts. And, what better enhancement for such a space than a poolside lounge?
Covered outdoor living spaces such as the lovely room shown here feature comfortable seating, televisions and other electronics, bars, mini-kitchens, and so much more. The one shown here centers around an outdoor hearth, which is accented by a surrounding wall of Copen Ash ledger panels. Imagine this romantic setting during an evening swim, with the light from the flames reflecting in the pool water's ripples.
Copen Ash is a unique variety of stacked stone ledger which is crafted from engineered concrete, sculpted to add dimension and character to any space. It features shades of medium-gray, creating an authentically natural look that blends well with any type of decor.
Whether they are used to enhance a poolside living space, installed as a hardscaping element surrounding a pool, or making a splash as an integral part of a pool's water feature, stacked stone is a simple way to add elegance and luxury. MSI's stacked stone ledger panels are available in a multitude of colors, materials, and structures, with matching corner pieces for easy installation. Browse our ledger stone collection today and find the perfect match for your poolside dreams.