5 Must-See Mosaics Offer Bold New Backsplash Options
December 15, 2021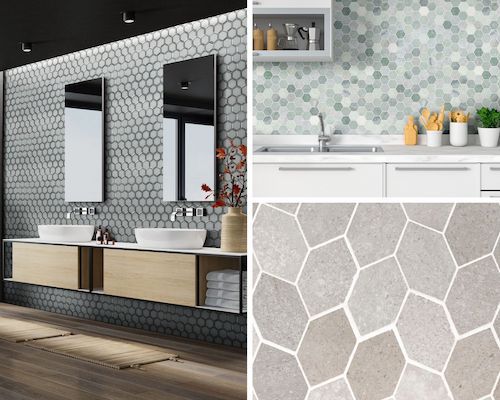 Mosaics have been used in art and architecture since before 300 BC in Egypt and Mesopotamia. Artists used small pieces of colored stone, glass, shell, ivory, and clay to create eye-catching and durable artworks. These were presented on walls, floors, and ceilings for centuries in iconic buildings. They created a sense of intrigue and grandeur with the aim to impress and inspire.
In the 21st century, modern-day mosaics have been adapted for use in the home for creative tile designs. They offer a durable and low-maintenance option for an eye-catching addition to your home.
You'd like to update your bathroom or kitchen with a bold mosaic backsplash. But what styles of mosaic tiles are available and which ones should you choose? Keep reading to discover the top five newest mosaic tiles available from MSI.
Benefits of a Backsplash
You may wonder if you need a backsplash in the first place. There are great benefits of a backsplash in your kitchen or bathroom.
The main purpose of a backsplash is to protect the surrounding walls from foods and liquids. Without a backsplash, your bathroom walls would encounter water, toothpaste, and soap residue every day. Your kitchen walls would be coming into contact with all kinds of food stains from the stove; as well as water and dish soap residue from the kitchen sink.
Water damage and stains on walls are difficult and sometimes costly to resolve. Having a water-tight backsplash keeps your walls clean and dry reducing the risk of mold or mildew buildup.
Ceramic tile and glass tile backsplashes are easy to clean and scratch-resistant. We all use our worktops many times on a daily basis for cooking and cleaning, so having a durable and easy to clean backsplash will make your life easier.
Why Mosaics For Your Backsplash?
Mosaic tiles are one of the most popular options for kitchen and bathroom backsplash designs. Their modern style and interesting patterns are sure to impress. Most of our mosaic tiles are non-porous and do not absorb stains or harbor mold or mildew. This makes them perfect for the kitchen or bathroom environment. This offers a hygienic and easy-to-clean surface for your backsplash, promoting a clean and healthy home.
They can also reflect light and brighten a room with patterned reflections like no other tile. Polished tiles offer wonderful luminescence to any bathroom or kitchen. Some mosaic tiles are available in sheets of multiple tiles, making them quick and easy to install compared to individual tiles.
The 5 must-see mosaics from MSI provide homeowners with unique and bold selections of tiles to uplift their backsplash. Each one displays unique high-quality characteristics to suit every style and decor.
1. Angora Rhombus Polished Marble Mosaic Tile
A modern twist on classic marble surfaces, the Angora Rombus Polished mosaic tile offers a stunning blend of cream and caramel colors. The 10mm thick mosaics exhibit the luxurious marble presence with subtle marble patterns that will suit most styles.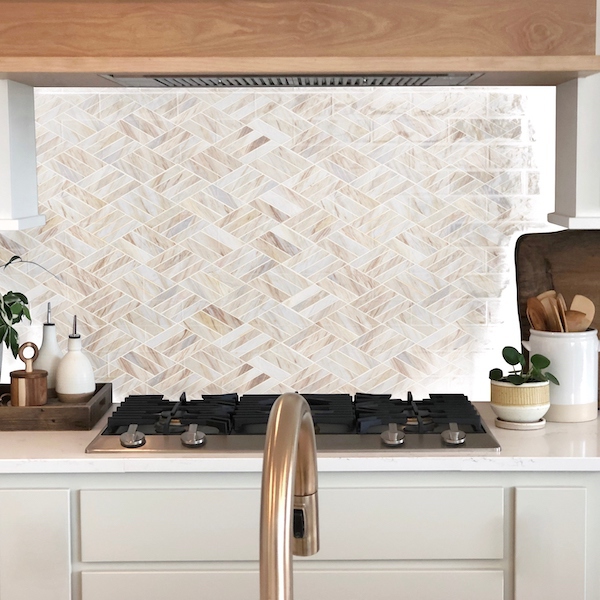 The perfect polished finish will reflect light throughout the entire room and make them easy to clean. Each tile has two grooves giving the impression of three smaller narrower tiles in each rhomboid. The super sharp edges and rhomboid shapes create that sought-after geometric pattern for your backsplash tile.
2. Icelandic Green Polished Marble Mosaic Tile
These unique hexagonal Icelandic Green Polished mosaic tiles look as if they were cut from an arctic iceberg. The blend of blues, greens, and white shades creates a clean and fresh feeling in a room.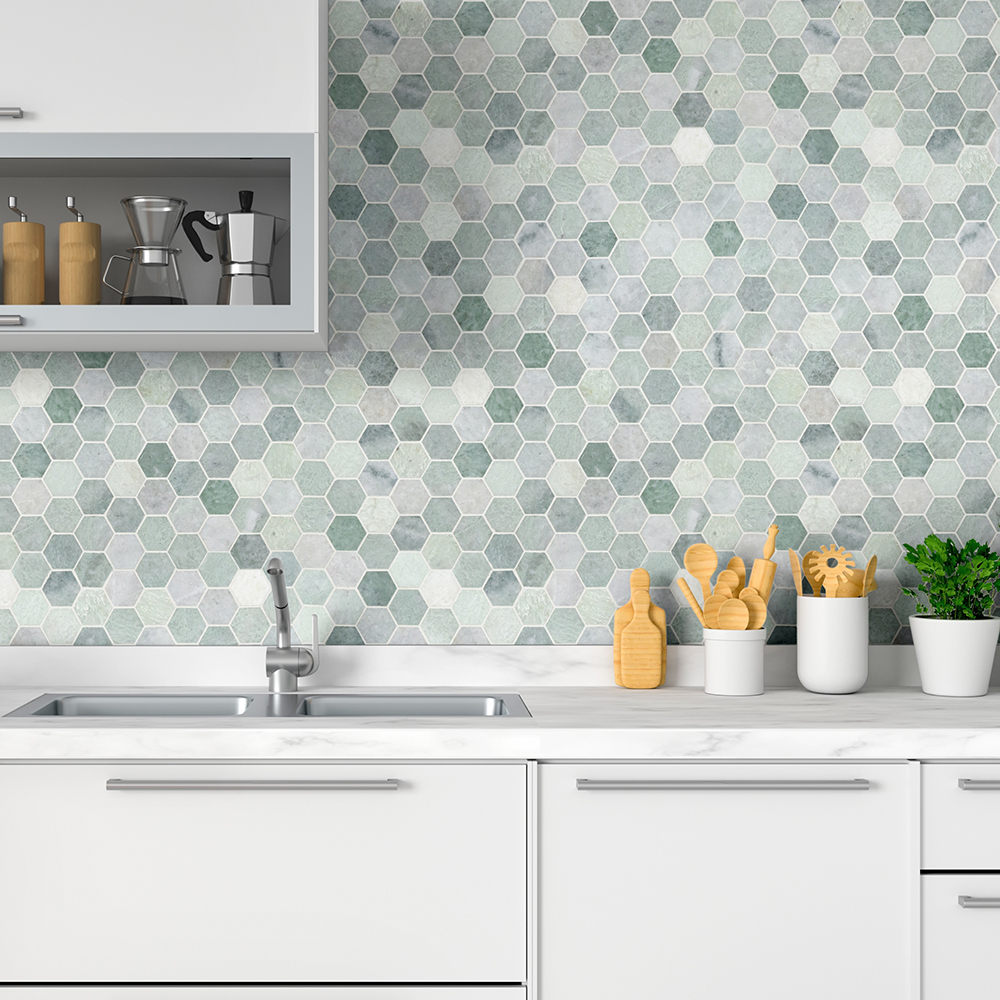 Each tile is 2 inches wide and each sheet comes with 42 tiles for easy application to bathroom and kitchen walls. The solid marble tiles offer a strong and durable wall tile covering which is easy to clean and keep looking fresh.
3. Lilly Pad Honed Limestone Mosaic Tile
The various light grey hues of the Lilly Pad Honed mosaic tile are perfect for a neutral matte finish. Made with top-quality limestone, these tiles will suit any decor using natural materials.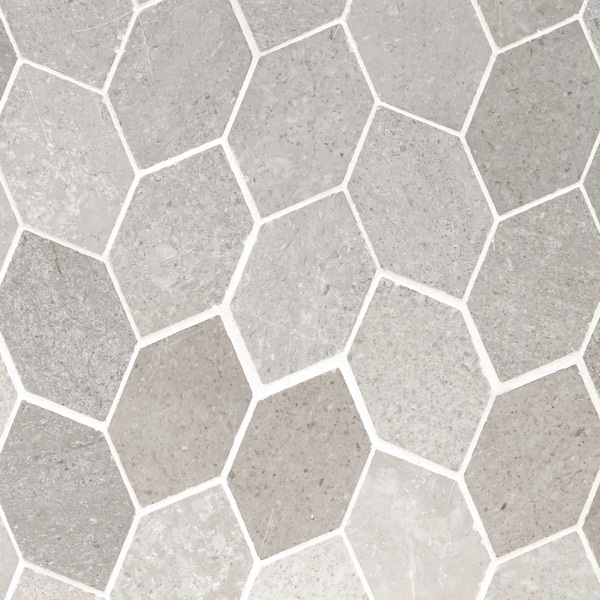 The quirky elongated hexagonal shapes add a fun pattern to your backsplash which looks different from every angle. At 10mm thick, these limestone mosaics are ideal for residential and commercial countertops and walls, or floors in your home.
4. Midnight Blue Ombre Chevron Glass Mosaic Tile
The Midnight Blue Ombre Chevron mosaic tile is one of our newest tile designs in the glass collection. Each 6mm thick tile has a unique blend of deep ocean blues, stormy blue-greys, and icey light blues. The chevron tile patterns offer a smart distinguished look, but upon closer inspection, you can see artistic brushstrokes of ocean colors.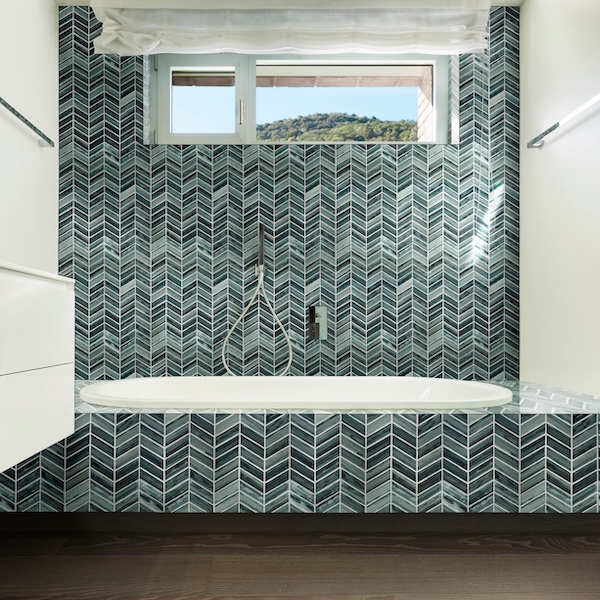 Your backsplash will have the sharpest and shiniest finish thanks to the highly polished glass. Although the colors may look on the darker side, the tiles will reflect even the smallest amount of light. The smooth rounded edges of the tile will create a wonderful texture to your backsplash that will mimic the ripples of the ocean.
5. Ice Beveled Hexagon Glass Mosaic Tile
Create a bold and super modern backsplash for your kitchen or bathroom with the Ice Beveled Hexagon mosaic glass backsplash tile. The white-cool icey glass color provides the sharpest honeycomb effect on your walls and countertops.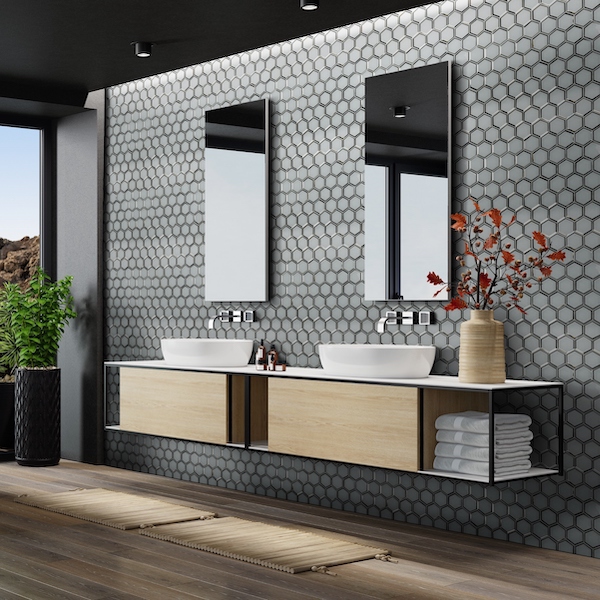 Super reflective and scratch-resistant, these 8mm thick tiles are 3 inches wide available in 16 tiles per sheet. This offers easy application and versatility to make any backsplash area look great. The beveled edges exhibit a clean-cut icey finish that will fit perfectly with light or dark surrounding furniture in your modern decor.
More Than a Backsplash
The new range of glass mosaic tiles from MSI can be used for creating a stunning feature anywhere in your home, not just for stylish backsplashes.
Contact us and ask us how you can use these stunning mosaics in your home, or use our backsplash visualizer tool to find more inspiration for mosaic options for your home.
READ MORE ABOUT MSI BACKSPLASH TILE
5 Perfect Quartz Countertop And Backsplash Pairs
5 Stunning Backsplash Designs For Your Kitchen And Beyond
5 Unique Patterns For Your Kitchen Backsplash
A Comprehensive Guide To Bathroom And Kitchen Backsplash Tile