Current Obsessions: The New Look Of Stacked Stone Accent Walls
June 28, 2017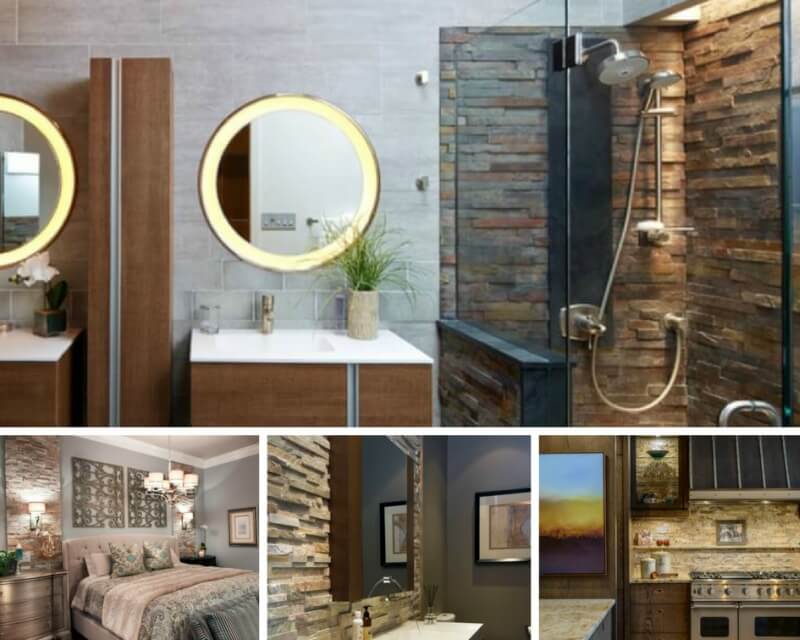 When homeowners think of a stacked stone accent or feature wall, what comes to mind is often the wall surrounding a fireplace. Traditionally, that is a popular use for stacked stone — but designers are now using it throughout the home, in surprising ways. It's time to think beyond the mantel, and let us inspire you with some stacked stone interior wall ideas.
Roman Beige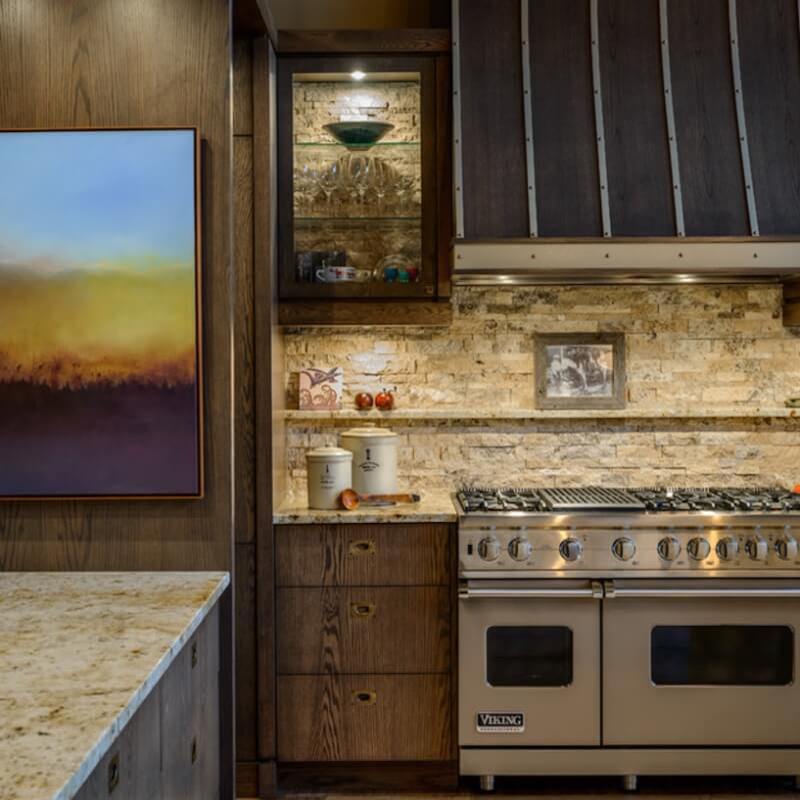 Get this look with MSI's Roman Beige Stacked Stone (Photo Credit: Houzz)
If you've never thought about using stacked stone ledger panels for a kitchen backsplash, you should. Roman Beige Stacked Stone, featuring rough-cut blocks of natural travertine in a shade of soft beige, adds a nearly decadent sense of luxury to the kitchen shown here.
The long, narrow shelf that complements the backsplash is a handy spot for frequently used spices as well as small decorative objects. You might be inspired to spend more time in front of that stove, if this is your view!
Sparkling Autumn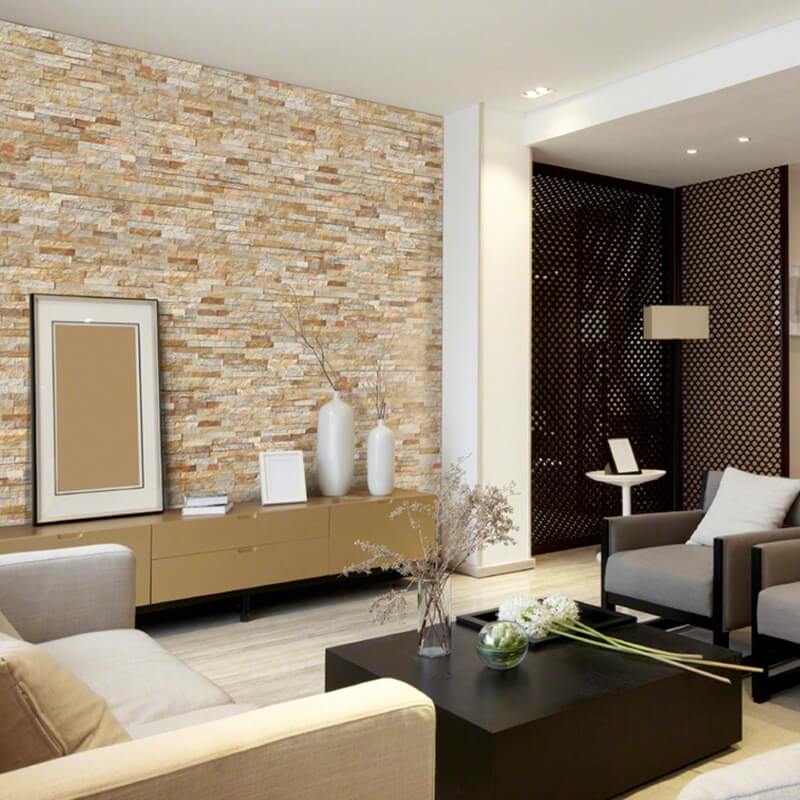 Featured: Sparkling Autumn Stacked Stone
A large wall covered with Sparkling Autumn Stacked Stone brings a bit of the outdoors into this contemporary space. With varying tones of gray, gold, and cream, it's easy to coordinate with the rest of your furnishings.
Crafted from split-face quartzite, the tiny crystals in the natural stone give it a slight shimmer. Although like many stacked stone patterns it features randomly varying depths, the effect is subtle, which makes it an ideal choice for pairing with sophisticated, sleek décor.
Rustic Gold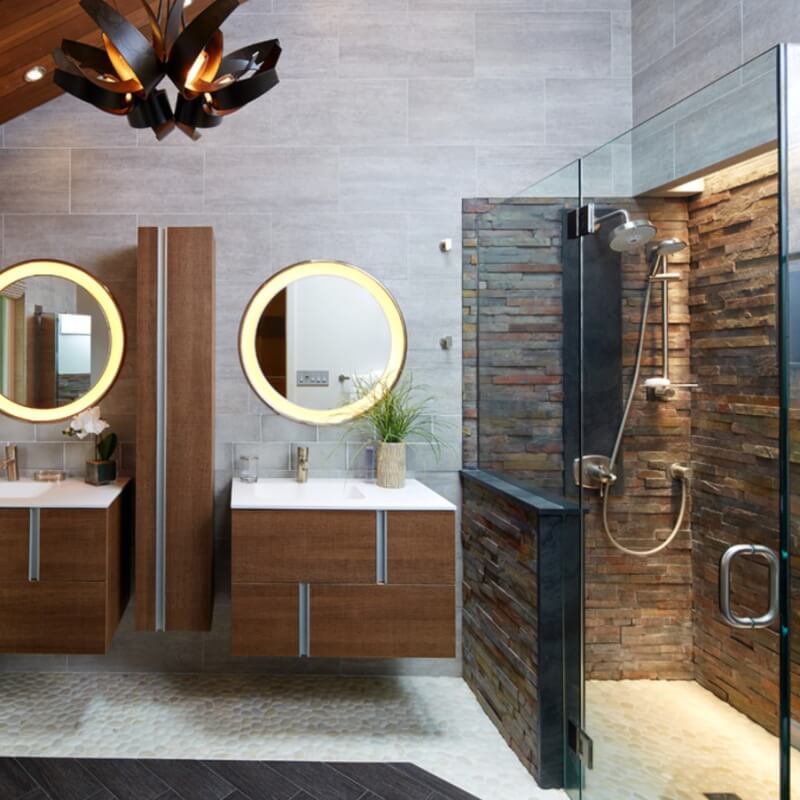 Create this look with MSI's Rustic Gold Stacked Stone (Photo Credit: Houzz)
Stacked stone panels, when installed properly, protect the walls from moisture. That means they're a unusual, but beautiful choice for shower surrounds.
Rustic Gold Stacked Stone, in an earthy mixture of gold, rust, and gray with a slight blue tinge looks just as good wet as it does dry. It comes with matching corner pieces, which work equally well on inner and outer corners and are easy enough for even a DIY-er to install.
Fossil Rustic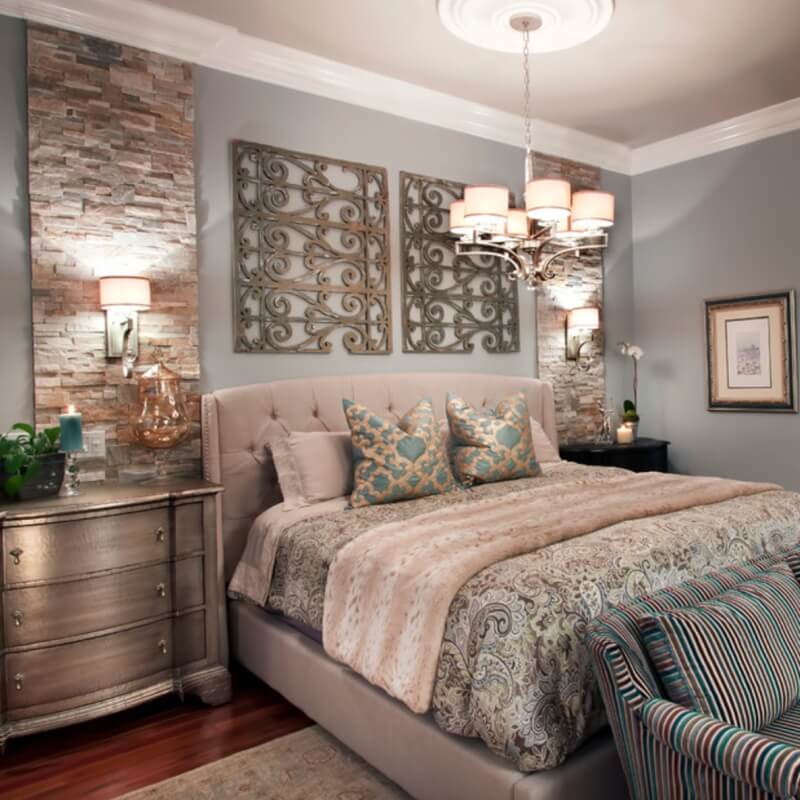 Recreate this look with MSI's Fossil Rustic Stacked Stone (Photo Credit: Houzz)
Narrow, wall-to-ceiling strips of stacked stone ledger panels are ideal for flanking a luxurious bed. The natural beauty of Fossil Rustic Stacked Stone is just as much a work of art as the framed pieces that hang near it.
We love the way the random depths of each stone capture the light and shadows from these wall-mounted bedside lamps, and with the stone's soft, neutral color variation, you can switch bedroom color schemes as often as you like.
Golden White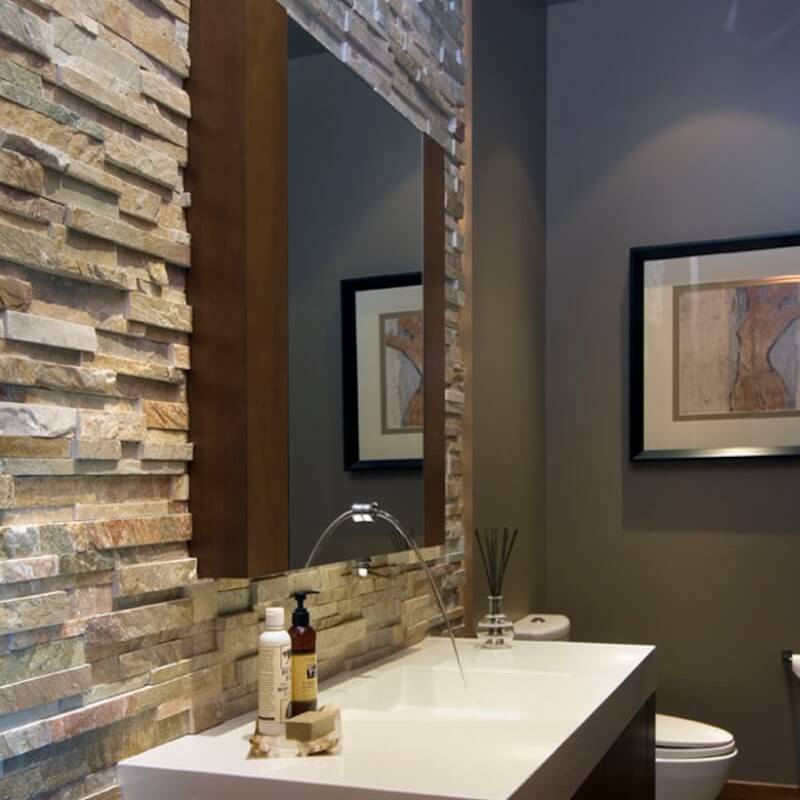 Get this look with MSI's Golden White Stacked Stone (Photo Credit: Houzz)
Bathrooms are among the most-used rooms in the house, so make sure yours is as elegant and unique as you are. Golden White Stacked Stone, in a floor-to-ceiling accent wall, serves as a backsplash and a framing element for the simple bathroom mirror.
Pairing 3-D stacked stone with clean, squared-edge countertops and cabinetry creates a timeless, soothing aesthetic. The combo of gray, gold, cream, and rusty red is colorful, but still a cinch to coordinate.
MSI's stacked stone ledger panels are so versatile, they can create accent walls, backsplashes, shower surrounds, and much more. You can adapt the ideas in this article to your own home, using MSI's many colors and patterns of stacked stone. If you crave a look that's all your own, this might be the decorative touch your home needs.