Can I Install Granite Countertops Outside?
July 15, 2021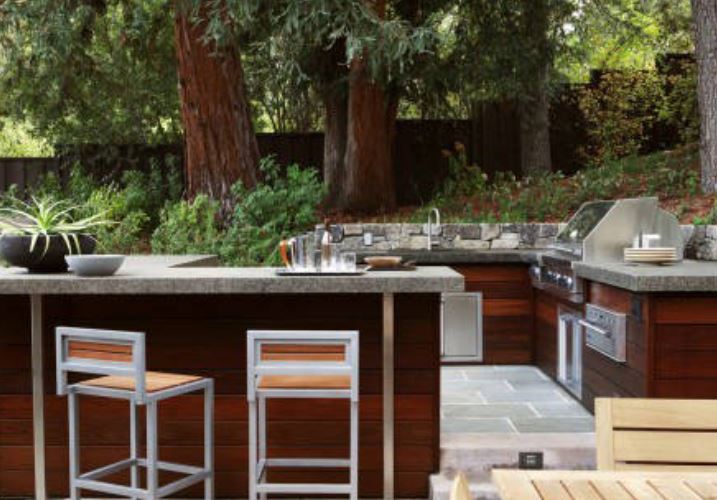 Photo Credit: @arterralandscapearchitects on Houzz
Whether you're looking to increase the value of your home or extend your living space to spend more time outside, you should consider installing an outdoor kitchen. From family meals to entertaining neighbors, you'll be able to utilize this additional living space as long as the weather allows. Why not spend most summer nights enjoying a home-cooked meal from your outdoor kitchen? But there are a lot of decisions to make during the design process before you can enjoy your outdoor living space. From choosing between granite countertops and quartz countertops to the type of appliances to incorporate in the space, there are a lot of choices to be made.
To help make some of the decision-making process a bit easier, we've put together a list of reasons why granite countertops are a choice for your home's outdoor kitchen. Keep reading to learn why you won't be disappointed with granite kitchen countertops.
Benefits of Installing Granite Countertops Outdoors
When deciding on the stone countertops for your outdoor kitchen, you not only want a material that has a high-end look but is durable as well. Luckily, granite countertops will check all of your boxes. To help you feel confident in your decision, here are a few of the many benefits of installing granite countertops outside.
Durable
Determining the right countertop material for a kitchen is a tough choice — especially when it is for an outdoor kitchen. Not only does the kitchen countertop need to be able to withstand the wear and tear from cooking, chopping, baking, and more, it also needs to be able to stand its ground against Mother Nature. Without a durable outdoor countertop, you'll find yourself dealing with repairs or maintenance far more frequently than you'd like. Granite is a great option for an outdoor kitchen because of how durable it is. Its hard composition makes it extremely resistant to chips, cracks, stains, and scratches, allowing its natural beauty to shine for many years to come. It's also heat resistant, which is a bonus for a kitchen because you can safely place hot pots and pans directly on the surface without worrying about damaging or blemishing the counter.
Bacteria-Resistant
They say the kitchen is the heart of the home — which means adding an outdoor kitchen is essentially adding a second heart to your home! It is a space where your family can gather and create a fresh, home-cooked meal. Because you and your family will need counter space to prepare your meal, you need to be sure that it's a clean surface! Granite is the ideal prep countertop because of its resistance to bacteria. It has non-porous properties, which means that it is less likely to become covered in bacteria, dirt, and other grime. Have peace of mind knowing your granite countertops won't cause any harm to your family's health.
Maintenance
No one wants to spend their free time scrubbing their counters every day just to keep them looking their best. Why add another thing to your ever-growing to-do list when you can opt for a low maintenance option for your kitchen countertops like granite. Spend your free time sitting out back with your family and preparing a meal together instead of wasting time cleaning your outdoor countertops. Instead, your granite countertops will simply require a wipe down every so often with a soft rag and warm water or a granite-specific cleaner.
Resale Value
Whether you're considering selling your home or just looking for a way to increase your home's resale value, consider installing an outdoor kitchen with high-quality granite countertops. Although granite isn't the cheapest option on the market (and for a good reason!), its durability, appearance, and ease of maintenance all ensure that granite has a great return on investment. When touring your home, prospective buyers are going to be wowed by its appearance and see the value in your premium surfaces.
Choose High-End Outdoor Kitchen Countertops
Have we settled the quartz vs. granite countertops debate once and for all? Now that you know the countertop materials for your home improvement project, it's time to decide on the specific granite colors and patterns. Here are a few of our favorite natural stone countertop options that are sure to elevate your backyard.
Absolute Black Granite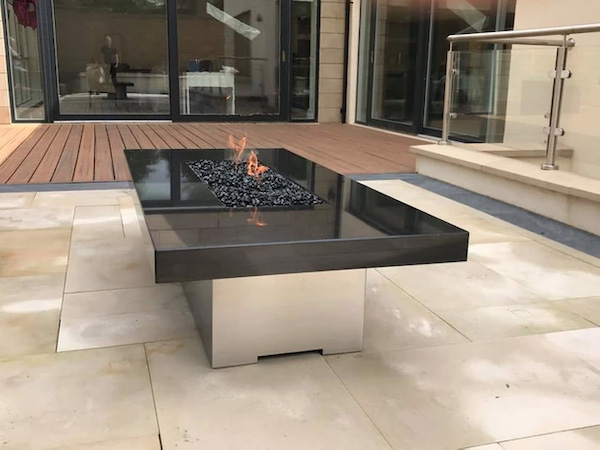 Photo Credit: @urbanfires.co.uk on Pinterest
Dark, moody countertops are a top pick for outdoor spaces because of their ability to hide dirt more easily. For high-quality granite, look no further than Absolute Black granite. This remarkable granite is recommended for both interior and exterior use to create beautiful granite countertops, floors, architectural features, and outdoor cladding.
Salinas White Granite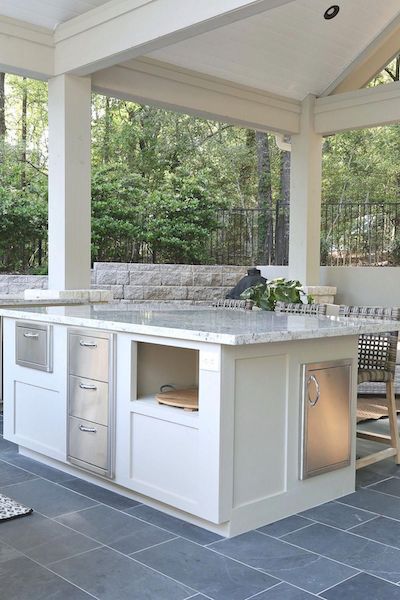 Photo Credit:@thecreativityexchange.com on Pinterest
Why settle for boring when you can add depth and dimension in your backyard? For a one-of-a-kind appearance, you won't be disappointed with Salinas White granite countertops that offer a snowy white complexion accentuated with densely packed onyx speckles. Whether you're looking to install a simple countertop or are opting for a more high-end look with a waterfall countertop or accent wall, there's no better option for residential applications than Salinas White.
Gray Mist Granite
For an unmatched granite countertop slab, you must consider Gray Mist granite. With non-traditional and free-flowing veining throughout the entire slab, you can easily create a sense of movement that ties in seamlessly with your existing outdoor space. From outdoor kitchen countertops to accent walls, Gray Mist is the perfect choice for any exterior home improvement project because of its availability to withstand all climates.
If you're designing the perfect outdoor kitchen for your home's backyard, you need kitchen countertops that not only look the part but will retain their beauty for many years to come. MSI's selection of granite countertops come in a variety of colors and styles, allowing you to decide which brings your vision to life. Need help seeing how each option will look in your existing space? Try MSI's kitchen visualizer to easily show you, in real-time, how granite countertops will look in your outdoor kitchen.
READ MORE ABOUT GRANITE COUNTERTOPS
Brazil's Unique Ubatuba Granite
Caring For Granite Countertops: Cleaning, Sealing, And Polishing
Choosing Granite Countertops For White Cabinets
Choosing Your Bathroom Countertop: Quartzite, Granite, Marble, And Quartz Countertops