The Progression Of Kitchen Backsplashes
April 15, 2013
Like many design elements, a kitchen backsplash began as a functional element and evolved into an opportunity – an opportunity to add color, interest, and style in an otherwise practical space.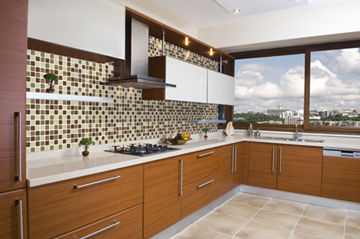 THEN
The primary purpose and origin of a backsplash was to protect a wall adjacent to a sink, countertop, or behind an appliance. A hard and durable tile protected drywall or plaster from splashes and moisture and prevented liquids from rolling down the wall. Moisture or splashes were prevented from seeping into the space between the vertical wall and the horizontal countertop, where they could collect behind the cabinetry. The addition of a backsplash and its corresponding line of grout provided a practical barrier between the wall and appliances that created moisture or generated splashes.
Initially, a backsplash was composed of an extension of the chosen countertop material or of a row or several rows of tile. The color schemes were intended to blend in rather than to stand out, for a more monochromatic palette to make smaller kitchens feel larger.
NOW
Today, a backsplash is ever practical, still providing that same measure of protection. However, its usefulness far exceeds that of protecting a wall from grease, dirt, oil, smoke or food stains, as modern cleaning products make even a plain wall an easily wipe-able and washable surface. The main benefit of backsplash tile to a discerning designer is the look.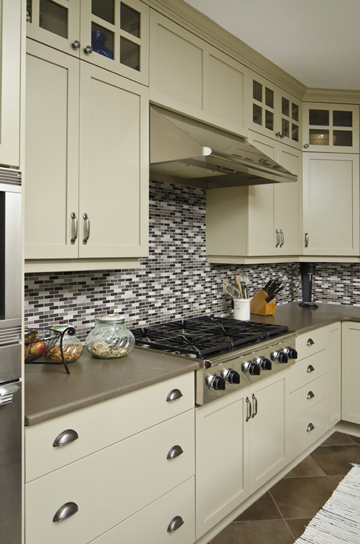 Backsplash tile is a great opportunity to introduce color and contrast. This is particularly the case with contemporary materials, like mosaics, that incorporate both of these elements: a splash of interesting color in the form of glass, stone, or metal mosaic tile that provides contrast to the smooth surface of a granite countertop.
Tile backsplash design can also introduce a new pattern, such as brick, herringbone, checkerboard, or diamond. Mosaics can offer a modern metallic look or an Old World stone look depending on the kitchen's theme – the options are endless for complementing your natural stone countertops and creating a mood with backsplash design.
Backsplash tiles also work well as a "statement wall", such as a length of glass mosaics rising from the base of a sink all the way to the ceiling – a full expanse of color and light-capturing material that lends light and fun to the space. With so many mosaic tile options today, one can essentially create a permanent "wallpaper" –one that protects as well as enhances the value of the room.
Another design benefit of the backsplash is its positioning – backsplash tiles generally run the length of a countertop and under the cabinetry. Therefore, depending on the size and style of tiles selected, they can be used to lengthen the appearance of the countertop and draw the eye around the room, making it seem larger. Large or rectangular tiles (like subway tiles) are particularly suited to this purpose and give the illusion of more space. In addition, their positioning under the kitchen cabinets also invites the option of highlighting them more significantly with lighting. With strategically placed under-cabinet, recessed lighting, glass mosaics and metal mosaics can come to life, offering a different design aesthetic by day and night.

The kitchen backsplash may have begun as a functional element but it indeed evolved into an opportunity for design. Today's backsplash is functional design, providing a protective barrier while also enhancing the look of the room with color, contrast, patterns, and interest.
MS International offers hundreds of mosaic and natural stone tiles, borders, and trim for creating a striking display in your kitchen. If you'd like to envision backsplash tiles in your kitchen, check out our new Kitchen Visualizer and play with a variety of mosaic options.
READ MORE ABOUT MSI BACKSPLASH TILE
7 Granite Slab Backsplashes For An Inspired Kitchen Design
Creating The Perfect Pair With Your Backsplash And Granite Countertop
The Right Way To Install A Metal Mosaic Backsplash Tile
Yes! The Right Backsplash Tile Can Completely Transform A Room