Create The Perfect Tile, Backsplash, And Countertop Combinations
January 27, 2023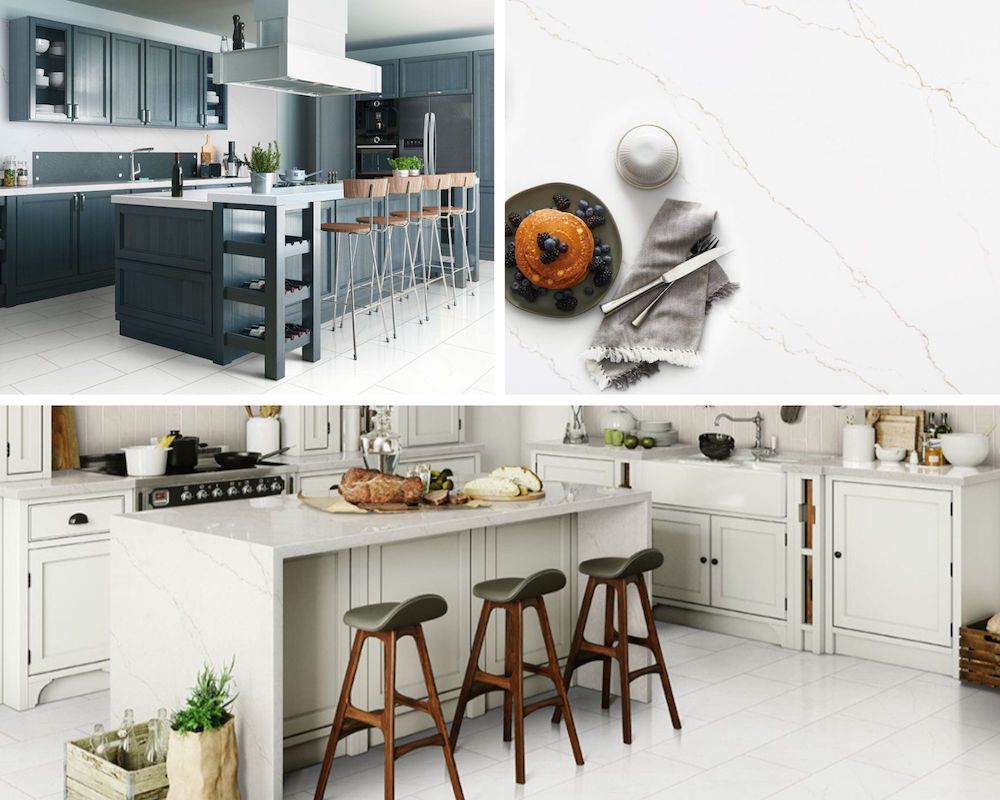 Whether you're remodeling a kitchen or bathroom or starting from scratch in a brand-new home, it's about so much more than choosing the right countertop. It's also about selecting the perfect backsplash, flooring, and cabinetry. If you're like most homeowners, it's easy to get a bit overwhelmed by the process – there are so many beautiful products to choose from and compare.
But MSI is here to make it simple for you – introducing the Miraggio Collection of coordinating quartz countertops and porcelain tile.
The Miraggio Porcelain Tile Collection features two colors of marble-look tile that are perfect for backsplashes, flooring, accent walls, and more. Both feature a bright white background with veining in shades of gray or gold, two colors that will complement just about any design style.
So when you're looking for that timeless, elegant touch for your kitchen, bathroom, entryway, or any other room in your home, remember that Miraggio porcelain tile is also super easy-care and durable, even in high-traffic areas.
Not only is Miraggio porcelain tile an exceptionally durable type of flooring for every room inside your house, but with available coordintating pavers, you can also extend the Miaggio Collection to your outdoor spaces – this opens up an entirely new world of design possibilities! Plus, it's available in different sizes for unbeatable design flexibility: 12" x 24" tiles, large-format 24" x 48" tiles (which means fewer grout lines), and even petite-sized 2" x 2" hexagon tiles. You can also choose between a matte or polished finish.
MIRAGGIO QUARTZ COUNTERTOP AND MIRAGGIO GRAY PORCELAIN TILE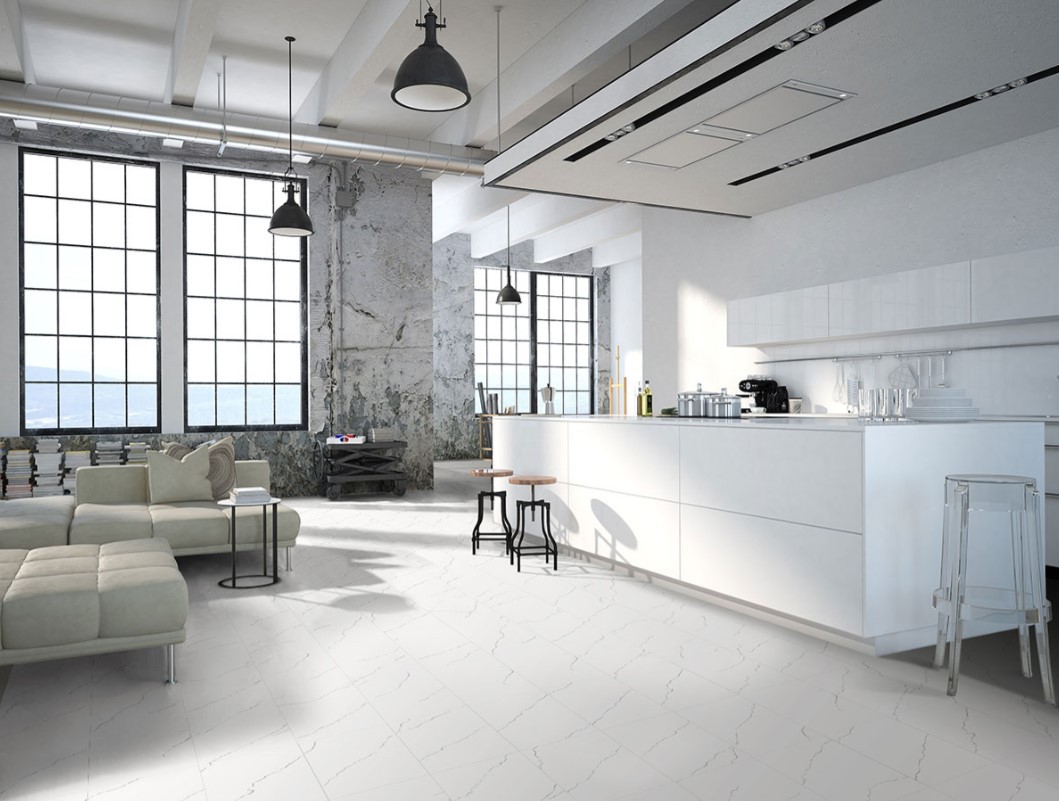 The industrial look has been a hot trend for some time. You might not have considered pairing its urban, streamlined décor with marble-look flooring, but Miraggio Gray porcelain tile takes this aesthetic to a new level. This scene combines a durable, easy-care modern quartz slab countertop with white cabinetry to create an uncluttered look contrasted to the rough-textured gray walls. Together it might be a bit drab and shabby, but with the addition of elegant marble-look floor tile, it becomes a cheerful, upscale space ready for family life and entertaining.
MIRAGGIO GOLD QUARTZ COUNTERTOP AND GOLD PORCELAIN TILE
Today's homeowners and interior designers continue to adore the farmhouse aesthetic – but today's farmhouse kitchens are becoming more refined. They've kept the white cabinets but made some noteworthy changes. Gone are yesterday's shabby stone floors and trestle tables; they've been replaced with streamlined, upscale center islands with an easy-care countertop material and waterfall edges alongside pristine, easy-care white porcelain tile flooring. Perhaps it's a product of our current obsession with keeping our homes clean and hygienic, which never goes out of style.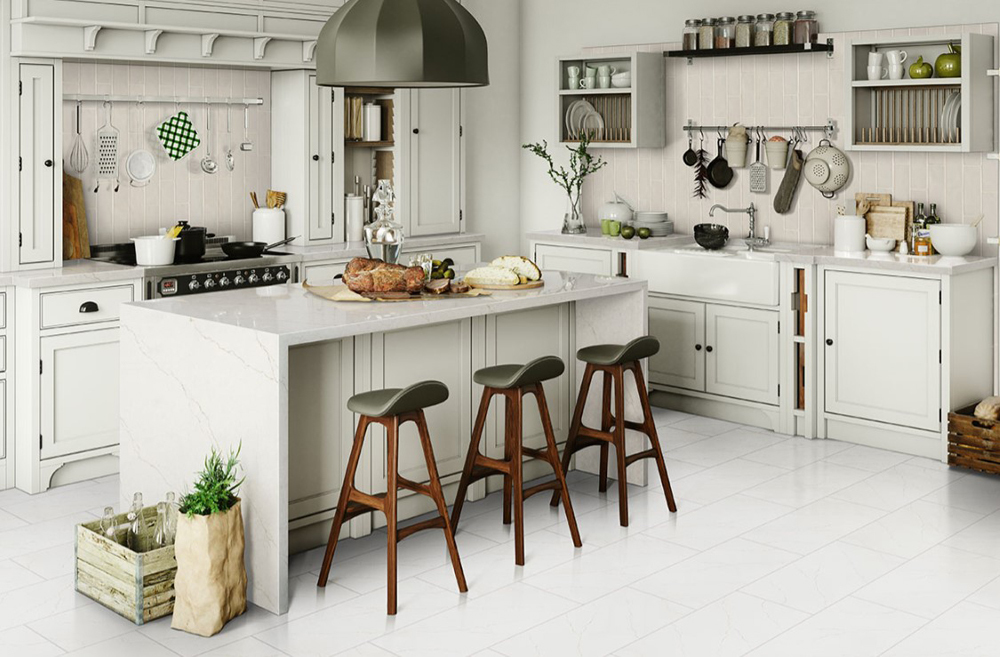 Pair it with one of MSI's coordinating backsplash tile mosaics, such as subway tile, real marble Arabescato Carrara, or a brick-look porcelain tile. You can also install Miraggio porcelain tile as a backsplash or accent wall. Although there's a lot to love about Miraggio Gold marble-look quartz countertops and porcelain tile, one of its best qualities is its timelessness and versatility. If you should choose a different type of décor, your countertops and flooring will look just as gorgeous.
MIRAGGIO GOLD QUARTZ COUNTERTOP, BACKSPLASH, and PORCELAIN TILE COMBINATIONS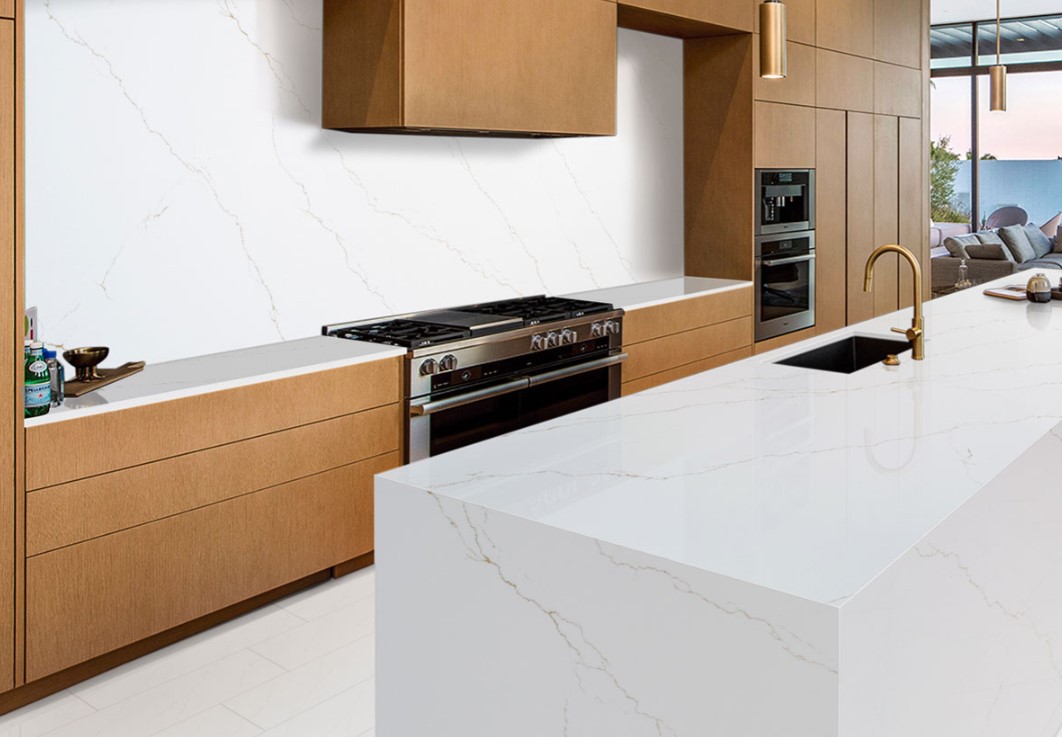 Don't let your indecision about backsplash designs delay your renovation project. Often, the easiest – and most elegant – way to match up a countertop with a backsplash is simply using the same quartz slab for both surfaces. Miraggio Gold quartz is available in a 3 cm thickness for use as a countertop, and a 2 cm thickness, which is perfect for vertical installations such as the backsplash. Since it's a subtle, understated pattern, there's no risk of overpowering the room with the same surface material, no matter how much of it you use. Pair it all with a Miraggio Gold Porcelain Tile floor and you have a complete package!
Modern quartz countertops and backsplashes have the added benefit of never needing to be sealed. That way, you never have to worry about messy cooks and their splashes, splatters, and stains. So instead, wipe it up and go on with your life – and enjoy every moment spent in your beautiful kitchen.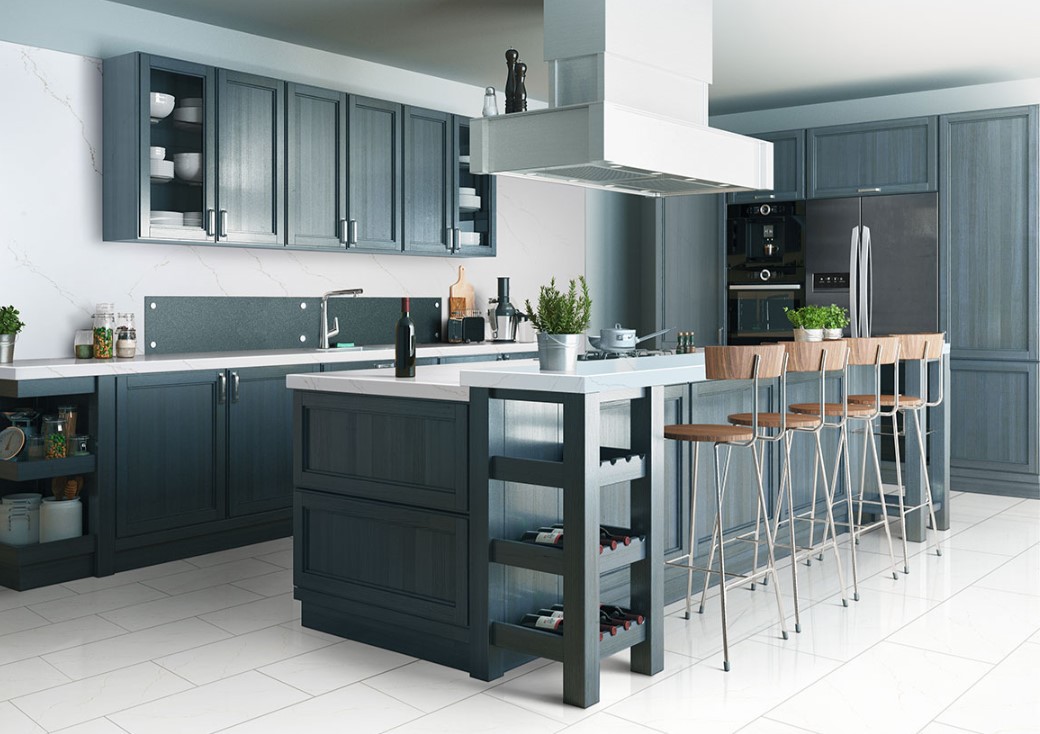 Creating a beautiful kitchen using MSI's top-quality products is easy, especially when you choose the elegance of fine Italian marble-look quartz. But what's just as important as a room's good looks is its practicality – after all, you are going to live in your home, not just admire it all day. So keeping it clean and stylish, despite the demands of daily life, all comes down to the surfaces you select.
Looking for more inspiration? Contact us in real-time using our website chat feature at the bottom right of your screen, or visit one of our showrooms to view our vast selection of countertops, backsplashes, and flooring options, perfect for your next project!
LEARN MORE ABOUT QUARTZ COUNTERTOPS
FROM NEUTRAL TO BOLD: EXPLORING THE RANGE OF COLORS AVAILABLE FOR QUARTZ COUNTERTOPS
5 PERFECT QUARTZ COUNTERTOPS FOR YOUR DREAM KITCHEN
DESIGN YOUR DREAM KITCHEN WITH MSI'S MULTI TONE QUARTZ COUNTERTOPS
THE BENEFITS OF INSTALLING KOSHER-CERTIFIED QUARTZ COUNTERTOPS IN YOUR KITCHEN