From Neutral To Bold: Exploring The Range Of Colors Available For Quartz Countertops
April 25, 2023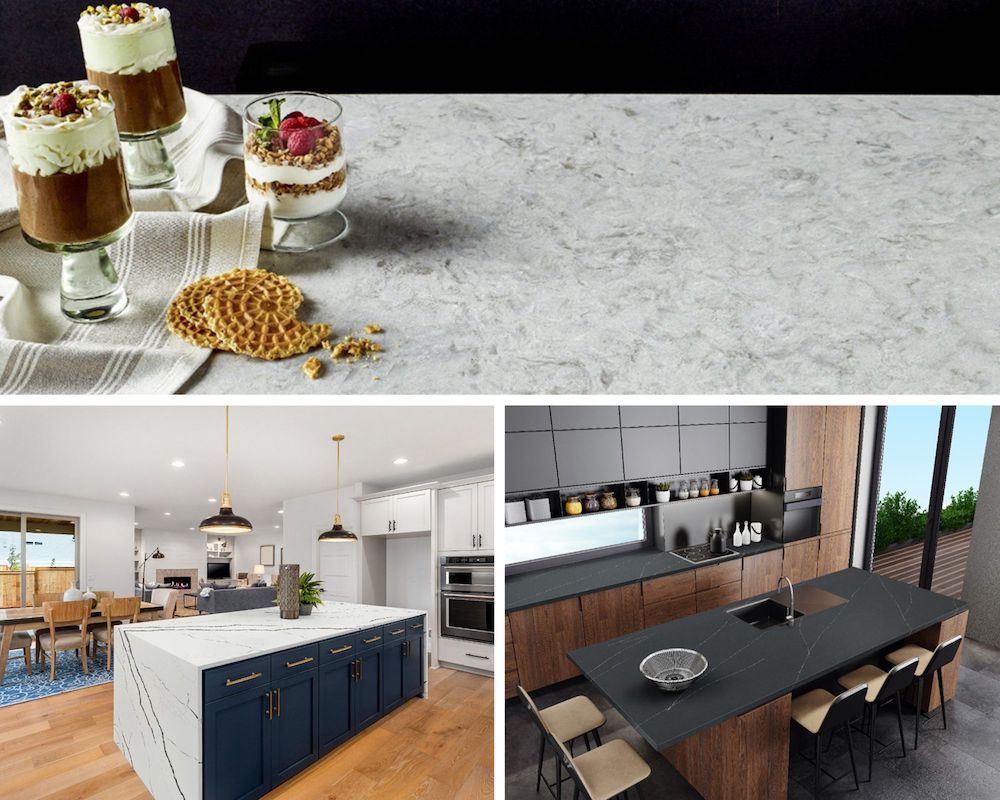 Quartz countertops have been steadily gaining popularity in recent years, and for a good reason. They are resistant to scratches, chips, and stains, making them a practical choice for high-traffic areas like kitchens and bathrooms.
This stunning material can resemble natural stone but offers greater consistency and uniformity in color and pattern, making it a versatile option for any design style. Plus, with a wide range of colors available, homeowners and designers can choose from neutral tones to bold designs – and everything in between!
Color selection is an important consideration when choosing a quartz countertop. For the most cohesive space, it helps to select a color and pattern that complements your cabinets, flooring, and backsplash while also considering the natural lighting in the room.
The Popularity of Neutral Colors for Quartz Countertops
Neutral colors such as white, beige, and gray remain popular for countertops due to their versatility, as they complement various design styles and color palettes. They can create a clean, modern look or a warm, welcoming feel. Additionally, neutral quartz colors are easy to coordinate with other materials in the room, such as cabinets, backsplashes, and floors. This allows for greater flexibility in the design process, making it easier to create a cohesive and polished look - whether you prefer a simple and understated style or a more intricate and detailed design.
Let's explore some of our favorite neutral quartz colors and see what makes them the perfect backdrop for any décor.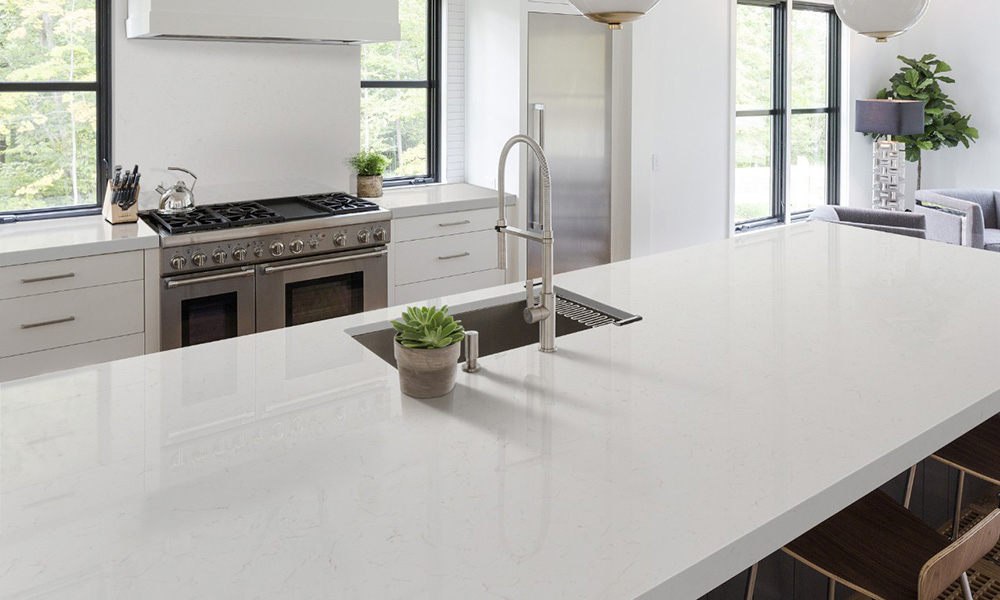 Bring a timeless feel to your home with Carrara Miksa Quartz. This elegant marble-look quartz is stunningly polished with intricate gold and gray veining that effortlessly complements traditional and contemporary designs. This gorgeous color not only upgrades the look of any space but is a wise investment for revamping residential and commercial properties. Practical, stain resistant, and easy to maintain, this quartz's durability ensures long-lasting beauty.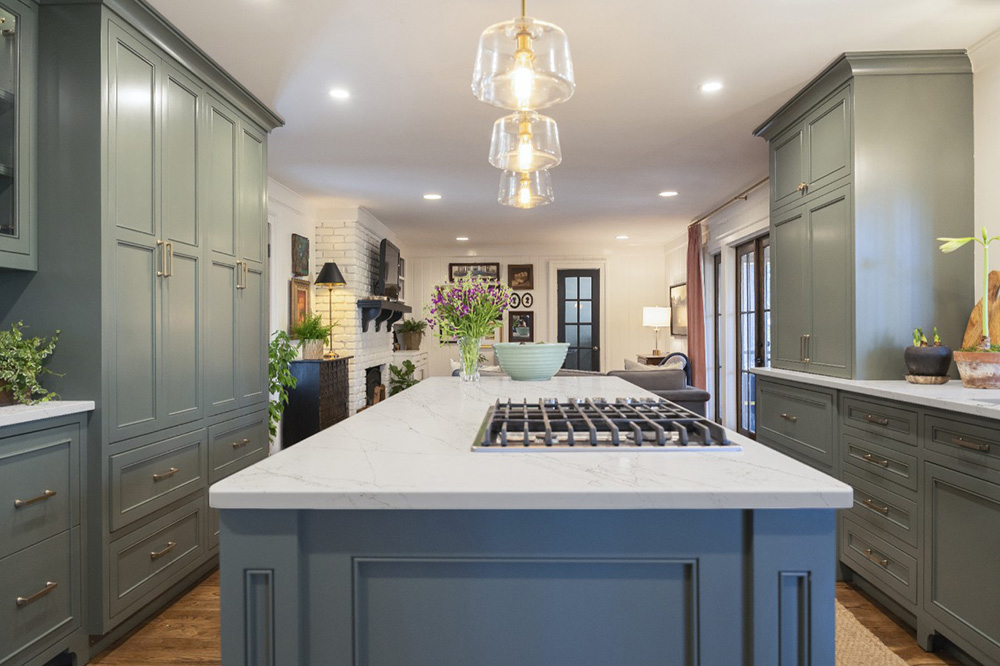 Elevate your space with the welcoming and neutral design of Calacatta Viraldi Quartz. This versatile white quartz countertop complements various design styles and features stunning brown and green wispy veins seamlessly intermingled against a warm white background. Additionally, MSI's exclusive LumaLuxe® formulation takes the beauty of this quartz to the next level by enhancing how light interacts with the surface, providing a truly immersive experience. Perfect for statement kitchen islands and countertops, this low-maintenance quartz adds a touch of flair and refinement to any home.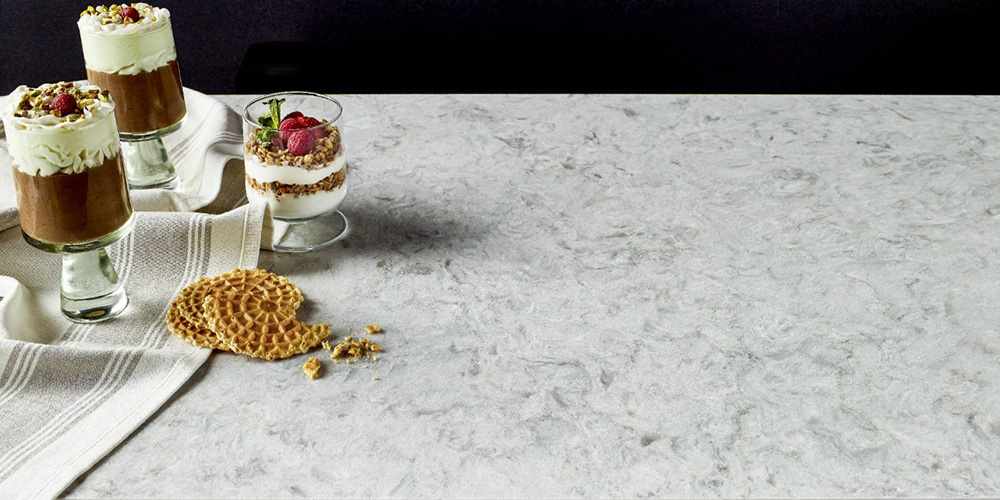 Achieve understated elegance in your space with Rolling Fog Quartz. This designer top-pick quartz features beautiful muted grays, cream, and white hues that seamlessly blend to create a neutral yet luxurious aesthetic. Its versatile design effortlessly complements various decorative schemes, making it a perfect choice for kitchen countertops, waterfall islands, backsplashes, and tabletops. Durable, low maintenance, and impressively stain-resistant, this exquisite quartz ensures long-lasting beauty and ease of care. It is the perfect choice for those searching for a neutral-hued luxury-look countertop.
The Trend Toward Bold Colors for Quartz Countertops
Bold patterns and veining can add a pop of interest that makes a statement. With a striking design, you can create a focal point in your space and add a unique touch to the room's overall aesthetic. Additionally, the durability of quartz countertops ensures that the color will remain vibrant for years to come. This makes it a practical and long-lasting choice for those who want to make a statement without sacrificing functionality. Plus, with the wide range of design options, finding a style that complements your space and reflects your taste is easy. So, whether you prefer a minimalist look or something more dramatic, one of MSI's quartz countertop designs is perfect for you.
Let's look at some of our most popular bold quartz colors and discover why they are ideal for any home.
Transform your kitchen or bathroom with the luxurious and dramatic Calacatta Laza Night Quartz. This stunning quartz features charcoal veining interwoven against a cool white background, which enhances its natural marble look and brings a modern touch to any space. Not only is it visually stunning, but it's also incredibly durable, standing up against scratches, chips, and stains with ease. In addition, Calacatta Laza Night is bold yet flexible, making it excellent to complement a range of styles and color palettes for something extraordinary.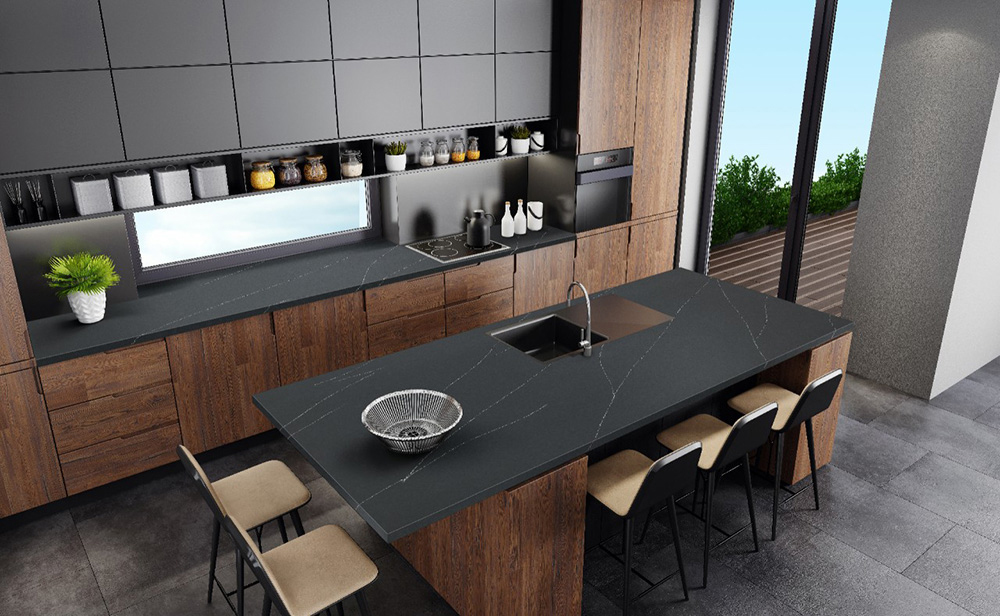 Make a bold statement with Soapstone Metropolis Concrete quartz – featuring a dark gray background with long, faint white veins that add subtle detail. These stunning countertops have a soapstone look in a concrete finish. They are also hygienic, durable, and require little maintenance. The dark gray nature of these slabs delivers a touch of striking sophistication and contemporary glam to various design projects, including countertops, wall accents, and more.
Maintenance Considerations for Different Colors
The maintenance requirements for your quartz countertops may vary depending on the color of the quartz you choose. Lighter colors like white or beige are more prone to staining and discoloration from substances like red wine, coffee, or tomato sauce. Therefore, it is crucial to wipe up spills as soon as possible and avoid leaving acidic or staining substances on the surface for an extended period.
On the other hand, darker-colored quartz countertops may show marks more visibly than lighter-colored quartz. They may also require more frequent cleaning to avoid the accumulation of dust and visible fingerprints.
Following the manufacturer's instructions for cleaning and maintaining your specific quartz countertop is essential. No matter what color your quartz countertop is, there are some basic things you can do to keep it looking its best:
Clean spills immediately with a soft cloth and gentle cleaner
Use a cutting board to prevent scratching
Avoid harsh chemicals, such as bleach and ammonia
Use hot pads or trivets to prevent scorching
Don't use abrasive cleaners or scrubbers
Regularly wipe down your countertop
These simple tips can help ensure that your quartz countertop looks its best for years. Check out our quartz care and maintenance video for more information on caring for your quartz countertop.

Choosing the right color for your new quartz countertop plays a crucial role in the overall aesthetic of your space. Various colors and designs provide endless customization and personalization opportunities to fit any design scheme. Whether you opt for a classic neutral or a bold statement color, quartz countertops offer the perfect combination of form and function.
Ready to start exploring the wide range of colors available for quartz countertops? Chat with us today, visit one of our showrooms, or find an MSI authorized dealer near you to start designing your dream space.
LEARN MORE ABOUT QUARTZ COUNTERTOPS
10 STUNNING KITCHEN ROOM SCENES FEATURING MARBLE LOOK QUARTZ
DESIGN YOUR DREAM KITCHEN WITH MSI'S MULTI TONE QUARTZ COUNTERTOPS
THE BENEFITS OF INSTALLING KOSHER-CERTIFIED QUARTZ COUNTERTOPS IN YOUR KITCHEN
INTRODUCING 6 NEW CALACATTA QUARTZ COLORS: WHICH ONE IS RIGHT FOR YOUR KITCHEN?