Popular
Outdoor Sanctuaries We'Re Coveting
June 27, 2017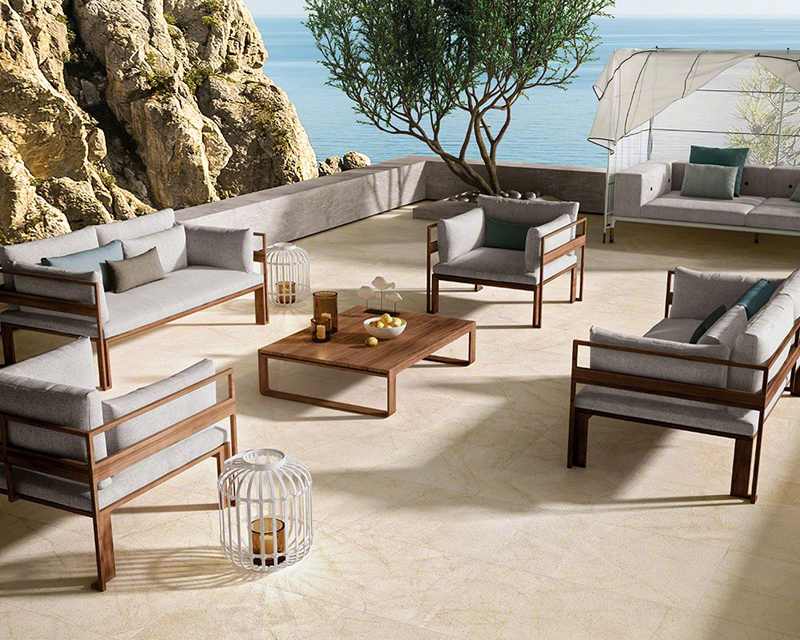 Featured: Livingstyle Porcelain
Whether we're soaking up the sunlight on a hammock, swimming at the lake, or stargazing on the terrace, summer is all about easy living. Kicking back and lingering longer in our happy place sounds idyllic– especially in the refuge of our own backyard.
If you've been following us, you know that Alfresco Living is one of our Top 5 Design Trends for 2017. Of course, our design team is all too happy to stoke the fire of the outdoor lifestyle revolution with a dreamlike lineup of our favorite backyard hideaways. Along with our top picks, you'll find tips on making the longer days of summer a little sweeter.
After all, the intent behind these trendsetting designs—full-on relaxation and gracious entertaining—is part of what makes them special. Taking our love for all things fresh and stylish to the open air, these A-list spaces were curated to transfix, inspire and transform.
In the spirit of summer—and it's long-awaited arrival—here's to tweet-worthy designer insights and dreaming big (no matter the scale of your out-of-doors space).
Every Day Getaway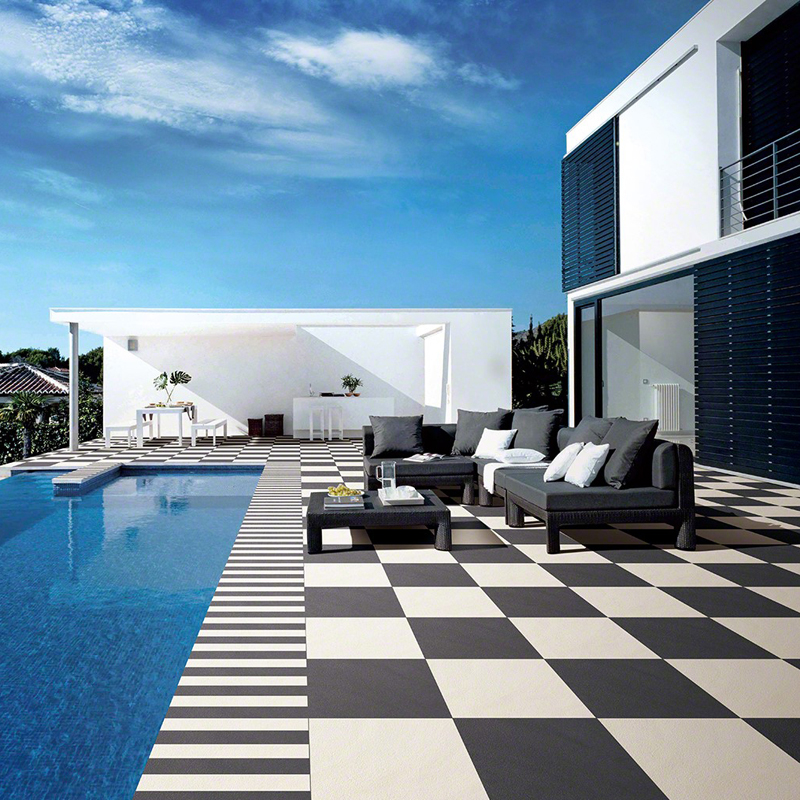 Optima Porcelain Tiles in Cream and Graphite are arranged checkerboard style to give this contemporary poolside terrace an iconic vibe.
Who wants to enjoy a piece of paradise pie a few measly weeks out of the year when you can create a trip to Blissville every day with a vacation-like backyard. Whether you have acres to create outdoor living spaces, or just enough elbow room for a table, fountain, or fire pit, amenities and out-of-box styles (i.e. domino or encaustic patterns) can transport a yard into one that feels like a chic 5-star destination.
Try this: Indulge your five senses in the unique characteristics of a treasured getaway by gathering all things native: food, materials/ texture, flowers/herbs, colors/art, and music.
Prime-Time Worthy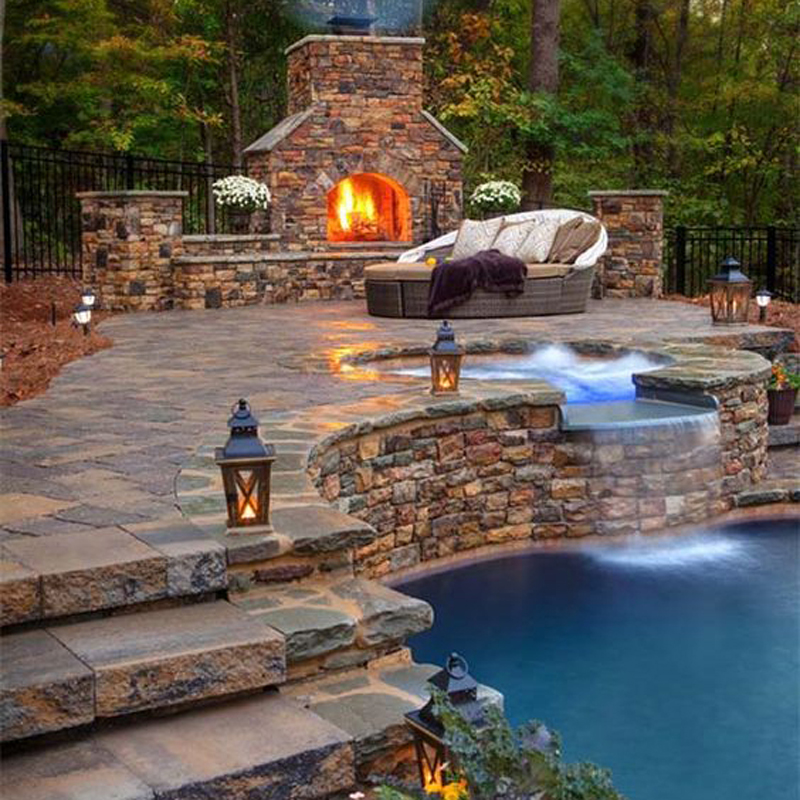 Photo Credit: Pinterest
A natural stone fireplace, terrace, and pool area launch this wooded yard into storybook territory.
Wherever you install natural stone (plant beds, pathways, terrace, fireplace, fountains, walls, etc.), it has a been-there-forever look that seems to be carved out of the landscape. Pair its luxe, soothing looks with organic elements like greenery, fire, and water—and you have the makings of an all-out haven.
Try this: Want to create a garden bench that will last forever? Design it with a slab of stone.
A Secret Garden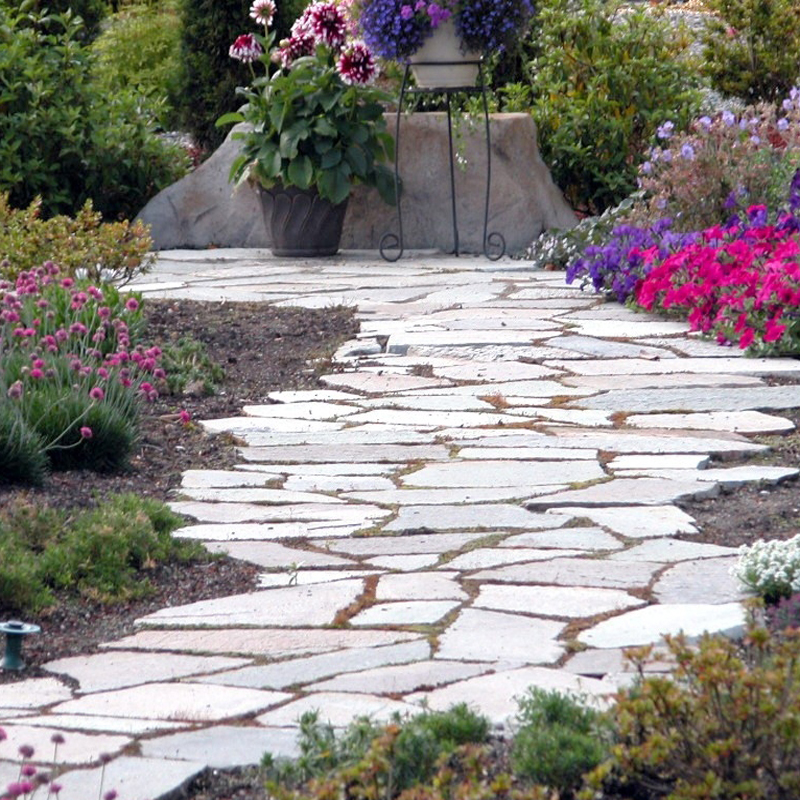 A Golden White Flagstone pathway is perfect for meandering through a flower garden in style.
Now that the fairest season of them all is upon us, flower power is in full swing. And what better way to show off your fragrant little darlings than to weave a path through them with a stone walkway that says, "Stay a while." We love the graceful flow of a winding flagstone path –, especially in an informal garden. To achieve the casual look, simply combine stones of different shapes and sizes, leaving space between them for greenery to grow.
Try this: Have a sunlit parcel with well-drained soil? The herb garden of your dreams awaits.
Sitting Pretty

Photo Credit: Pinterest
This large stone sectional curves around a fire pit, turning this after-dark conversation spot into a family affair.
Trendspotters say outdoor seating areas are becoming larger (and more popular) than ever. Since they're an investment that lasts a lifetime, natural stone sectionals are in high demand. Glammed-up or rustic, these no-maintenance lookers add dimension and character to a yard. In neighborhoods where houses are too close for comfort, sunken sectionals provide an extra dose of privacy.
Try this: Keep your sectional looking fresh and chic by switching out waterproof cushions and pillows each season.
Droolworthy Walls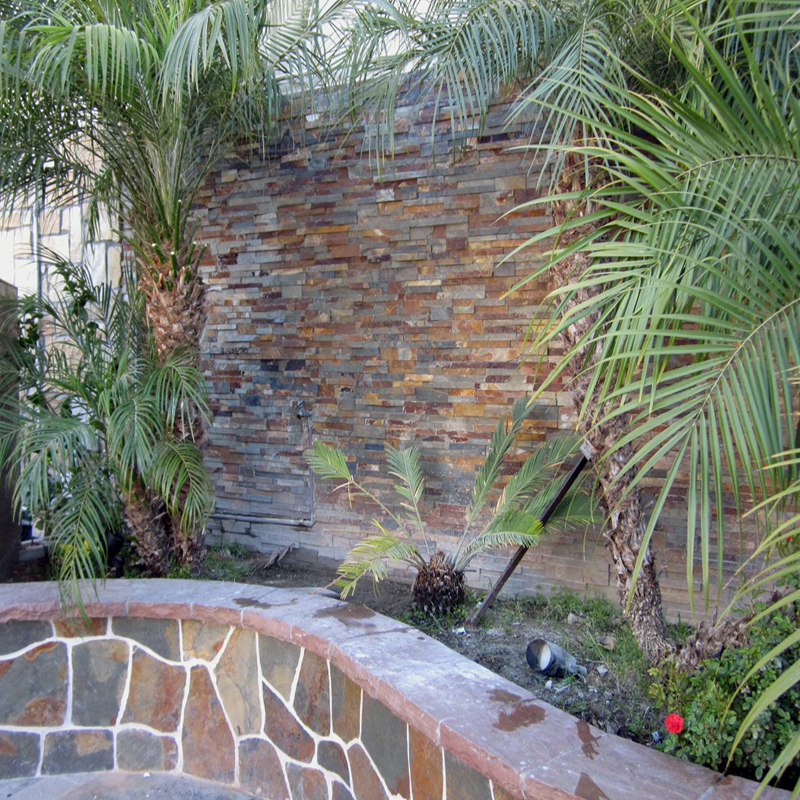 California Gold Stacked Stone Panels and California Gold Flagstone create an unforgettable backdrop.
"I like living in a fishbowl!" said no one ever. Without privacy, a backyard hasn't reached its potential. To create a true hideaway, add barriers (trees, hedges, stone walls, fences) that interrupt sight lines. Our favorite way to create a buffer from neighbors and make a splash? A stone wall outfitted with a fountain. The soothing sound of water defuses noise, making it a sublime antidote to a stressful day.
Try this: Party on the patio? Keep pesky mosquitoes at bay with lemon eucalyptus essential oil.
For the Love of Wood Looks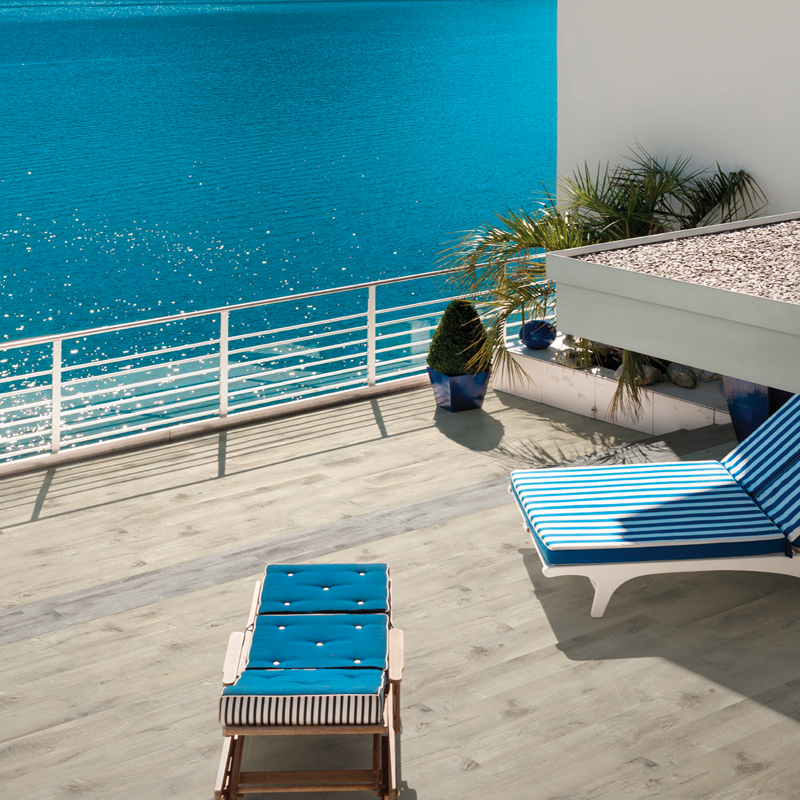 Country River Stone Wood Look Tile delivers an authentic, fresh-from-the-forest style on this full sun deck by the sea.
You may have plenty of deck space to enjoy afternoon naps and entertaining, so why spend your leisure time maintaining wood planks, banishing stains, and removing splinters? Country River Stone Wood Look Tile —complete with realistic knots and grains—is a super durable collection designed for the great outdoors. For a new and now travertine look, take a gander at indoor/outdoor Livingstyle Porcelain Tile.
Try this: Have a furry friend? Dog bowls placed in a planter add polish to your yard.
Pavers in Paradise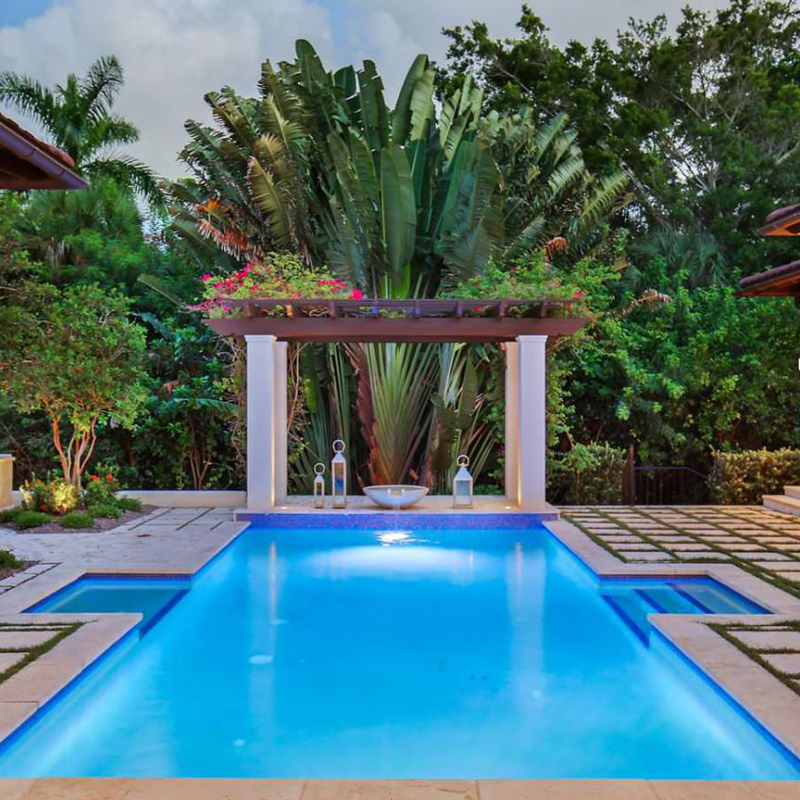 Photo Credit: Houzz
This symmetric courtyard has a heaven-on-earth sensibility – thanks to the lap pool, stone pavers, and mature trees.
Our love of pavers runs deep - especially since they marked the end of concrete slabs – the hot mess responsible for uglying up generations of backyards. Their uptown style and unbeatable durability saved the day – making pavers the most versatile staple in landscape design. Crafted of travertine, marble, granite, sandstone, basalt, limestone, slate, and porcelain, pavers are naturals at achieving breathtaking hardscapes – including pool surrounds, patios, firepits, kitchens, and walkways.
Try this: Due to its light color and porous nature, travertine pavers stay cool underfoot— perfect for sunny poolsides and terraces.
Summer in the City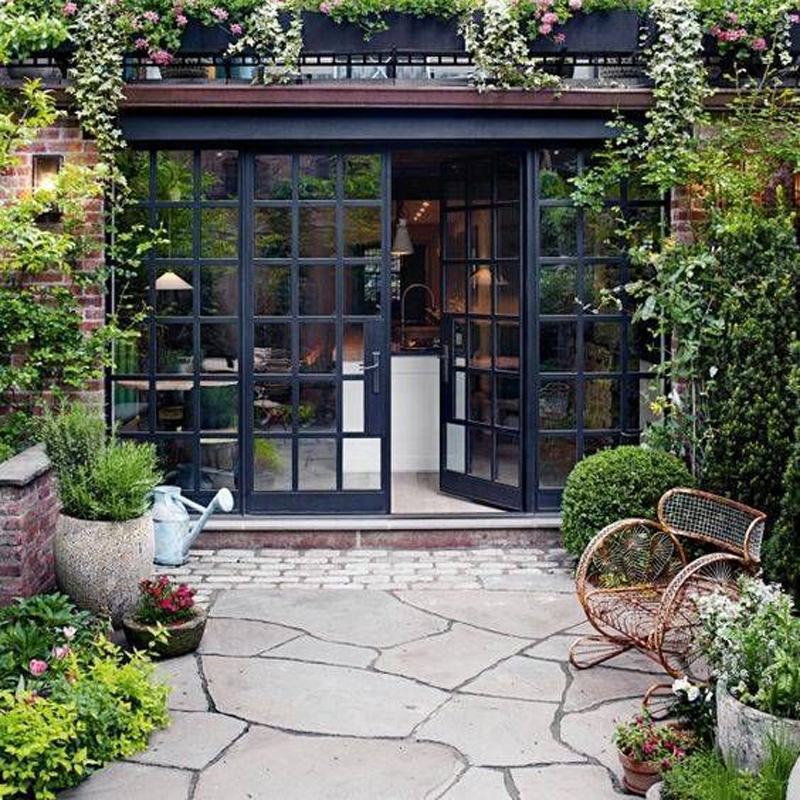 Photo Credit: Pinterest
Aged brick, black multi-pane windows and doors, slate pavers, and overflowing potted plants, create an enchanting backdrop for this urban terrace.
In a concrete jungle, outdoor space is a cork-popping luxury. For those fortunate enough to have a metropolitan yard, every inch is golden. Since there's more foot traffic in smaller spaces, most homeowners prefer stone underfoot over the upkeep of grass. Other ways to add bank to your city digs? Focus on backyard improvements like built-in stone fire pits, water features, and stone walls that double as seating.
Try this: For a pop of color on a space-challenged terrace, a double-sided folding ladder displays potted plants beautifully. Transform the lazy days of summer into something magical by creating the backyard of your dreams. For more inspiration on alfresco living, peek at our Lookbook.