How To Choose The Best Modern Quartz Countertop For Your Home
December 09, 2020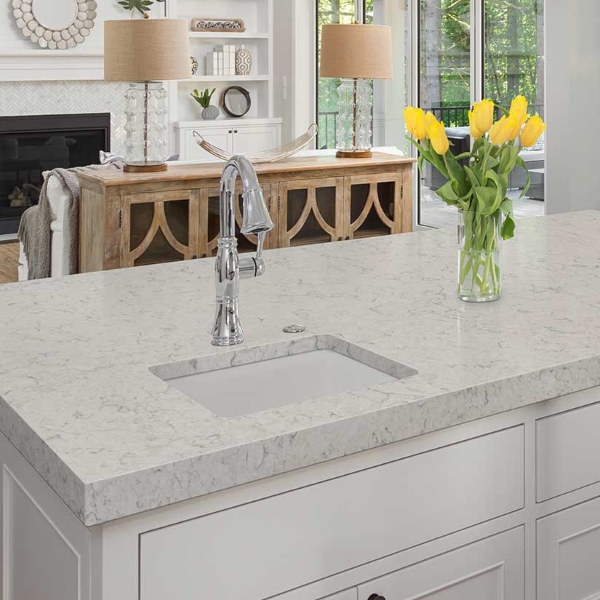 Quartz is a popular countertop choice for remodeling projects and new builds because it comes in a wide range of beautiful colors and patterns. Many masterfully mimic natural stone, including marble and sandstone that coordinate with many color palettes, while granite and concrete styles take a little more planning to ensure the drama is just right. Of course, you can always opt for a solid color, too, for a modern quartz countertop.
Utilizing online tools to help you select your new quartz can be extremely helpful in visualizing the overall look; however, there's nothing like being able to see and touch samples in person at a local showroom. Making your decision isn't always about the look, though, as other factors like budget, coloring, thickness, and more can all contribute to your final decision. Follow these insider tips on how to choose the best modern quartz countertop for your home project.
Budget
Countertops can make or break a kitchen design, so it's no surprise that this key element takes up a good portion of the overall budget. One suggestion from interior design professionals is to select your quartz countertops first and then work the design around your favorite color or pattern. That way you can fall in love with any slab your heart desires so that you're happiest with one of the most expensive items in the kitchen or bathroom.
Many times, quartz is less expensive than luxurious marble and closer in costs when comparing quartz vs. granite. While many will opt for a slab to be made to specific specs, some on a tighter budget should consider prefabricated quartz countertop for a more cost-effective alternative. While they do come in less colors, finishes, and edges to choose from, they still offer a good selection in precut sizes. Plus, you can expect the same high-quality quartz you get when placing a custom order, and it may be available more quickly to help keep your project on time and in budget.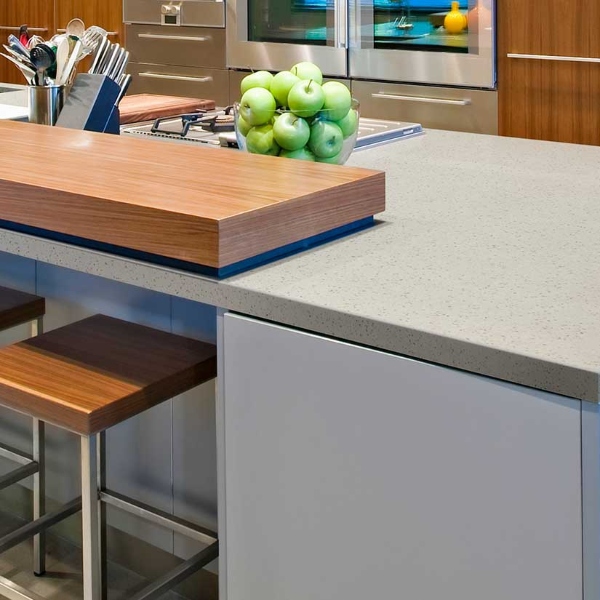 Colors
Previously, quartz was known for its sparkly specs and bold colors, but today's popular surface is often seen in more subtle hues and patterns. Yet, it all depends on the style or vibe you're going for, whether it's modern lux, modern industrial, or modern farmhouse. From marble looks to concrete styles to solid shades, there are quartz countertop colors that will easily work with any design.
Plus, you'll want to consider the size of your surfaces, meaning if you have a kitchen island, will you match it or contrast it with another quartz look? The same surface all around will establish a more streamlined look, while selecting different slabs can create contrast and add drama to a cooking space.
Finish
When it comes to finishes for a modern kitchen, you really can't go wrong with any of them, as they are all popular in their own right. Great for marble-look and solid quartz, a polished finish is perfect for adding sheen to a sleek space or giving a more luxurious look. Ideal for certain stone-look styles or lighter gray and sandy hues, a matte finish creates a subtler, more natural style, which works with modern beach or rustic designs. Enhancing light gray to charcoal colors, a concrete finish gives concrete-look quartz the texture needed to replicate real cement and make the industrial style come to life. The finish of your countertop greatly contributes to the overall vibe of the space, so it just depends on which direction you want to go.
Thickness
The thickness of your countertop can affect the cost, as quartz countertops typically come in 2cm or 3cm sizes, with the thicker option costing more. One benefit to a 2cm countertop is that it will weigh less and cost less to transport and install. However, it may need to be reinforced with a piece of plywood, so that extra step could add to the total cost. The sizing may also affect which edges are available, with some of the more dramatic options available only for the 3cm-thick premium surfaces. To get an extra thick look, keep in mind that an overhang can be added to either a 2cm or 3cm countertop.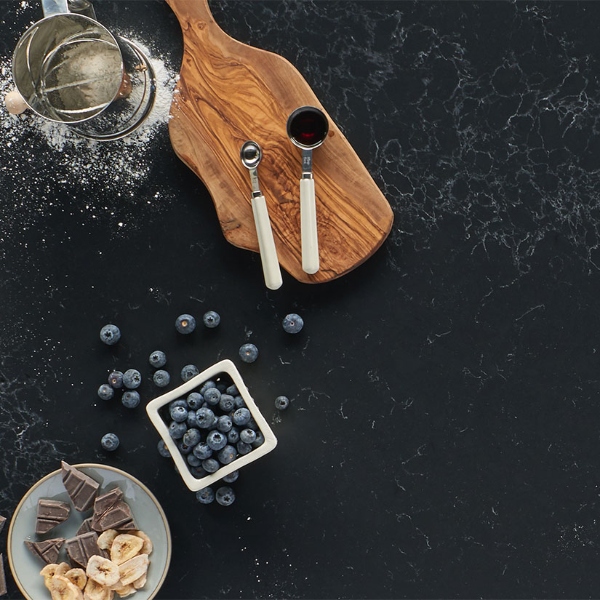 Edging
When it comes to countertop edges, it really comes down to simple versus detailed. It's typical that you see quartz in a standard straight or square edge as well as a waterfall edge, but this option, while stunning and statement-making, does add to the budget since you need more slabs. Detailed edging like ogee, beveled, bullnose, and more are available to give your quartz a more decorative effect. And, remember that the edge you choose for your new quartz also has an affect on the price.
Backsplash
It's common to use the same surface for your kitchen or bathroom backsplash. If you decide to forgo making another decision on backsplash tile, then consider if you want the standard 4-inch backsplash versus a wall-to-cabinet or wall-to-ceiling installation for a cleaner style or a more dramatic effect. Choosing quartz as your backsplash doesn't mean you have to stick with the same color or pattern either. You can opt for the same color or even contrast or complement it with another shade or pattern. For instance, you can pair a solid with a marble look, contrast black and white slabs, or choose a secondary accent color like a gray or gold found in the pattern of your first choice.
Choosing the perfect quartz slab is part of the fun when remodeling or building from the ground up. Of course, it's important to know the different decisions that need to be made so that you're happy with the results years down the road. Picking out the color, thickness, and finish that fits your budget are all key factors in getting your design done right. Hopefully with these tips, you can shop for your new quartz countertops with confidence, whether it's online or in store, and become more familiar with the choices that will need to be made before ordering the most beautiful quartz for your next home project.
More on Quartz Countertops
Quartz Countertop Concrete Look-Alikes That Mimic the Real Thing!
Why Choose Quartz Countertops Over Natural Stone
Reasons to Love Quartz Countertops
5 Things You'll Never Worry About with Quartz Countertops