Tips From The Trade: The Different Types Of Stone Veneer
March 04, 2017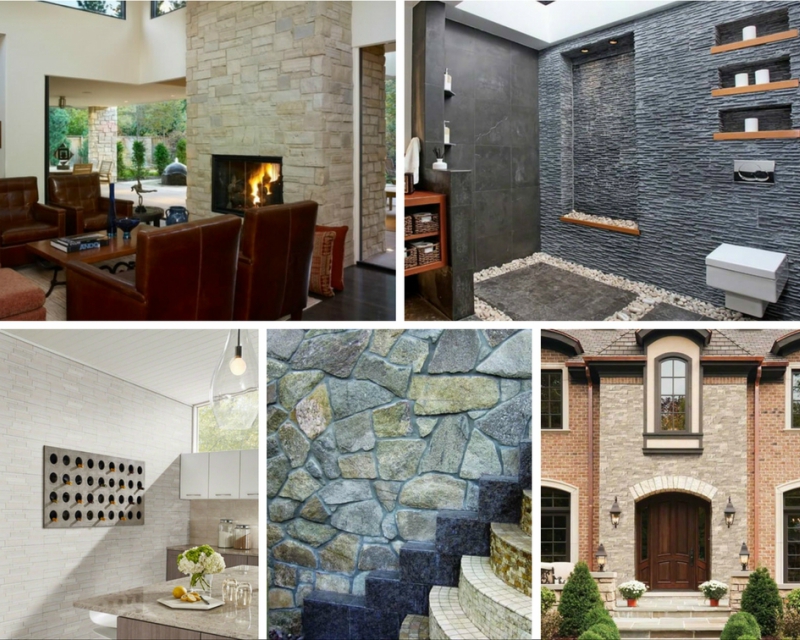 Versatile stone veneers can add a rustic vibe or a contemporary appeal to the interior or exterior of any home. That's because there are so many different types of stone veneer to choose from. At MSI, we offer two main categories—full stone veneer and thin stone veneer. Either way, all of our quality products are made of real stone and not faux or cultured stone. So if you're wondering what stone veneer could add to your home's design, check out these five rock-solid inspirations.
Full Stone Veneer:
Full stone veneer contains stone veneer varieties that are split-faced or honed.
They are also known as stacked stone or ledger stone panels.
These trimmed pieces of natural stone provide a streamlined installation because of their easily connectable modular panels.
Roman Beige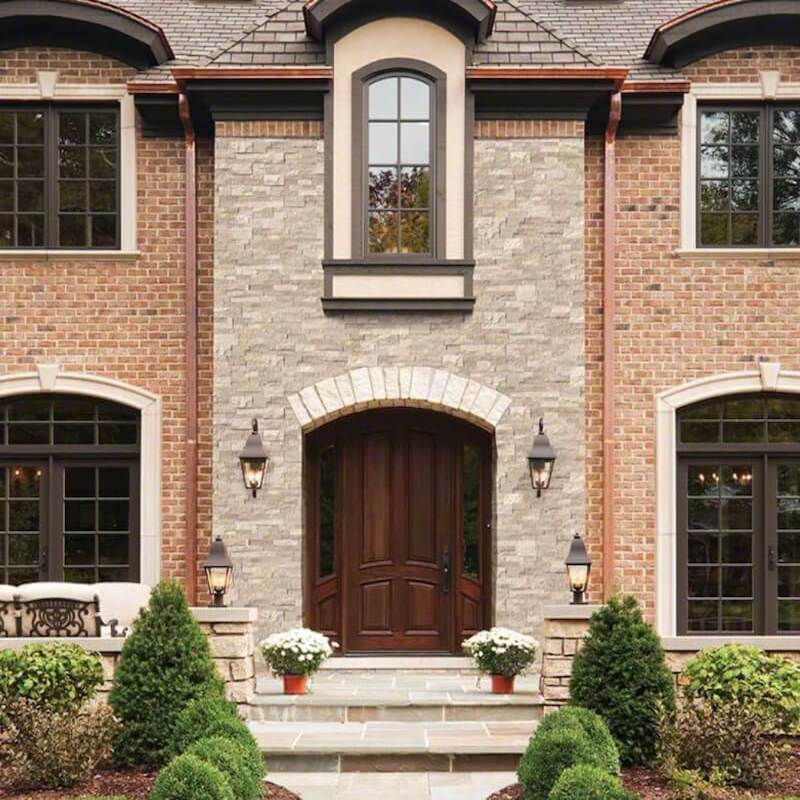 Featured: Roman Beige Stacked Stone
Roman Beige Stacked Stone is a split-face stacked stone ledger panel composed of natural travertine. Its beige, cream, and gold hues lend warmth to any traditional or contemporary design. These 6x24 stone veneer panels are often used for exterior applications such as architectural accents and hardscaping, but can be featured on interior walls as well.
Arctic White 3D Honed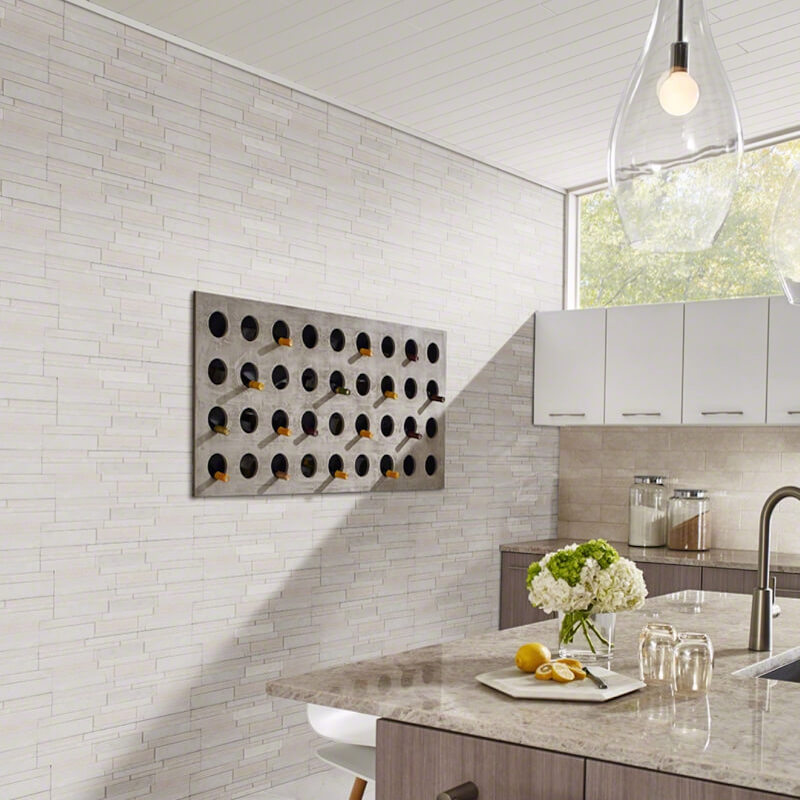 Featured: Arctic White 3D Honed Stacked Stone
Arctic White 3D Honed Stacked Stone is a beautiful honed stacked stone crafted from marble. The variations of whites and clean, crisp lines create a contemporary look. The three-dimensional 6x24 panels range in thickness from 0.5 inches to 0.75 inches. While it can be used for a variety of exterior elements, this luxurious stone makes a beautiful interior feature wall you won't be able to take your eyes off of.
Thin Stone Veneer:
A lightweight alternative to full stone veneer, thin stone veneer is available in three types from MSI's collection—castle stone, grooved stone, and fieldstone.
This natural stone is a higher quality compared to manufactured stone, and comes in a wide range of finishes and colors.
Because the coloring is throughout the stone and not just on the surface, you won't have to worry about scratching or chipping affecting the veneer.
Sonoma Valley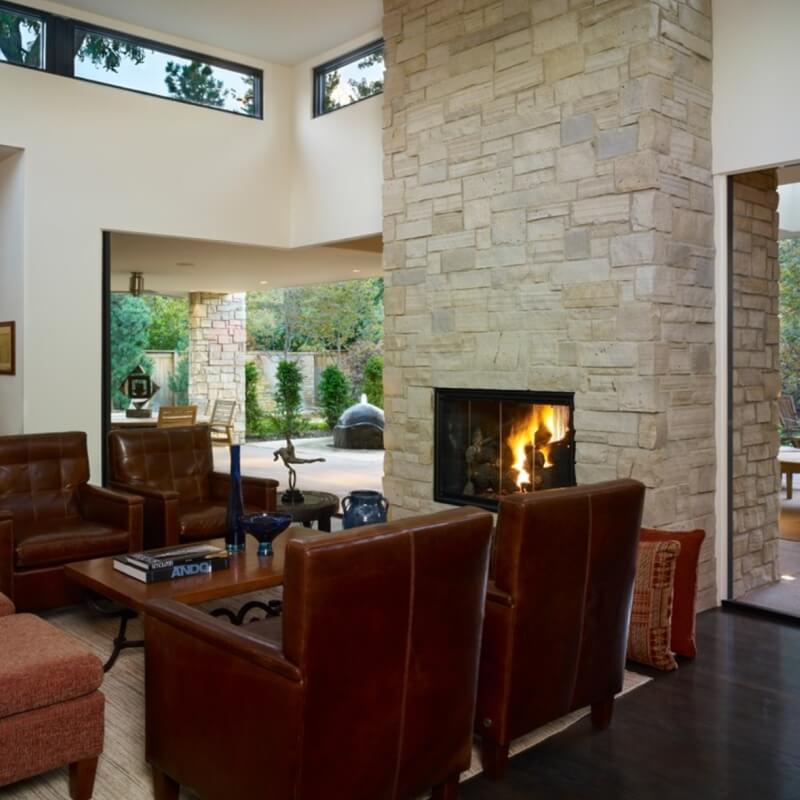 Featured: Sonoma Valley Thin Veneers (Photo Credit: Houzz)
Sonoma Valley Thin Veneers is a castle stone crafted from split-face sandstone. With its warm golds, cool grays, and touches of rust, it complements a number of design styles. A thin veneer like this adds natural character to a fireplace, landscaping, exterior cladding, or other architectural elements.
Royal Black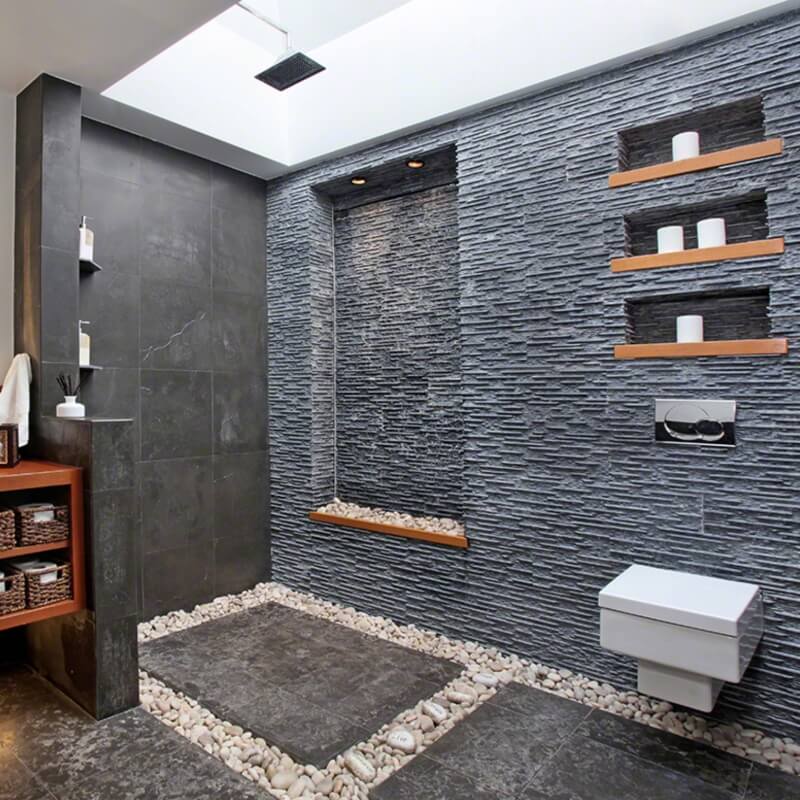 Featured: Royal Black Thin Veneer
Royal Black Thin Veneer is a grooved thin stone veneer made of a distinctive black marble. These unique 6x24 ledger panels are watertight, making them the perfect wall tile for a shower, wet room, or outdoor water feature.
Yukon Blend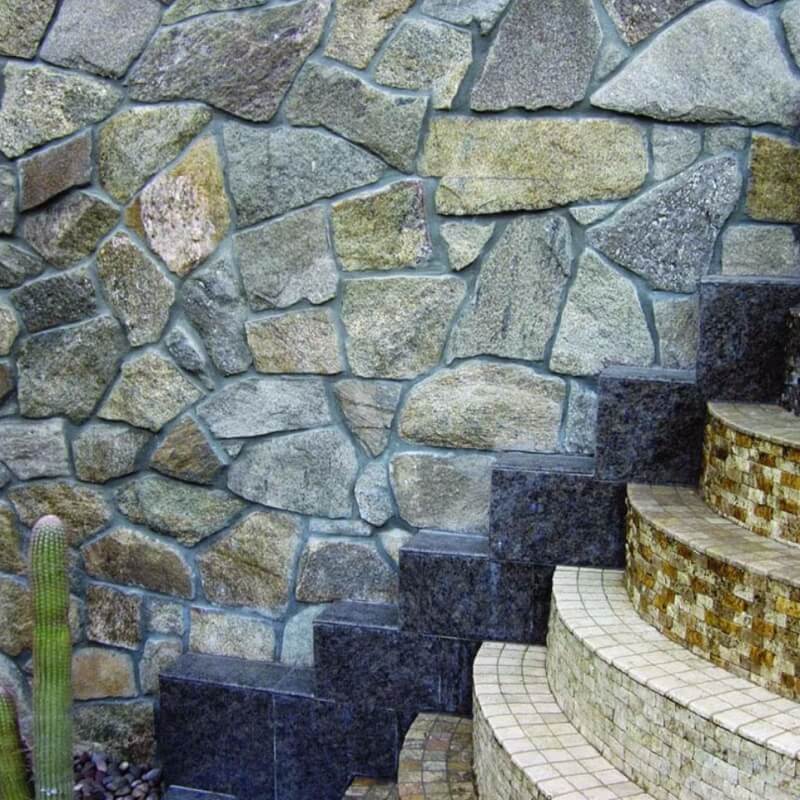 Featured: Yukon Blend Thin Veneers
Yukon Blend Thin Veneers is a fieldstone thin stone veneer. While traditional fieldstone is composed of a variety of prearranged and finished stone, MSI's fieldstone-like stone veneer is made up of gorgeous split-face granite. This natural stone includes a mix of soft gray tones with warm cream, gold, and brown hues. It is an excellent lightweight option for wall cladding and other exterior uses.
Whether you choose a full stone veneer or thin stone veneer, this gorgeous natural material will dress up the interior or exterior of your home. Visit MSI to check out the incredible details of these featured natural stone veneer options and so much more.