Tile Style: 6 Imaginative And Modern Tile Patterns
March 08, 2018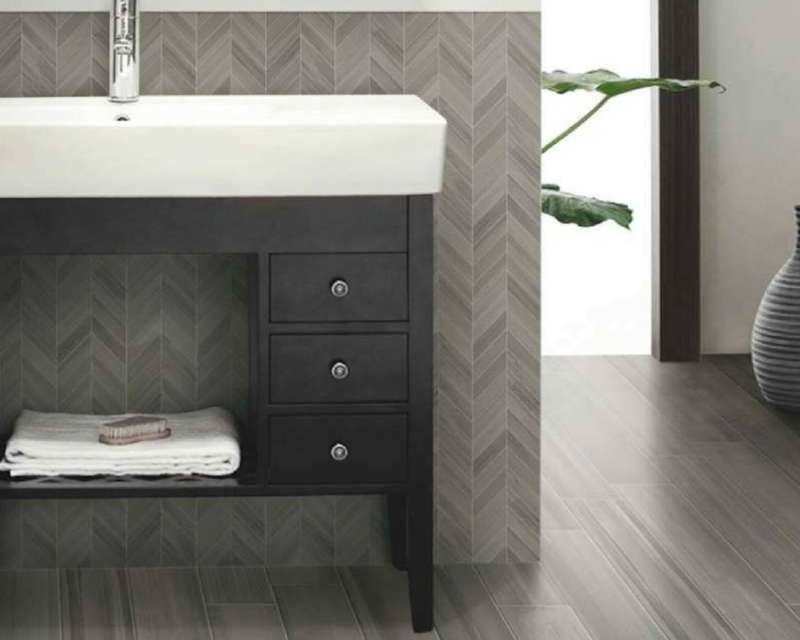 Modern tile doesn't have to look industrial and stark, especially tile looks created using modern methods like inkjet printing. With this new technology, there are no limits to the number of pattern creations. Porcelain tile can now include any design, from brilliant colors to minute details. Plus, a wide range of tile patterns can mimic brick, wood, natural stone, and even Old-World flair.
While they're all unique, each pattern can perfectly complement the rest of your fresh and contemporary décor. No matter which printed tile you choose, you're sure to end up with amazing results. But don't take our word for it. Take a look at six of our favorite options that represent a perfect fusion of modern and traditional.
Aged Brick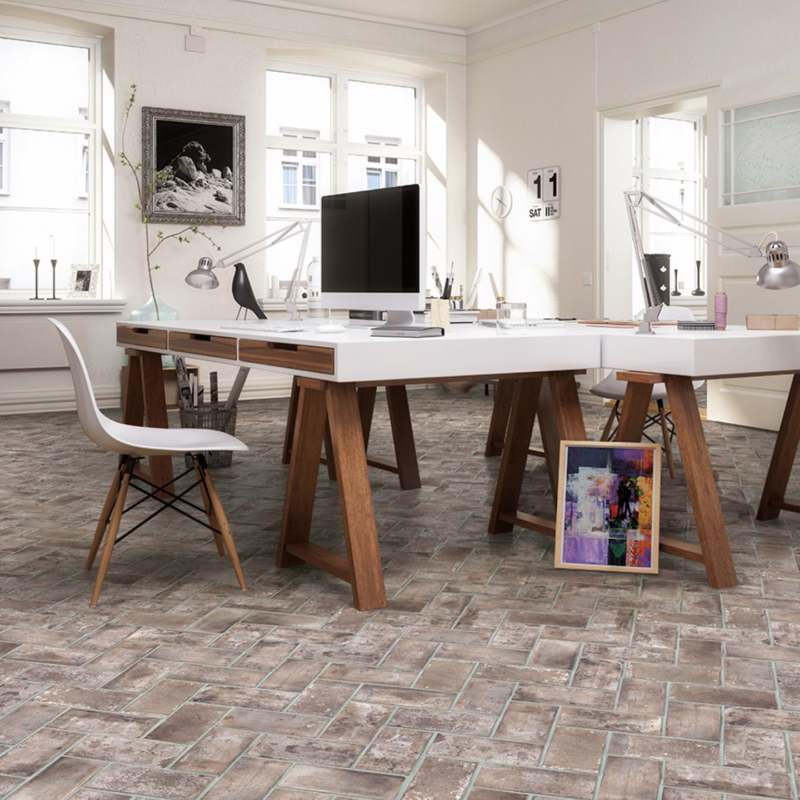 Featured: Taupe Porcelain Brickstone
Achieve the loft-worthy feel of aged brick in an easy-to-clean porcelain with Taupe Porcelain Brickstone. These popular 21/3x10-inch tiles add charm and rustic elegance to any space. They feature soft grays and taupes in a brick style that mimics the same texture and shading you'd get with perfectly aged brick. In this stylish office space, the traditional tiles laid in a contemporary herringbone pattern provide an appealing contrast to the modern, clean-lined office furniture.
Modern Floral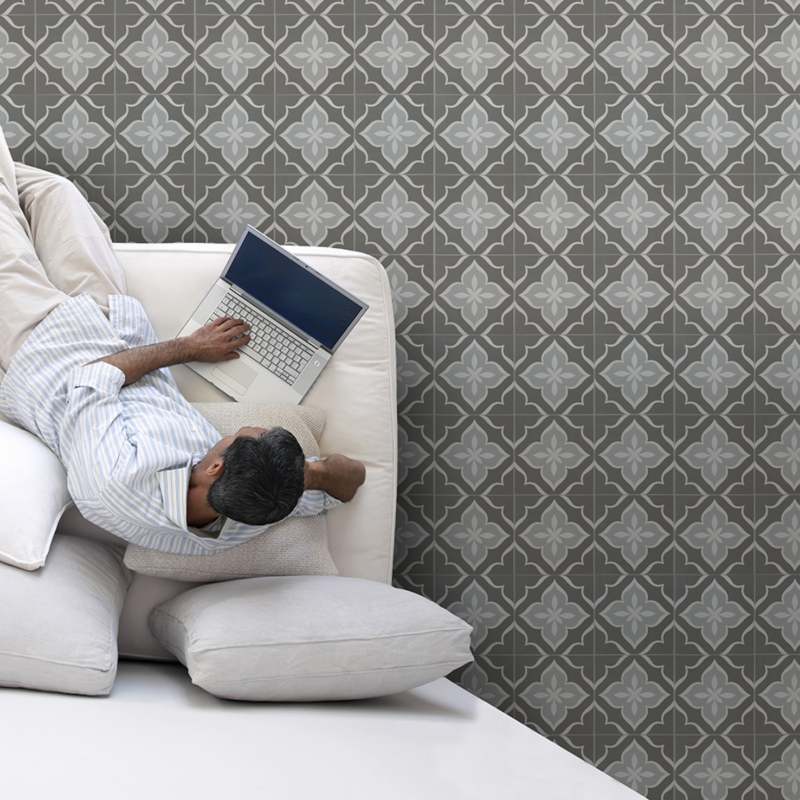 Featured: La Fleur Kenzzi Porcelain
Think outside the box by featuring a smaller patterned tile like La Fleur Kenzzi Porcelain on your floors. These 8x8 porcelain tiles, which are imported from Turkey, provide a modern update on European style. The floral encaustic look includes an elegant pattern in white and gray hues. Although the design isn't overly ornate, it's best to keep the rest of the room simple. Here, the smooth porcelain surface pairs perfectly with the soft white walls and sofa in this living area.
Beautiful Lines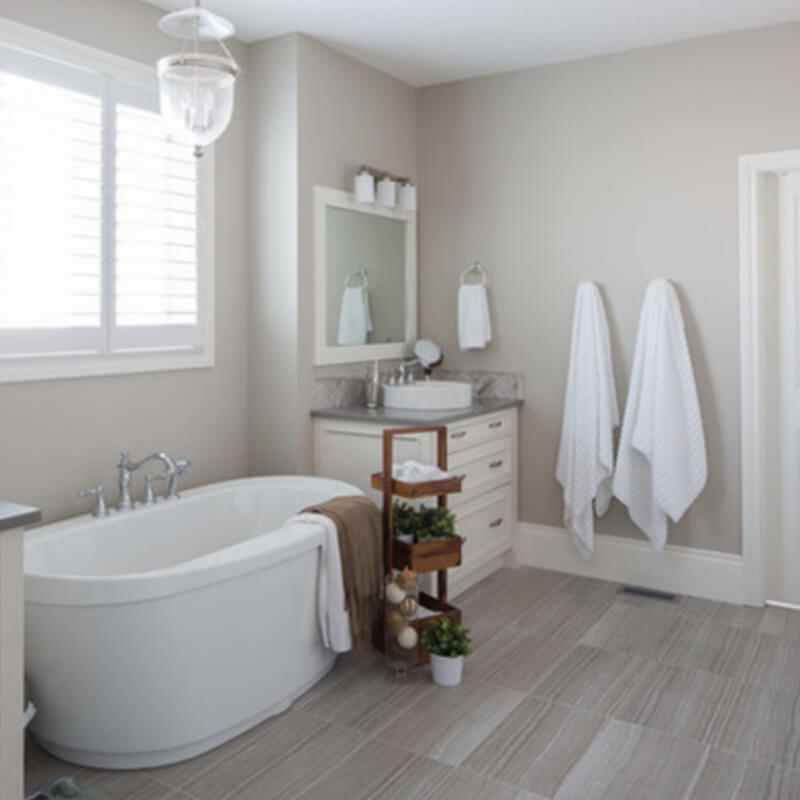 Create a similar look with MSI's Silver Eramosa Porcelain (Photo Credit: Houzz)
For a high-end, natural stone lookalike with linear veining, consider Silver Eramosa Porcelain. This porcelain tile mimics natural Canadian limestone with its signature linear pattern, adding contemporary appeal to any space. It's perfect for bathroom flooring because porcelain repels water, and also because the mixture of gray and greige offers a soothing, spa-like color palette.
Soft Swirls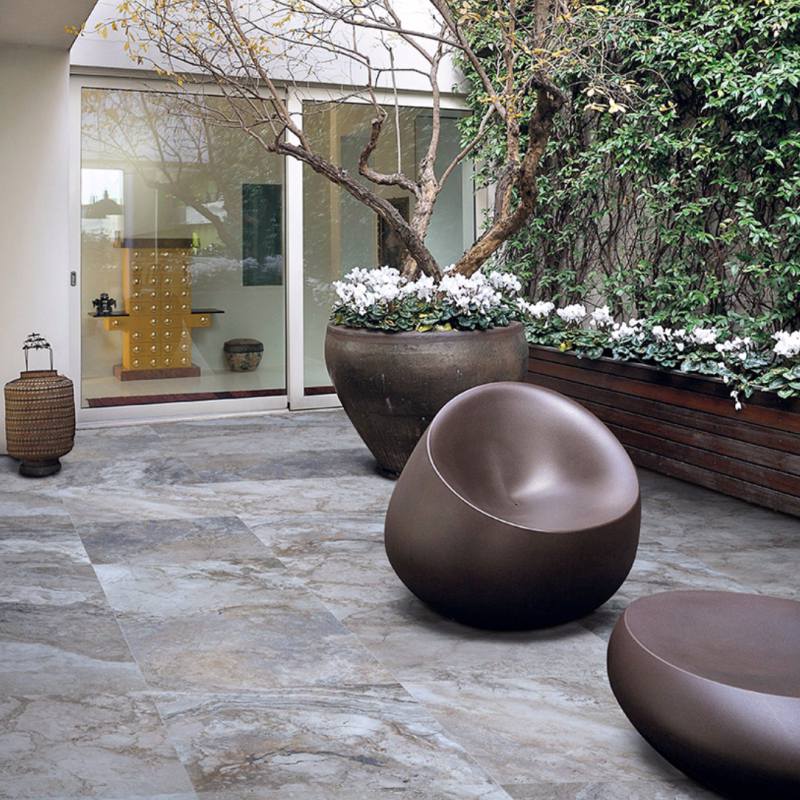 Featured: Argento Travertino Arterra Pavers
Many homeowners are maximizing their living space by bringing the comforts of the living room and kitchen to their exterior space. And whether you are looking to design an indoor or outdoor room, tile can be a perfect option.
For example, Argento Travertino Arterra Pavers can lend subtle movement and calming colors to your patio or your living room. These durable porcelain pavers provide a harmonious pattern with soft swirls.
The large-format 24x24 tiles consist of soft gray, taupe, cream, and white, all blended in a matte finish. The smooth surface convincingly provides the illusion of dimension and detail for this contemporary patio area.
Contemporary Chevron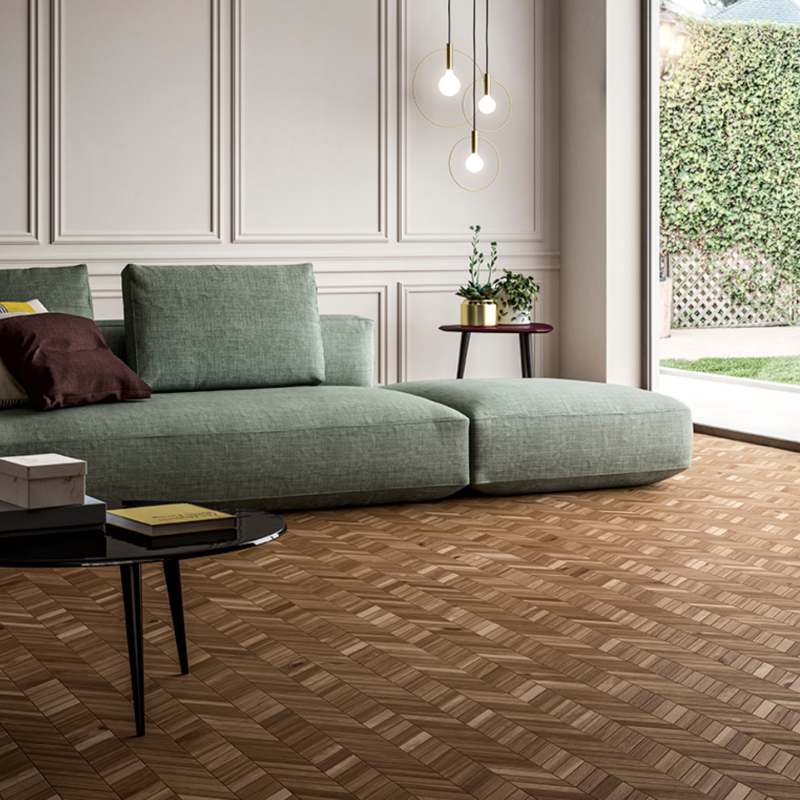 Featured: Havenwood Saddle Chevron Porcelain Mosaic
Your modern tile flooring will be anything but stark if you install Havenwood Saddle Chevron Porcelain Mosaic. The chevron pattern creates a stylish zigzag shape for a chic look with endless visual interest.
The matte-finish porcelain flooring combines warm browns with amber tones that will liven up any room! The 12x15 Italian tiles wake up this living room design with their intricate pattern and coloring.
Lovely Veins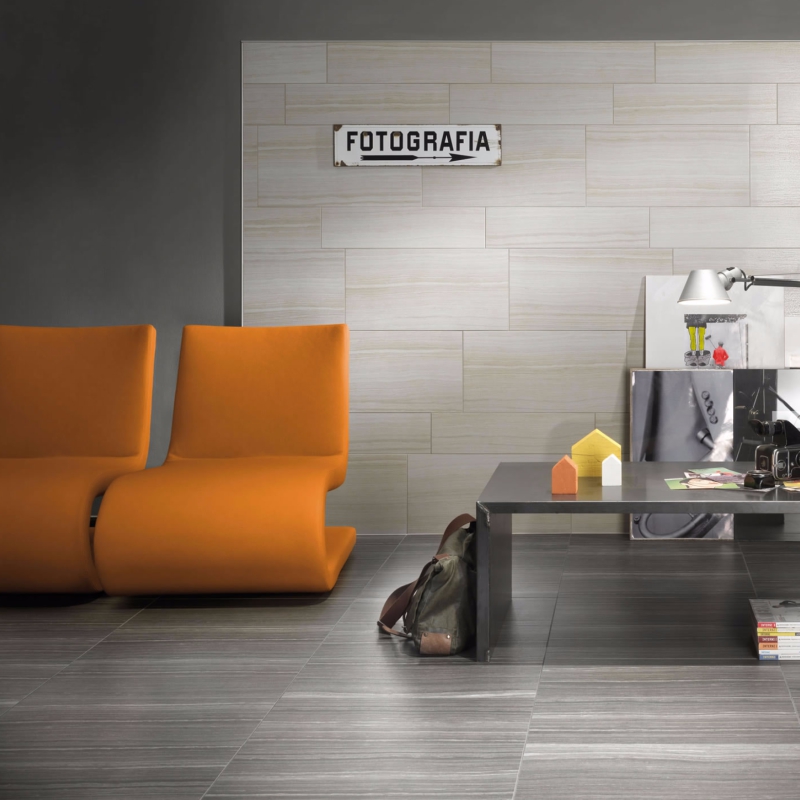 Featured: Anthracite Sophie Porcelain
When you desire the characteristics of natural stone, but with contemporary charm, opt for Anthracite Sophie Porcelain. These 12x24 tiles feature mid-tone grays with tonal veins for a distinctive, high-end look. They can be used in floor-to-ceiling installations or paired with other porcelain tile or natural stone products, as seen in this cool, contemporary workspace.
There are so many trending tile patterns that go beyond the typical modern aesthetic. With patterned tile, your floors or walls can become the subtle backdrop or the sole focus of your residential or commercial space! MSI offers a wide selection of modern tile flooring options. Check out the rest of MSI's porcelain tile flooring line online or by visiting your nearest showroom.