How To Perfectly Match Granite Countertops To Kitchen Cabinets
November 18, 2020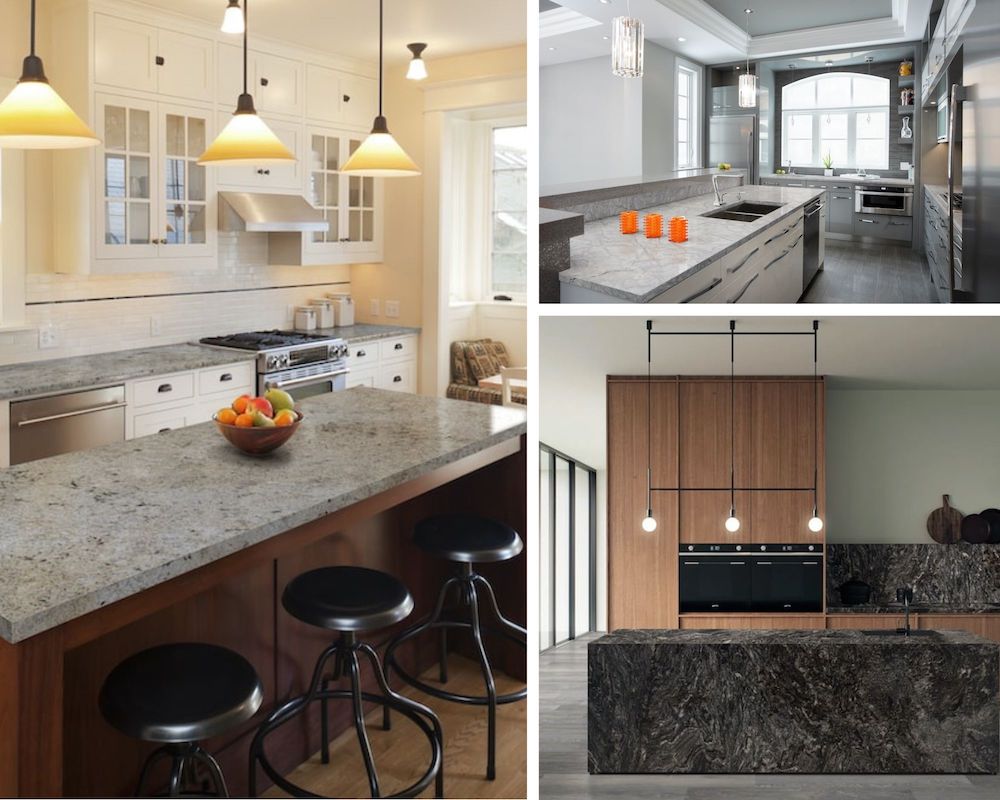 When selecting major materials like granite countertops and cabinets for a kitchen remodel or new build, it's important to get things right the first time. After all, kitchens are one of the most expensive rooms in the home. These elements play a key role in the overall design, and a mismatched pairing could mean years or even decades of regret, especially considering granite's long lifespan. To help avoid disappointment and extra costs over time, use this step-by-step guide when contrasting or complementing your granite counters and cabinets. We think you'll be thrilled with the results!
Getting Started
According to interior design experts, they recommend choosing your granite countertop color first and then creating the perfect cabinet combo instead of the other way around. That's because each natural granite slab features unique coloring and patterns only Mother Nature could create. This will leave your options wide open and make it easier to match your granite with your cabinet color.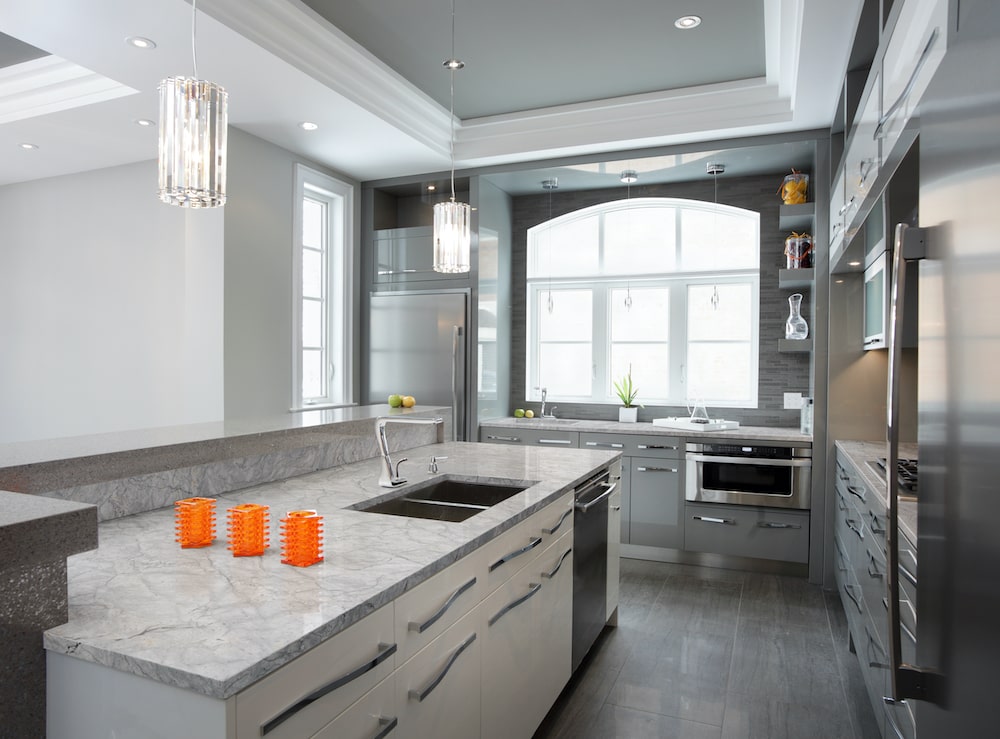 Stream White Granite
Remember, too, that the cabinet style can make the overall design more ornate and traditional or sleek and modern. Of course, if you already picked your perfect cabinets or are just replacing your countertop, then don't fret. While your choices may be a bit more restricted, you'll still have plenty of pairing options available. Plus, finding white granite or dark granite that features accent colors with the same cabinet color will help tie together both materials.
Either way, you'll want to bring your samples home to see them in your space instead of a commercial setting. Make sure to check them in different areas of the kitchen and at different times of the day and night, with both natural light and lights, to ensure you love how your pick looks. To test the true color of your stone, try placing your sample on a white towel or against a white piece of paper to see which undertones come out.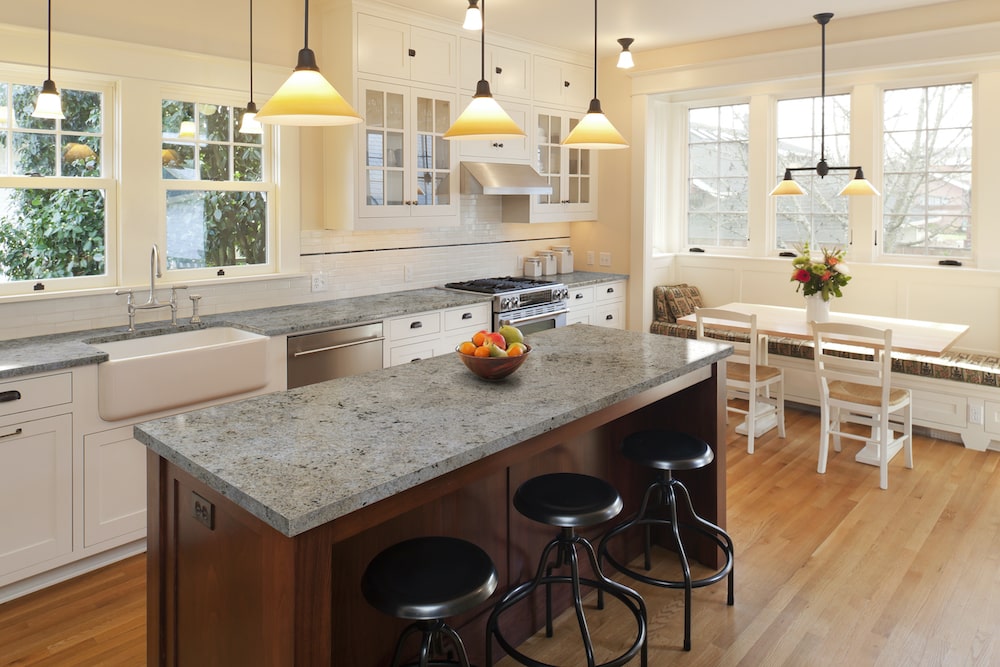 Colonial Gold Granite
Choosing Contrasting Colors
Contrasting colors for granite and cabinets are often the go-to for many designers and homeowners, so you'll want to pair light granite with darker cabinetry and dark granite with lighter cabinetry. Here are a few popular contrasting suggestions to consider.
One of the most classic looks is a black-and-white kitchen, so pair black granite with white cabinetry for a design that will stand the test of time.
Another way to use black countertops is to match it with a honey-colored wood for a dramatic, moody look. Green granite is a dark color that goes well with white or creamy tones for cabinets without overwhelming the design. Adding a lighter neutral granite like a speckled beige or gray is a great way to contrast with medium- or dark-toned wood cabinetry since it will make the granite pop. Golden granite also pairs well with darker cabinets like mahogany for a brilliant contrast, while white countertops stand out against cherry wood or black cabinets.
Picking Complementary Colors
Complementary colors means you'll want to pick granite and cabinets that are similar in shade, but that doesn't necessarily mean monotone since granite comes with many colorful speckles and veins throughout. Here are a few popular complementary suggestions we think you'll love.
Black countertops blend in beautifully with rich brown cabinets for a dark, moody kitchen space. Deep green granite also works well with darker wood tones. Dark gray granite complements medium-tone wood cabinetry, while light gray granite goes great with white or light-wood cabinets for a sophisticated or sleek kitchen.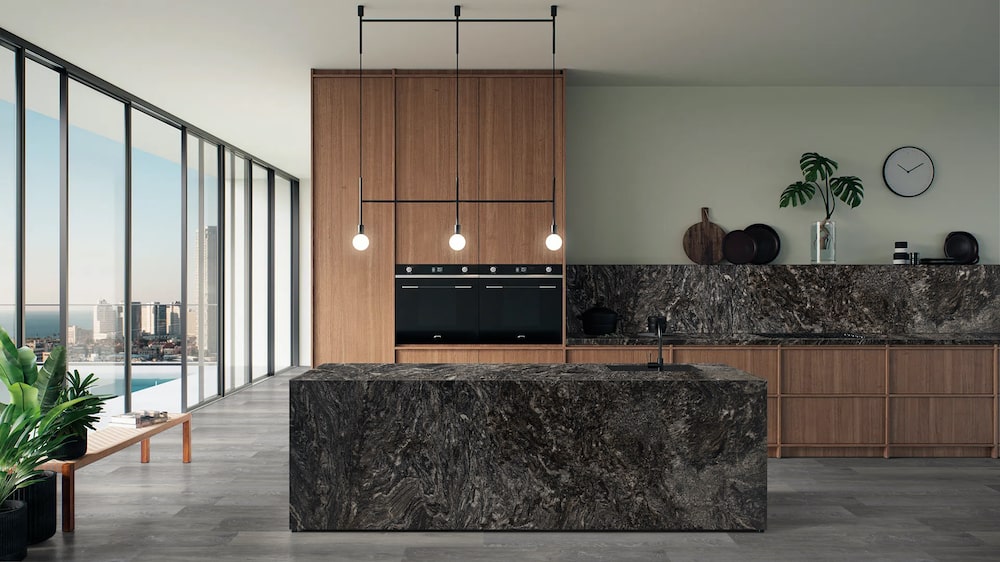 Black Forest Granite
Beige granite matches beautifully with maple cabinets for a kitchen that's full of warmth. White countertops on white cabinets is a classic look that can easily work for different styles, and picking up the accent colors in the granite throughout the space creates a cohesive look. It also stays light in tone when white is installed on top of bleached wood cabinetry for a more beach-inspired look.
Remembering the Island
One thing of utmost importance is the kitchen island since this is the space to showcase a larger slab or a stunning waterfall edge. Many times, it features different color cabinets or countertops, so make sure that both work well together on the island and with the rest of the design. This kitchen features black countertops and blonde-tone cabinets on the kitchen island, which is the reverse of the beige granite and black cabinetry throughout. However, the coloring doesn't always have to be the opposite of your main design. Just consider if the same or different contrasting or complementary color schemes will work best.
Visiting a Showroom
When going to a granite showroom, you can either let the granite guide you to the perfect slab or bring some of your favorite combinations for some inspiration. After you've selected your surface, bring a sample with you to the cabinet showroom. If your granite has a lot of variation, then make sure to take photos as well. Remember that no two granite slabs will look the same, so it may vary from the sample, unlike quartz vs. granite where quartz slabs will look exactly like the sample.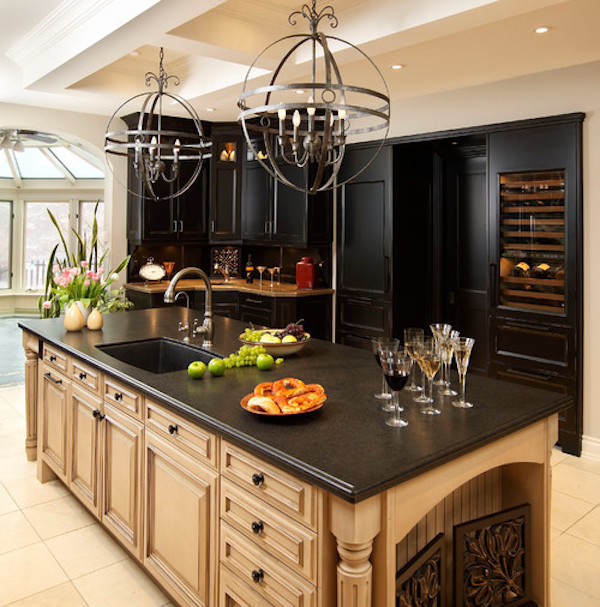 For those that already have new or existing cabinets, bring a sample or an unscrewed door front with you so that you can compare the natural stone with your exact materials. This will allow you to see how they look side-by-side and choose the best contrasting or complementary granite.
Using Virtual Designs
If you don't have a showroom nearby or may be ordering everything online, then turn to virtual design for help, whether it's a full-blown interior design program or an online granite visualizer tool from a manufacturer. This will give you a better idea as you can easily play around with options.
Making Your Choice
Granite is a durable, versatile countertop that comes in a wide range of colors and styles so that you can find that dreamy look you've always longed for. Whether it's contemporary to traditional or dramatic to laid-back, your granite pick is sure to beautify your kitchen space no matter if it's a dark slab or light surface.
At MSI, we're here to assist you in finding the best color combinations in kitchen surfaces for your next kitchen remodel. Chat with us online, visit an MSI showroom, or contact an MSI authorized dealer to find your perfect countertop today.
Read More about Granite Kitchen Countertops
Granite Waterfall Counters for a Dramatic Kitchen Centerpiece
Countertop Visualizer: Your Dream Kitchen or Bathroom in Real-Time
Maximum Return on Investment: Granite Kitchen Countertops
Golden Granite Countertops for a Warm and Glowing Kitchen
Granite Countertops: The Workhorse of the Kitchen
5 Inspirations: A Granite Countertop for Every Style