Current Obsessions: Should You Consider Marble Countertops?
February 27, 2017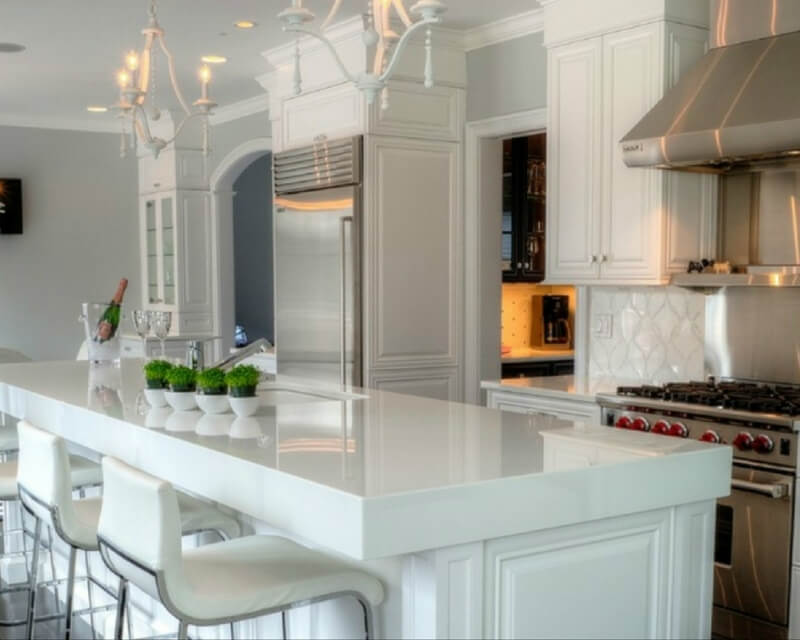 (Photo Credit: Houzz)
With all of the super-tough manufactured surfaces available, which require almost nothing in the way of maintenance and care, why are marble countertops still such a beloved, popular choice for kitchens and bathrooms?
Although the other choices are beautiful in their own right, once you've gotten your heart set on genuine marble, nothing else will do. Most people who are on the fence about that big decision, to install marble or not, are concerned about two things: the cost, and the care.
Cost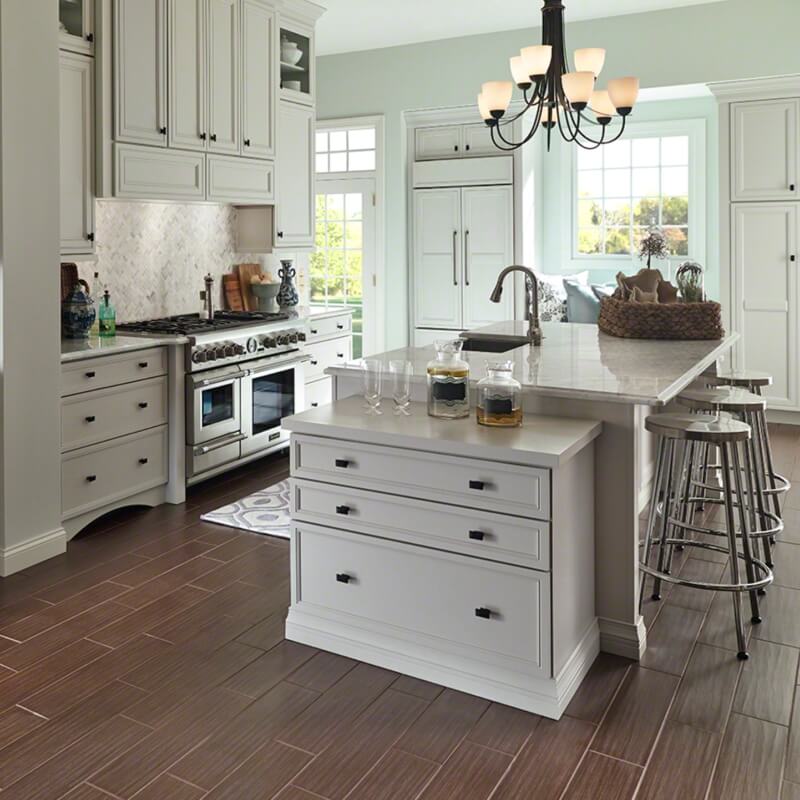 Featured: Carrara White Marble
It's no surprise that marble countertops are possibly the most expensive option, ranging from $125 to $200 per square foot. Cost varies based on the type of marble and its origin, its thickness, and any additional options such as edge treatments or cutouts for sinks or cooktops.
However, cost shouldn't be the only factor in your decision! For one thing, a properly maintained marble countertop may last for decades – marble countertops in Europe's great houses have been in place for centuries. A marble kitchen countertop is one of the best returns on investment, in terms of a house's resale value.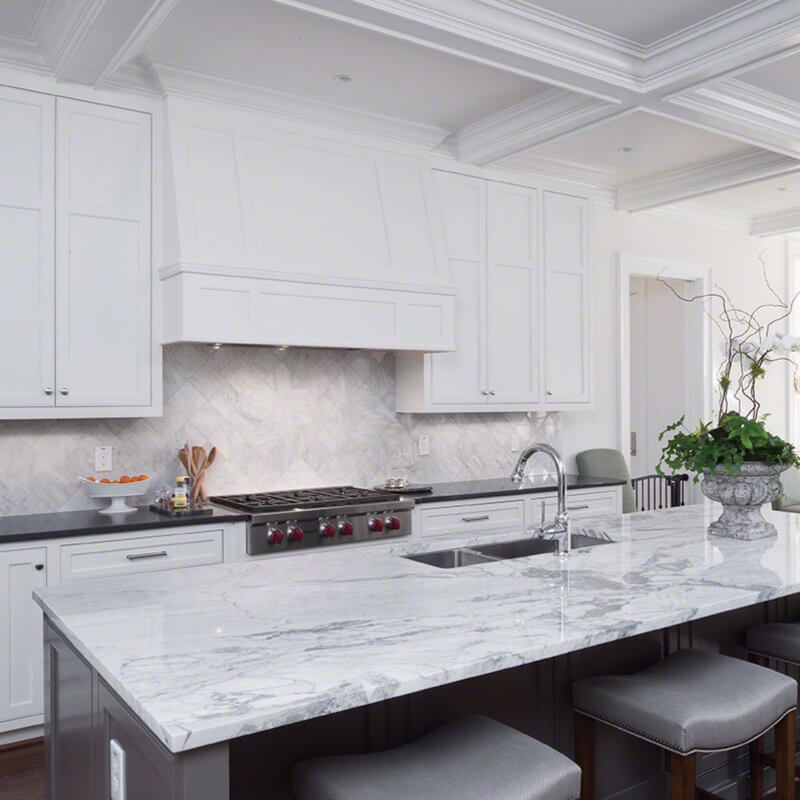 Featured: Statuary Venato Marble
You could also install marble on only part of the counter surface, such as a center island, such as this lovely island countertop in Statuary Venato. and use less-expensive, complementary materials on the rest.
Care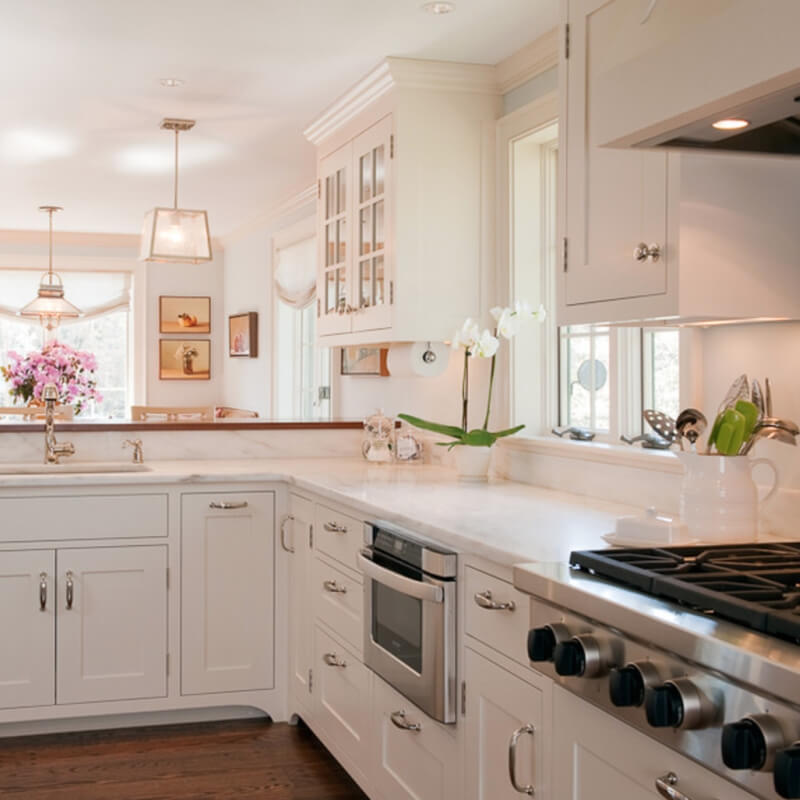 Featured: Imperial Danby Marble (Photo Credit: Houzz)
Unlike quartz or other manufactured surfaces, marble needs some extra TLC to keep it in top shape over its lifetime. However, don't let that intimidate you. For most homeowners, daily stone care and maintenance are simply a matter of cleaning up as you go, wiping as you work. (If you prefer to leave the cleanup for later, marble may not be the best choice.)
Marble slabs need regular applications of sealer, usually every six months to a year. You'll need to protect it from exposure to acid-based liquids such as citrus juice, tomato sauce, or vinegar, as well as other harsh household cleansers and chemicals.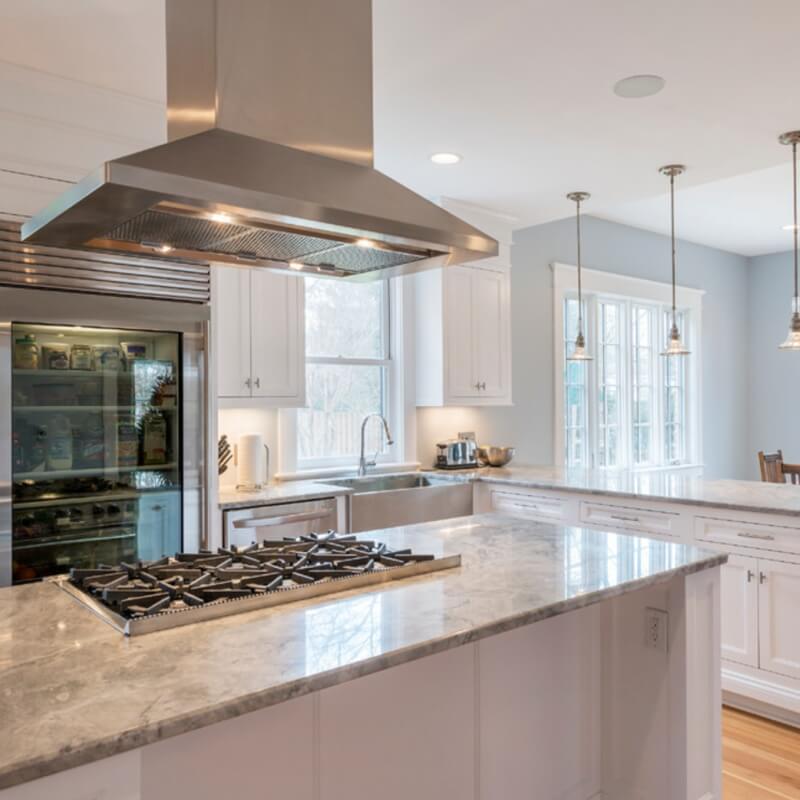 Featured: Super White Marble (Photo Credit: Houzz)
As shown on this island featuring Augusta White marble, installing a butcher block on part of your marble countertops – or keeping a large cutting board on hand – helps protect it from damage. These tips are just a matter of changing your habits, and marble lovers will agree it's well worth the effort.
We mentioned centuries-old marble in European houses – keep in mind, Europeans tend to expect marble countertops to develop a beautiful patina over the years, along with a reasonable degree of scratching, etching, and even minor stains from decades of joyful use. Americans like their stone countertops to remain new and pristine. Can you learn to love your lived-in kitchen like a European?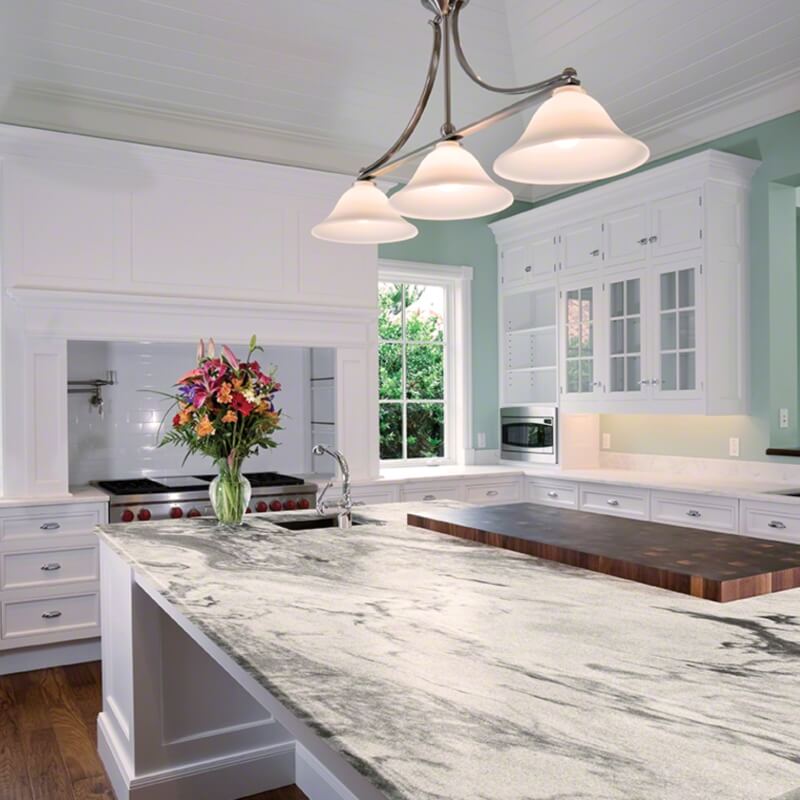 Featured: Augusta White Marble
Consider a marble countertop with a honed finish rather than highly polished, such as this nearly-matte Imperial Danby marble. This helps to hide scratching and use-related wear. Also, a high-variation marble such as Carrara White Marble or Super White masks minor damage and even stains.
Need a little extra inspiration to help you make that big decision? Come and browse MSI's gallery, and explore our beautiful marble slab countertop options, along with other countertop materials.