Our Favorite Trends In Backsplash Tile
April 30, 2018
As one of the industry's trendsetters, MSI continues to be at the forefront of backsplash tile innovations, and 2018 is proving to be the most versatile in design yet! This one-of-a-kind tile treatment will transform your kitchens and bathrooms into stylish and inspired spaces. We're excited to present the top five backsplash trends for this year, so let's take a look at our favorites!
3-Dimensional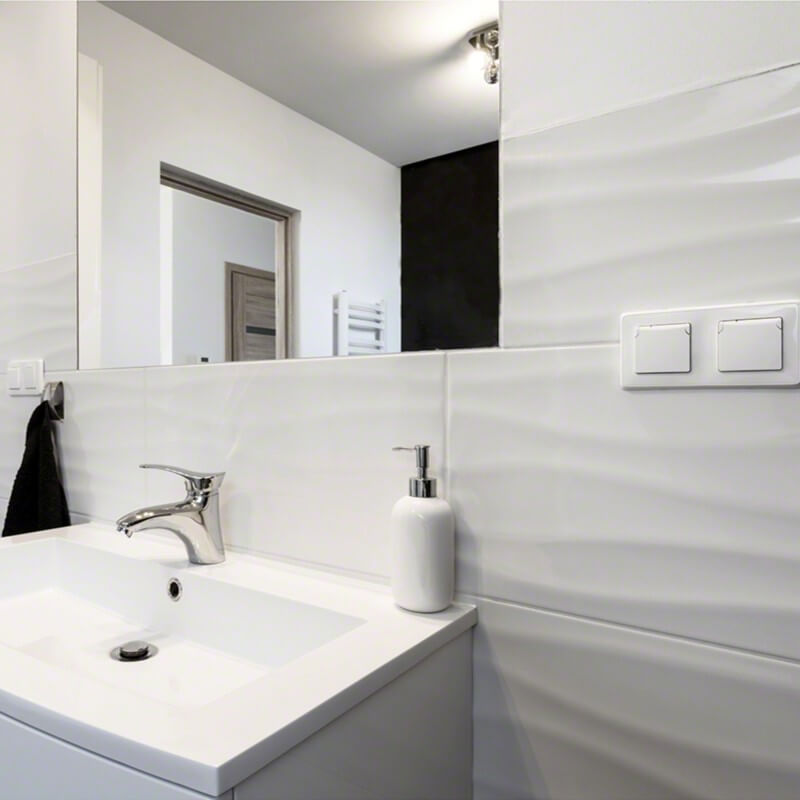 Featured: Wavy White Dymo 12x24 Glossy Ceramic
Three-dimensional patterns are becoming more popular backsplash options because they add drama and visual interest to any space. Plus, you can choose a horizontal or vertical backsplash installation, and it will give you a completely different look.
Wavy White is a large-format tile made of white ceramic and features sleek, wavy lines in a glossy finish. This contemporary styling is perfect for modern bathrooms with an all-white or black-and-white design like this one. The 12-by-24 tiles give it a clean look, protect the walls well, and make clean up even easier with less grout lines to scrub.
Mixed Materials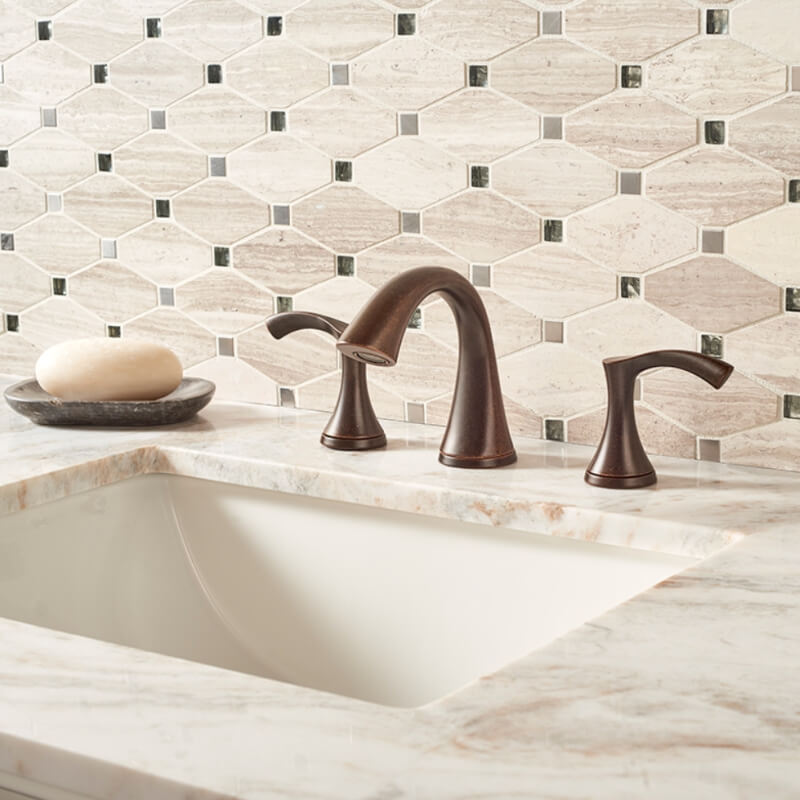 Featured: Bayview Elongated Octagon 10mm Mosaic
Mixing metallic elements with texture and sheen is on the list of 2018 interior design trends. Adding a backsplash tile like Bayview Elongated gives an elegant, natural feel with a hint of glamour. It features a breathtaking octagon pattern in a combination of natural stone in soft whites and creams with contrasting metal and glass accents in gray. It definitely is the show-stopping design element in this bathroom.
Glass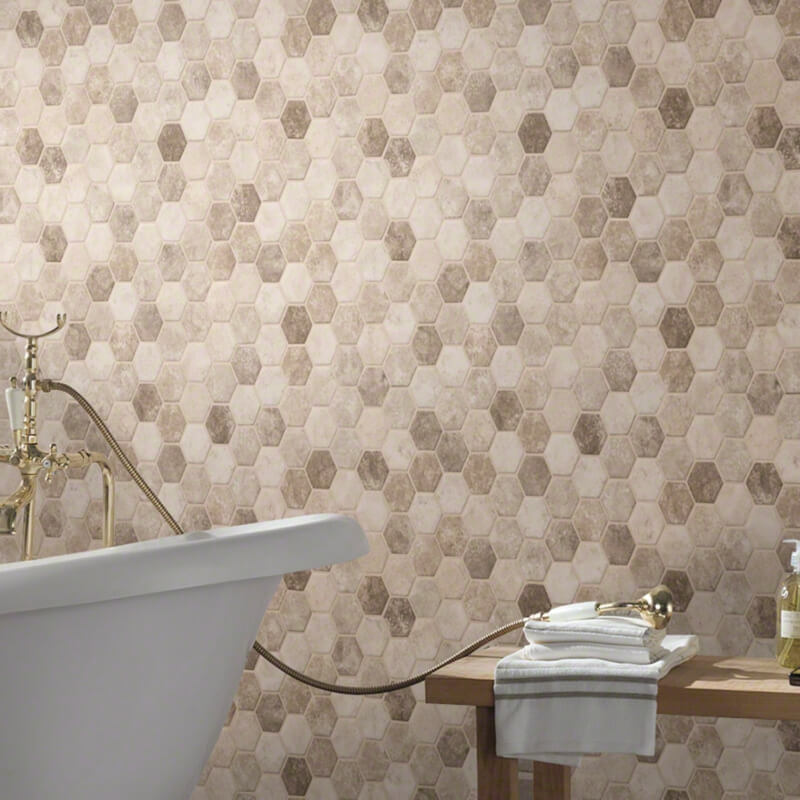 Featured: Sandhills Hexagon Glass Mosaic
Not only are glass backsplash designs beautiful, but they're also even better when they offer an environmental aspect. Selecting a recycled glass backsplash like Sandhills will make a big impact on your overall design. And even though the warm creams, beiges, and browns are subtle in color and even look like natural stone, this wall tile provides plenty of visual interest with its 2-inch hexagon pattern. The stunning wall tile in this master bathroom adds to the calm, spa-like atmosphere and serves as an elegant backdrop to the free-standing tub with gold accents and wooden bench.
Porcelain Ledger Panels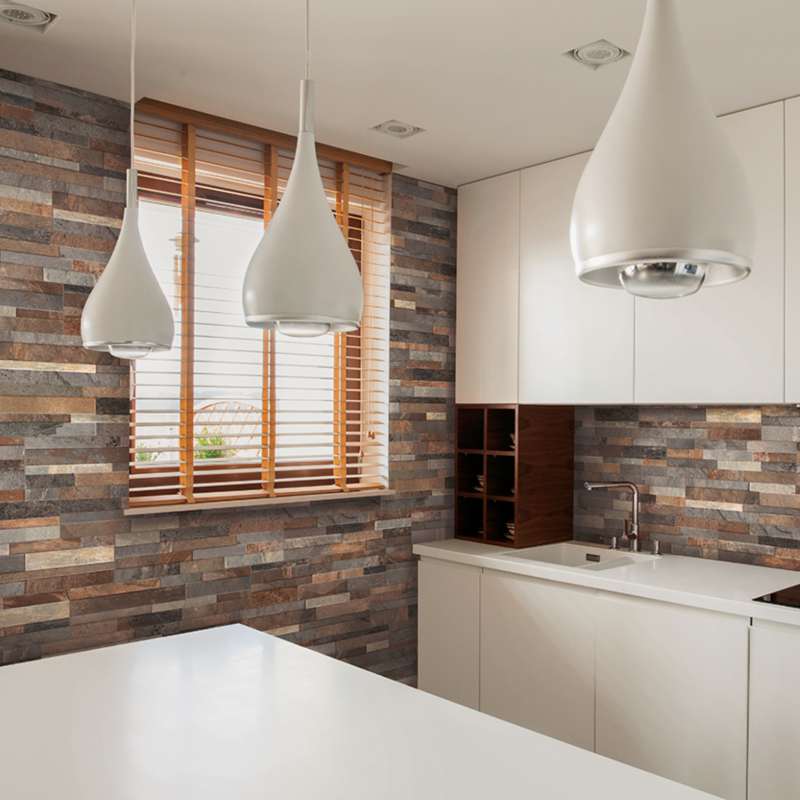 Featured: Rocky Gold Dekora Porcelain Panels
Rustic ledger panels are all the rage, but they can be a maintenance nightmare if you wanted to use stone in your kitchen or bathroom. But that's all changed with MSI's Dekora line that features nine colors and styles made from maintenance-free porcelain, including Rocky Gold.
The beautiful gold and brown porcelain panels are crafted in Italy and look just like natural stone. Not only do they add character and style, but they're also extremely durable and easy to clean. This modern rustic kitchen comes to life with the addition of this kitchen backsplash, which makes the white cabinets pop.
Encaustic Patterns

Featured: Tetris Nero 10mm Marble Mosaic
It seems as if encaustic tiles are everywhere nowadays. They come in everything from geometric, modern patterns to patchwork looks, and arranging them differently can usually change the pattern. While they typically are made of ceramic or cement, there are other options available like the polished marble used to create Tetris Nero.
This stunning combination of black and gray natural stone is featured in six different patterns. Install this wall tile for a one-of-a-kind backsplash that's sure to transform a simple kitchen or bathroom into something spectacular.
Each of the tile trends featured represents an entirely new tile collection from MSI. You can get the designer look you've always wanted with MSI's wide range of materials, colors, and patterns. Explore the many backsplash ideas and trending beauty first-hand by visiting your local MSI showroom.
READ MORE ABOUT MSI BACKSPLASH TILE
Proof That Backsplash Tile Can Completely Transform A Room
Rethink Modern With These 5 Metal Tile Backsplashes
Should I Use Marble Or Porcelain Backsplash Tile In The Bathroom?