Definitive Guide To Q Premium Natural Quartz: Why It's The Preferred Choice For Countertops And Other Surfaces
August 11, 2023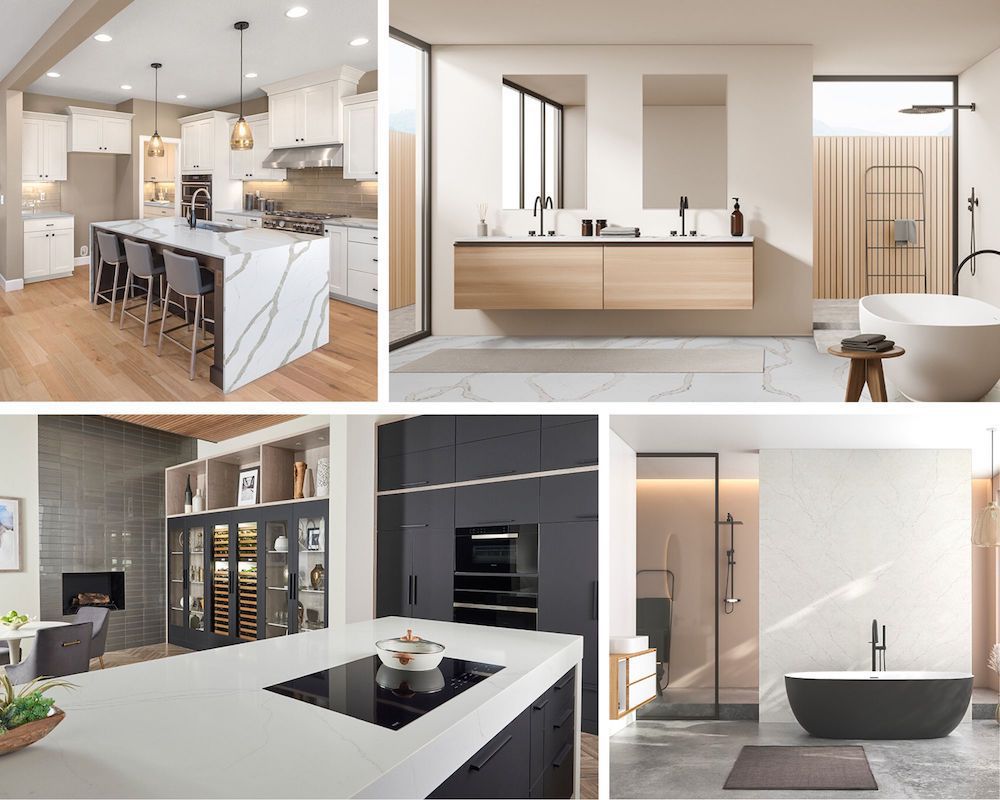 In the world of countertops and surfaces, one name stands in a league of its own for modern elegance and enduring quality—Q Premium Natural™ Quartz. When it comes to enhancing the beauty and functionality of your living spaces, choosing the right material is paramount, and quartz countertops emerge as the unrivaled champion in this realm.
In an age where design trends evolve rapidly, and homeowners seek the perfect balance between aesthetics and durability, Q Premium Natural™ Quartz surpasses expectations with its exquisite craftsmanship and remarkable performance. Whether you're renovating your kitchen countertops, revamping your bathroom, or creating a captivating focal point in any room, these quartz surfaces offer an unmatched blend of sophistication and strength.
In this comprehensive guide, we will delve into the exceptional features of Q™ Quartz, explore its various colors, and learn why it has become the ultimate collection for stunning and durable surfaces.
Why Q Premium Natural™ Quartz?
Q Premium Natural™ Quartz features an ideal mix of natural and manufactured materials, resulting in a resilient and visually appealing surface. Homeowners and designers who desire a surface that can withstand the rigors of daily use and still look sophisticated will see the Q™ Quartz Collection as the ideal choice.
The exceptional scratch, heat, and stain-resistant properties of our quartz countertops ensure they maintain their beauty even in the busiest settings. Plus, Q™ Quartz is available in an extensive array of colors and styles, including classic natural marble looks and contemporary designs that complement any interior style effortlessly.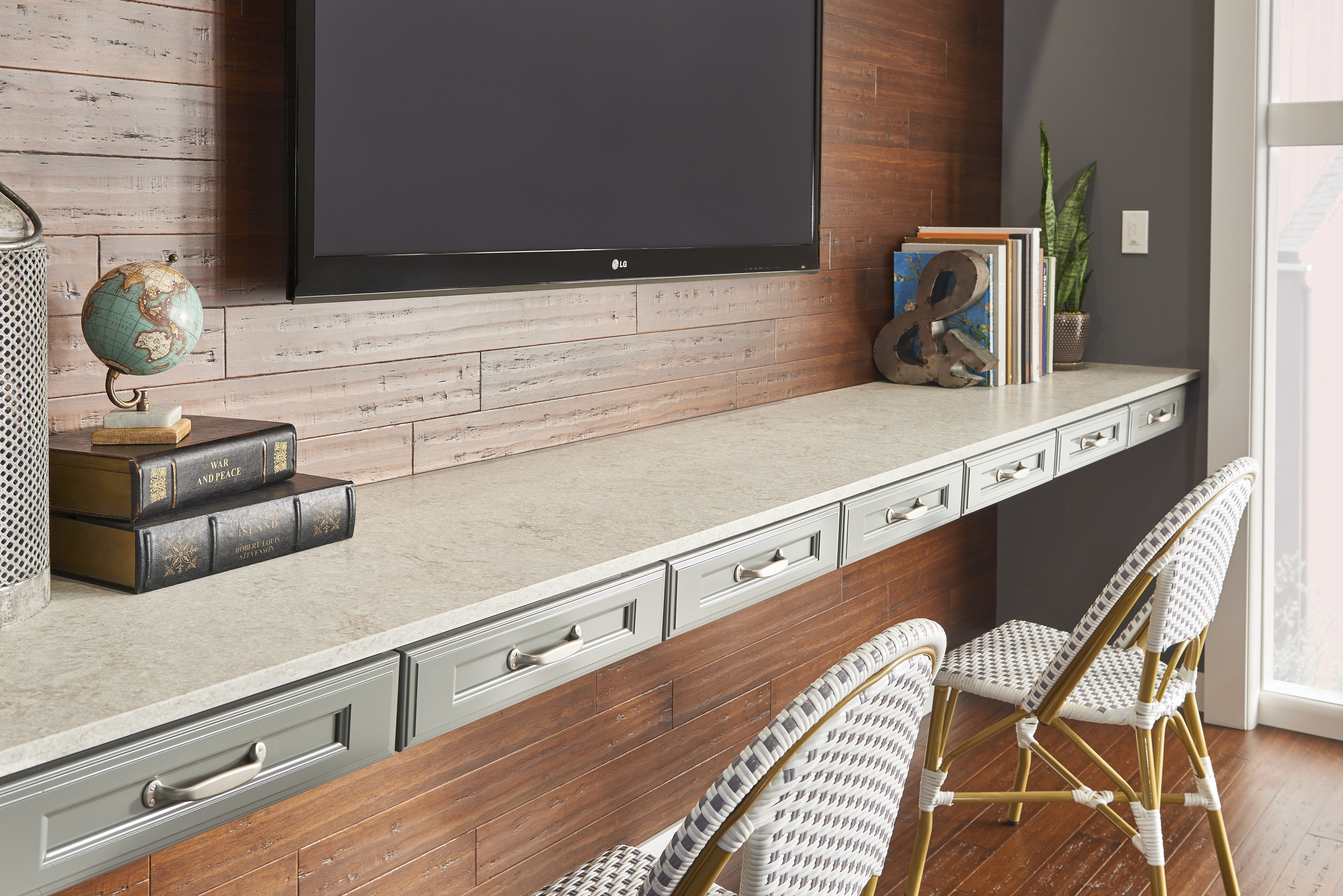 Gray Lagoon Quartz
Variety of On-Trend Colors and Styles
Q Premium Natural™ Quartz offers a wide range of natural and modern designs, allowing you to choose from warm to cool whites, light to dark gray tones, and rich creams and browns, all of which effortlessly enhance the look of any room, regardless of your style. Moreover, the subtle to dramatic veins of our quartz countertops provide an authentic marble appearance that adds a touch of refinement. In addition, we are also offering new designs with pops of color like blues, greens, and burgundy, providing even more options to customize your spaces with a splash of vibrancy and individuality.
Unique and Innovative Design
With over one hundred designs and sleek, sophisticated finishes, Q Premium Natural™ Quartz lets you transform countertops into statement pieces. Our unique and innovative quartz countertop designs cater to diverse tastes and preferences while our exclusive LumaLuxe® formulation adds depth, drama, and exceptional whiteness to each design. Enhancing how light interacts with the countertop surface, LumaLuxe® creates a mesmerizing visual experience that truly elevates your space.
Durable
The Q™ Quartz Collection is crafted from natural quartz, one of nature's hardest minerals. With a 99.9% solid, non-porous surface, this pressed and treated quartz exhibits superior stain, scorch, scratch, and chip resistance, making it the ideal surface for the rigors of daily life.
Low Maintenance
Say goodbye to sealing, polishing, or reconditioning. Q Premium Natural™ Quartz requires minimal maintenance, reducing the need for harsh chemicals. Its non-porous surface resists stains from common surface agents, making it incredibly easy to care for and maintain. Simply wipe away spills and messes with mild soap and water, and your quartz countertops will continue to shine like new.
Safe
Q Premium Natural™ Quartz is impervious to bacteria and other microorganisms, making it a safe choice for any environment, particularly in food preparation areas. Inherently eco-friendly, our quartz countertops are GREENGUARD, LEED, NSF, and KOSHER certified, contributing to creating safe and healthy living and working spaces.
Warranty
A limited lifetime residential warranty and a 10-Year commercial warranty protect your investment in Q Premium Natural™ Quartz, ensuring its lasting beauty and performance for years.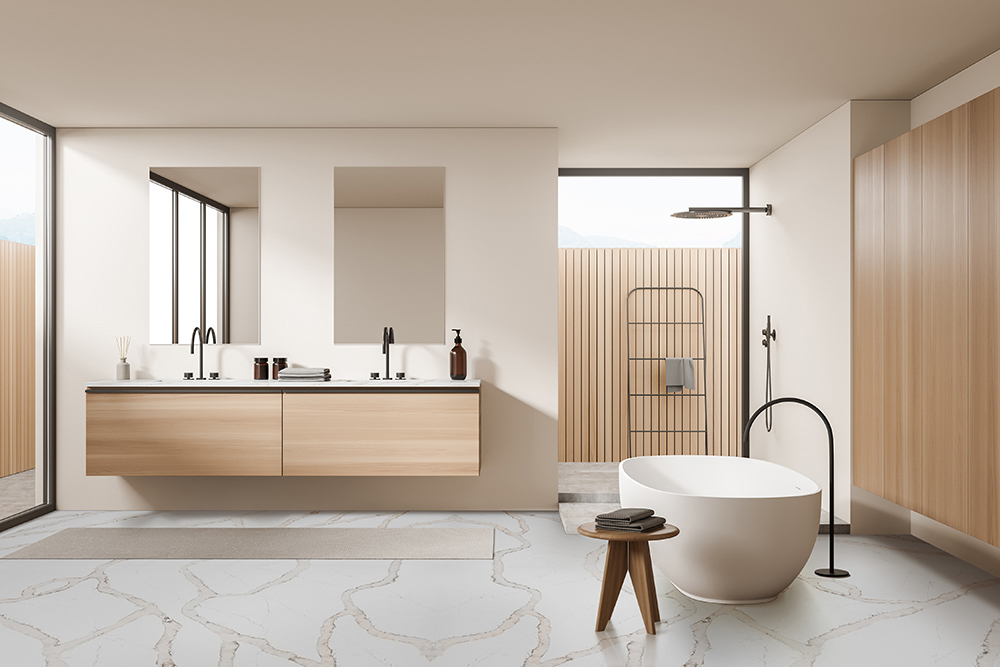 Calacatta Goa Quartz
Q Premium Natural™ Quartz Collections
Welcome to the world of Q Premium Natural™ Quartz. This countertop collection includes endless possibilities for creating the surfaces of your dreams. So, get ready to be inspired by the beauty and performance of these exceptional quartz counters that are sure to leave a lasting impression.
LumaLuxe® & LumaLuxe Ultra®
LumaLuxe® is an exclusive formulation that takes our quartz countertops to the next level. Thanks to the specially engineered formula, the surface interacts with light in such a way that the colors are more immersive, the veining is more dramatic, and there is an increased depth to the surface. This patented technology turns countertops into works of art that captivate the senses and elevate any space.
LumaLuxe Ultra®, a proprietary and patented technology built on the breakthrough of LumaLuxe®, adds even more luxury and consistent excellence. Available in various color options, Lumaluxe Ultra® delivers a sophisticated design that instantly boosts a room's ambiance.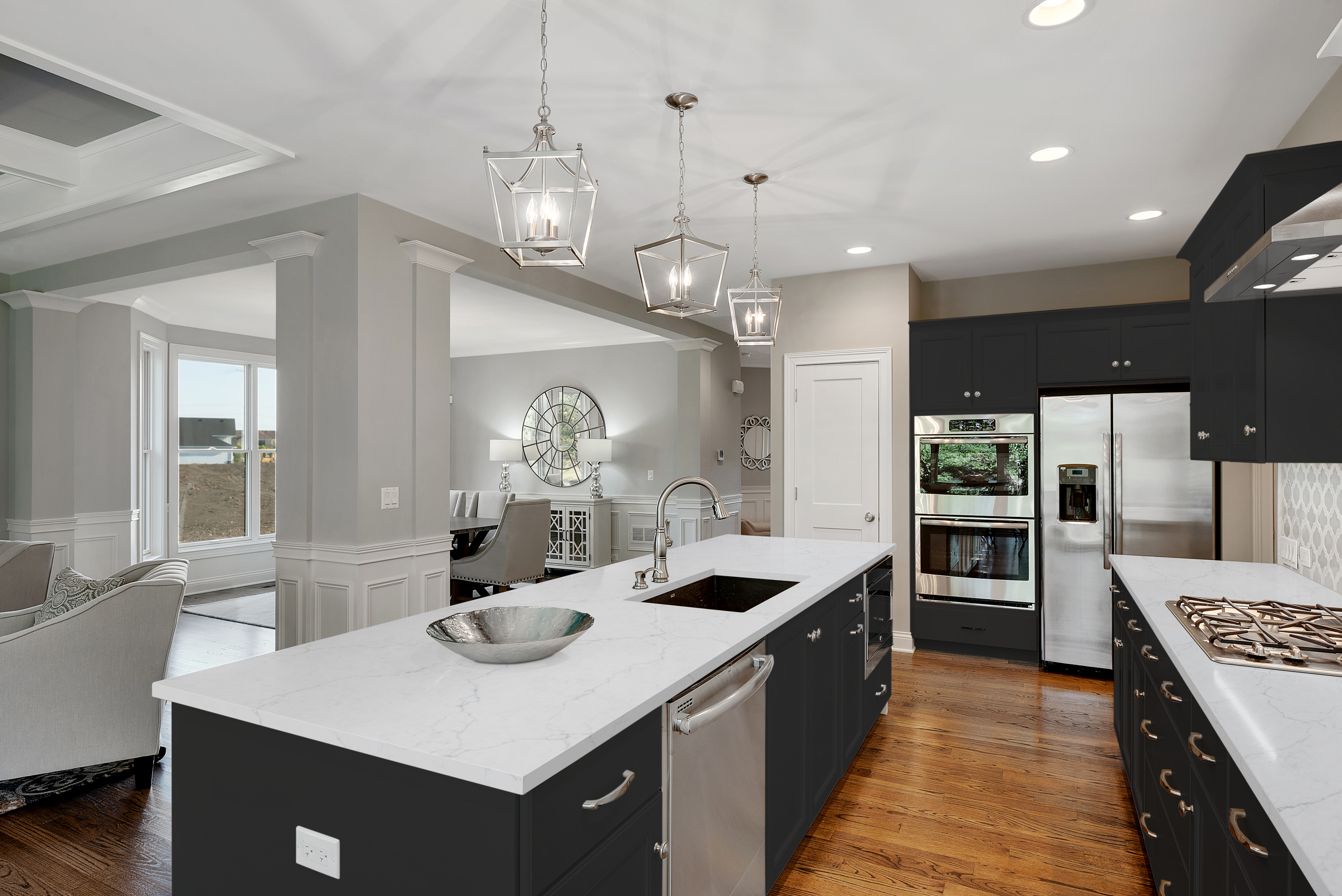 Calacatta Miraggio Duo™ Quartz
Calacatta Miraggio Duo™ is a stunning example of the capabilities of LumaLuxe Ultra® and the Q™ Quartz Collection. With a warm marbled background and bold gold and gray veins, this quartz boasts a unique look achieved through patented vein technology that creates realistic veins through the slab. The realistic combination of colors and patterns helps embrace the natural marble look, adding a touch of luxury that transforms any kitchen or bathroom into a masterpiece.
Q™ Studio Collection
Our Q™ Studio Collection, made right here in the USA, embodies design excellence and innovation. Developed using the most advanced machinery and production processes, quartz from this exquisite collection is the most natural-looking on the market.
Paired with our proprietary LumaLuxe Ultra® formulation, our Q™ Studio options offer incredible natural-looking veining and color consistency. The exclusive patented process results in veins that closely mimic those found in natural stone, adding realism and authenticity rarely seen in engineered surfaces.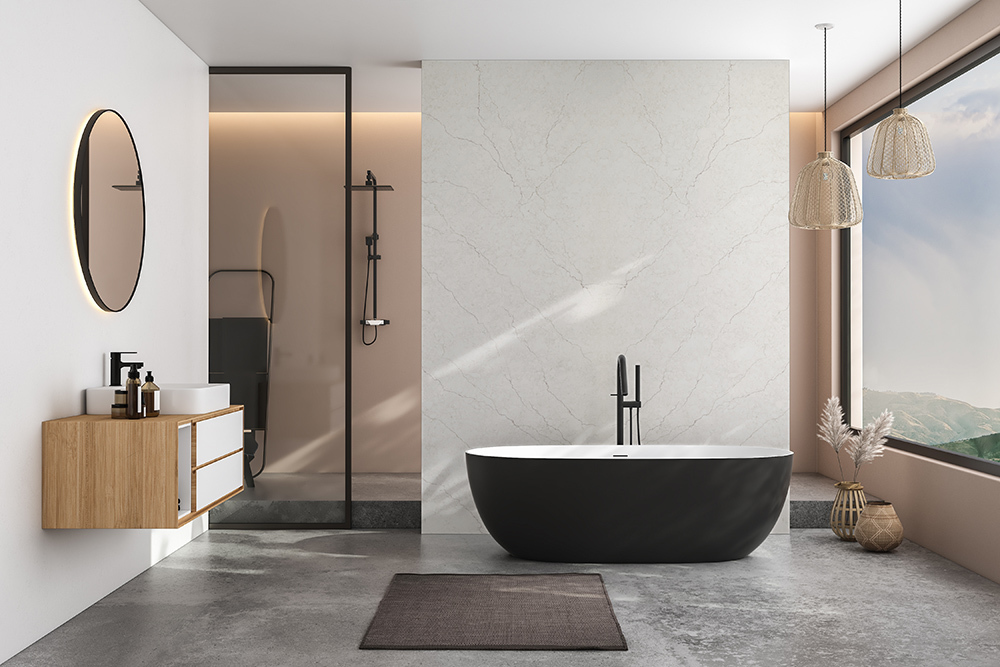 Calacatta Miraggio Sienna™ Quartz
Calacatta Miraggio Sienna™, with its lavish white background and crisscross crackled veins, has a high-end design accentuated by a unique blend of gold and vibrant burgundy, making it a statement piece that demands attention.
As part of the Q™ Studio Collection, this dazzling quartz features our exclusive LumaLuxe Ultra® formulation, enhancing how light interacts with the surface. With its combination of beauty and functionality, Calacatta Miraggio Sienna™ quartz is ideal for a variety of surfaces, including countertops and backsplashes.
Warm Looks
Warm looks by Q Premium Natural™ Quartz bring together the best of all worlds, encompassing soft, light tones that evoke a sense of coziness and tranquility. The color story of warm looks features sepia-inspired whites with earth-toned veins reminiscent of the natural beauty found in stones shaped by passing time.
These designer favorites have found their place in traditional and modern design, making them ultra-versatile for various interior styles. Whether used on an oversized waterfall island, a tiny bath, or anywhere in between, the warm looks from Q™ Quartz infuse any space with a sense of harmony and timeless appeal.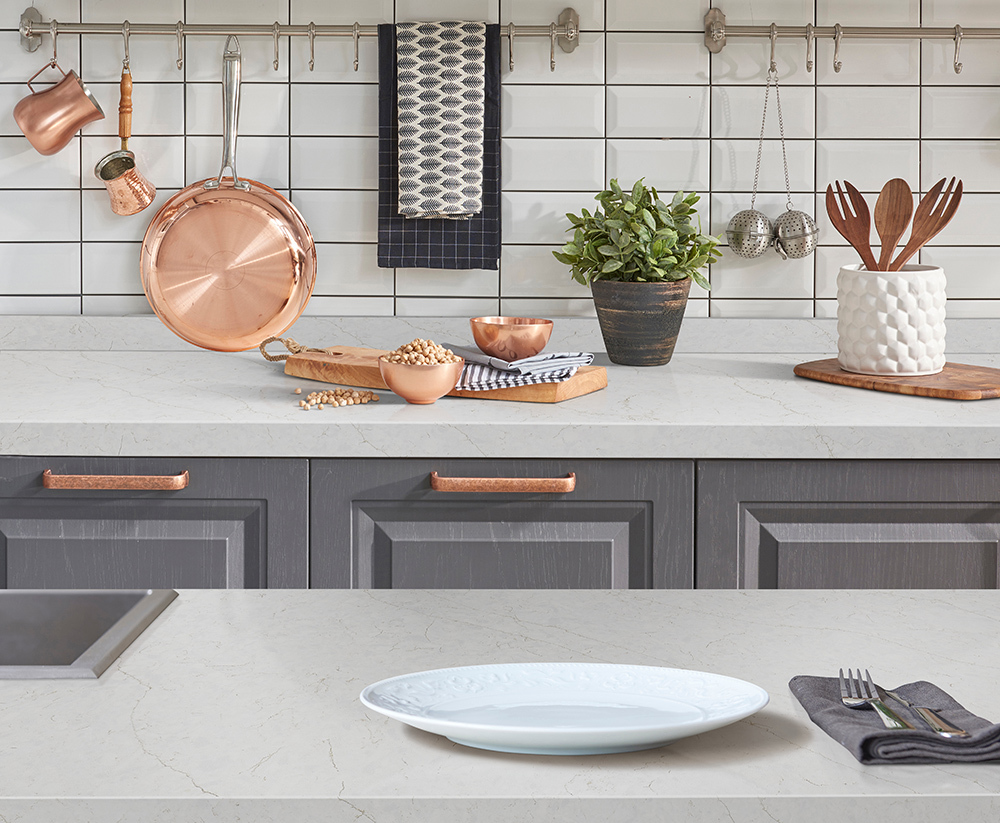 Calacatta Karmelo™ Quartz
Calacatta Karmelo™ quartz is the embodiment of a warm, sophisticated design. The warm white background of this design is decorated with delicate vein patterns that are further accentuated with long, slender lines, speckles, and other natural textures, to create a surface that is rich in depth and character.
The versatility of Calacatta Karmelo™ allows it to blend seamlessly into various design styles, whether you're going for a classic, contemporary, or eclectic ambiance. Not only is it beautiful but it is also built for performance, ensuring your surface lasts for years, even in high-traffic areas.
Marble Looks
The allure of marble is undeniable, with its classic elegance and natural beauty, but marble countertops require maintenance. That's where marble look Q™ Quartz comes in. This quartz that looks like marble provides a low-maintenance solution crafted to replicate the timeless charm of marble with its incredibly realistic veining and dynamic patterns.
Not only do marble look quartz countertops offer the intrigue of marble, but it is also exceptionally durable and cost-effective. The non-porous surface of Q™ Quartz offers many benefits, including stain resistance and a more hygienic environment.
With Q™, your surfaces will be easy to maintain while promoting cleanliness and sanitation. This marriage of luxury and practicality makes marble look quartz an excellent selection for various living spaces, including your kitchen and bath.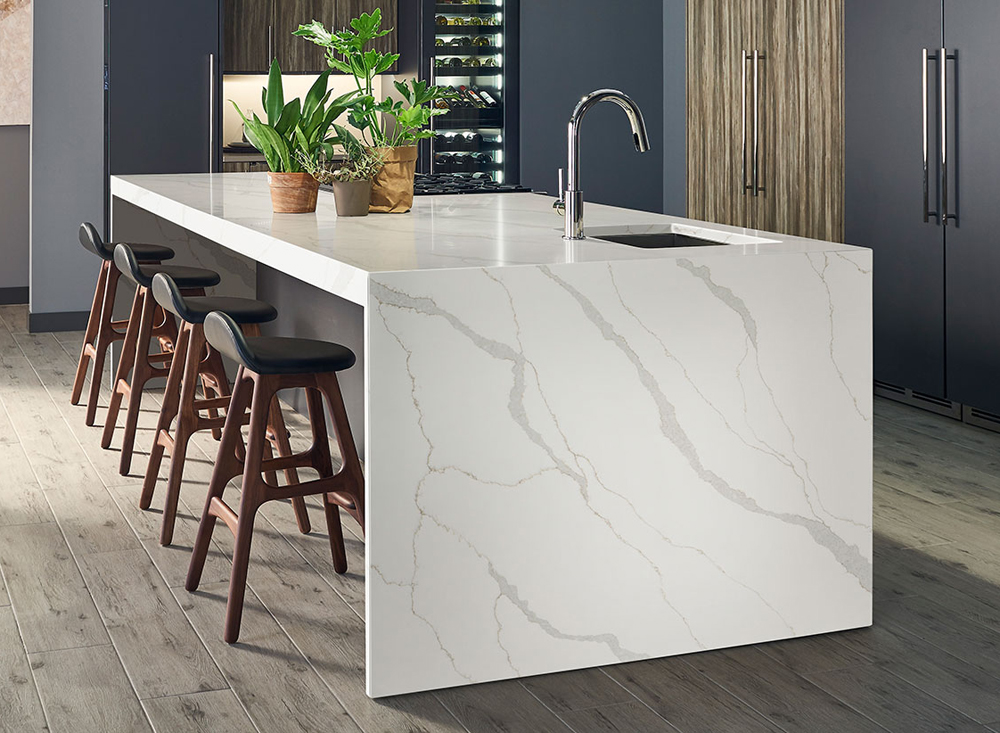 Calacatta Idillio™ Quartz
Discover the allure of Calacatta Idillio™ quartz, an exquisite blend of timeless beauty and modern elegance. Inspired by classic Calacatta marble, these countertops feature a luxurious white background with a balanced pattern of thick and thin grey and brown veins. These slabs successfully create the desired natural look of marble while being resistant to scratches, stains, heat, and UV rays.
Combining the durability and low maintenance of quartz, Calacatta Idillio™ allows you to apply this marble-look to kitchen countertops, islands, backsplashes and many other areas for a touch of elegance.
Concrete Looks
Embracing the industrial chic trend, Q™ Quartz concrete looks offer a low-sheen, silky-smooth alternative to polished surfaces. Inspired by the texture and aesthetics of concrete, these concrete looking quartz surfaces deliver a modern and contemporary vibe that is understated and eye-catching.
Concrete looks from the Q™ Quartz Collection feature a brushed-like matte texture, providing a tactile reminiscent of natural concrete. However, unlike real concrete, these surfaces offer superior stain and germ resistance, making them ideal for busy households and commercial spaces.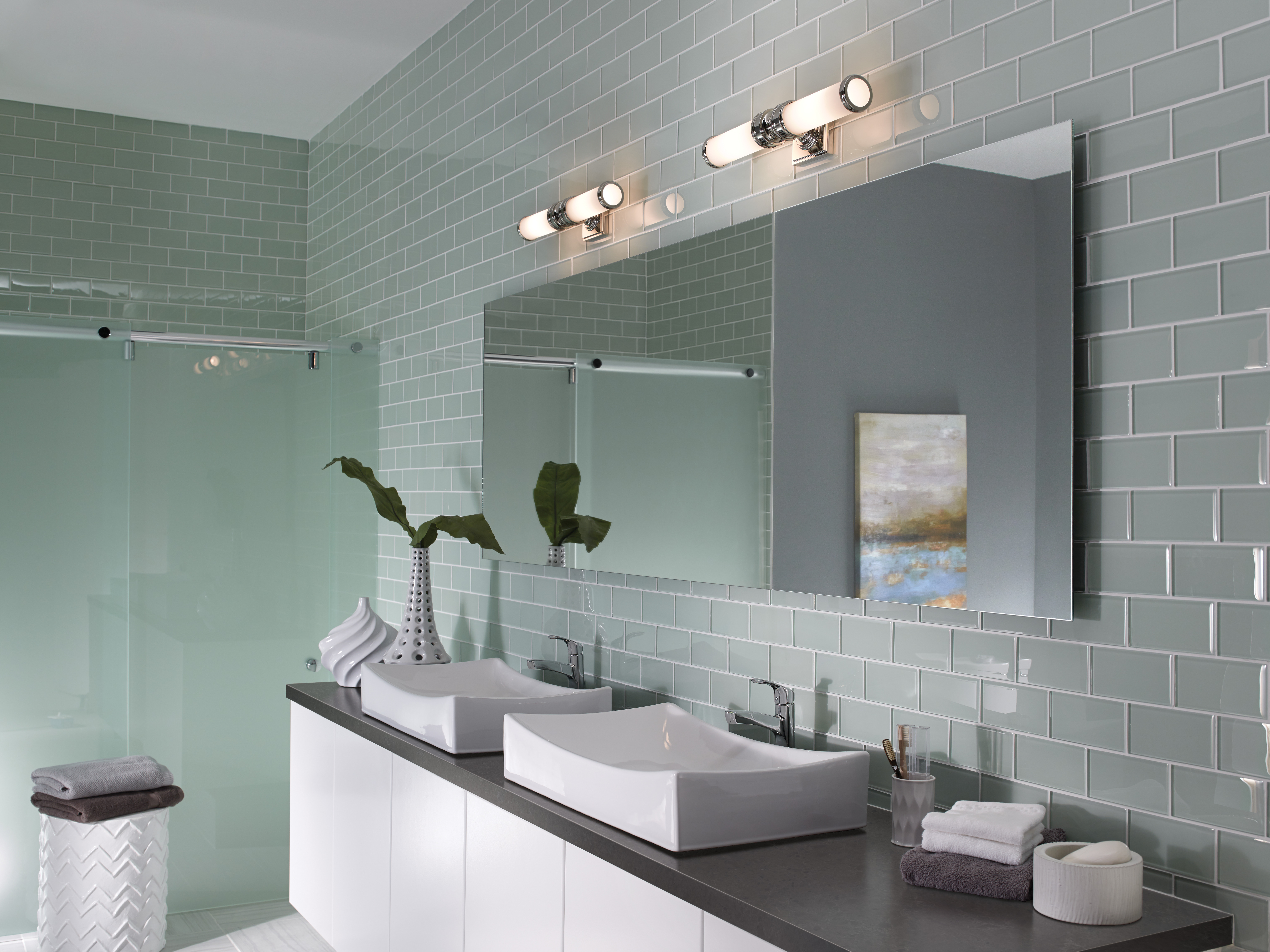 Babylon Gray® Concrete-Finish Quartz
Babylon Gray® concrete-finish quartz is the epitome of sophistication. If you're searching for a dark gray quartz countertop with a decidedly modern look, you will love this Q Premium Natural™ Quartz option. Boasting a 100% non-absorbent surface and a trendy brushed-like finish, this quartz offers carefree convenience, perfect for countertops, bar tops, backsplashes, kitchen islands, and other gorgeous statement pieces.
Whether you're designing a contemporary kitchen, a sleek bathroom, or a trendy commercial space, this quartz will be the focal point that captures attention and sets the tone for the entire room.
White Looks
Q™ white quartz presents a variety of benefits that make it a popular choice for interior design. Its sensibly chic appearance combines timeless elegance with contemporary trendiness, ensuring a lasting appeal. With an extensive selection of over two dozen white quartz countertop styles, homeowners and designers have endless possibilities to explore and find the perfect match for their vision.
Whether opting for a sleek monochromatic solid or luxurious veining pattern, white Q Premium Natural™ Quartz seamlessly harmonizes with any decor, offering unmatched design flexibility. Beyond its dazzling appearance, this quartz is highly durable and easy to maintain, making it a practical and long-lasting investment for any space.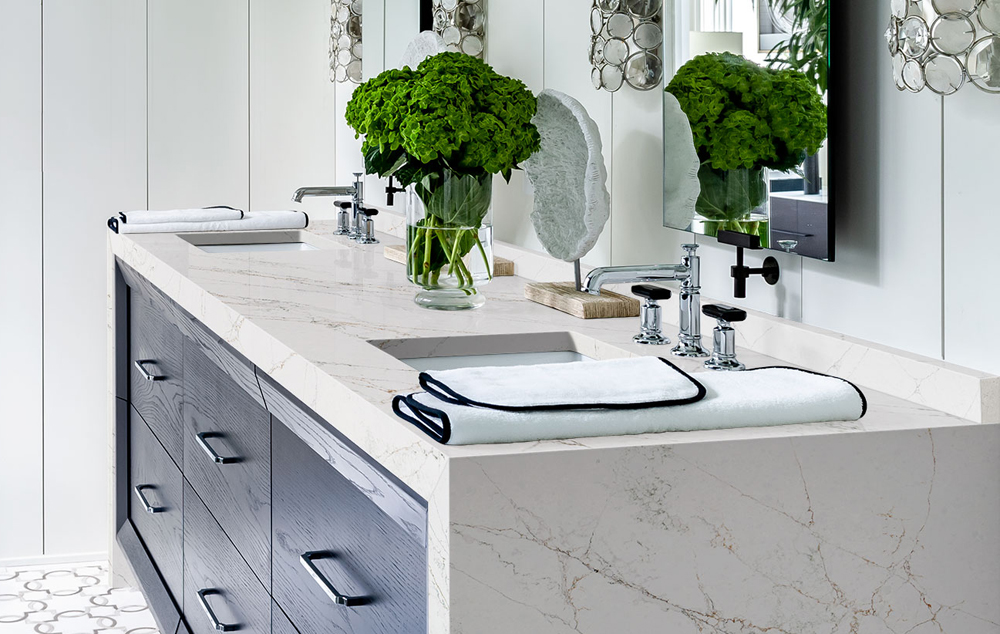 Calacatta Viraldi™ Quartz
Calacatta Viraldi™ quartz offers a warm white background with brown and green wispy veins, creating a neutral yet inviting design that effortlessly complements a wide range of color palettes. Its natural look makes it a perfect choice for various applications, from statement kitchen islands to accent walls, infusing your space with a touch of flair.
Our exclusive LumaLuxe® formulation takes this quartz to the next level, enhancing how light interacts with the surface, resulting in eye-catching and immersive effects. Calacatta Viraldi™ will ensure that any room stands out and leaves a lasting impression, no matter the occasion.
Find Your Perfect Q Premium Natural™ Quartz Color
Our Q Premium Natural™ Quartz is a perfect fusion of style and function. Its design advantages, such as on-trend colors, unique patterns, and LumaLuxe® technology, make it a highly sought-after surface solution for homeowners and designers. Q™ Quartz has a stunning appearance that lasts for years because of its impressive performance advantages, including safety certifications, durability, and low maintenance qualities.
Bringing together the beauty of natural stone and the practicality and durability of engineered materials, our quartz countertops offer a visually captivating and highly functional surface. With nearly limitless design possibilities, Q Premium Natural™ Quartz allows homeowners to unleash their creativity and create awe-inspiring spaces.
Let Q Premium Natural™ Quartz be your canvas for creating spaces that impress and inspire. From LumaLuxe® to Q™ Studio, warm looks to concrete looks, and marble looks to white looks, Q™ Quartz offers an extensive range of options to suit your style and design preferences. Discover the magic of the Q™ Quartz Collection and unlock the potential to create truly exceptional spaces.
To experience the elegance and beauty of Q Premium Natural™ Quartz firsthand, we invite you to chat with us online, visit an MSI showroom, or contact an MSI dealer near you.

Learn More Quartz Countertops
IS MSI'S Q™ PREMIUM NATURAL QUARTZ A HIGH-QUALITY QUARTZ OPTION?
5 NEW Q™ NATURAL QUARTZ COLORS FEATURING A MIX OF BOLD AND SOFT VEINING
QUARTZ COUNTERTOPS THAT MIMIC NATURAL STONE: GRANITE, LIMESTONE, AND MARBLE LOOKS
7 KITCHENS WITH GLAMOROUS CABINETRY & QUARTZ COUNTERTOP PAIRINGS