Quartz Made In The USA With MSI's Q Studio Collection
January 23, 2023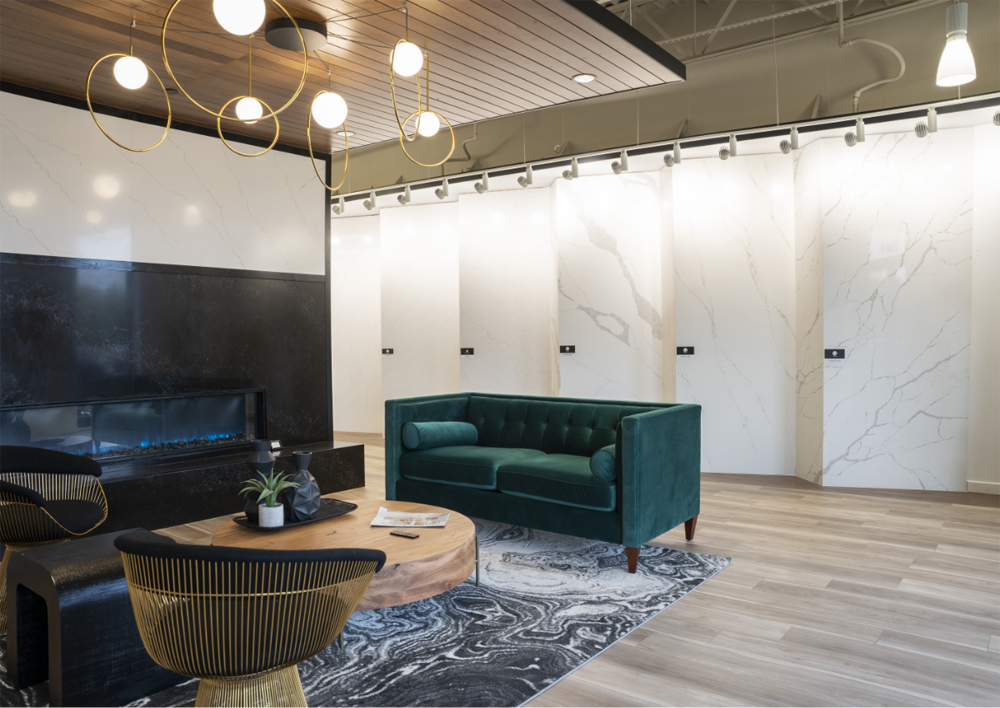 Imagine a kitchen filled with bright, stylish white marble countertops – kitchens, bathrooms, or even laundry rooms that feel luxurious and spacious. We can't help but fall in love with this elegant look, knowing that marble is expensive and delicate. It comes from faraway lands where it is quarried, cut into slabs, and shipped to a local showroom. But wait, it's not marble at all. It's quartz, and it's made right here in the USA.
Today we're introducing you to MSI's new Q Studio Collection, three marble-look quartz countertops that deliver all the beauty of natural marble without the high maintenance and cost. These coveted marble looks are made possible with our proprietary Lumaluxe Ultra technology - exclusive to the Q Studio Collection, allowing us to create the most realistic marble-look white quartz countertops, full of depth and character.
Even better, our Q Studio Collection is produced in the U.S. at our 360,000-square-foot quartz manufacturing facility in Latta, South Carolina. This allows us to maintain strict quality control while reducing the costs required to transport countertop slabs for long distances – and creates thousands of American jobs. It's a win-win!
Are you intrigued? Let's dive deeper into the Lumaluxe technology with a video that shows our manufacturing facility and offers a peek into the process:
MSI has been offering top-quality quartz countertops in many colors and patterns for many years, including an array of authentic-looking marble selections. Its easy care requirements, durability, and versatility – as well as affordable price points – is why quartz is fast becoming one of the most popular surface materials for installation in residential kitchens, baths, and commercial spaces.
However, we're committed to constant innovation and determined to bring you the most realistic, gorgeous marble-look quartz available on the market. Lumaluxe is a proprietary formulation designed by MSI that features increased depth, dramatic veining, natural-looking colors, and light-enhancing qualities. If you thought capturing the unique glow and character of real marble in a reproduction material was impossible, we've pushed those boundaries like never before.
Quartz countertops are manufactured rather than quarried in large slabs like the natural stones they mimic. They've been on the market since the late 1980s, made with a mixture designed by Bretonstone. The basic recipe consists of about 90% natural quartz ground into fine pieces. Next, the various quartz colors and patterns are created by adding pigments, glass, and other minerals, and a polymer resin binds it all together. Finally, it's shaped by a mold and compressed under high pressure and temperatures. The result? An extremely durable, premium countertop material that never needs sealing – a significant consideration when choosing between quartz vs. granite or another natural stone.
Here's what makes Lumaluxe Ultra countertops unique, though:
Superior White Shades: Lumaluxe technology creates pure, bright white quartz that looks like marble. If white countertops appeal to you, but you worry about keeping them pristine, this may be the solution you've been seeking.
Increased depth: MSI's exclusive process replicates one of the features that often sets natural stone apart from manufactured quartz, and that's the sense of depth beneath the surface. Lumaluxe Ultra quartz has a subtle transparency that captures and reflects the light.
Dramatic veining: While many manufactured countertop materials imitate the look of marble with surface veining, the veins in MSI's Lumaluxe Ultra run throughout the entire slab. This, combined with the slight transparency, offers an incredibly realistic dimension, especially with custom edge treatments.
MSI's Q Studio Collection includes the following three colors: all made in the USA and all featuring MSI's Lumeluxe Ultra - exclusive to the Q Studio Collecdtion!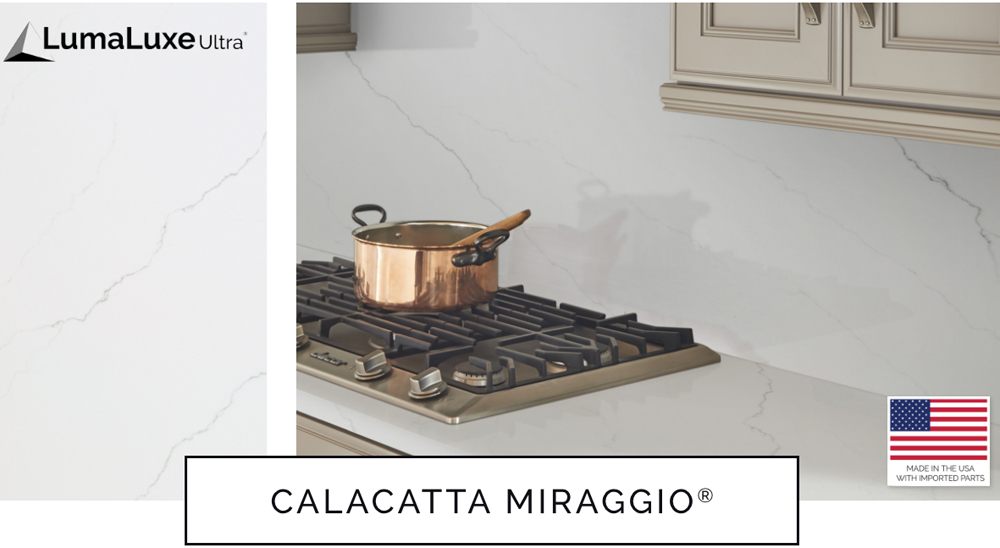 There's no debate about fine Italian Calacatta Marble's ability to make a space instantly luxurious. So, when you want to elevate your home's style with an expensive-looking, bright white marble but don't want the work involved in maintaining it, Calacatta Miraggio quartz is your problem solver. It features cool white accented by subtle gray veining and has a glossy polished finish. Since it's a Lumaluxe Ultra marble-look quartz, you might forget it's not natural marble – that is, until you spill wine, marinara sauce, coffee, or another delicious food upon its surface. Then you'll clean it up and move on with your life, no worries!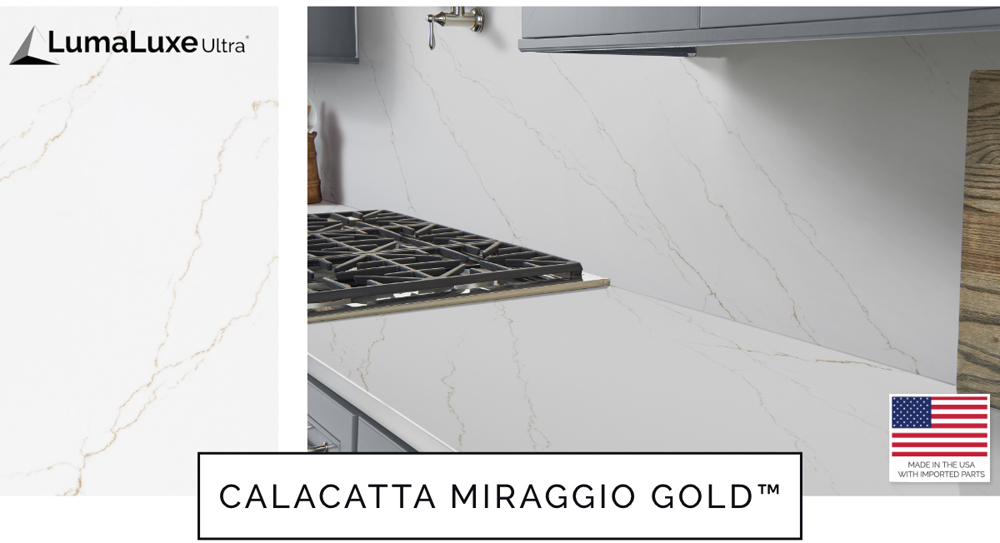 Featuring a pure-white background, Calacatta Miraggio Gold offers refined golden-brown veining and a diagonal linear pattern. We love how it ties together popular kitchen elements such as hardwood floors and natural wood-colored cabinetry. Since quartz countertops are engineered surfaces, you know exactly what your selected slab will look like upon delivery and installation. Yet, there is enough variety throughout to keep it realistic-looking. Consider installing this Lumaluxe Ultra quartz color vertically to create a matching backsplash.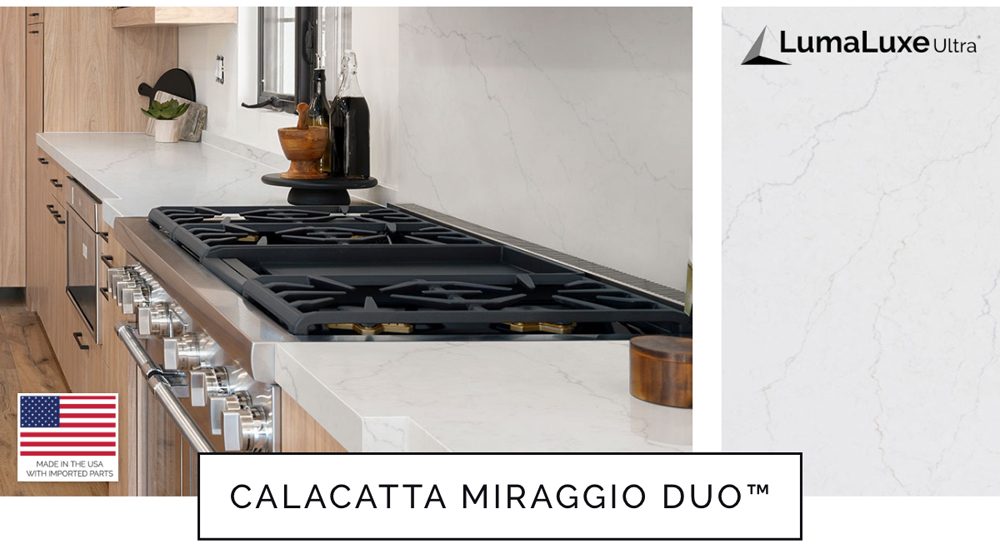 Although the veining in all Q Studio Collection is subtle and delicate, interior designers and homeowners with a keen eye for detail know that there's a big difference between gold and gray when it comes to matching your décor. If you can't make up your mind, you don't have to –choose Calacatta Miraggio Duo, which includes both. And like all of MSI's quartz countertops, it can be fabricated any way you desire, with cutouts for sinks, cooktops, and other fixtures. We suggest a 2 cm thickness for your matching backsplash and a 3 cm thickness for your countertop, which you can further customize with a specialty edge treatment. How will that look in your own home? Try out MSI's countertop visualizer today.
Now that you've seen our new Q Studio Collection, made in the U.S. using exclusive and patented Lumaluxe technology, are you ready to install that gorgeous marble-look countertop you've been dreaming about? We would love to have the opportunity to help you select the perfect material for your home projects, whether it's engineered quartz or another product. Contact us online at any time via email or our MSI website chat feature, or see your favorite products in person at one of our showrooms.
LEARN MORE ABOUT QUARTZ COUNTERTOPS
NEW FEATURE ALERT: QUARTZ COUNTERTOP DESIGNER TIPS
5 PERFECT QUARTZ COUNTERTOPS FOR YOUR DREAM KITCHEN
THE BENEFITS OF INSTALLING KOSHER-CERTIFIED QUARTZ COUNTERTOPS IN YOUR KITCHEN
INTRODUCING 6 NEW CALACATTA QUARTZ COLORS: WHICH ONE IS RIGHT FOR YOUR KITCHEN?