What Are The Benefits And Drawbacks Of White Quartz Countertops?
March 13, 2019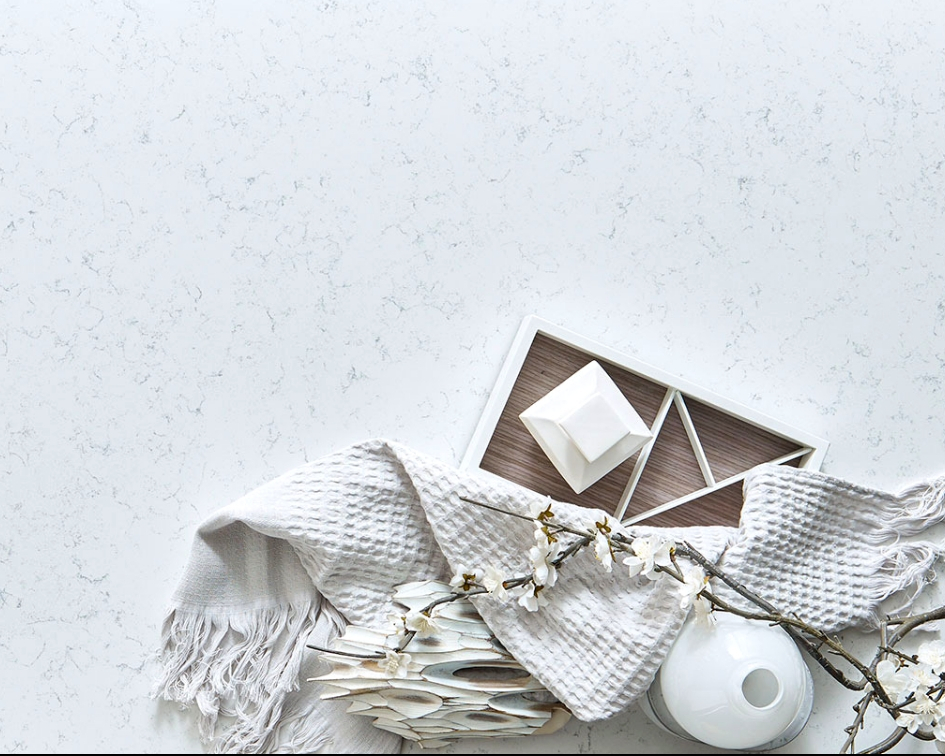 The kitchen is the heart of your home. You'll be spending a lot of time there, so it ought to be a showcase for your creativity and personality. Perhaps the most important element of kitchen design is the countertop, and the one you choose says a lot about you. A white quartz countertop says that you're cheerful, tidy, and stylish.
It also says you're optimistic — after all, we all know what happens to white surfaces. Wear a white shirt, and it's almost guaranteed you'll drip your morning coffee on it. White cars show every speck of dirt. Consequently, homeowners are wary of installing white countertops, no matter how great they might look. But if it's what you love best, you'll find it worth the effort to keep it clean and pristine.
In the case of a quartz countertop, however, that might not require much effort at all. This engineered surface has a lot to recommend it over competing white premium surface such as marble or granite. Quartz counters are legendary for their easy care and durability. They're not perfect, though, and may not be the best choice for everybody. Let's discuss some of the pros and cons of white quartz countertops, so you can feel confident with whatever you choose.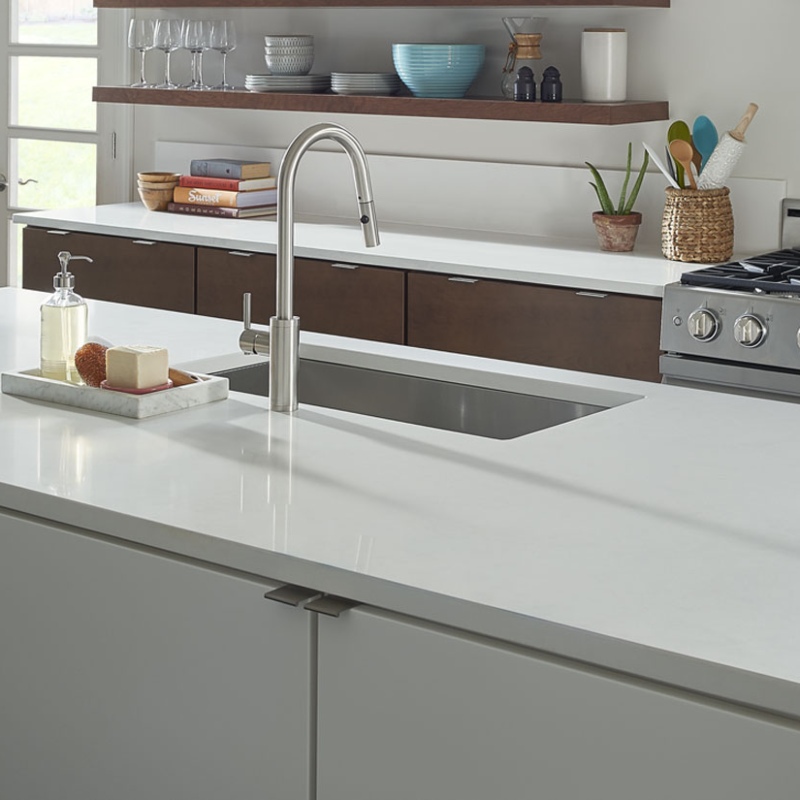 Featured: Arctic White
Consider the following cons:
Although a bright, pure-white countertop may seem like the pinnacle of modern décor, there are some that don't care for the unnatural brightness. Plain, snow-white doesn't work well with every style; it's more suited for homeowners who prefer clean, sleek minimalism. Without the right design aesthetic, a plain white counter can appear stark, with no character, and a homeowner may bore of it quickly.
You don't have to choose plain white, though; quartz countertop colors are available in a wide variety of patterns, including many shades of white and natural stone lookalikes. Even so, a marble look quartz counter will never look quite as charming as natural marble, which develops a patina over time that many homeowners enjoy.
Part of quartz countertops' attraction is their durability. However, it's not indestructible. Compared to natural stone, particularly granite, quartz is less heat resistant and is more likely to show scorch marks and discoloration from hot pots and pans. It's also prone to developing a yellow cast over time when exposed to UV light, so if your windows don't provide UV filtering, you'll need to avoid extended exposure to direct sunlight.
Quartz countertops are extremely heavy. Extra reinforcement may be needed when they are installed. They are also more likely to show the seams where two slabs meet, such as on corners. For these reasons, installation is more difficult and costly, and shouldn't be undertaken as a DIY project.
Although quartz is not a natural stone, it's still considered a "luxury" surface — a high-end option. The quartz countertop cost reflects this, and some homeowners may not feel that the price is justified by the benefits.
On the other hand, consider the benefits that make quartz such a popular choice:
Homeowners often choose quartz countertops because of their durability. While we mentioned earlier that they're not indestructible, they do hold up extremely well to everyday wear and tear. Quartz counters resist scratching, chipping, and staining, and no matter what type of countertop you install, it's recommended that you use trivets and hot pads to protect them from heat damage.
Quartz countertops come with long-term warranties, ranging from 10 years to a lifetime in a residential setting, depending on the manufacturer. Compare this to natural stone countertops, which are typically only warranted against manufacturing defects or installation errors.
You'll have a huge variety to choose from. Since a quartz countertop is an engineered surface, it can be manufactured with an endless number of colors and patterns. If you don't like plain white, never fear; you can choose marble-like Calacatta variations or counters with shaded flecks or shimmering flecks to resemble granite.
You know what you're getting when you order white quartz countertops, whether they are plain white or patterned. Natural stone has variations in patterning and color between each slab, so no two pieces are alike. For that reason, it's important to actually go to the slab yard and pick out exactly the piece of stone you want to install. Quartz, however, is consistently patterned and colored so that each piece is alike. That not only makes shopping easier, it also makes it easy to match one piece with another that will be installed side by side.
Just because quartz countertops are manmade, that doesn't mean they can't be customized just like natural stone. You can choose special edge treatments, and even matte, brushed textures.
Quartz countertops are non-porous, which means they are completely waterproof. Natural stone has tiny pores that allow moisture to seep in, which can cause staining and discoloration. That's why it needs to be sealed regularly, and typically lighter colors need more frequent applications of sealer.
It's not a difficult process, but with quartz countertops, you need never worry about it at all. The nonporous nature of quartz countertops also makes them a breeze to keep clean and hygienic. Since they repel liquid, they also repel bacteria, viruses, mold, and mildew. That's an important benefit for food preparation areas.
Featured: Calacatta Clara
In fact, quartz countertops are so good at repelling bacteria, and so easy to clean thoroughly, that some manufacturers have had them certified as Kosher. That means it meets the highest standard for purity and hygiene.
Staining is always a big concern for kitchen countertops, but that's especially true for white countertops. After all, you don't want to spend the next couple of decades stressing out about spills and drips. Since it's nonporous, quartz has been proven to resist even the toughest stains like food coloring, beet juice, and tomato sauce.
You have many different countertop choices when it's time to remodel your kitchen or bathroom. White countertops may be trendy this year, but they're versatile enough to stand the test of time with any design aesthetic. And, if you've fallen in love with the idea of white countertops, you'll find that the benefits of quartz far outweigh any negative, and it's worth every penny.
More On White Quartz Countertops
Marble Look a Likes with White Quartz Countertops
Enhance Your Home with White Quartz Countertops
Check Out the Many Looks of White Quartz Countertops
How To Keep Your White Quartz Countertop Stain Free
Are White Quartz Countertops More Expensive Than Marble?