Which Granite Colors Look Best In A Small Kitchen?
February 18, 2018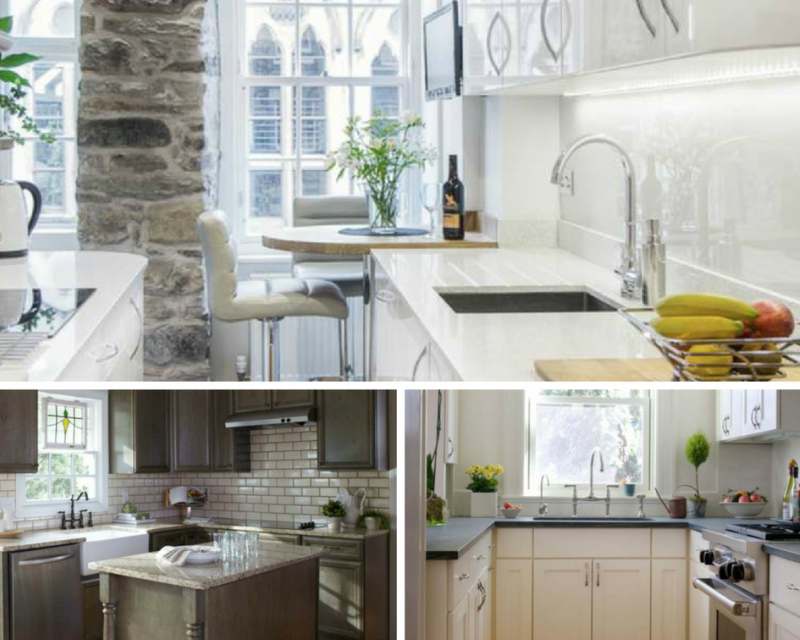 Large kitchens get a lot of the glory today, but properly designed and appointed small kitchens can be just as captivating and feature-worthy. And that's good news, because not every homeowner has a large space to work with. However, there are some important design matters to keep in mind when working with a small footprint.
Awe-inspiring small kitchens have several things in common. First, they are well organized and feature cabinetry that makes the most of the limited space. Second, clutter on the countertops is kept to a bare minimum so the kitchen feels more open. Third, natural light is maximized whenever possible, and task lighting is used appropriately. And finally, well-designed small kitchens feature carefully chosen colors on their walls, floors, cabinetry, and countertops, giving the illusion of openness, unifying the design and creating a color balance.
As one of the largest visible surfaces in a small kitchen, the countertop's color and pattern selection is key to a smart design. Countertops in small kitchens are true multi-taskers that play hostess to everything from homework to hot skillets, and coffeemakers to cookie dough. This means that on top of being beautiful, countertops need to be versatile and tough.
The good news is that there's no need to compromise! For a surface that is durable, low maintenance, and stain resistant, granite countertops are a great choice. And today, there are more granite colors available than ever before, which means you are sure to find the look you desire. With that in mind, let's explore some beautifully designed petite kitchens that feature granite countertop colors in perfect balance with other features of the room.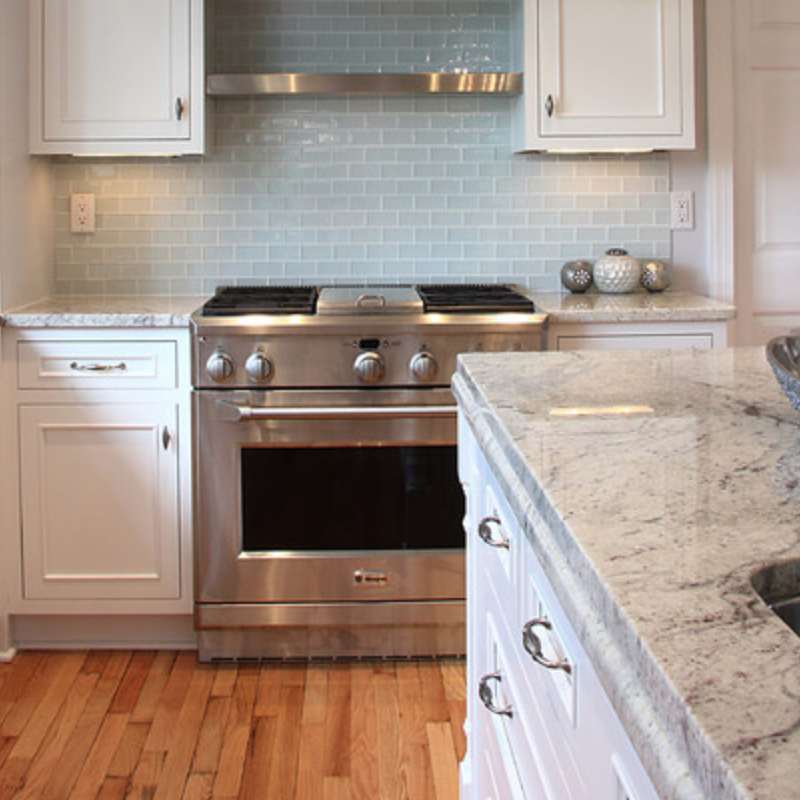 Featured: Bianco Romano Granite
For generations, white cabinets have been a mainstay of design in large and small kitchens alike. Here, Bianco Romano Granite countertops complement this traditional kitchen design. The natural hardwood flooring adds a counterbalance to the cool colors of the cabinets, countertop, appliances, and glass backsplash.
Plus, the lengthwise-running planks create a visual illusion of the small space being longer than it actually is. As your eyes move up to the countertop, the light color and wispy pattern of this gorgeous natural stone countertop adds movement to the island, making it feel more expansive.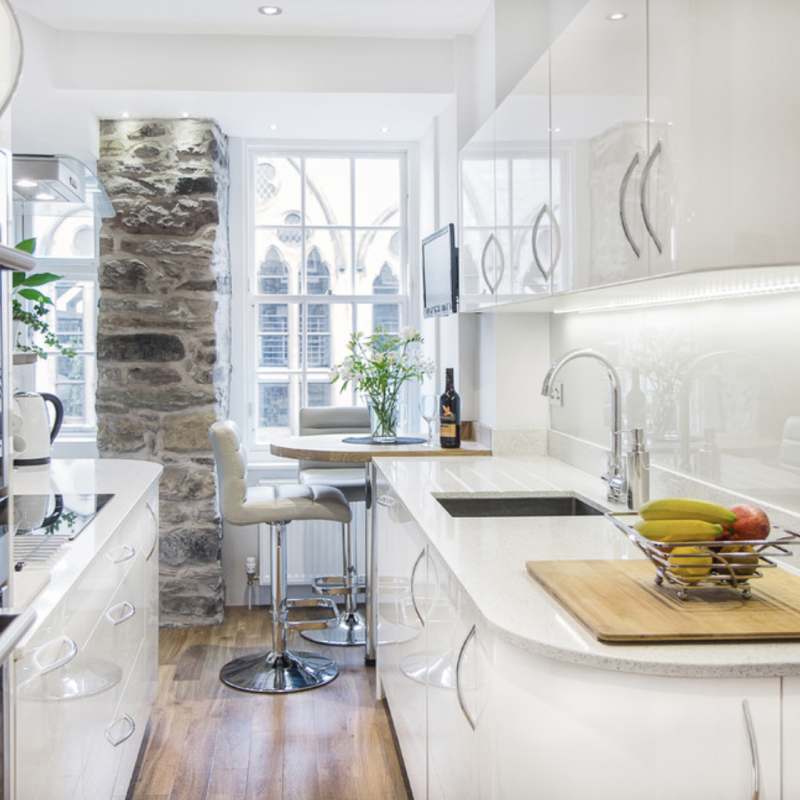 Featured: White Alpha Granite
This beautiful small kitchen beautifully strikes a balance between traditional and modern styles—with each element playing an essential role in the design. The contemporary white lacquer-finished cabinets, White Alpha Granite counters, slick white backsplash, and white walls and ceilings reflect the natural light pouring in through the windows.
Stainless steel complements the modern vibe with the cabinet pulls, faucet, appliances, accessories and the furniture, tying the space together perfectly. Although this small kitchen could have felt sterile and cold, the warmth of the hardwood floor and stacked stone pillar provides a balance of color and texture to the design.
Featured: Juparana Delicatus Granite
And white cabinets and countertops are not the only solution for petite kitchens! Rich warm cabinetry and countertops—when balanced properly—can provide a warm welcome while making the space feel more expansive. Here, rich cherry cabinetry grounds the space, and the Juparana Delicatus Granite has flecks of rust and cherry echoing the cabinetry color.
Meanwhile, the slab's pale, reflective background is complemented by the creamy square tiles that form the base of the backsplash, bringing a counterbalance of light. Another key design secret here is having the linear backsplash run horizontally and running it all the way up to the ceiling alongside the cabinetry. This makes the ceiling appear higher, another design victory for a small space.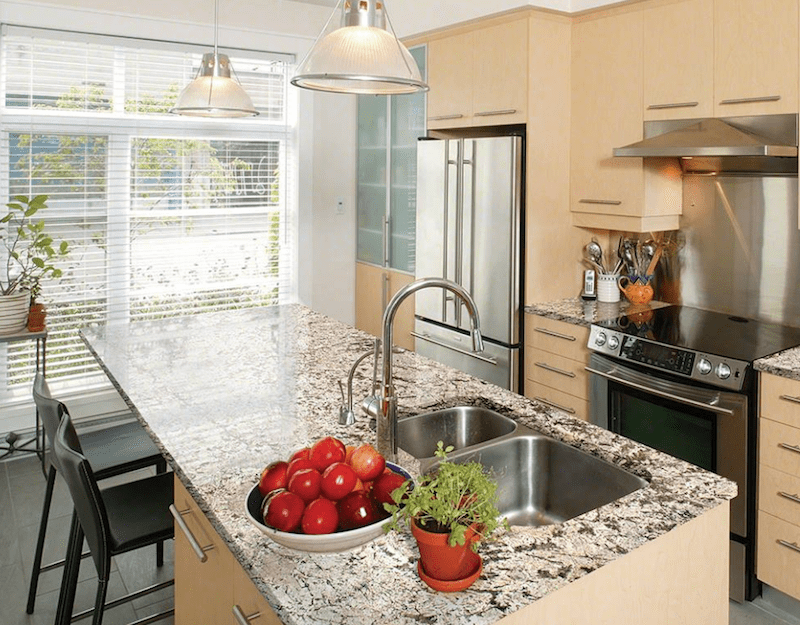 Featured: Bianco Antico Granite
Small, eat-in kitchens can be more than merely functional; they can be beautiful and inviting. Efficiency is key to keeping this kitchen from feeling cramped. Instead of taking up limited floor space with a small table and chairs, the island's counter is extended to seat up to four for a meal or homework. Plus, it provides much needed additional counter space when not being used as a table.
In this space, Bianco Antico Granite countertops provide an earthy, graphic element that adds interest to the flat-fronted cabinets. And as for the balance of color, this kitchen highlights the fact that neutral tones don't have to be boring. The cocoa and espresso hues and gray undertones of the countertop bring the light camel-colored cabinets and stainless steel appliances together perfectly.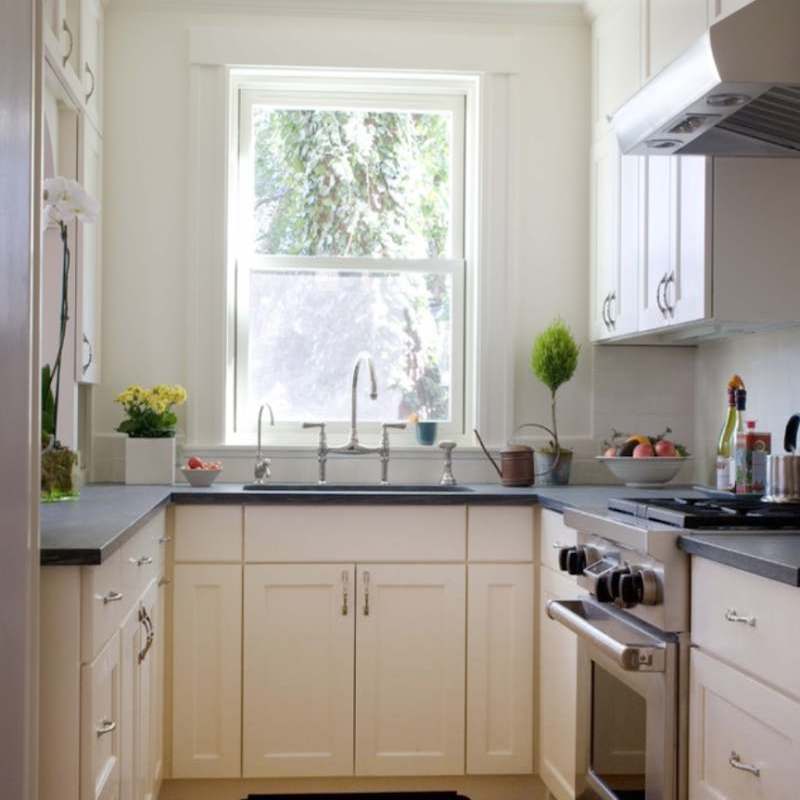 Featured: Black Pearl Granite
As small spaces go, narrow galley kitchens can be incredibly efficient, allowing for the execution of the perfect kitchen triangle. However, a space this small could end up feeling quite cramped. The key to the light and airy feeling of this lovely kitchen is the marriage of black and white. White walls and cabinets that extend to the ceiling give this room a sense of volume and space, and the black countertop provides the illusion of length. Black Pearl Granite was the perfect choice here, adding hints of sparkle and character, while the undressed window keeps the space uncluttered and bright.
If you have a small kitchen, make it shine by balancing colors, textures, and patterns. Take every advantage of natural light, and add task lighting or lighting under cabinetry to keep the space airy and bright. Select accessories carefully; after all, the best decorating ideas for small kitchens have the goal of creating a feeling of uncluttered openness. Edit accessories carefully, because even window dressings and artwork can contribute to making a space feel smaller. Select cabinetry with a focus on storage—the more storage, the better.
And remember, the perfect place to bring everything into balance is with the countertop. Select a beautiful granite slab that pulls together the cabinetry, wall color, and appliances. Just keep these tips in mind, and you will be able to create a unified look with the illusion of space.
READ MORE ABOUT GRANITE COUNTERTOPS
Tips For Choosing Granite Countertop Colors