Does Porcelain Tile Look Like Real Stone?
July 20, 2018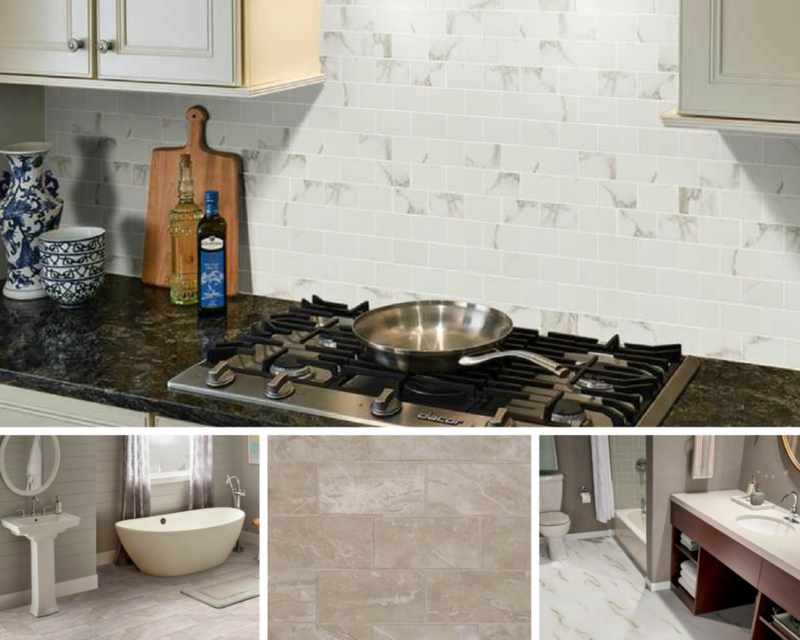 When we think of lookalikes and knockoffs, the general consensus is they're almost — but not quite — as good as the real thing. Usually knockoffs are chosen for the purpose of saving money, and there's a compromise between genuine quality and price. But with porcelain tile, that's not the case at all!
There are many reasons to choose porcelain tile besides the cost. Super-low maintenance comes to mind; there's no need to seal porcelain tile to maintain its luster and durability. It's resistant to etching, scratching, and staining. Perfectly even edges and thickness along with lighter weight makes it easier to install and opens up a world of design possibilities.
But is it realistic? Today's inkjet printing technology makes it possible to recreate that modern marble look designers have been using everywhere, as well as just about any other type of flooring and wall covering on the market. Here are a few gorgeous examples that will show you just how versatile porcelain tile can be!
Grigio Onyx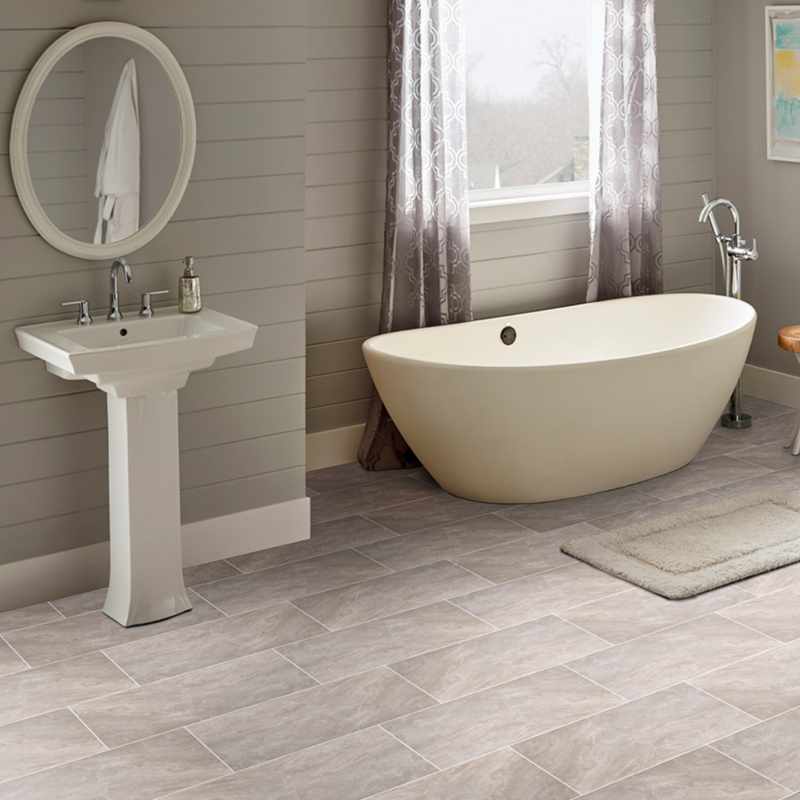 Featured: Grigio Onyx Porcelain
When it comes to recreating well-known natural stone such as travertine, marble, and onyx, the bar is set very high. When you've got your heart set on authentic natural stone, it can be tough to accept a substitute. However, bathrooms are an excellent place to choose porcelain tile instead.
Grigio Onyx Porcelain features complementary tones of gray, white, and subtle gold, with a matte glazed surface that brings out its beauty. Plus, it's available in many different sizes to suit your decorating ideas.
Bianco Aria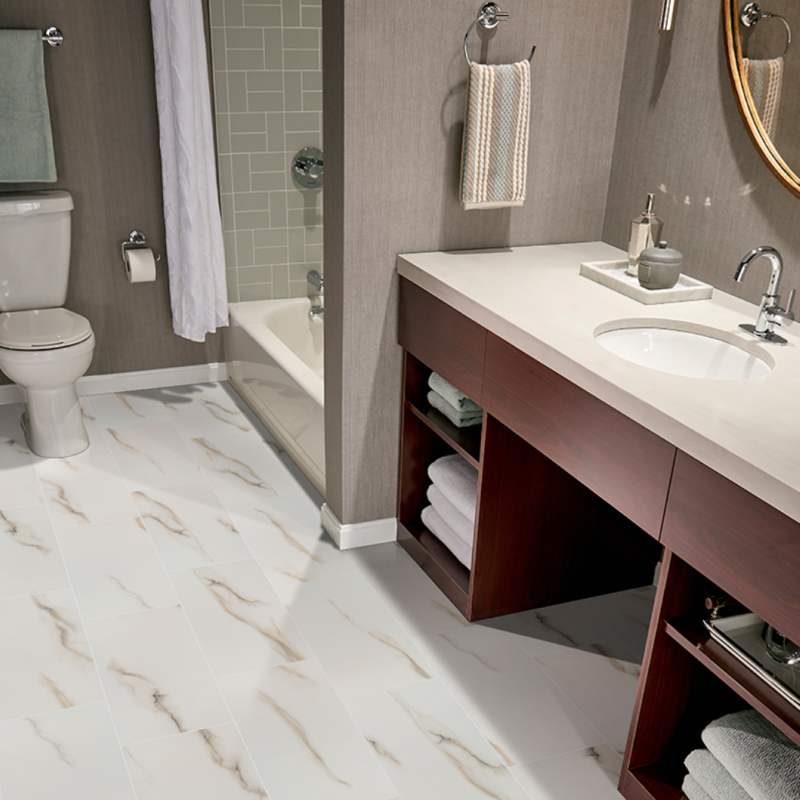 Featured: Bianco Aria Porcelain
Many people think that marble lookalike porcelain tile is too uniform to be realistic — that is, every piece is exactly the same. That may have been true in the past, but modern inkjet printers have enough memory to print a unique pattern over about 30 tiles that are 12x12" big before the pattern repeats. The result, as shown in this marble-look Bianco Aria Porcelain installation, is the appearance of infinite variety, just like nature.
Beige Travertino
Featured: Beige Travertino Porcelain
Aside from its good looks, one vital benefit of porcelain tile is its cost. Those who are unable to afford natural travertine tile to cover large expanses of flooring, such as this large entryway, can enjoy the elegant look without the hefty price tag. Plus, no need to be uptight about family and guests tracking in rain, snow, and mud, because this porcelain floor is water-resistant.
Pearl Pietra 2x4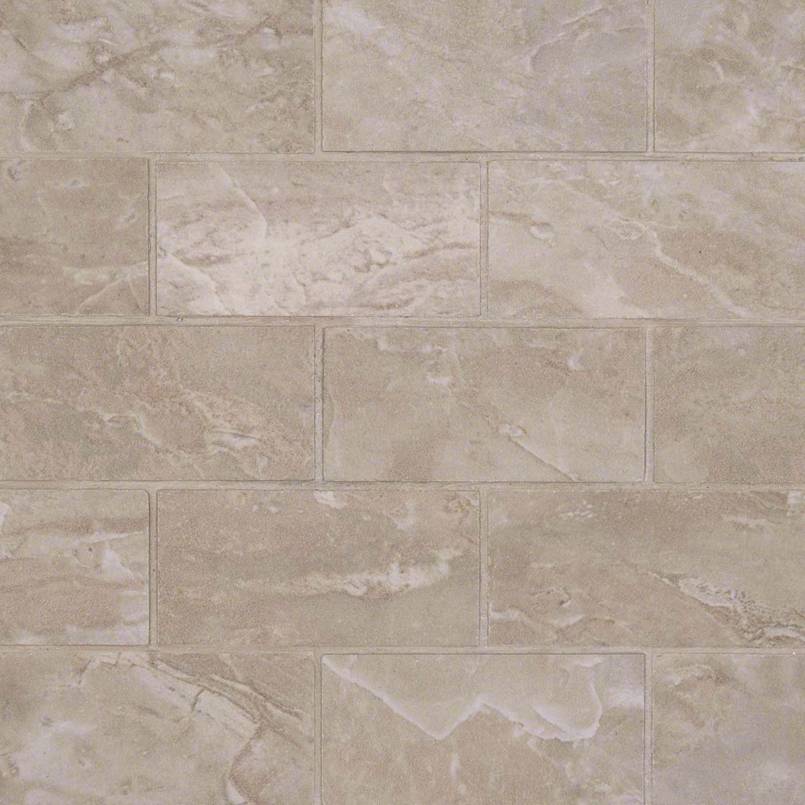 Featured: Pearl Pietra 2x4 Porcelain
If you're still not convinced about the remarkable realism of inkjet-printed porcelain, take a look at Pearl Pietra 2x4 Porcelain. The process offers ultra-fine resolution, and endless variety between tiles. Another common concern is that, since the pattern is printed on the surface, it might wear off. However, MSI's top-quality porcelain tiles are rated for residential flooring and light commercial use, so the beauty is sure to last for many years.
Statuario 2x4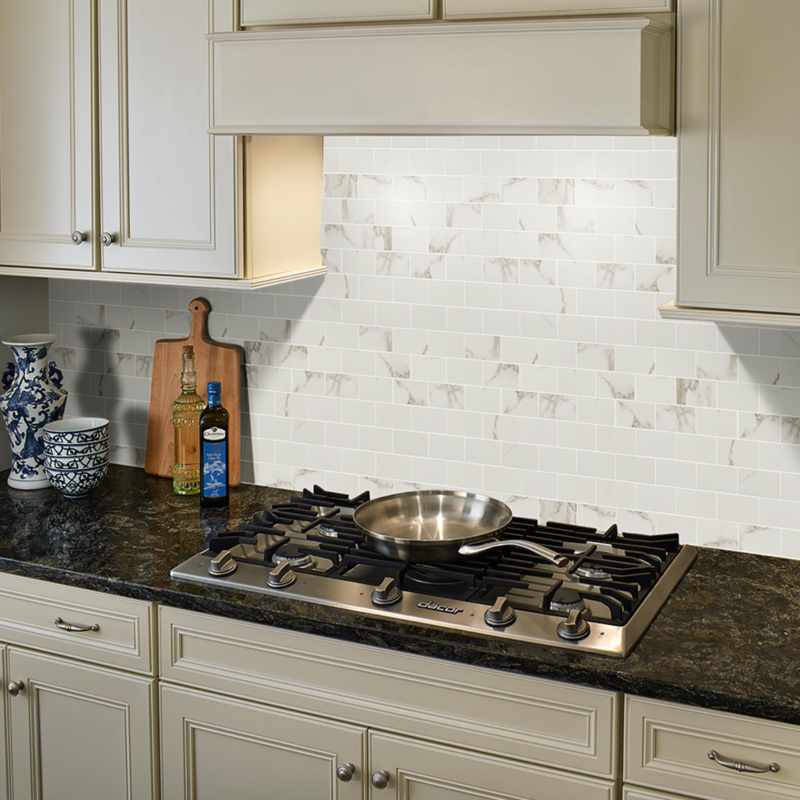 Featured: Statuario Pietra 2x4 Porcelain
If you're wondering if it's truly possible to replicate the natural, elegant glow of marble, take a look at Statuario Pietra 2x4 Porcelain. This porcelain tile that looks like marble features a soft white background and random-looking gray veins, mimicking the finest Italian marble. You can even feel good about using it where it's likely to get close scrutiny, such as your kitchen backsplash.
At MSI we love real natural stone in all its glory — marble, travertine, onyx, slate, granite, and more. However, there are times when those might not be the best choice for your application and we're proud to provide porcelain tile as an alternative.
When you compare porcelain vs. ceramic tile, each has its own benefits; yet either way, you'll never feel like you are compromising.
Visit our Inspiration Gallery to see the products shown here and the many others we offer.
READ MORE ABOUT PORCELAIN TILE with NATURAL STONE LOOKS
the Look of Eramosa Stone In Porcelain Tile
Natural Stone Vs. Porcelain Tile for Kitchen Flooring
NATURAL STONE VS. PORCELAIN TILE FOR KITCHEN FLOORING
You Won't Believe These Inkjet Porcelain Tiles Aren't Real Stone