Classic Meets Contemporary With Penny Round Wall Tiles
October 10, 2022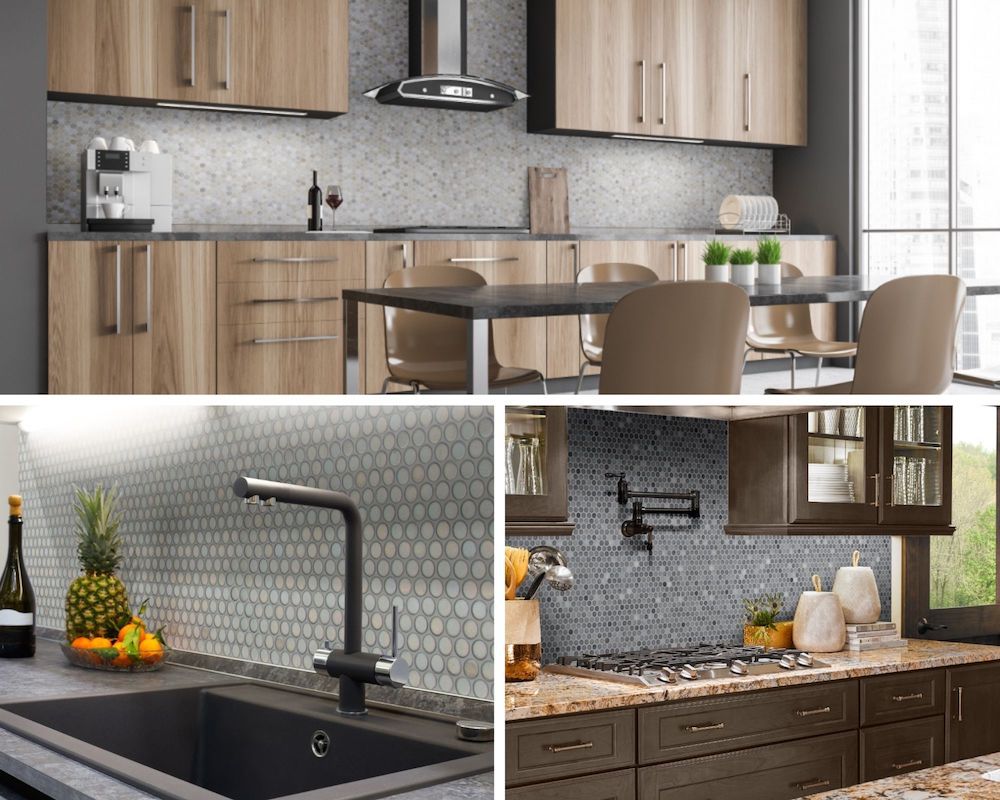 When it comes to remodeling kitchen or bathroom spaces, countertops and cabinets get a lot of attention. However, choosing wall tiles that perfectly complement other elements of your design is equally important.
Whether you prefer the dramatic veining of Calacatta marble, the texture and dimension of Alaska White granite, or the peaceful and pristine expanse of Arctic White quartz, the backsplash you choose must account for the character of your countertops.
Some homeowners lean toward a simple, timeless subway tile, while others enjoy bright, decorative mosaics or bold, geometric tile patterns.
If you fall somewhere in the middle, now is a great time to consider penny-round wall tiles from MSI. This classic style is currently experiencing a revival and offers a great way to adopt a vintage design with surprisingly modern appeal.
What Is Penny Round Wall Tile?
Penny round tiles come in sheets containing small pieces, roughly the size of a penny, about ¾–1 inch in diameter. Popularized initially around the turn of the 20th century, these tiny tiles add tons of texture and dimension to your kitchen, bathrooms, laundry room, and other spaces.
While they have been used for shower pans, wall niches, entire shower enclosures, and laundry room flooring, these tiles are frequently chosen for backsplash designs. With plenty of materials, colors, textures, finishes, and designs to choose from, you'll find endless options to elevate visual interest and imbue your kitchen with style.
From porcelain and glass tiles to options in natural stone, penny round wall tiles really do offer something for everyone. So how can you choose the best designs and features to complement your home upgrade project?
Best Ways to Employ the Penny Round Trend in Your Home
When it comes to penny-round bathroom or kitchen tile, the trick is to strike a balance that ensures the tile won't overwhelm your whole design. This is why it's typically used in small doses, although it certainly can be added to a larger expanse.
Because it is a smaller tile, it can look busy if you're not careful. However, this issue is easy to address.
If you have a significant area to cover, choose penny rounds with one standout characteristic — such as a tonal color palette or a metallic patina — but not multiple. If you prefer bold colors or patterned tile, limit them to a smaller area so the tile can complement rather than compete with other design elements.
Modern Marble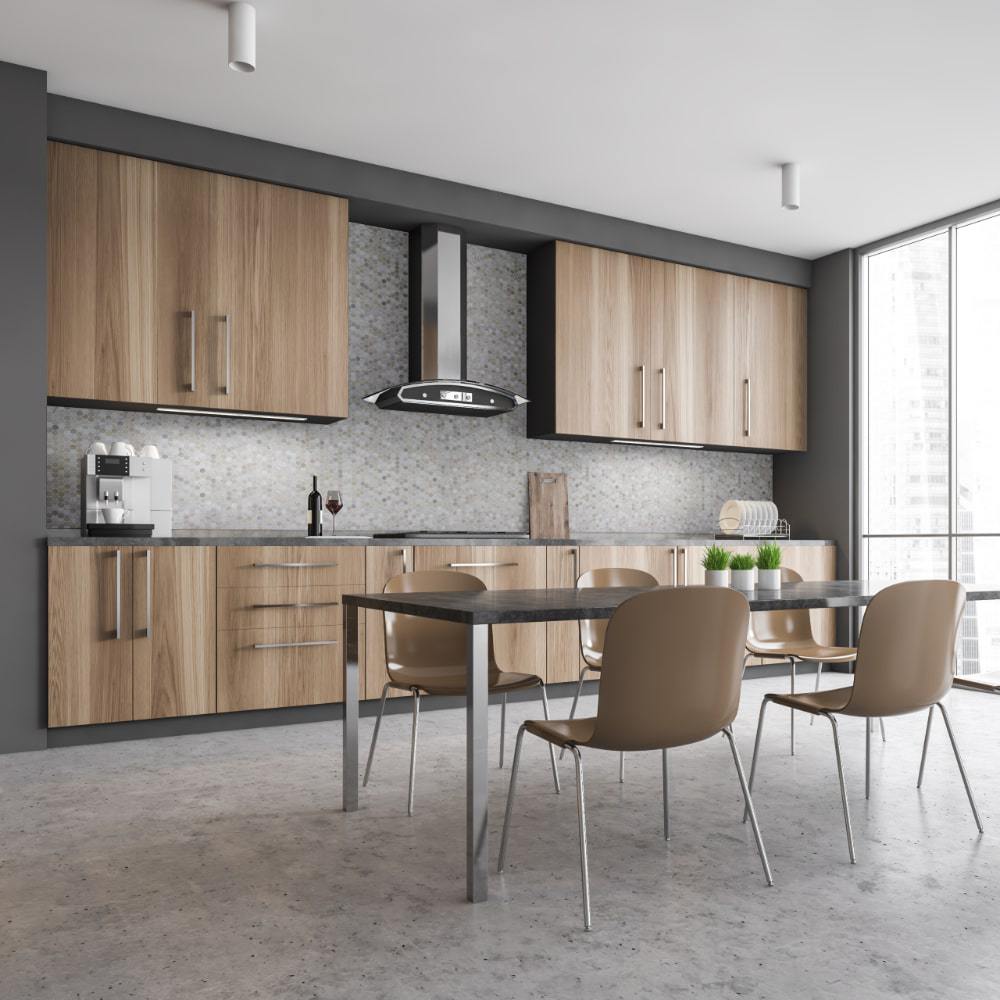 With its milky surface and bold patterning, Luminescent marble is among the most popular natural stone options for countertops and backsplashes. However, you might be looking for something a bit off the beaten path when it comes to vertical applications.
If you want to add some interest to a soft marble counter surface, Athena Gold penny round honed tiles add elegance and visual appeal. The neutral color scheme features variations of cream, taupe, gray, and golden tiles that imbue your space with warmth and create a feeling of gentle movement.
Whether you're highlighting the hues in your Calacatta Gold countertops or adding some contrast to Absolute Black granite surfaces, this backsplash will bring breathtaking beauty to your kitchen or bathroom design.
Pretty and Practical Porcelain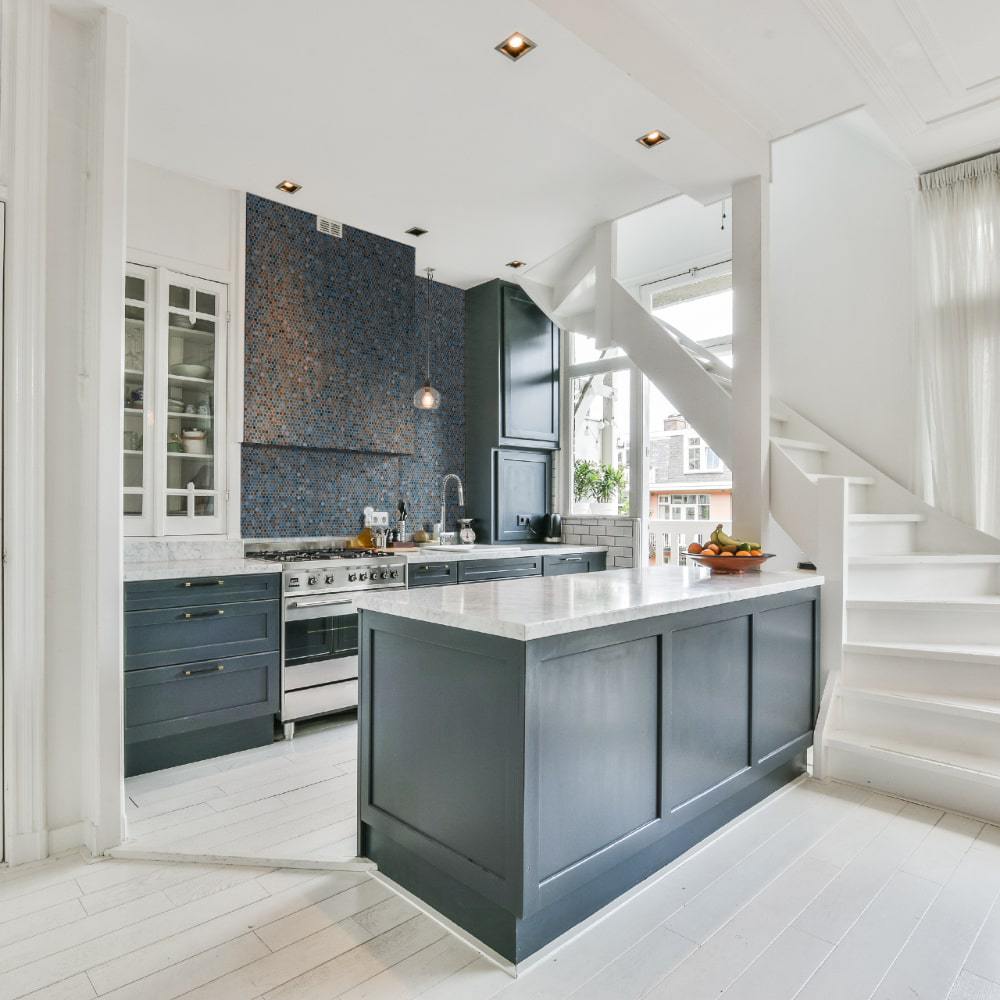 You might expect a porcelain mosaic tile to feature bold colors and patterns, but that's not necessarily the case, as demonstrated by penny-round Azul Glossy mosaic tiles. Awash in shades of denim and mocha, with light to dark variations, this design delivers the classic appeal of the blue and brown color combination.
Strong, durable porcelain penny rounds are a great alternative to natural stone tile for several reasons. Not only does porcelain stand up to the rigors of a busy household, but it's easy to clean and maintain. It can also be a versatile and cost-effective choice.
This dark tile stands out beautifully in a white kitchen, adding subtle color and incredible contrast. However, it also looks lovely with darker stone and cabinet options, and the low-variation pattern won't compete with a busy countertop.
Minimalist Metallics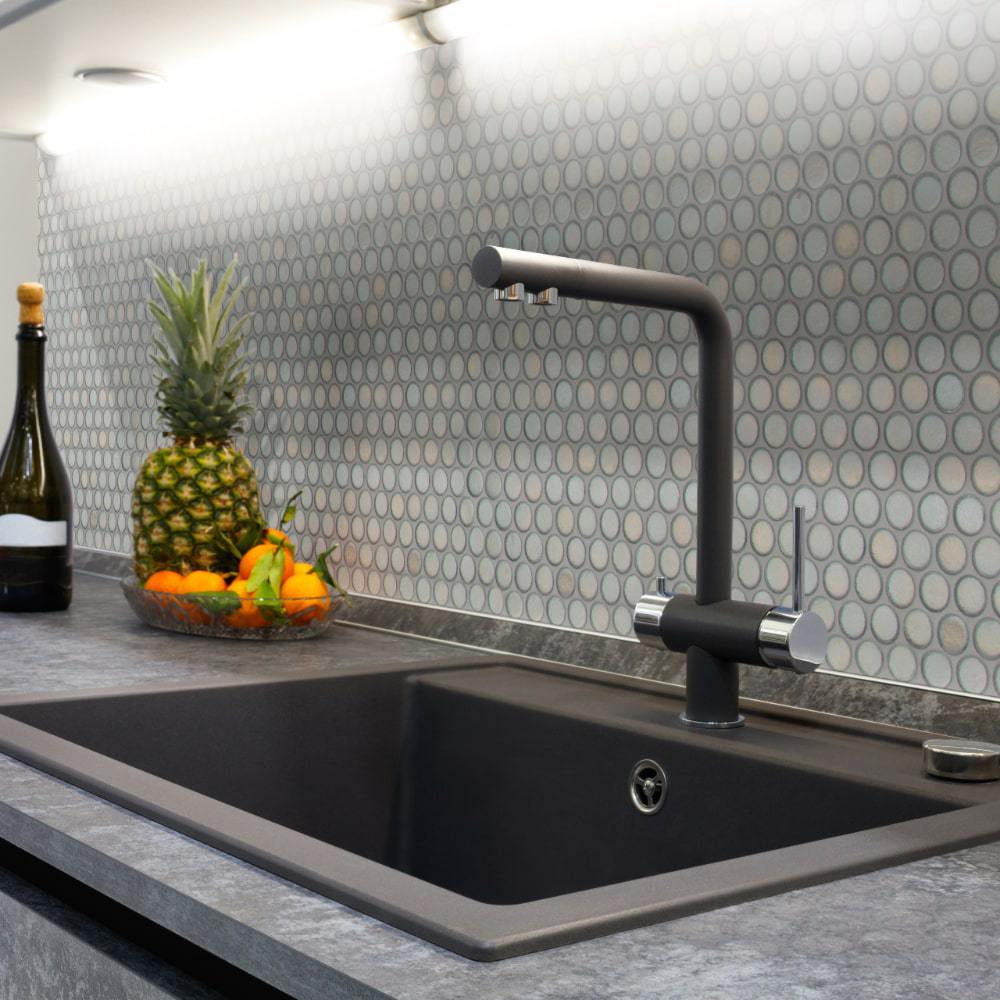 While you will see a mild variation in the copper, silver, and pewter palette of Metallico penny round tile, the color is kept to a minimum so that the sheen becomes the defining characteristic of your tiled surface.
Because it has a relatively uniform appearance, this design is ideal for larger surface areas, such as a shower enclosure, soaker tub surround, full-height backsplash, or even bathroom or laundry room floor.
It's particularly stunning with interiors that employ a masculine style, although it can also hold its own beside trendy, colored cabinets. While a true metal tile might hit you with overpowering shine, this glossy, glazed porcelain offers just the right amount of visual interest.
Go to the Matte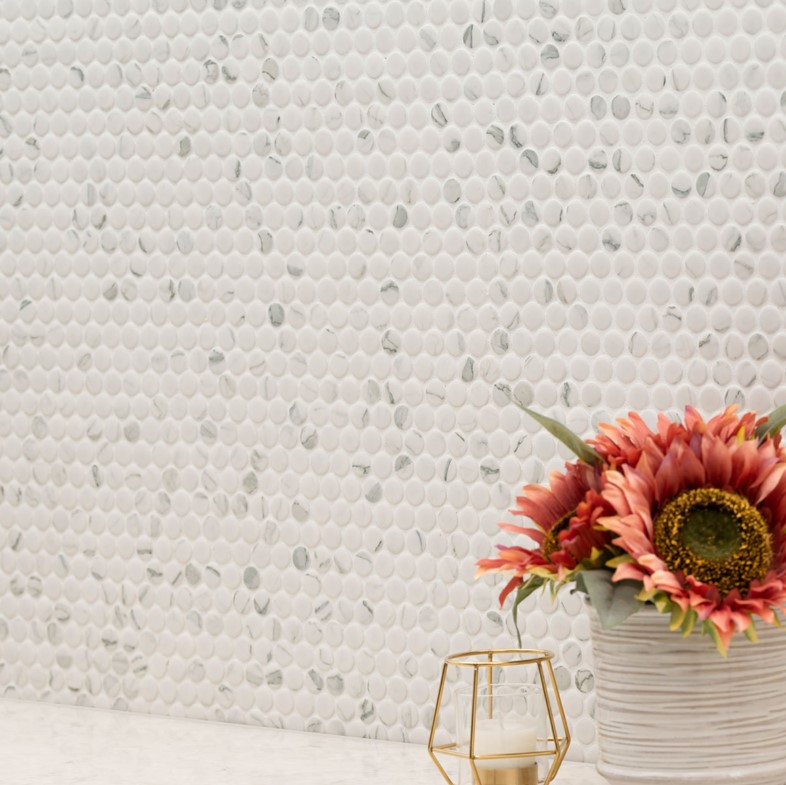 If you're looking to mix up the textures in your space, consider offsetting polished stone counters, stainless steel appliances, and high-shine metallic fixtures and hardware with an unexpected matte finish backsplash.
Carrara Matte penny round tiles, featuring a cool white background marked by spare striations in gray, pair the formal, traditional feel of elegant marble with the modern appeal of a casual, matte finish. The result is a backsplash that provides a timeless yet welcoming ambiance.
Trendy Neutrals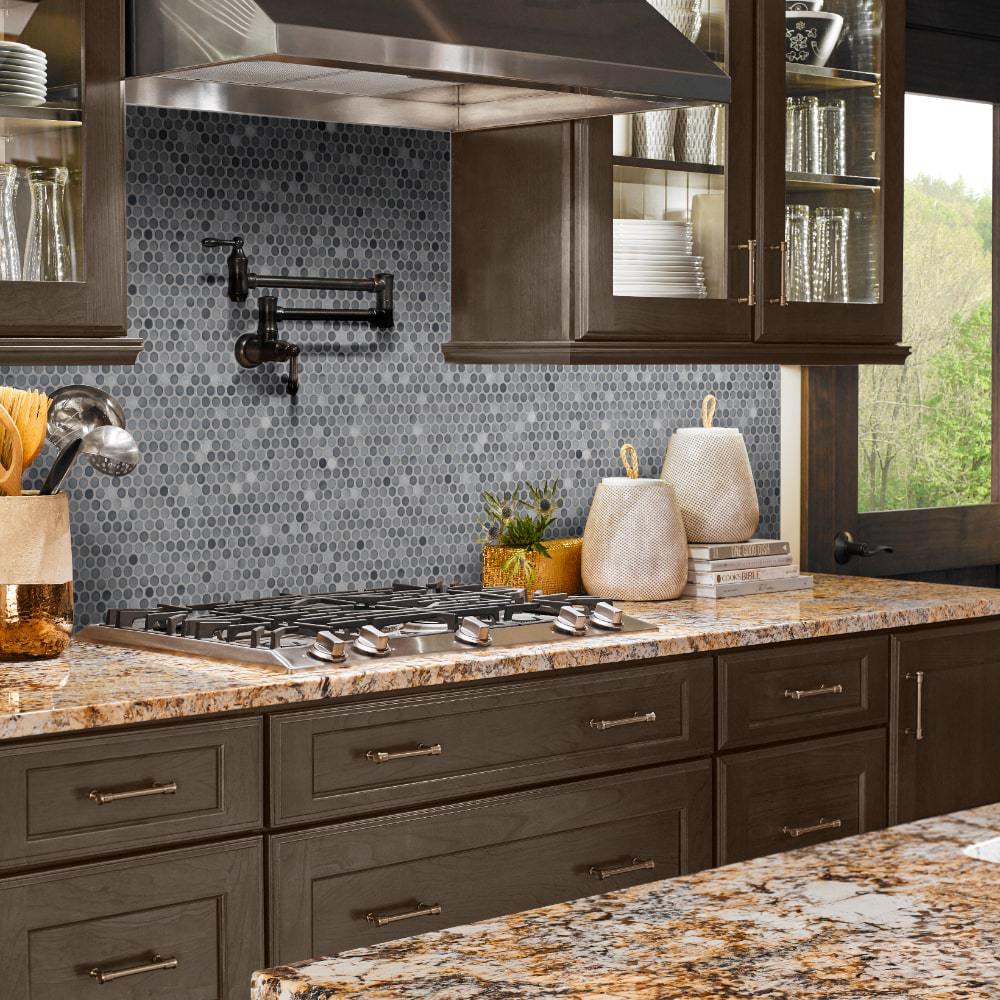 Beautiful mosaics don't necessarily require a whole rainbow of colors. You might be surprised by how eye-catching neutrals can be when a tonal design is used to add dimension and movement. Penny-round Grigio Mix mosaic pieces are a prime example.
Trendy gray is the order of the day for this soothing tile in medium gray to charcoal tones. In a white kitchen, it can serve as a focal point, while it will add subtle variation to black counters and cabinets. In a black and white kitchen, it's the perfect transition from black lower cabinets and counters to white uppers. It's no wonder modern interior designers love this versatile option.
The Perfect Tile for Your Space
With the right penny round wall tiles, you'll enjoy refined style and the perfect dose of visual interest. If you need assistance finding the best backsplash or flooring tile for your home upgrade, use the MSI chat feature to connect with creative professionals or visit an authorized dealer near you.
Learn More About Backsplash Tile
A Comprehensive Guide To Bathroom And Kitchen Backsplash Tile
Trending And Beautiful Backsplash Tile For 2022
Classic Meets Contemporary With Penny Round Wall Tiles