A Porcelain Revolution: Stile Large Format Slabs
July 22, 2019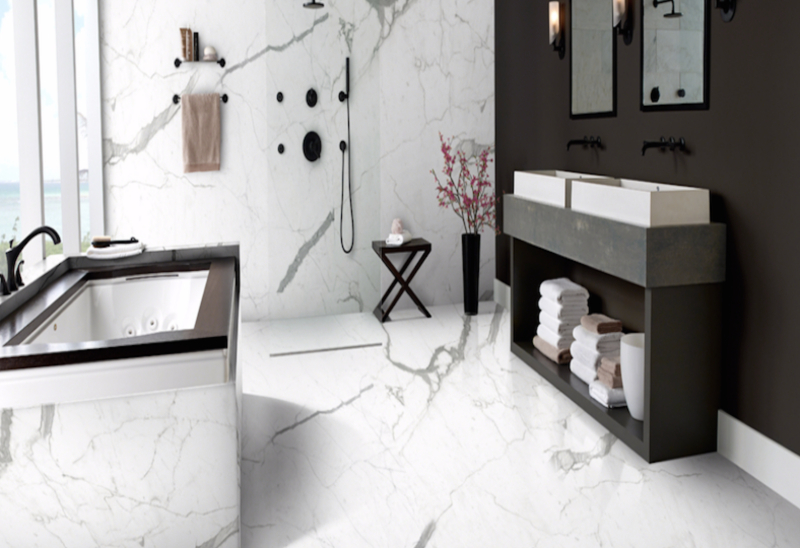 There is a new type of tile revolutionizing the home and commercial surface industries! Gauged porcelain tile is making major headway because it provides the same prized features of traditional porcelain but with so many added benefits! It beautifully mimics natural materials, provides extreme strength, and offers ease of care just like regular porcelain does, but this tile can also be applied over existing tile. This saves time on installation so that consumers can surprisingly enjoy their completed project in just half the time! It surely does not get enough praise the revolutionary surface oh-so deserves, but we think you will be aboard the Stile train in no time. Read on to learn more about how large-format slabs can transform your space!
Slender Style
One of the biggest benefits of gauged porcelain is that it comes in very large slabs, which makes these premium surfaces ideal for new countertops, floors, fireplaces, and shower surrounds. The 59"x118" and 63"x126" pieces provide the illusion that they are heavy surfaces, yet the 6mm- and 12mm-thick porcelain are extremely lightweight. They only weigh 2.8 pounds per square foot compared to 3cm granite that weighs a whopping 19 pounds per square foot with countertop edges that vary from 3/4" to 1 1/4" thick. An entire stone slab can measure from 600 pounds up to 1,200 pounds, while Stile tile is less than 200 pounds per slab! Porcelain is at least one-third the weight of traditional tile at just a fraction of the cost of real natural stone or even manmade quartz.
In fact, the slabs are perfectly flat and very strong since they are pressed on a continuous belt at a colossal 15,000 tons. The big size also means less grout lines for a sleeker look and cleaning ease, and the large-format tiles cover nearly 60 square feet per slab and are appropriately scaled for very tall spaces.
Natural Stone Looks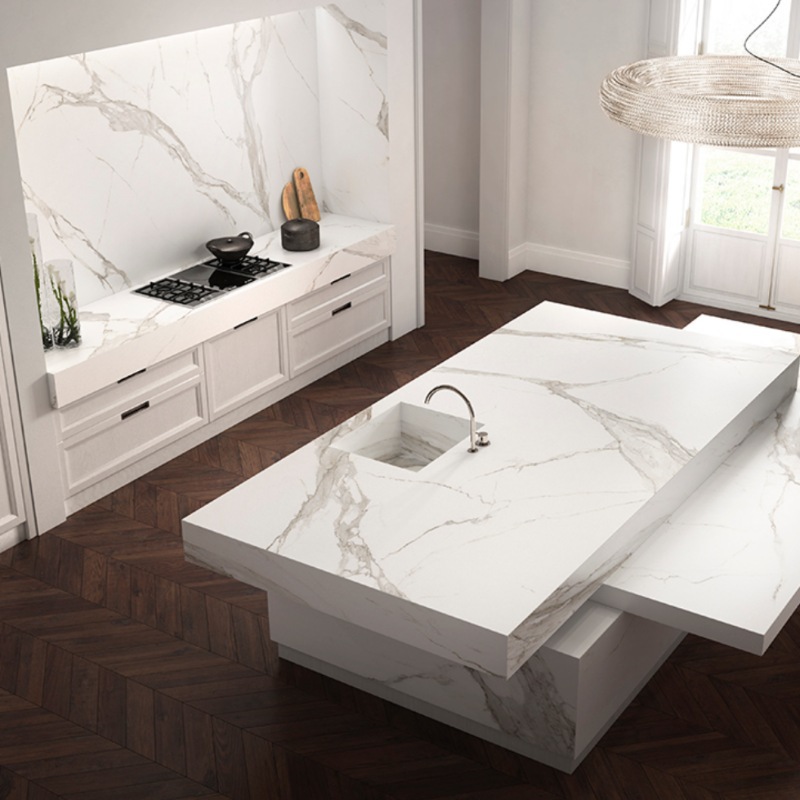 Thanks to technology these days, it is hard to tell the difference between natural stone and realistic lookalikes. Porcelain easily mimics the elegant styles of many Italian marbles. For instance, porcelain tile that looks like marble comes in those with white backgrounds and fine gray veining to rich beige and cream backgrounds with warm gold veining. It also comes in a similar translucency to onyx with a white background and yellow veining.
Easier Installation
One of the most dreaded pains of renovating is tedious demolition like pulling up old tile. However, with gauged porcelain, you can skip this step entirely and install the slabs right on top of your existing tile flooring or stone countertops. Because of its thin, lightweight design, it is easier to cut the slabs and make any necessary drill holes. All of these installation bonuses mean that the time it takes to get the job done right is slashed by up to half compared with traditional tile. It also allows for a healthier renovation environment since you do not have all of the dust involved during teardown. Not only will you save money on labor by eliminating demo and cleanup steps, but you will also more easily stay on track with your renovation timeline, too!
With regards to commercial installations, businesses are able to have very little down time with a day or two compared to up to a week or more. The reduction in grout joints is essential for different types of applications since it makes it easier to keep clean grout lines, which can harbor bacteria and grease.
Deceivingly Durable
Stile large-format slabs are excellent choices for kitchens, bathrooms, busy living rooms, and even any kind of commercial spaces. That is because the non-porous surface is incredibly durable despite its slim profile. It is even strong enough to be used as cladding on exterior walls and for other outside structures to tabletops that need weatherproof surfaces. When it comes to interior wall applications, the sturdy product stands strong against daily use from active kids to bulky equipment. Smooth porcelain slabs are impervious to germs and is rated for food safety. Not only does it resist stains and etching, but it also resists heat as well.
Simple Maintenance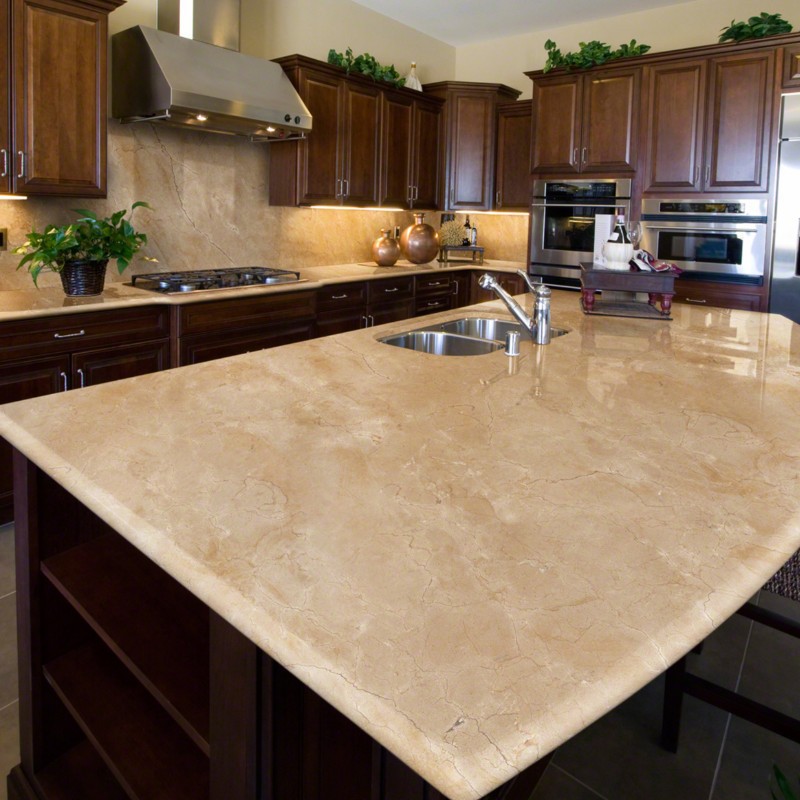 Gauged porcelain requires very little maintenance to keep your affordable investment in excellent condition. Luckily, unlike with natural stone, there is no routine maintenance like sealing needed for porcelain. However, you may need to seal the grout depending on the type. Cement grout will soak up dirt and grime, so it will need resealing, but epoxy grout resists water and most of the time it does not need to be sealed.
For floors, a broom or vacuum with soft bristles will pick up any dust, dirt, and debris. For surface spills, it is important to clean them up after they happen using a soft, damp sponge. For everyday cleaning, a soft sponge with a gentle cleanser will do the trick, while more stubborn messes are taken care of with a non-abrasive cleaner like Simple Green or Mr. Clean.
You always want to avoid anything abrasive like sponges with aluminum oxide that can dull the finish, steel wool bristles that can scratch, or abrasive cleaning agents or harsh chemical cleaners that could etch or discolor the porcelain. It is best to use hot pads under any small appliances or tools that generate heat in order to keep it protected from rapid temperature changes.
Excellent Alternative
No matter if you are updating a kitchen, renovating an office, or building from the ground up, there is no doubt that gauged porcelain is a great option for any type of project. The beautiful material with easy maintenance offers so many benefits, but the biggest plus is the quick installations directly over existing surfaces with virtually no mess or waste. The beautiful stone-look tile comes in a wide range of colors and patterns to enhance elegant designs to contemporary architecture. As an affordable alternative to marble, granite, and quartz, it is no surprise that this product has blown up and expanded over the last few years.
READ MORE ABOUT LARGE FORMAT PORCELAIN SLABS AND PORCELAIN TILE
Bigger Is Better: Large Format Porcelain Floor Tile
Make A Statement with Large Format Porcelain Tiles
Here's What Happens When You Use Large Format Porcelain Tile