Solve Your Color Scheme Dilemma With Salt And Pepper Granite Countertops
July 08, 2017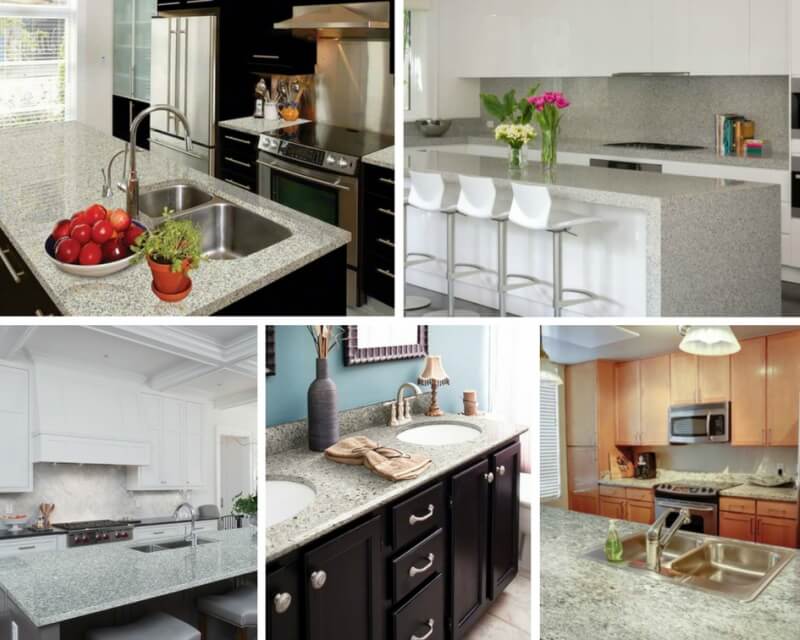 Designing a kitchen renovation is all about choices – that's part of the fun! After much deliberation, you've narrowed down your countertop material of choice to granite countertops, which will give you a lifetime of beauty and boost your home's resale value significantly. But one of the toughest decisions homeowners face during this process is choosing a color for their granite countertop.
Why is it so tough to choose a color? For one thing, there are many granite colors and patterns to choose from. Spouses may not see eye-to-eye on color preference. You may worry that your chosen color is too trendy, so you may regret it some years into the future or it may make your home harder to sell someday. You may not trust your own decorating skill when it comes to how to match granite countertops to flooring or cabinetry.
We have a solution, though: salt-and-pepper colored granite countertops. This color scheme offers the classic black-and-white combination in a variety of patterns, from subtle to dramatic and bold, and helps you solve a multitude of design dilemmas.
Blizzard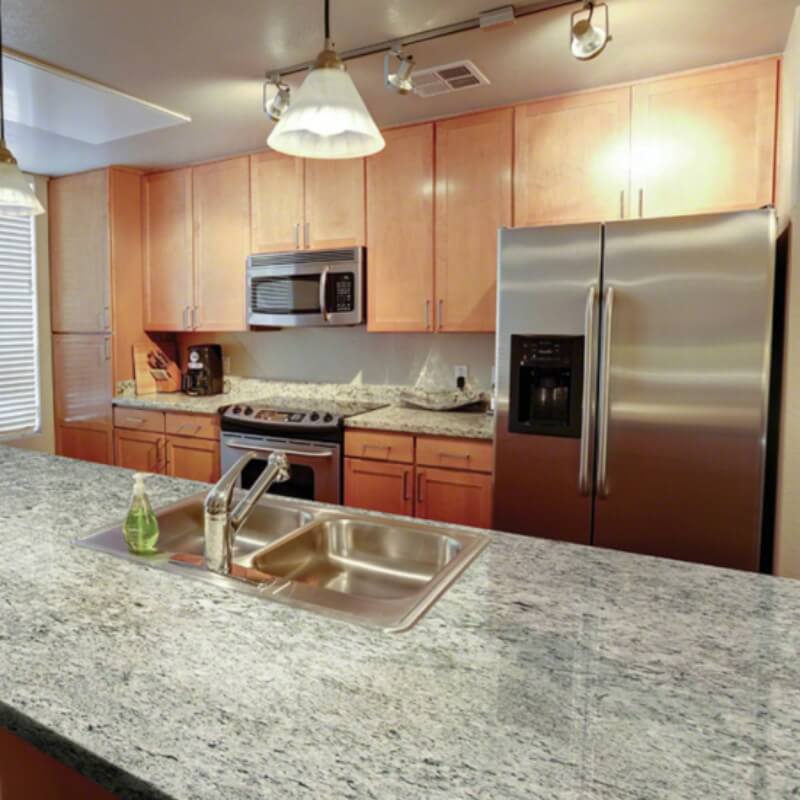 Featured: Blizzard Granite
Blizzard Granite, for example, offers just the right amount of variation for aesthetic appeal, while still being flexible enough to fit in anywhere – and stand the test of time, as a classic combo. It's a particularly appealing way to tie together natural wood cabinetry with sleek, stainless steel appliances.
Crema Atlantico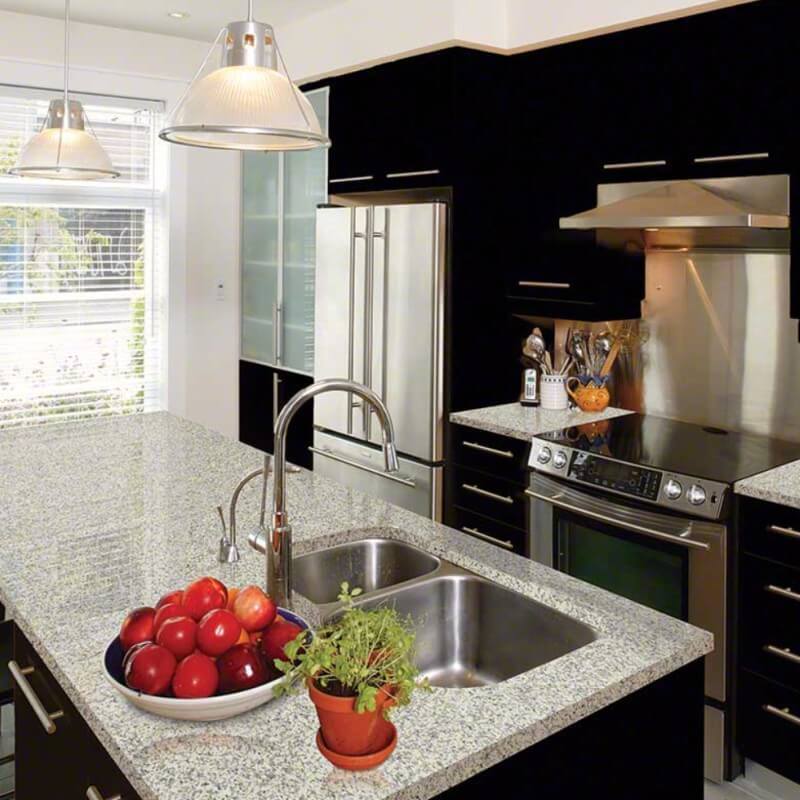 Featured: Crema Atlantico Granite
As a neutral, Crema Atlantico Granite countertops make other colors pop, which means you can use less color to achieve a big result. A bowl full of colorful fruit, a vivid green houseplant, or a bouquet of seasonal blooms are all you need to achieve a cozy, customized look that you can switch around as often as you like.
Moon White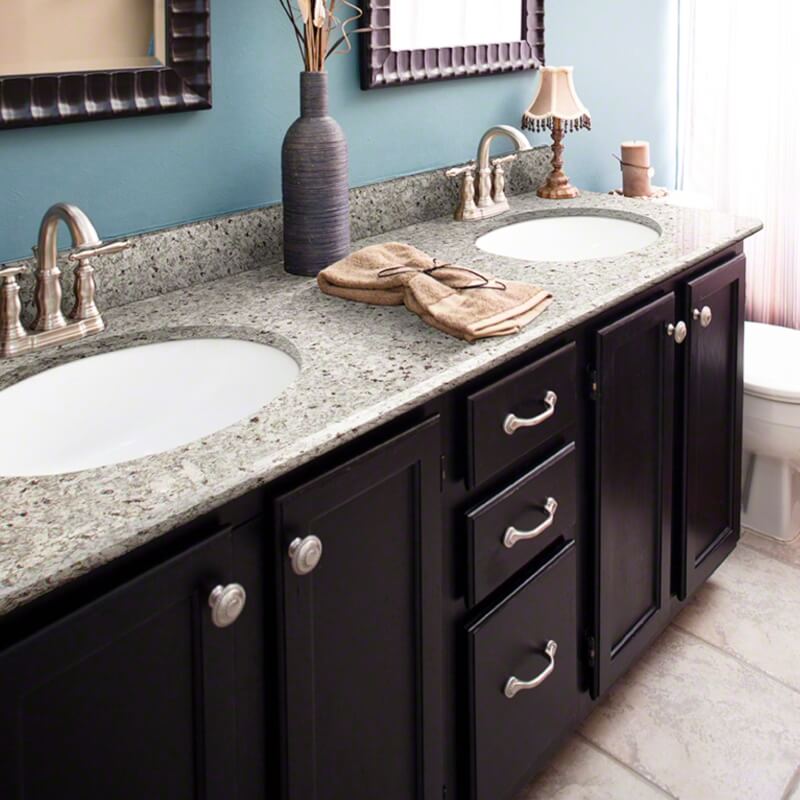 Featured: Moon White Granite
Moon White Granite, with its complex sprinkling of ivory, gray and black has all the bases covered when it comes to popular neutral shades. It can look either modern or traditional, and works with both light and dark cabinetry. It's not just for the kitchen; salt-and-pepper granite patterns fit beautifully into elegant, upscale bathrooms as well.
Jasmine White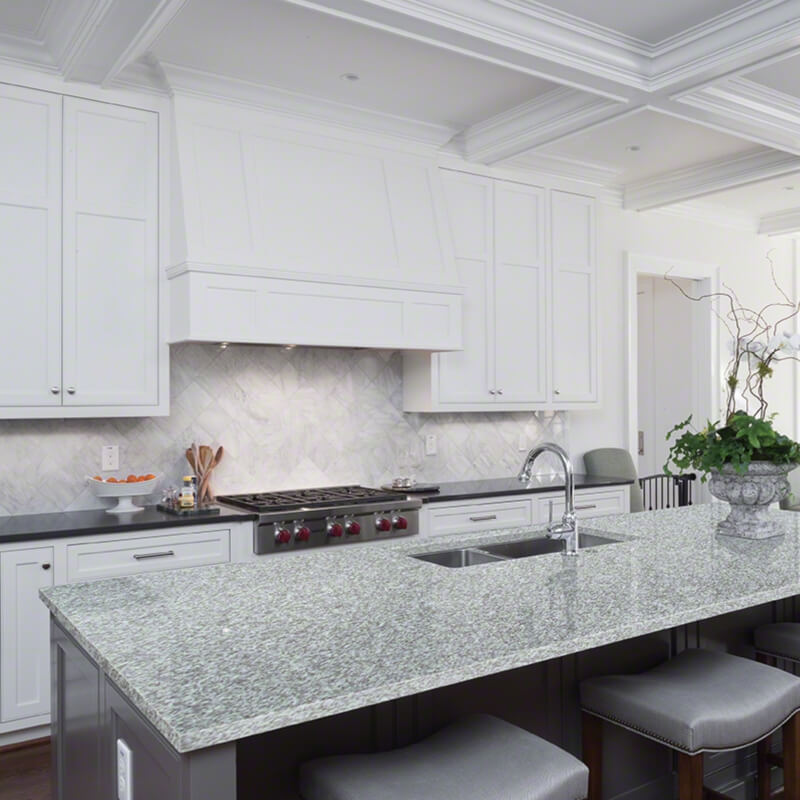 Featured: Jasmine White Granite
A subtle, delicate salt-and-pepper granite such as Jasmine White Granite is an excellent choice for the center kitchen island, as it will look fantastic without hogging all the attention. Although it draws the eye, it won't overpower or compete against the other elements throughout the room, such as a spectacular vaulted ceiling or black granite countertops.
Luna Pearl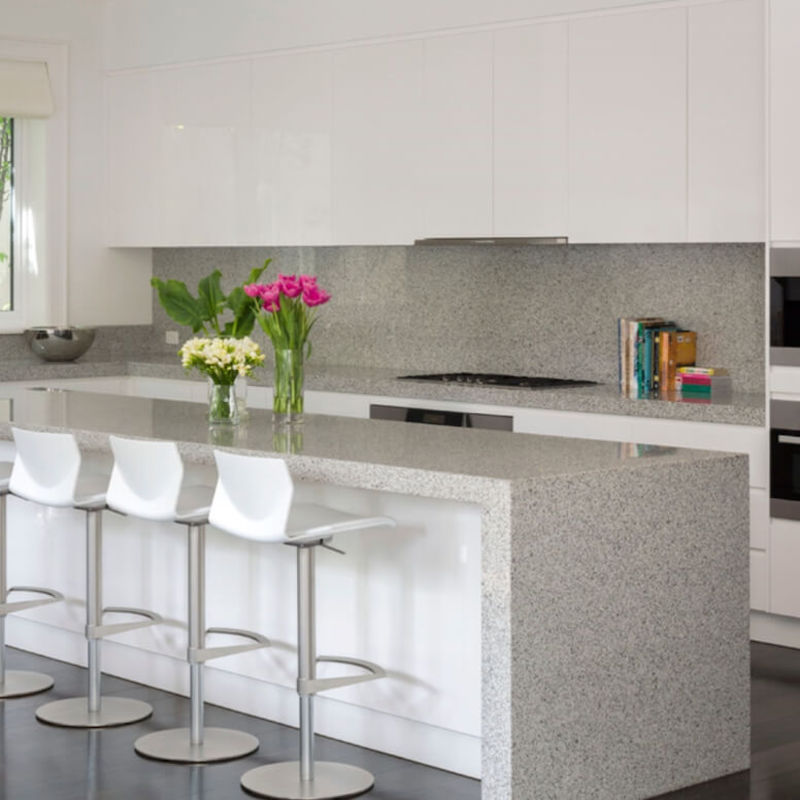 Recreate this look with MSI's Luna Pearl Granite (Photo Credit: Houzz)
Luna Pearl Granite is a great example of the freedom in design that salt-and-pepper style granite countertops offer, not to mention the durability and added value homeowners have come to love. A waterfall counter, with granite extended to the sides, is a uniquely modern touch – and the soothing shades of gray look great as a backsplash too.
Salt-and pepper granite is a different twist on the time-honored neutral-colored countertop, and allows you to show some creativity while remaining somewhat "safe" for matching and ensuring timeless style.
After all, granite is a big investment, and since it can last a lifetime, you want to make sure you'll love it as much a decade (or three) from now as you do today. With salt-and-pepper granite you need never compromise.
READ MORE ABOUT GRANITE COUNTERTOPS
Striking Black Granite Countertops You Must See
Stunning Granite Countertop Waterfall Edges
The Best Heights For Granite Countertops