You Won'T Believe This Porcelain Tile Isn'T Real Wood
April 17, 2019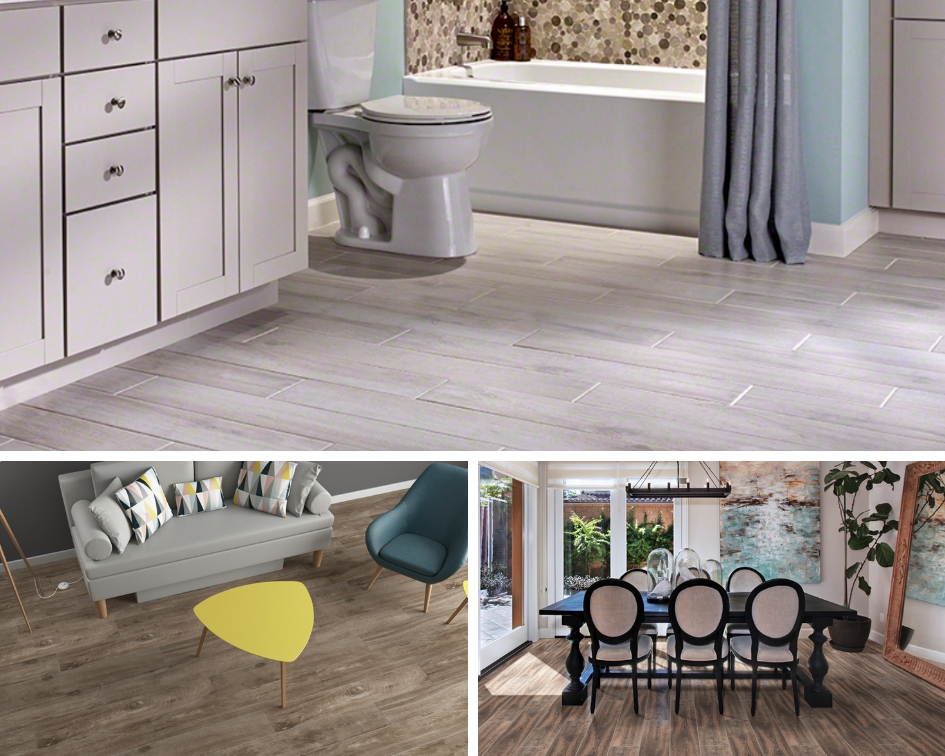 There's a lot more to wood-look tiles than you think. Sure, they give the impression and look of that "wood feeling," but are you aware of all the benefits wood-look porcelain tile has to offer? Naturally, there are a lot of rooms porcelain flooring would be a great match for—such as the kitchen, living area, bathroom—even as creative and complimentary accents.
A major advantage of wood-look tile is its easy maintenance. Unlike hardwood floors, modern porcelain tile doesn't require polishing or sanding and is known to be easy to clean. Furthermore, they are moisture-resistant, providing the same aesthetic quality of actual wood without absorbing surrounding ambient moisture naturally found in kitchens and bathrooms.
Additionally, premium surface porcelain wood-look is more durable than hardwood, known to withstand wear and tear for over 20 years with proper installation, whereas its counterpart needs to be refinished to increase its lifespan. Also, there is a range of design and color schemes available with porcelain tile that stretch far beyond typical "plank wood." This is in direct contrast with hardwood, which usually only comes in a handful of shades of brown.
Let's take a look at some popular porcelain wood-look tile options to give just a sample of all the choices available!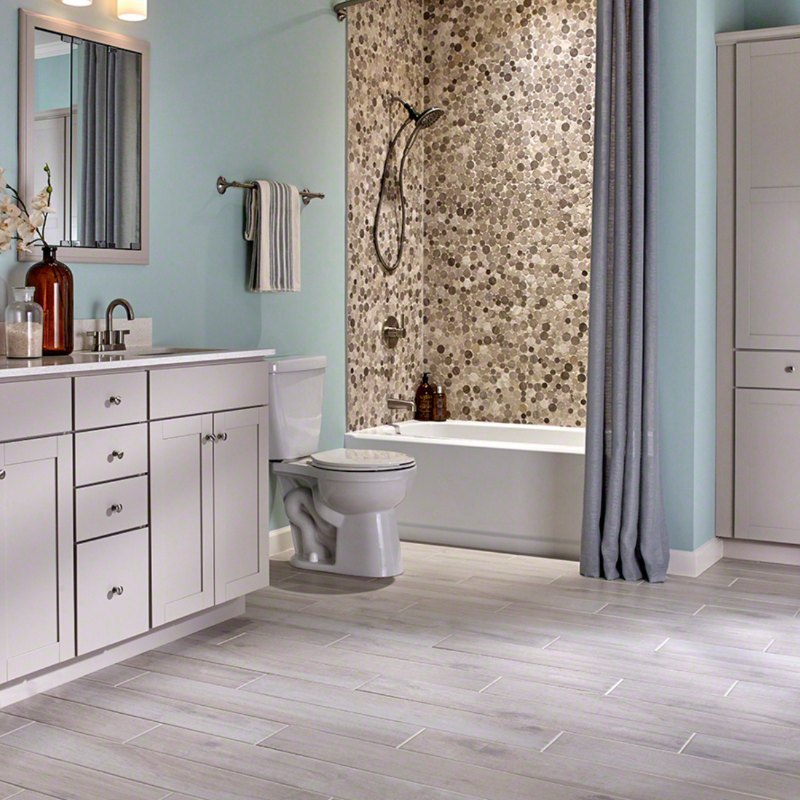 Featured: Palmetto Fog
Palmetto Fog Wood Look Tile is available in 6x36 tiles suitable for a variety of wood-look tile flooring options. Its serene gray color with elegant contrasting veining gives the impression of hardwood that's gracefully aged. This particular tile can go together perfectly with other color options and aesthetics, proving to be truly versatile in a kitchen, bathroom or living area. Additionally, this tile can serve as countertops, shower surrounds and even accent walls, making it a top pick when it comes to modern porcelain tile.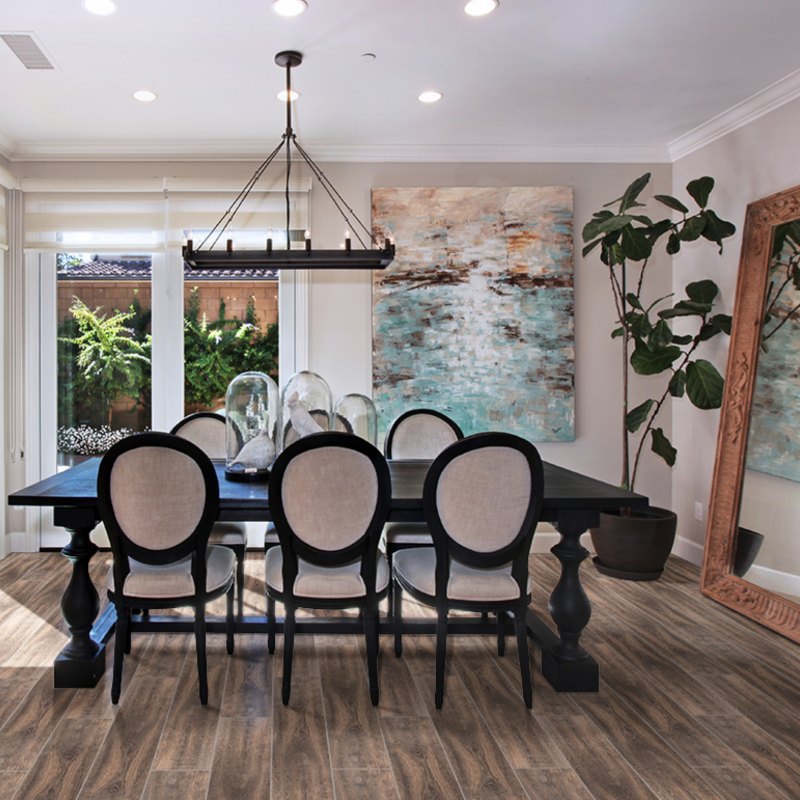 Featured: Upscape Greige
If you're looking for a more "hardwood flooring feel" and wanting to go the tile route because it's easier to clean and maintain, the Upscape Greige Wood Like Tile may be just the option for you. Known for its remarkable dramatic hardwood grain, this is available in various design solutions for a custom look and feel. After all, there is nothing like the sophistication of porcelain that resembles real hardwood, providing a commanding presence in any room of your choice.
Featured: Cottage Brown
Cottage Brown is a porcelain pick that is sure to transform and reinvent any space. Its nuanced variations of russet-colored knots and fine graining give a genuine and authentic wood look and feel. Its warm coloring gives off an inviting presence, suitable to a variety of tastes and styles.
Clearly, design options are limitless when it comes to opting for porcelain tile in lieu of real hardwood for your home or office. Considering its low maintenance qualities while still offering elegance and class, it's worth spending time exploring all of the wood-look tiles out there to find the one that works for your own aesthetic and taste. Whether you're aiming for a traditional or modern design, the varieties of porcelain wood-look tile will surely serve you well.
READ MORE ABOUT WOOD LOOK TILE:
Tips For Cleaning And Maintaining Wood-Look Floor Tile
6 Popular Wood-Look Tiles For 2017
Hardwood Flooring Vs. Wood-Look Tile Throughout the Home
Create A Worn Wood Look with Porcelain Tile