Tips For Cleaning And Maintaining Wood-Look Floor Tile
May 09, 2017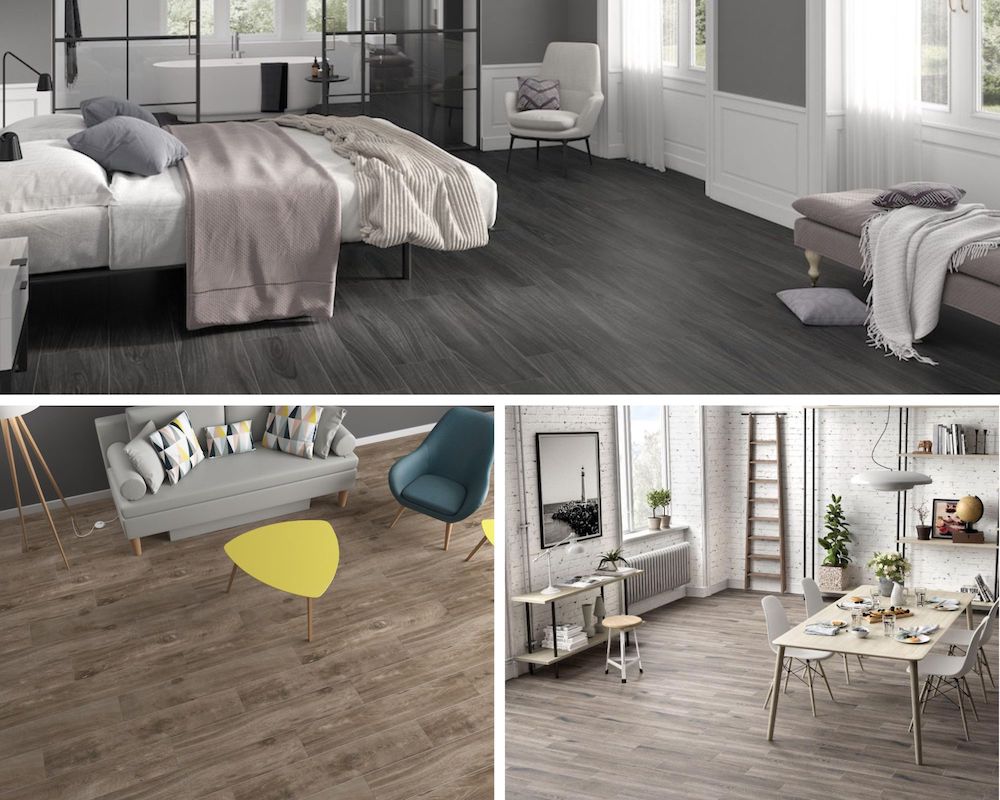 Porcelain wood tiles give you the look of natural hardwood, but require significantly less ongoing maintenance than real wood. They are durable and easy to clean, and the dimensions of the tiles allow for creative installation patterns that add even more character to the space.
Available in a myriad of colors and patterns, wood look floor tiles transform rooms into inviting designs. And unlike hardwood floors, they are recommended for damp areas such as kitchens, baths, entryways, mudrooms, and laundries. These are just a few reasons why porcelain tiles with the look of wood are one of the hottest trends today.
As beautiful and desirable as real hardwood is, if you've ever had hardwood floors in your home, you know that cleaning and mopping can be a chore. Depending on the finish and color of your hardwoods, you may feel like you are constantly sweeping up dust, pet hair and dirt, and that there is always some residue left behind.
Mopping is also a challenge, because too much cleaning solution can permeate and damage hardwood floors. However, if you choose wood tile porcelain flooring instead, you will find that cleanup and maintenance is a breeze in comparison!
Let's get started with the basics.
Dry Cleanup: Dust and Dirt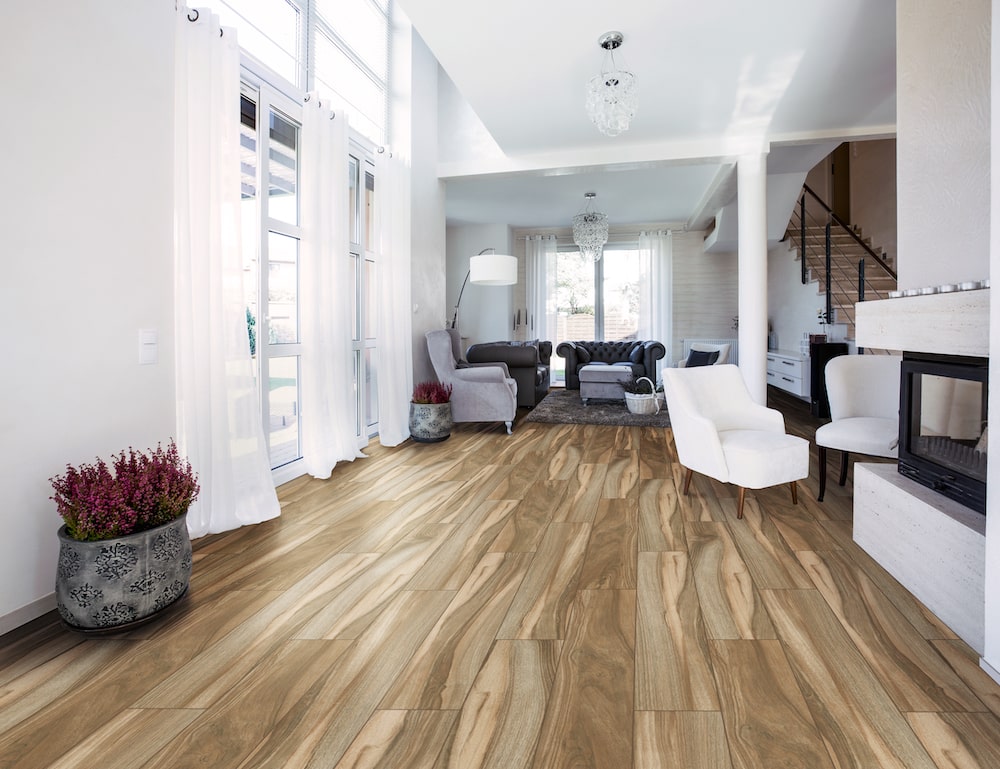 Aspenwood Cafe Porcelain Tile
Dust and dirt are inevitable, particularly in rooms with access to the outdoors. In this room featuring Aspenwood Cafe Porcelain Tile planks, simply running a vacuum cleaner with a "hard floor" or "auto" setting over the tiles will keep your wood look tile floors looking great. Depending on the width and depth of your grout lines, you may want to vacuum in a crosshatch pattern to remove all the dust and grit of the day.
Dry Cleanup: Pet Hair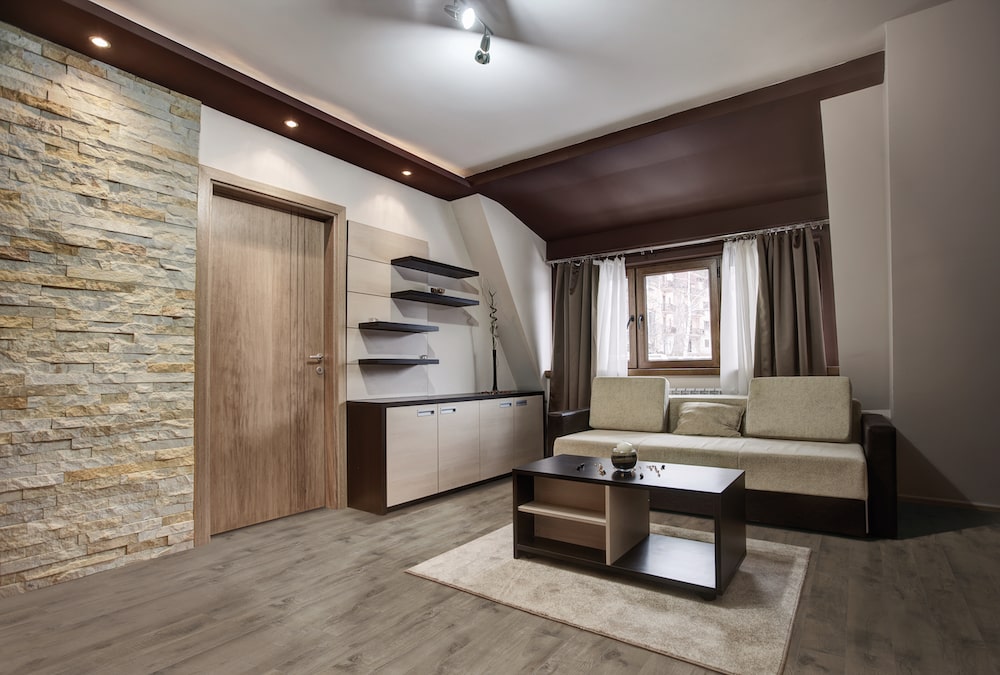 Country River Mist Wood Look Tile
One of the reasons you chose tile floors is because they are pet-friendly, right? Dogs and cats add so much to our lives, including their fur. While you can use a vacuum to suck up the pet hair, many of today's high-powered vacuums can actually spread the pet hair around the room, especially when used on tile floors.
For easy cleanup, consider using a rubber broom. These brooms have short rubber bristles that attract pet hair effortlessly, making it the perfect tool for cleaning this beautiful Country River Mist Wood Look Tile or one of the many others in our inventory.
Weekly Damp Cleanup
Cottage Brown Porcelain Wood Tile
If you sweep or vacuum your wood look tile floors frequently, chances are you won't need to do damp cleanups very often. However, occasionally, mopping your floor is recommended to remove any dirt or grime that sweeping has left behind. To keep your Cottage Brown Porcelain Wood Tile floors clean, be sure to vacuum up any loose dirt and dust before introducing the mop—otherwise, you may just create a thin film of mud on your beautiful floors.
When it comes to cleaning solutions for mopping, use a pH-balanced cleaner with warm water. When dampening your mop, make sure that you wring out as much of the solution as possible; you don't have to saturate your floor to get it clean. When you've finished mopping, dry the floor by using a dry mop or place a clean, dry towel over the mop for a quick once over.
SPECIAL NOTE ABOUT COMMERCIALLY AVAILABLE CLEANERS:
To avoid discoloring and damaging your grout, avoid cleaners that contain bleach, ammonia, abrasives, wax, sealants, or oil-based cleaners.
Spot Cleanups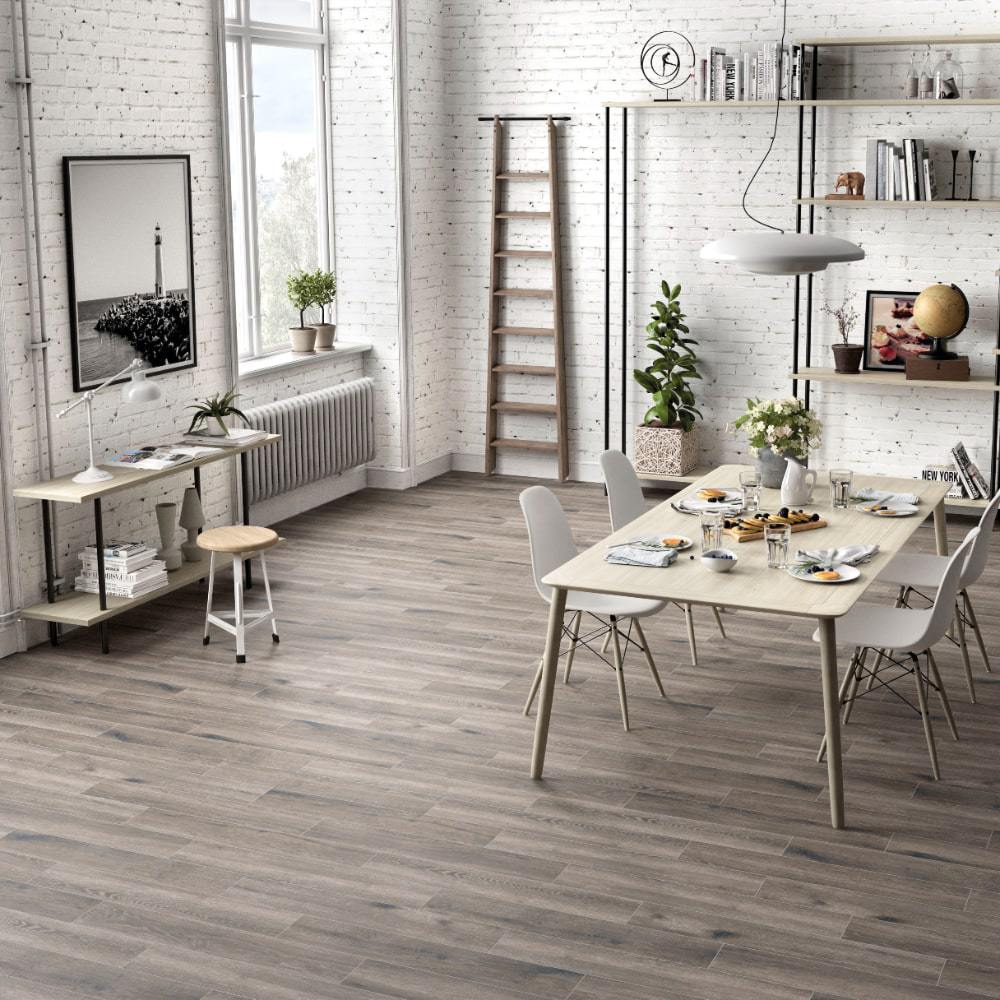 Antoni Gris Porcelain Wood Tile
Accidents happen, but when a glass of juice tips or a bowl of ice cream hits the floor, rest assured that your Antoni Gris Wood Look Tile will remain beautiful. The important thing is to wipe up spills immediately using a clean, damp cloth; don't let the spill lay on the floor for an extended period of time. Next, use your favorite pH-balanced floor cleaner and water to remove any residue left behind, and then dry the floor with a clean cloth to restore its shine and luster.
Deep Cleaning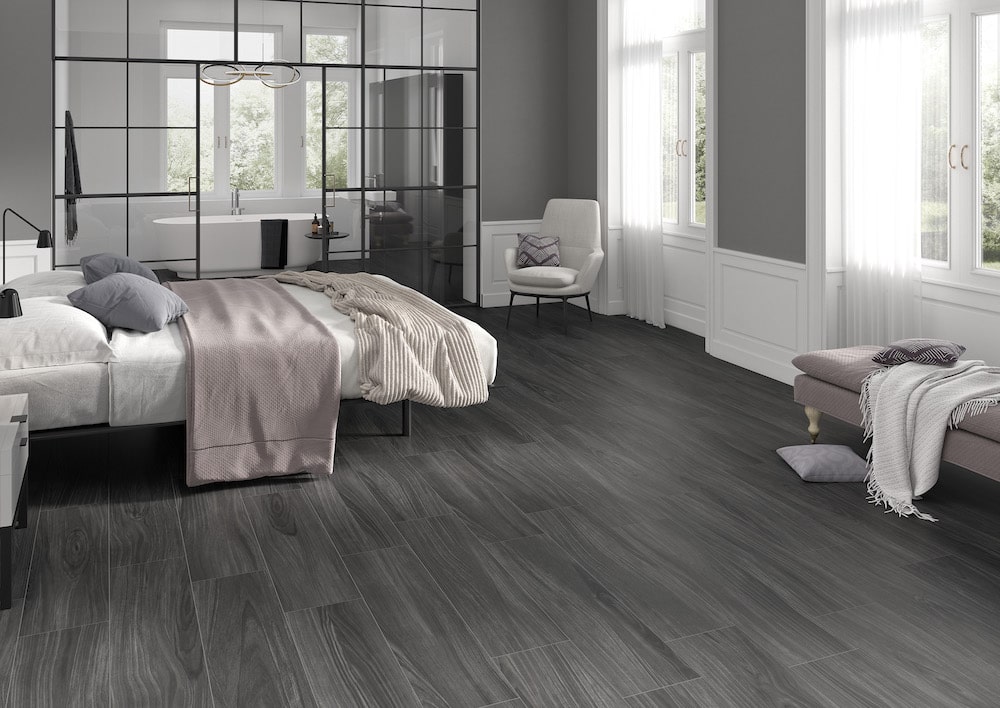 Midnight Wood Look Tile
In bathrooms, entryways, and kitchens, chances are your tile is going to need deeper cleaning than in other areas of the home. If you've chosen Midnight Wood Look Tile or another of our wood look tiles for these heavy traffic areas, deep cleaning is a breeze. The first step is to keep your floors as clean as possible, sweeping or vacuuming and doing spot cleanups as recommended. But when you do need a deeper clean after a party or special event, remember that while durable, porcelain tiles can be damaged by stiff brushes and steel wool.
First, spot clean any areas that show dirt or spots. Second, mop the floor with your favorite cleaner. Rinse your mop when it becomes dirty or dingy, and freshen the water in the bucket when it becomes cloudy. Next go over the entire floor with a clean mop and warm water, and follow with a clean, dry towel or rag.
This is all that is required to keep your wood look tile floors looking their best. No sanding and refinishing required; just follow the guidelines above for best results. Still have more questions? We're here to help! Pleas use our online chat feature, visit an MSI showroom near you, or contact an authorized MSI dealer.
More Cleaning Tips
How To Clean Your Luxury Vinyl Flooring To Keep It Looking New
The Best Way To Clean Stains From Porcelain Tile Flooring
Which Cleansers Are Safe To Use On Inkjet Printed Backsplash Tile?
Tips From The Trade: How To Easily Seal And Clean Travertine Tile
Mosaic Monday: How to Clean and Maintain Glass Mosaic Tile
READ MORE ABOUT WOOD LOOK TILE:
6 Popular Wood-Look Tiles For 2017
Hardwood Flooring Vs. Wood-Look Tile Throughout the Home
Create A Worn Wood Look with Porcelain Tile