5 Popular Wood Look Tiles
December 29, 2016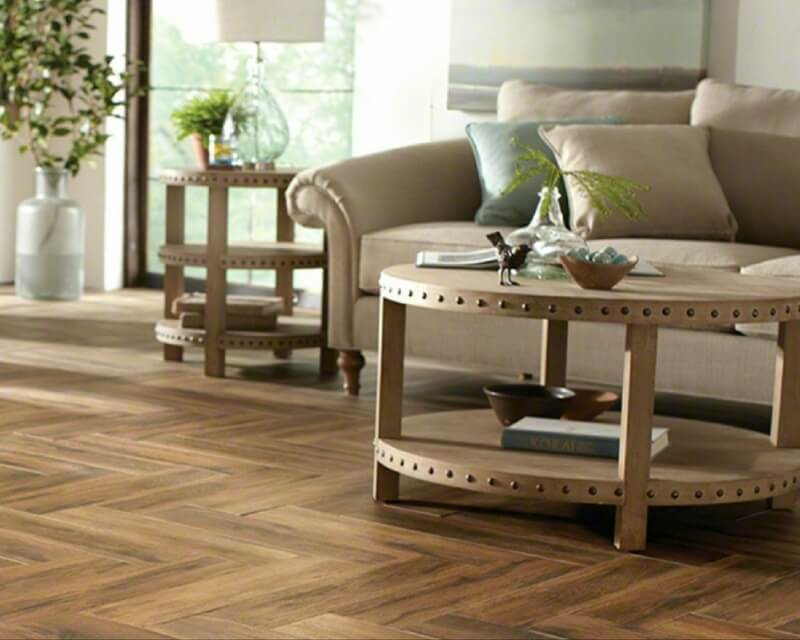 Adding hardwood flooring to a design can give it a character that ranges from rustic to elegant, homey to high style. This timeless natural material goes well with every décor type, adding warmth and depth.
However, wood is still a precious and sometimes costly natural resource. If your taste leans toward more exotic or reclaimed woods, it can be difficult finding just the right color, type, condition, and in the amount needed – not to mention: the expense can break the bank!
That's why one of the most popular alternatives to natural wood is a wood look tile. It can mimic the same style you're after, but without the hassle of finding and maintaining natural wood.
Curious? Here are five popular porcelain options to consider for your next remodel or new home installation.
Musk Salvage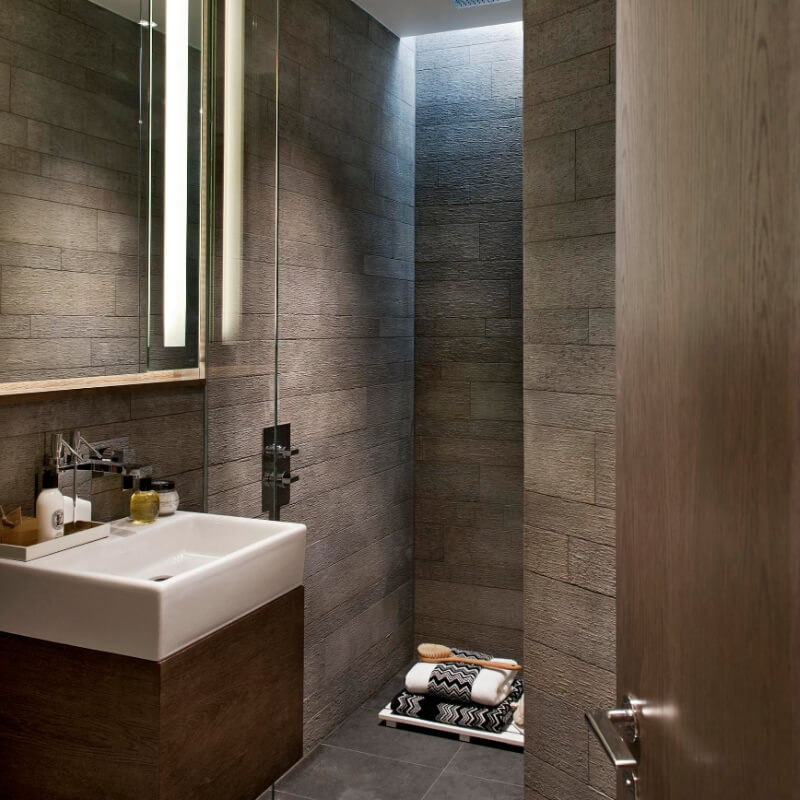 Featured: Musk Salvage Porcelain Tile
You certainly can't put real hardwood in your shower, but with Musk Salvage Porcelain Tile from MSI's Salvage collection, you can get the same effect! These 6x40 tiles won't warp, buckle, or stain while you're enjoying this spa-like shower. The look of reclaimed wood grain gives this contemporary space an authentic, rustic feel, and the floor-to-ceiling installation unifies the small washroom.
Teak Botanica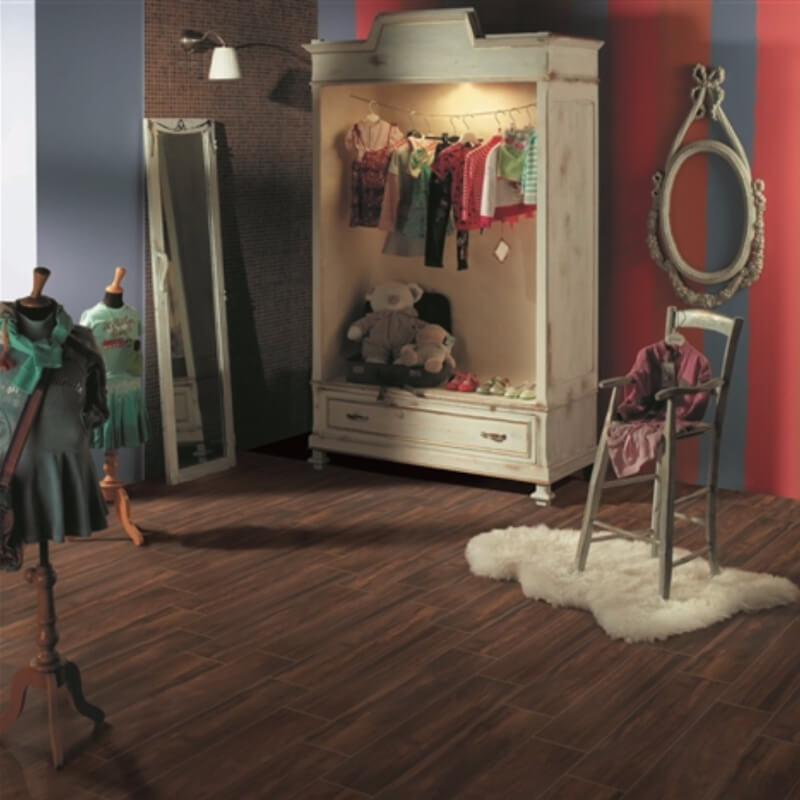 Featured: Teak Botanica Cashew Porcelain Tile
Installing hardwoods throughout the house can be very expensive, especially if you want something more exotic. But with a 6x24 wood look tile like Teak Botanica Cashew Porcelain Tile, you can afford to seamlessly carry the natural characteristics of fine wood into all your bedrooms.
Natural wood flooring can cost $15 or more per square foot, while wood-look tile costs anywhere from $4 to $12 per square foot, reasonable by comparison. This durable synthetic flooring option is also more kid friendly since it can easily withstand abuse, whereas hardwoods are susceptible to dings, scratches, and water damage.
Bianco Palmetto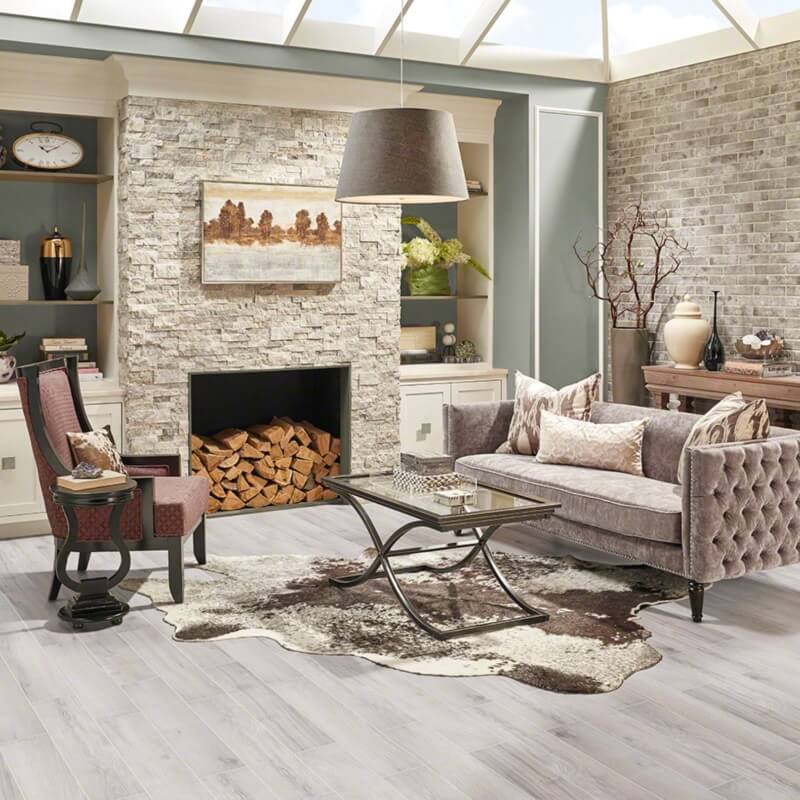 Featured: Bianco Palmetto Porcelain Tile
In high traffic areas like living rooms, consider how long your floors will last. While you might dream of maintaining a sophisticated hardwood-clad space, it's not realistic for every household. Add in a few rambunctious kids with their toys and a couple of dogs with untrimmed nails, and your natural hardwoods will be beaten up in no time. That's why even a light-colored wood tile, such as the one shown here, is a great choice.
Bianco Palmetto Porcelain Tile is a wood look tile with soft white and cream tones that play well with the delicate colors in the design. Low maintenance, it's easy to wipe up spills from Sippy cups or accidents from your fur babies. And unlike natural wood, these 6x36 tiles don't need to be refinished every five to ten years.
Natural Forest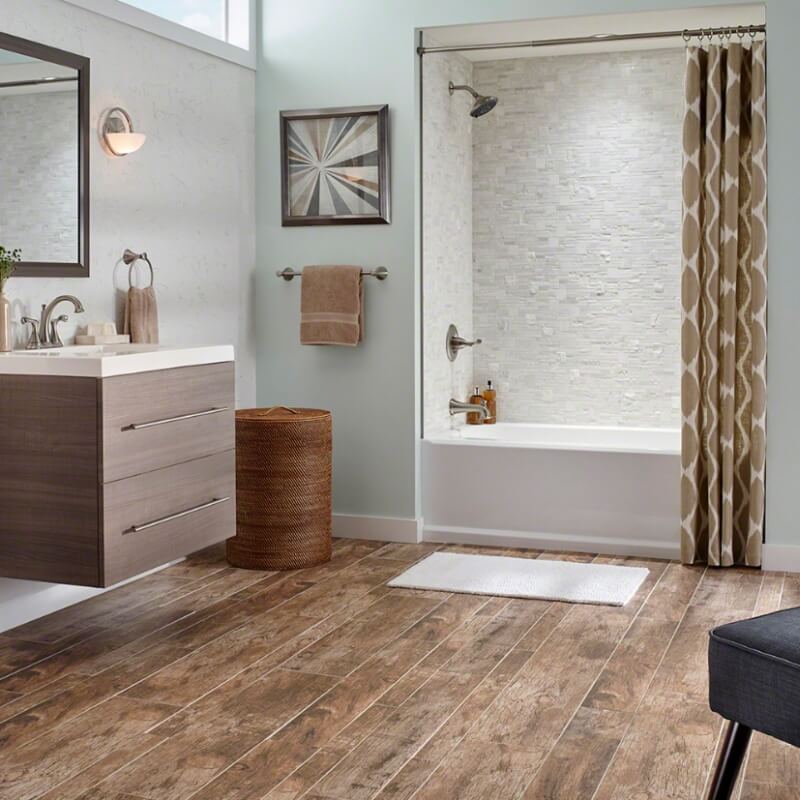 Featured: Natural Forest Porcelain Tile
Unlike solid hardwood, porcelain tile is an excellent choice for rooms with high moisture levels. Whether installed on the walls or floor, this hard surface is commonly used in bathrooms because shower drips and sink dribbles won't damage it. Natural Forest Porcelain Tile offers a unique installation pattern, with three different widths of wood tile flooring, and its beige and greige tones stand out against the soft color palette in this bathroom.
Café Aspenwood
Featured: Café Aspenwood Porcelain Tile
With tile, you can get a uniform look or a knotted and gnarled appearance; plus, it will retain its coloring and texture over time. Here, Café Aspenwood Porcelain Tile adds drama and elegance to an all-white kitchen. The tile features realistic veins and grains, and its rich brown tone ties in with the hardware and fixtures.
When it comes to routine maintenance for a mess magnet, like the kitchen, it only takes a quick push of the vacuum or swish of a mop to keep this space clean.
READ MORE ABOUT WOOD LOOK TILE:
Tips For Cleaning And Maintaining Wood-Look Floor Tile
6 Popular Wood-Look Tiles For 2017
Hardwood Flooring Vs. Wood-Look Tile Throughout the Home
Create A Worn Wood Look with Porcelain Tile