Popular
Trend Spotlight: The Invincibles
April 01, 2019
Life. Made. Easier. The mantra behind The Invincibles Trend needs no explanation. Whether you're tough on your surfaces or you consider fussing over anything a waste of time, this worry-free lineup makes it easy to create a space that works as well for adults as it does for kids and pets. Every trend has its inspirations. And this one is all about family.
High-performance, on-trend, durable, low-maintenance, and budget-friendly, we curated Everlife Luxury Vinyl Flooring, porcelain tile, and Q Premium Natural Quartz™ countertops to make your home look and function like a dream. The bonus? With an ever-growing stream of next-gen styles at your fingertips, these design stars have never looked better.
1. Everlife LVT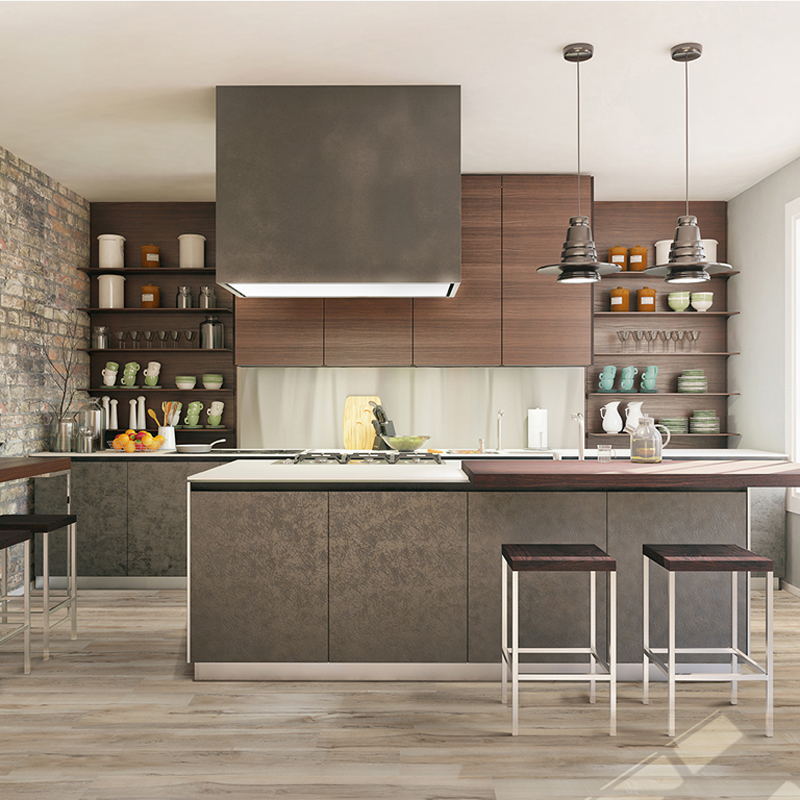 From the kitchen to the playroom, meet the irresistible, 100% waterproof Akadia Luxury Vinyl Plank.
Part of creating a well-loved home means satisfying the practical side of your lifestyle – including your budget. But the upscale aesthetics of Everlife Luxury Vinyl Tile earn the love of homeowners all over the income map. With a best-in-class lifetime residential warranty, the waterproof Rigid Core collections, Cyrus and Prescott, feature stain, scratch, and dent resistant wood look planks. From coastal vibes to refined rustics, the eco-friendly line looks just like hardwoods – minus the headaches.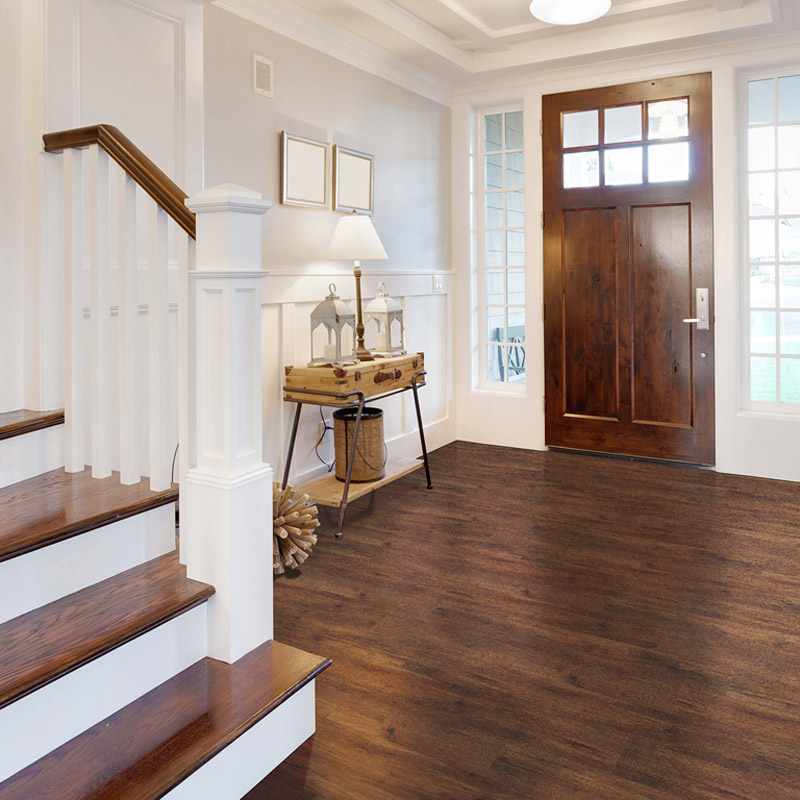 Go ahead, walk in with your rainboots: Braly Luxury Vinyl Tile.
2. Porcelain Tile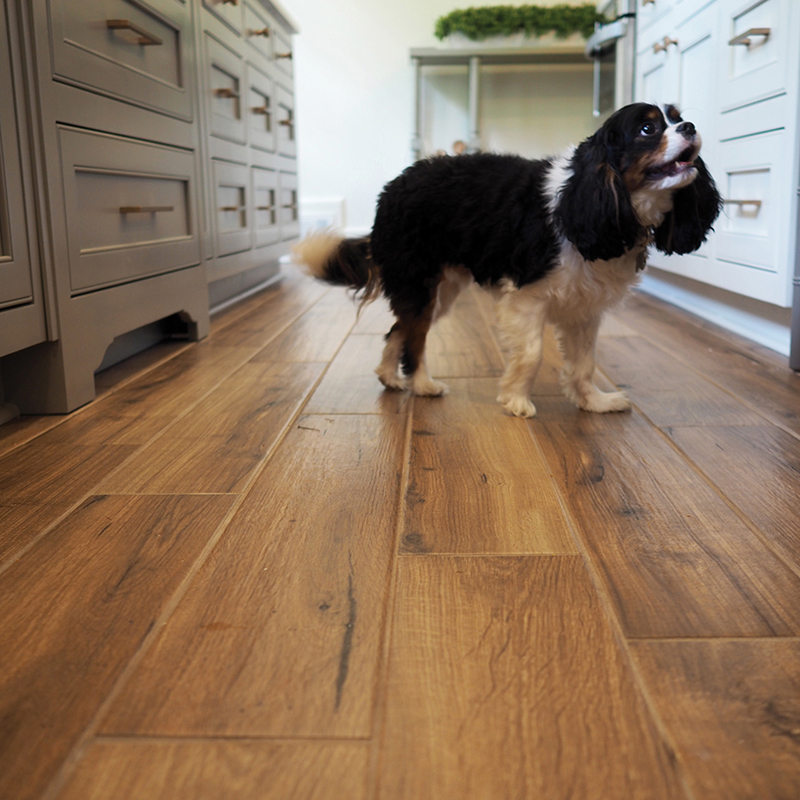 The family dog and Palmetto Cognac porcelain planks share winning looks.
From the modern version of encaustic tile (hello Kenzzi Porcelain) to the fabric-inspired Tektile to the true-to-wood looks of Vintage, Belmond, and Havenwood, it's hard to beat the design world's hottest trends when combined with the practical benefits of porcelain: low-maintenance, super durable, and H2O-friendly. A designer and homeowner favorite, porcelain tile brings kitchens, baths, and all points in between, into dreamland territory.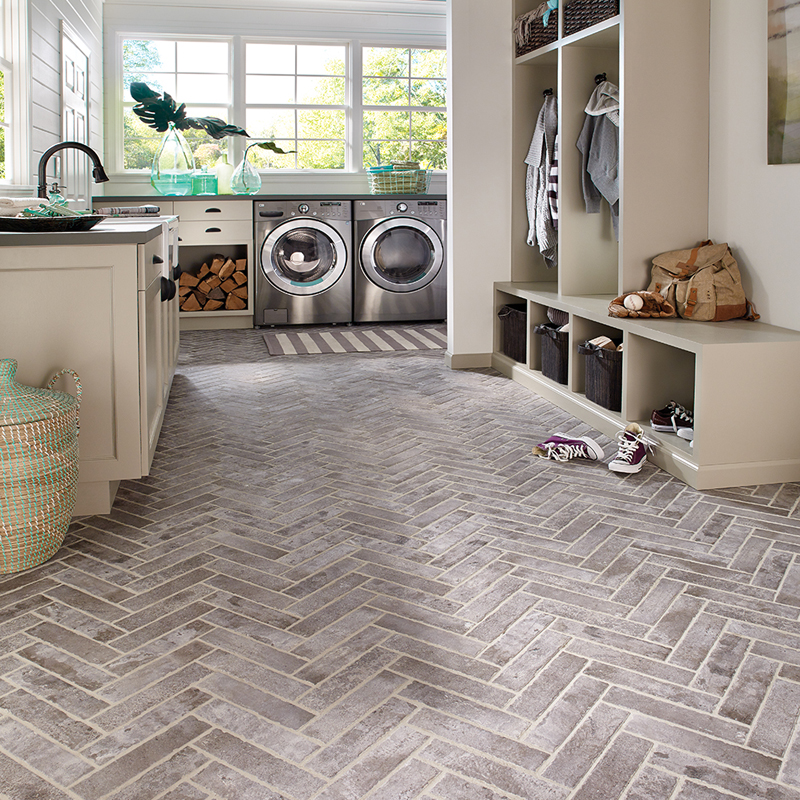 Thanks to Brickstone Porcelain (Taupe), this laundry room/mudroom, is a social media star.
3. Q Premium Natural Quartz™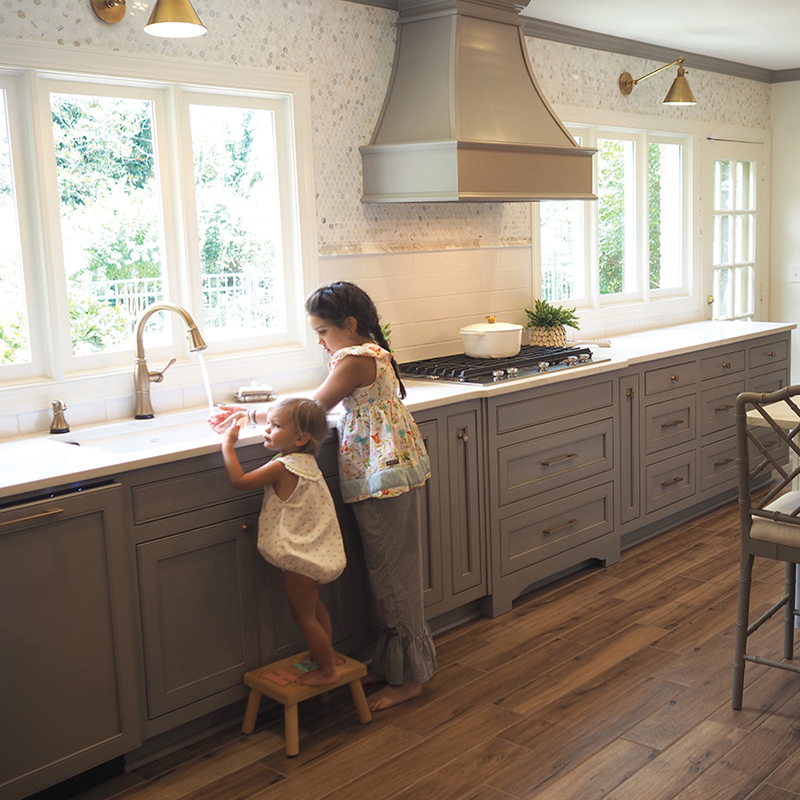 We'd be happy to do the dishes in this kitchen: featuring Calacatta Verona from our Q™ line.
We couldn't have an invincibles list and not include Q Premium Natural Quartz™ countertops– especially since quartz is one of the most durable materials on the planet. In addition to being scratch and stain-resistant, invulnerable to heat, and maintenance-free, the collection is flush with over sixty trending looks. To keep the inspiration flowing, we'll never stop serving up your favorites – including white marble lookalikes, dark and dreamy classics, and the always-edgy concrete and matte finishes.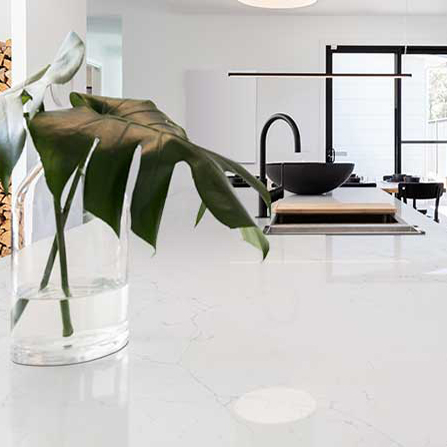 A kitchen we never want to leave, say hello to Calacatta Botanica Q™ countertops.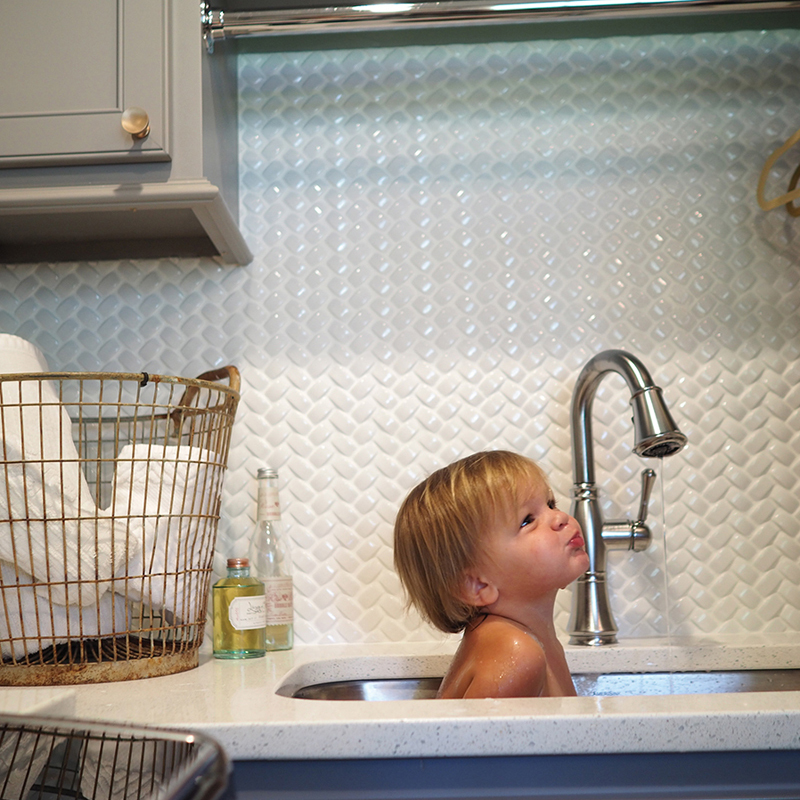 Mirrored specks of gray and gold make bathtime sparkle: Iced White Quartz countertops.