Monochromatic Quartz For The Modern Design Scheme
April 07, 2014
As art has evolved over the decades, explorations of wild multi-color artworks with lots of movement have given way to a monochromatic look that is the hallmark of what we consider "contemporary art". The use of solid colors and unrelieved palettes allows the artist to imagine nuance and flair, rather than to see it literally on the canvas. As art has evolved, interior design has progressed similarly - those who are aficionados of the modern art scene carried over the love for monochromatic looks into their personal spaces. Today's home design scheme is distinguished by large expanses of solid colors, and there is one stone material that is optimal for achieving this effect: premium quartz.
Although quartz is available in a variety of patterns and colors, including those that mimic the look of granite countertops (for a more traditional design look), it also stands alone, distinguished by its striking, solid-color countertop options like white (Artic White and Glacier White), gray (Shadow Gray and Concerto), and brown (Lagos Azul) - these unrelieved neutrals fit contemporary design ideals perfectly. They offer clean canvases that call for outside influence to define them - flooring, cabinetry, window treatments, and appliances are all ways to warm up, cool down, blend with or contrast these monochromatic surfaces.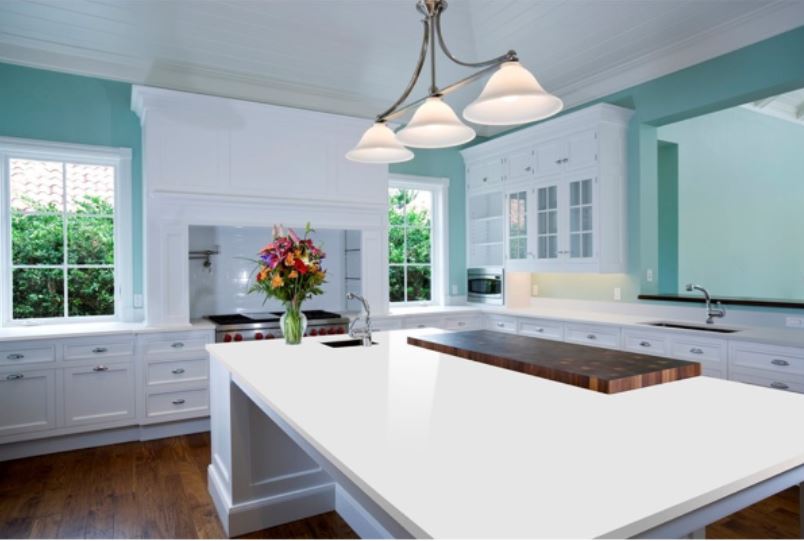 Warm wood floors and cabinets paired with white or gray countertops, for example, offer a nice contrast of light & dark and warmth & coolness, to create interest in a room. A dark black cabinet set in contrast with solid white or brown countertop is a bold choice that will highlight the countertop selection.
Match those same monochromatic countertops with bold backsplash, stainless steel appliances and colorful ultra-modern thermafoil or aluminum cabinets, and suddenly the look is completely different. It is both eye-catching and harmonious. This is a popular design scheme in modern European homes, as well newer, high-end office and industrial spaces, especially in the high tech, science and culinary fields where surfaces are meant to be utilitarian, keeping the focus on what is placed on the countertop rather than the countertop itself. When translated to your kitchen, this means that the food will stand out as the hero of the space.
Though white is the first solid countertop option to spring to mind when one considers the contemporary design scheme, grays are also a modern choice. The industrial, concrete-like look is popular in commercial spaces for a sleek appearance that is easy to design around. It is growing in popularity in city apartments and lofts. Likewise, the solid-brown appearance of Lagos Azul accomplishes what a white or gray can do but adds a bit of warmth that can be accentuated with wood cabinets and floors or contrasted sharply with white or stainless floors and cabinets for a twist on the contemporary concept.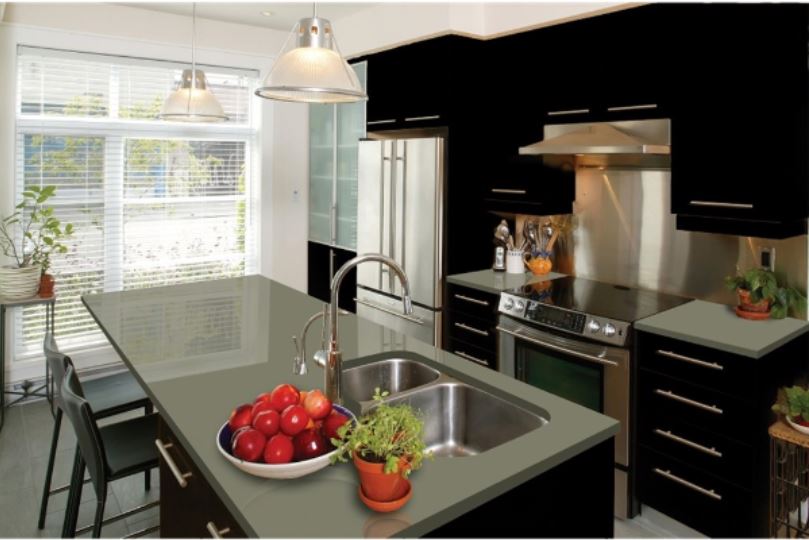 Solid-color options for quartz is not the only way quartz is a modern option. Quartz is a fusion of natural quartz and resin materials. Natural quartz was once overlooked as a building material simply because it did not have the structure by itself to create a compact material. However, quartz combined with today's technological advancements yields one of the world's strongest countertop materials. The formula: 90% quartz plus 10% resin, treated and pressed. The resulting material is impervious to liquids, heat, chemical reactions - the polar opposite of traditional natural stone materials like real granite, marble, and slate. Thus, a pure white, gray or brown countertop selection of quartz is both modern in appearance and in structure.
Q Premium Natural Quartz is currently available in 27 colors, from sleek and solid contemporary colors to granular patterns that are strikingly similar to granite and veined looks similar that mimic the look of marble. Choosing the right surface for your modern or traditional design scheme has never been easier with distinct color and pattern options that will suit any application.
Read More About Modern Quartz Countertops:
The Five Essentials of Modern Bathrooms With Quartz Countertops
How to Add a Modern Element to Your Kitchen with Quartz Countertops