The Best Heights For Granite Countertops
December 20, 2019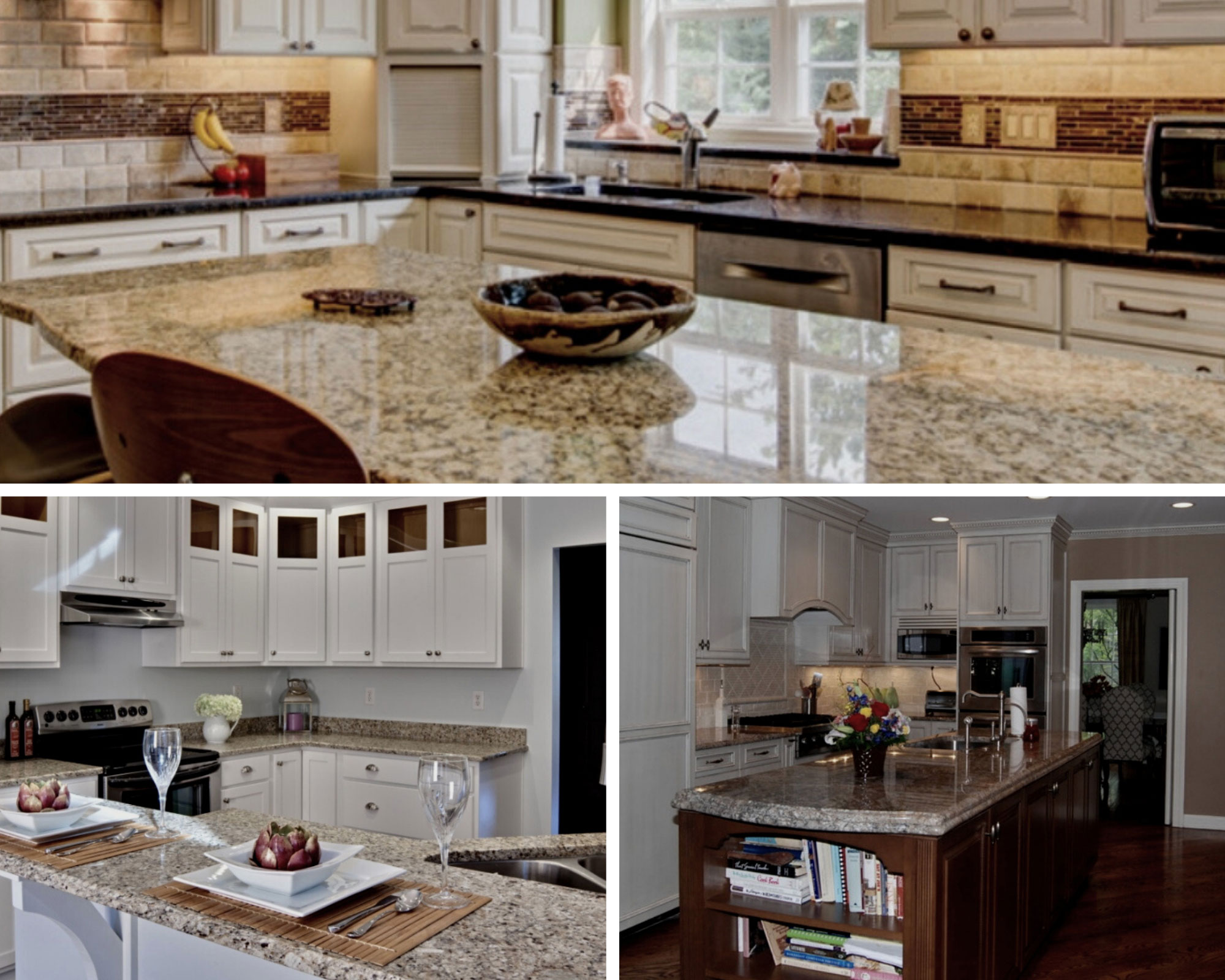 When it comes to building a new home (or remodeling one), there are a lot of building codes to follow; however, they don't dictate countertop height. Instead, the design industry has set standards for what makes up the established standard height for granite countertops, and other building materials like windows, doors, and cabinets also follow established industry standards. While you might not consider countertop height as part of your surface decision, it would be disastrous to realize that your newly installed granite counter is the wrong height after all of the countless hours spent picking out the perfect pattern and color and the expense of installation. Because what's a gorgeous granite counter worth if it's not usable? In this guide, we'll review what the ideal height is for various situations as well as surroundings that affect it.
Kitchen Countertop Standard Height
The standard height for a kitchen countertop is 36 inches from the floor, says the American National Standards Institute/Kitchen Manufacturers of America. Because this set standard is so common, cabinet manufacturers build their cabinets to 34 1/2 inches in height, which leaves 1 1/2 inches for countertop thickness.
For many, this height creates the most comfortable, ergonomic workstation designed for those from 5 feet 3 inches to 5 feet 8 inches. But, the standard height may not be right for you if you're considerably taller or shorter than this average range.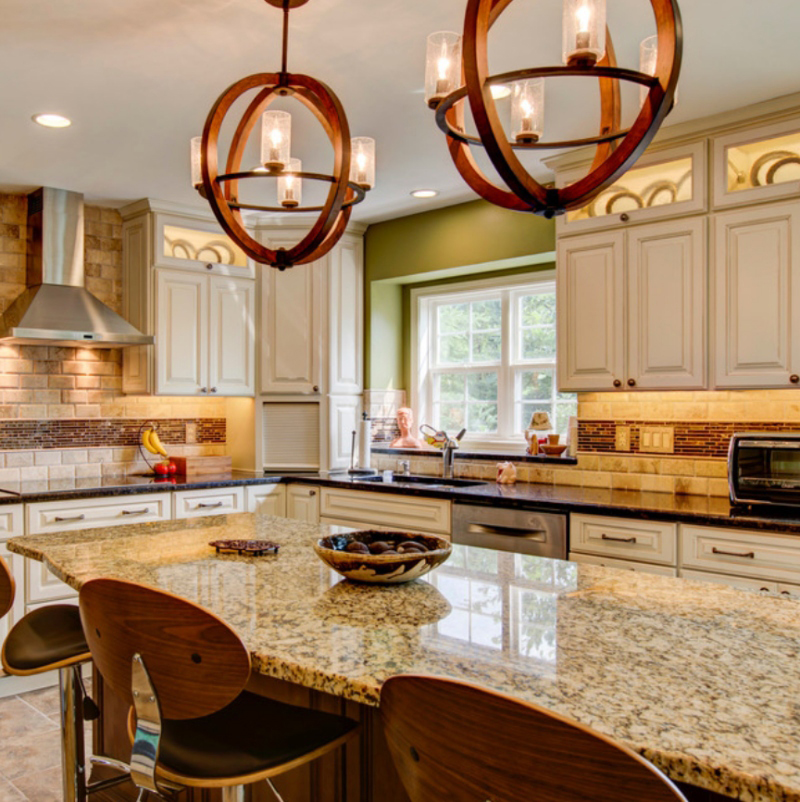 (Photo Credit: Houzz)
Customized Countertop Height
Like anything in the home, the height of your premium surfaces can be customized in order to meet your individual needs. If your family includes members 6 feet and above or 5 feet and below, then you may want to vary the counter height to make it more comfortable so that you're not bending over or using a step stool to chop, prep, cook, and clean in the kitchen.
Making these alterations can be quite costly though, since standard base cabinets will have to be modified or custom cabinets ordered. These types of construction changes may be best for a new build since you may be able to make the adjustments before anything is installed, but it can be done for remodels as well. But, if you don't plan on creating your forever home, you should consider how easy or difficult it might be to find a potential future buyer who would also appreciate the same changes.
Countertop Height for ADA Needs
For family members with limited mobility, you'll want to decrease the countertop height. The Americans with Disabilities Act (ADA) has standards set from 28 to 34 inches in order to allow those in a wheelchair to easily access and use the work surface. This means that the base height will also have to be changed to 26 1/2 to 30 1/2 inches in order to accommodate the chosen height and 1 1/2-inch countertop thickness. Some base cabinets will be left open and need at least 36 inches in width in order for users to easily roll their wheelchairs under the counter when using it.
Making these changes may also depend on who will be primarily using the space. Either modify the entire kitchen counters and cabinets, or consider adjusting a portion so that everyone can use the cooking space comfortably together. While these types of changes could impact interest from some potential future buyers, having an accessible kitchen may actually be a beneficial selling point in today's market.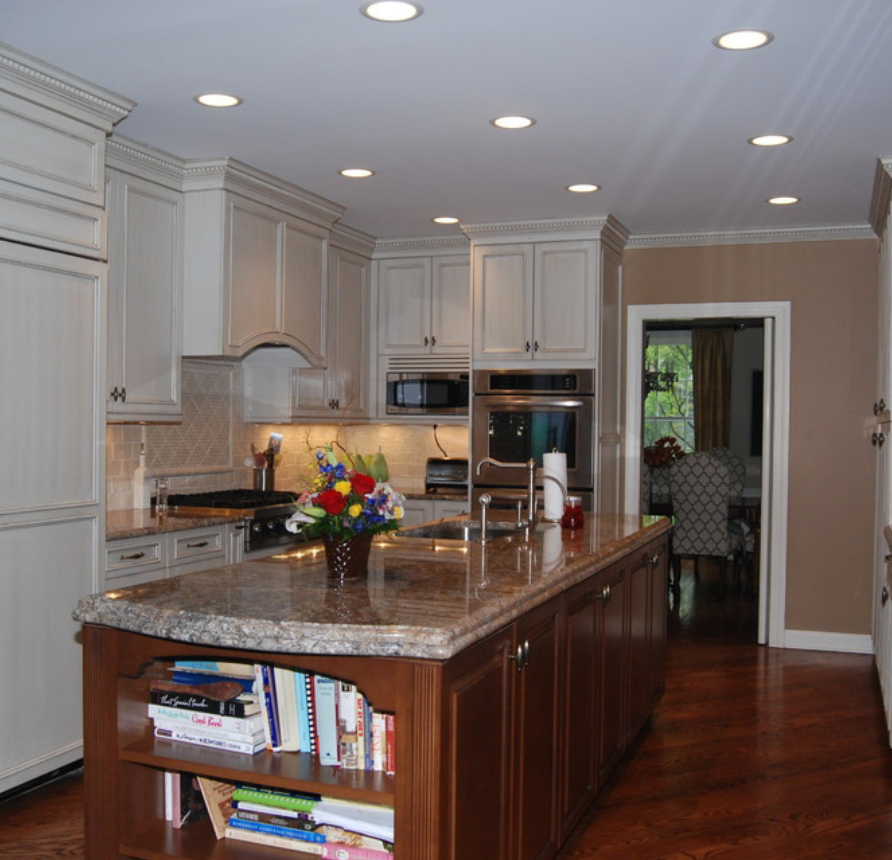 (Photo Credit: Houzz)
Bar Countertop Height
If you're adding a bar-height counter to your kitchen, then you'll need to increase the height. The standard for this is 42 inches from the floor, which would make the base cabinets 40 1/2 inches to allow for the standard 1 1/2-inch thick countertops. It also factors in the standard bar stool height of 29 to 32 inches with a clearance of 10 to 13 inches from the seat to the counter. This height allows for someone to comfortably place a drink on the bar top while either sitting or standing.
Countertop Thickness Considerations
While the aforementioned thickness for countertops is typically 1 1/2 inches thick, not all materials are sold in that size. While standard-size options like butcher block is easily accessible, many commonly sold counters, including granite, come in 2 cm and 3 cm thicknesses, which is equivalent to 3/4 inch and 1 1/4 inch thicknesses. In order to meet the 1 1/2-inch thick needs, an installer would lay the thinner natural stone slab on top of wood buildup strips.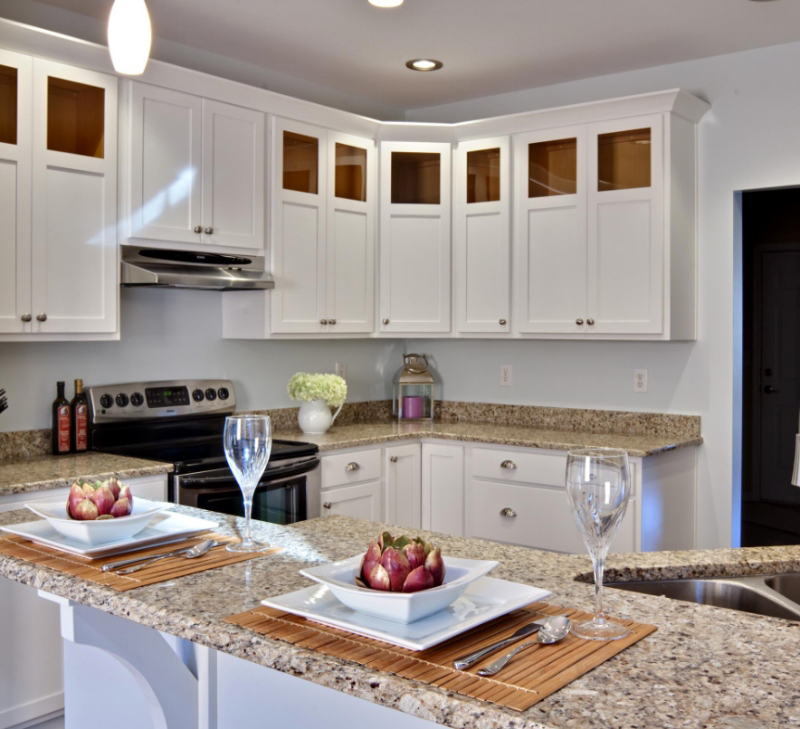 (Photo Credit: Houzz)
Countertop Edge Considerations
One of the finishing elements to consider for your new granite countertops is the edge profile. While a simple or detailed edge may reflect your design aesthetic, it can also indicate lifestyle needs. For instance, an eased edge with a slightly rounded 90-degree angle is one of the most commonly used edge profiles because the simple finish is easy to clean but also gives countertops the thickest look. A half-bullnose edge with a rounded top and flat bottom is very versatile in terms of design styles but is safer for families with kids because of its softened corners. A Spanish edge with multiple layers like a 90-degree step, a convex and concave curve, a straight edge, and a flat bottom creates a substantial look, and although it may take more time to clean, it should catch spills that would otherwise hit the floor. These are just a few examples, and while there are many more countertop edges to choose from, you should consider not only the look but the practicality of it, too.
If you find that the standard countertop height for your stone surface just isn't suitable for your family, then take that step in creating a kitchen that works comfortably for everyone. Since it can be more expensive, make sure to hire an experienced, professional installer to ensure that all of the measurements for the countertops and cabinets are correct. In case you're undecided on which granite is right for your remodel or new build, utilize a granite visualizer to help you envision the look, feel, and edge profile your new countertop will have.
Read More about Granite Countertops
Favorite Natural Granite Counters to Top Cherry Wood Cabinetry
Debunking Myths: How Much Do You Really Know About Granite Counters?
Perfect Pairings for Granite Countertops and Tile Backsplashes
Natural Granite Countertops for the Heart of Your Home
READ MORE ABOUT GRANITE COUNTERTOPS
Solve Your Color Scheme Dilemma with Salt And Pepper Granite Countertops
Striking Black Granite Countertops You Must See
Stunning Granite Countertop Waterfall Edges
The Best Uses for Granite Countertops