Outdoor Oasis: Are Granite Countertops Durable Enough For Outdoor Use?
January 20, 2017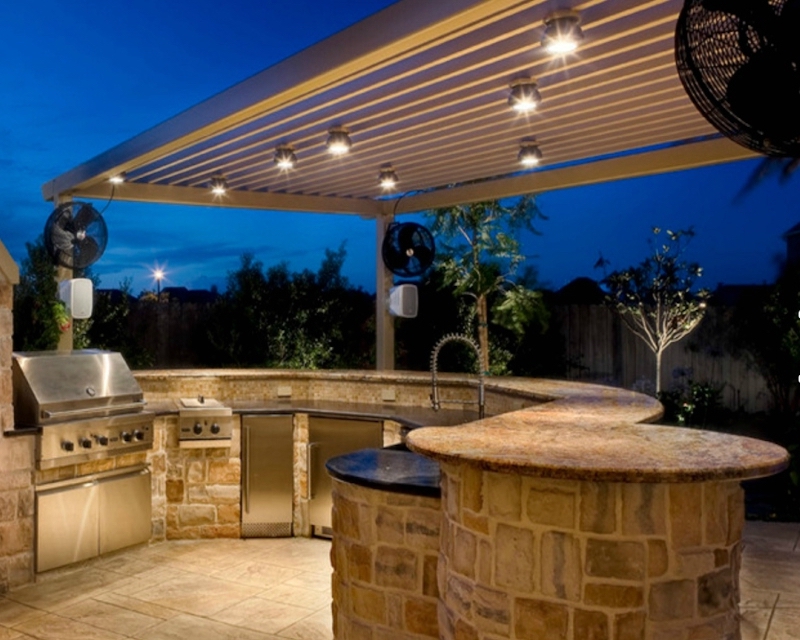 (Photo Credit: Houzz)
Granite countertops have long been a favorite surface material for kitchen countertops, thanks to its easy-care beauty and durability. It's also become a hot trend for outdoor use, such as patio tables, outdoor kitchens, and bars. With many gorgeous granite colors, it's much more stylish than concrete, which for years was the outdoor-surface standard.
But let's get real – is it tough enough to use outdoors? What if your winters venture into the sub-zero range, and your lovely granite countertops will withstand months of ice and snow before the weather's nice again? We say yes, but there are a few simple guidelines to keep in mind to ensure your granite remains looking its best all year round.
Yellow River
Featured: Yellow River Granite
Yellow River Granite shines as a small bar-top in this sheltered patio kitchen space. Granite is an ideal, safe choice to use surrounding a fire feature, such as this contemporary version. Its brown, gold, yellow, and gray colors are easy to coordinate with a variety of other elements. If you plan on installing your granite countertops with an overhang such as the one pictured here, we suggest providing additional support if it protrudes beyond 10 inches.
Monte Cristo
Featured: Monte Cristo Granite
Give your outdoor bar a dramatic flair with Monte Cristo Granite, which features veins of jet black against a soft white background. Even if your weather gets extremely cold in the winter, your granite should withstand the elements beautifully if it's properly installed. When spring comes, get your countertop ready to party by cleaning with mild soap and water. Do not use any cleanser with bleach or abrasives.
Black Pearl (Brushed Finish)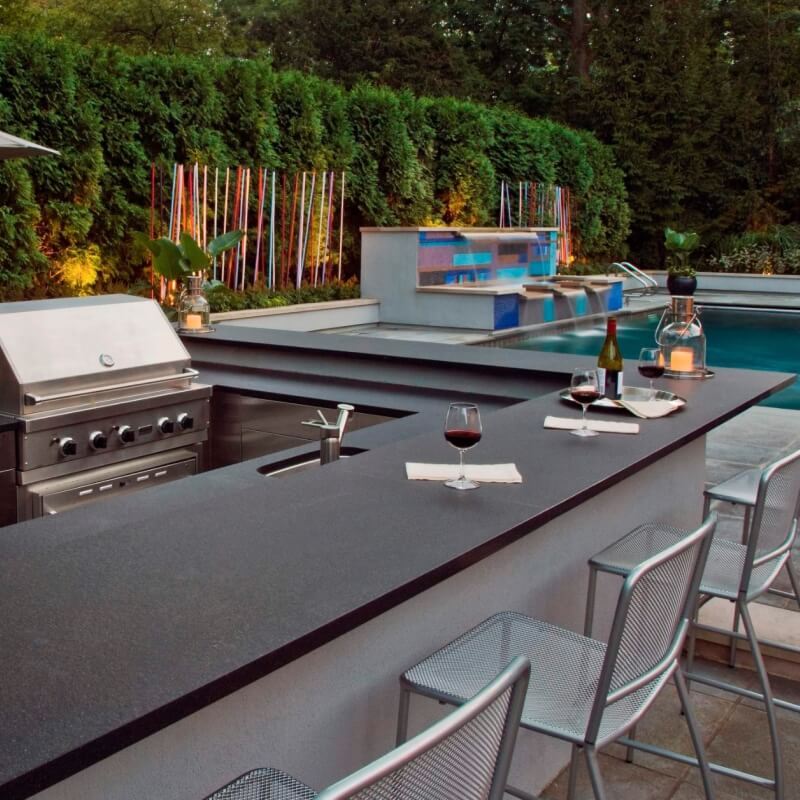 Featured: Black Pearl Granite
Sleek Black Pearl Granite, with a matte brushed finish, exudes pure elegance in this poolside bar. Although granite countertops require very little maintenance, when exposed to the elements it may require annual sealing. Also, keep in mind that darker colors such as this black granite may become hot when exposed to direct sunlight. You may cool the surface of your countertops by applying lukewarm water – avoid cold water, which can cause hot granite to crack.
Verde Fusion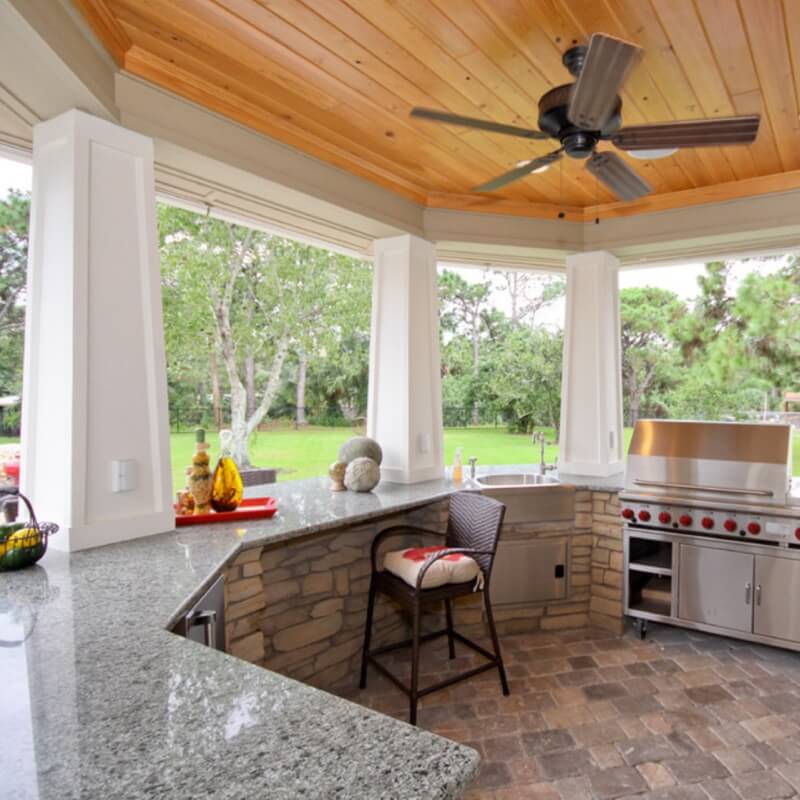 Featured: Verde Fusion Granite
Verde Fusion Granite, imported from India, features a blend of black, cream, and gray. With a polished surface, it's an elegant choice for this covered outdoor kitchen. Installing granite under shade, at least for part of the day, can help protect your granite countertop from sun damage. Although its resistance to stains is part of granite's appeal, indoors or out, if a stain should occur it may be removed with a mix of baking soda and water.
Silver Creek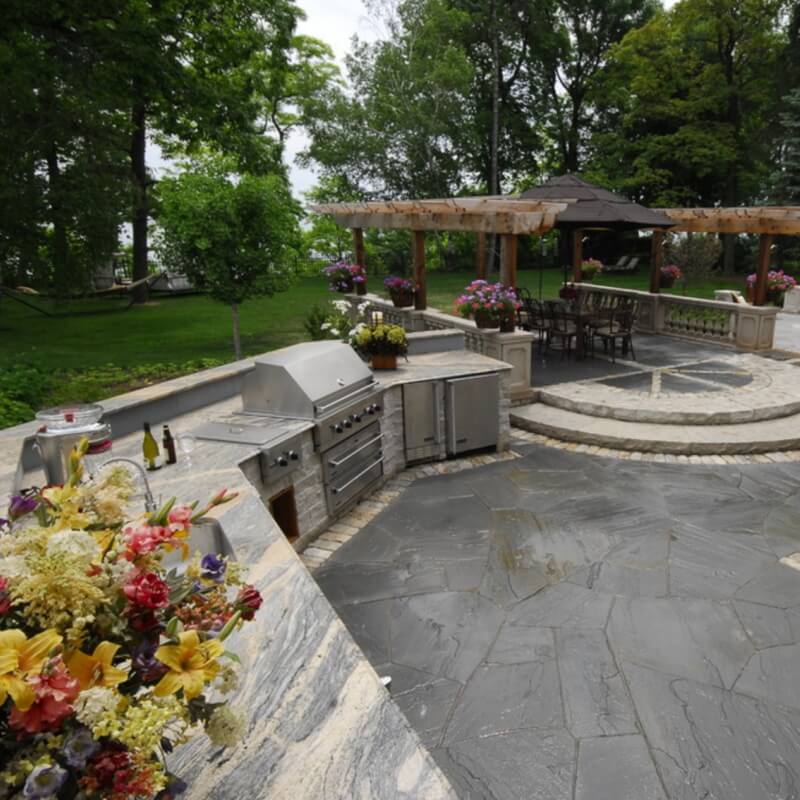 Featured: Silver Creek Granite
Featuring dramatic ripples of black, gray, and white, Silver Creek Granite blends well with deep gray slate pavers in this nature-loving outdoor kitchen and patio. When installing a granite countertop outdoors, make sure it is supported by a firm foundation. If shifting should occur, due to weather, erosion or other factors, seams between slab pieces may separate or the granite may crack.
If you're searching for the perfect material for your outdoor kitchen, bar, table, or other surface, take a good look at granite – it may not be perfect, but it's close. It's one of the easiest countertop surfaces to maintain and keep looking lovely for many years; it just needs simple stone care and maintenance. As a natural stone, it's right at home in the great outdoors.
Learn More about Granite Countertops Outdoors
Granite Countertops Venture Outdoors
6 Ways to Use Granite in Your Outdoor Kitchen Design
5 Granite Outdoor Kitchens for Inspired Patio Living