Outdoor Oasis: 6 Inviting Outdoor Kitchens With Granite Countertops
June 05, 2017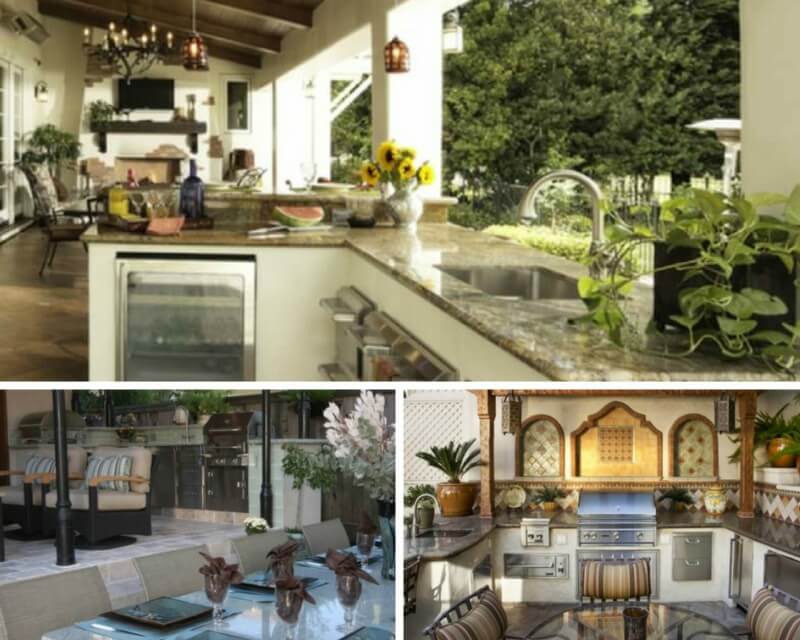 Don't just remodel your outdoor kitchens and patios – upgrade them! Granite countertops provide more than just a new look, they improve your home's looks, resale value, and functionality.
Granite is a top choice for surfaces in outdoor living spaces, for many reasons. It withstands a range of temperatures from roasting-hot to freezing, is resistant to fading in the sun, and needs very little maintenance to stay gorgeous through the years. Just seal it once a year, wipe it down with gentle soap and a soft cloth, and put those outdoor entertaining ideas into motion.
Check out a few of our favorite granite colors for outdoor spaces, and great ideas for your own.
Nero Mist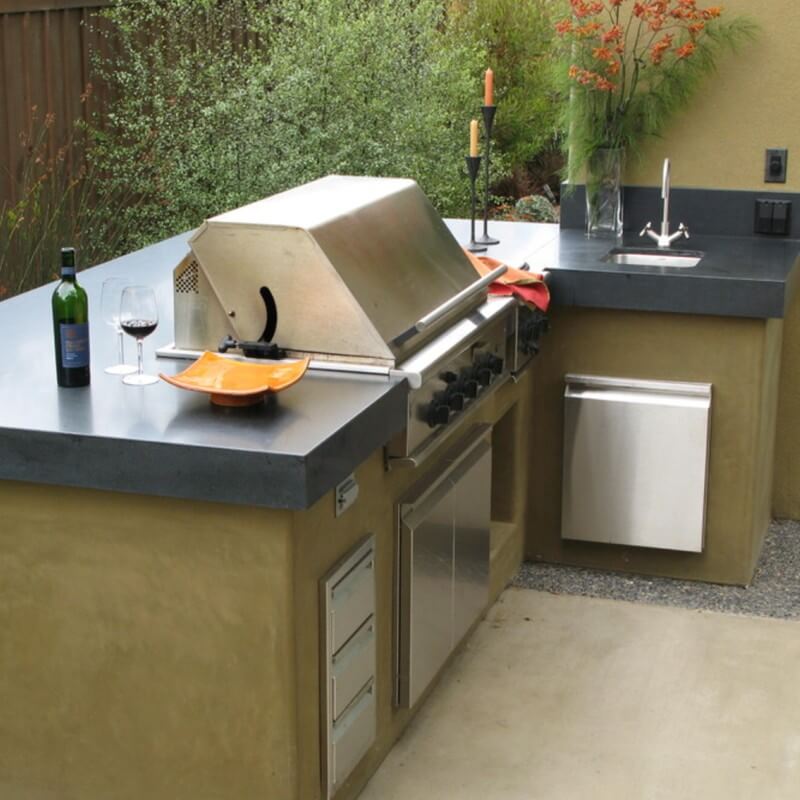 Get this look with MSI's Nero Mist Granite (Photo Credit: Houzz)
Granite is a great material to install around a grill or outdoor cooktop, because it's heat resistant and safe, when properly installed. Nero Mist Granite is an ideal choice for a small food preparation area such as this one; it's a dark and dramatic granite, with white veining that is subtle enough not to overwhelm a small space. With a matte, honed finish, the simple lines of this installation are the perfect complement to creative décor and landscaping.
White Sand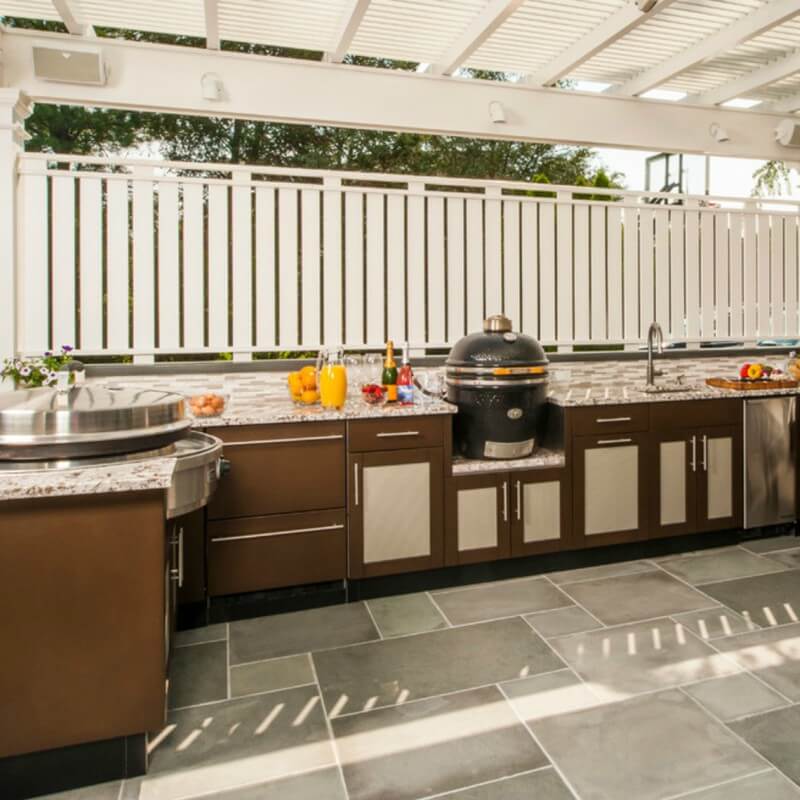 Recreate this look with MSI's White Sand Granite (Photo Credit: Houzz)
Enjoy a light, airy outdoor space with White Sand Granite. Its shades of cream, gold and brown are a great match with other materials such as the white pergola, wood cabinetry and gray flooring. Granite countertops let you spend less time cleaning your outdoor spaces, and more time enjoying it.
White Supreme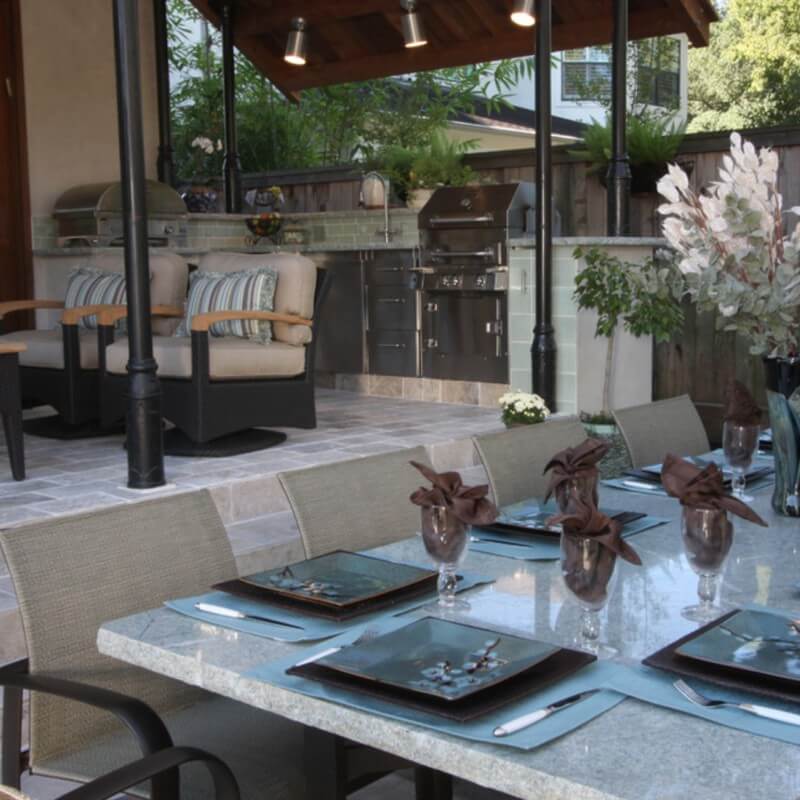 Recreate this look with MSI's White Supreme Granite (Photo Credit: Houzz)
Countertops aren't the only places to install granite – they also create excellent, durable outdoor dining tables. Wouldn't it be nice to leave your table out year-round without worrying about the weather? White Supreme Granite, with its subtle gray and white swirls, can withstand freezing temperatures.
Verde Fusion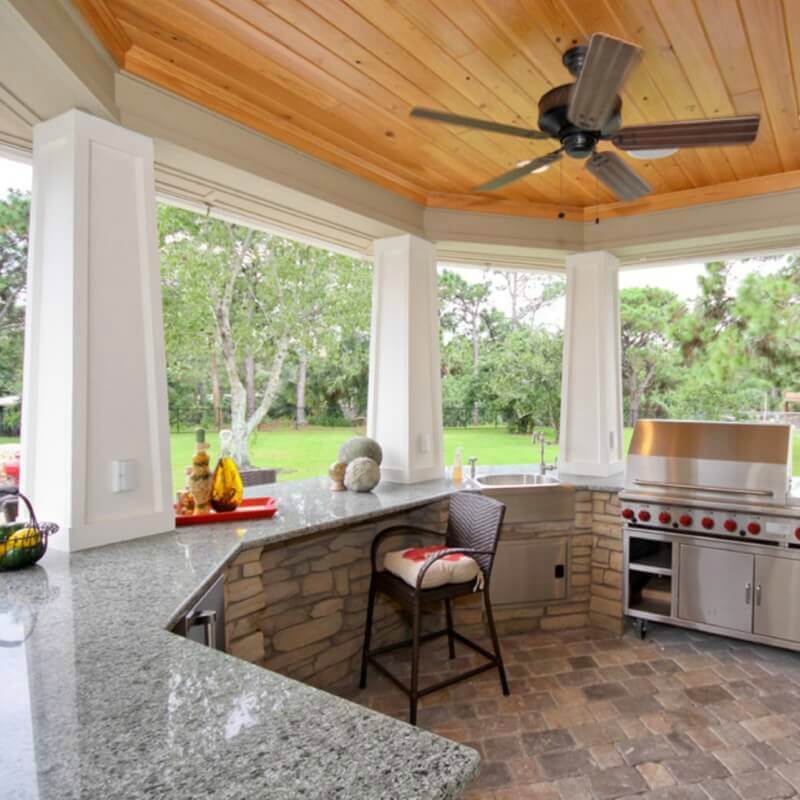 Create this look with MSI's Verde Fusion Granite (Photo Credit: Houzz)
Outdoor kitchen design isn't constrained by four straight walls, only by your own imagination. MSI's granite is available in slabs that can be customized for the most creative installations you can invent. Here, the dreamy blend of black, gray, and cream shades in Verde Fusion Granite creates a custom, inviting space.
Barcelona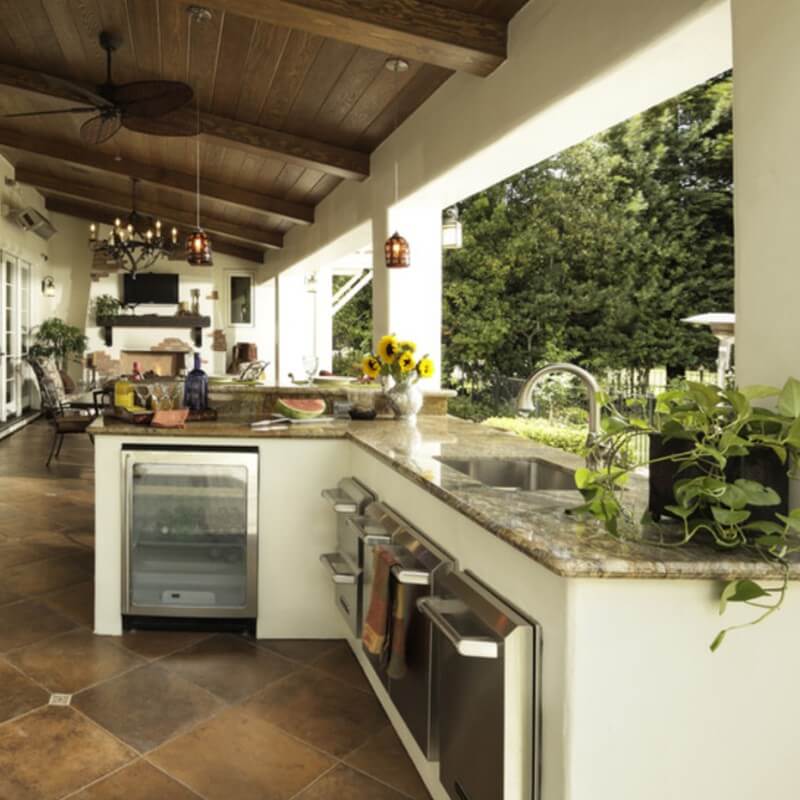 Get this look with MSI's Barcelona Granite (Photo Credit: Houzz)
One hot trend these days is creating an indoor living space that continues through the back door, into the great outdoors. Barcelona Granite is a combination of cream, gray, and taupe that looks perfect in both places, and you'll love how the polished surface of your granite countertops reflects your veranda lights.
Virginia Mist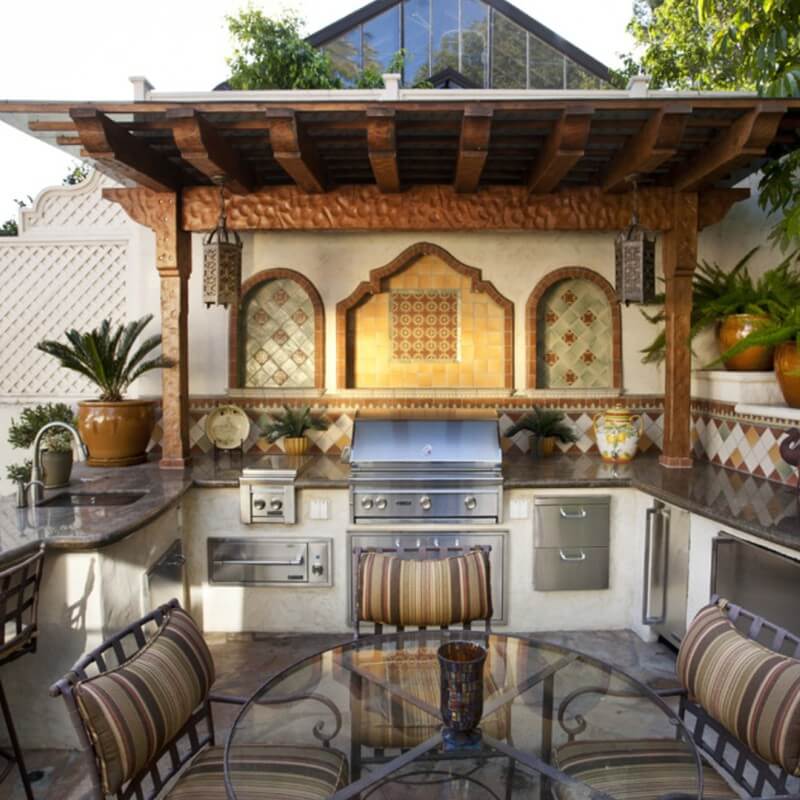 Recreate this look with MSI's Virginia Mist Granite (Photo Credit: Houzz)
Your outdoor kitchens can be as traditional – or exotic – as you like. Go for the dramatic, with rich jewel tones and tropical terracotta. Virginia Mist Granite, with its swirls of deep gray, sets off the bright colors of this kitchen area perfectly.
Aside from the beauty, durability and value, one of the best things about these granite colors is how easy it is to coordinate them with matching hardscaping products. MSI carries a full line of pavers, tiles, stone ledger panels and more. Visit the MSI website and browse our galleries of products, and let us help you design the outdoor kitchen of your dreams.
Learn More about Granite Countertops Outdoors
Granite Countertops Venture Outdoors
How to Keep Your Outdoor Granite Installation Looking Brand New
5 Granite Outdoor Kitchens for Inspired Patio Living