Does Glass Backsplash Tile Get Water Stains?
August 30, 2018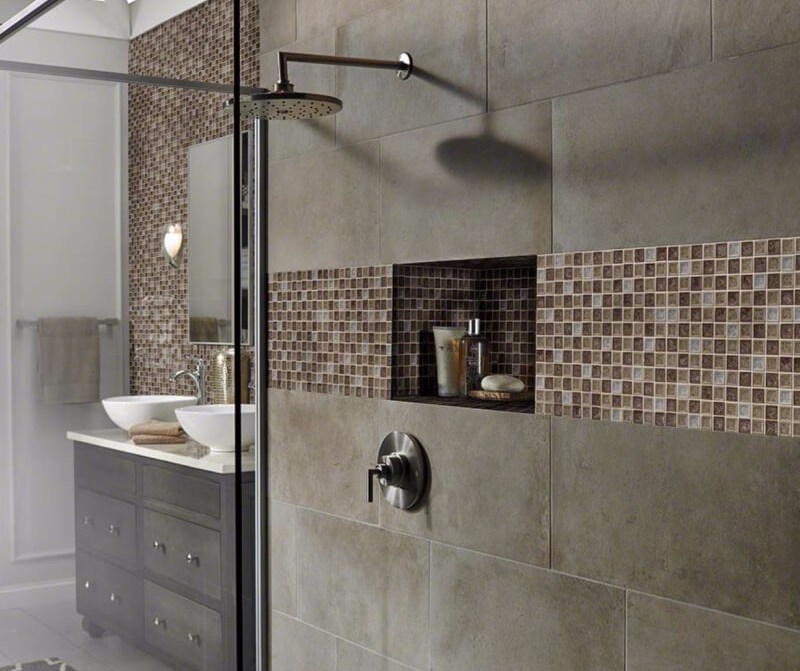 Glass tile is one of the most gorgeous ways to update your kitchen or bathroom. Its reflective qualities and brightness breathe life into what may have been a dull space. The durable, non-porous material is unlikely to stain and also resists bacteria, mold, and mildew. However, the glass backsplash tile may appear stained in a few instances.
First, you'll want to ensure that there isn't any leftover grout leaving a hazy film on your tile. There are a few ways to get rid of it, so start with the mildest method first. You can try rubbing a piece of dried cheesecloth against your glass tile, scrubbing the glass with a nylon bristle brush and some warm water and wiping away any excess with a sponge, or applying a commercial tile cleaner approved for glass and scrubbing away the haze with a non-abrasive, nylon scrubbing pad.
Second, you can minimize the look of water-stained glass tile by cleaning it often. To get sparkling clean glass, wipe it with a vinegar and water solution, spray with a window cleaner, or, for those dealing with hard water, spray the vinegar solution and use a cloth with baking soda. Drying your glass tile with a soft cloth after you've cleaned it will help to keep the shine and avoid any water spots. A water softener may also help minimize mineral deposits on your glass tile.
Now that you know a few ways to reduce the look of water stains on your backsplash, let's explore some of our favorite installs featuring the stylish collection of glass backsplash tile from MSI.
Interesting Interlocking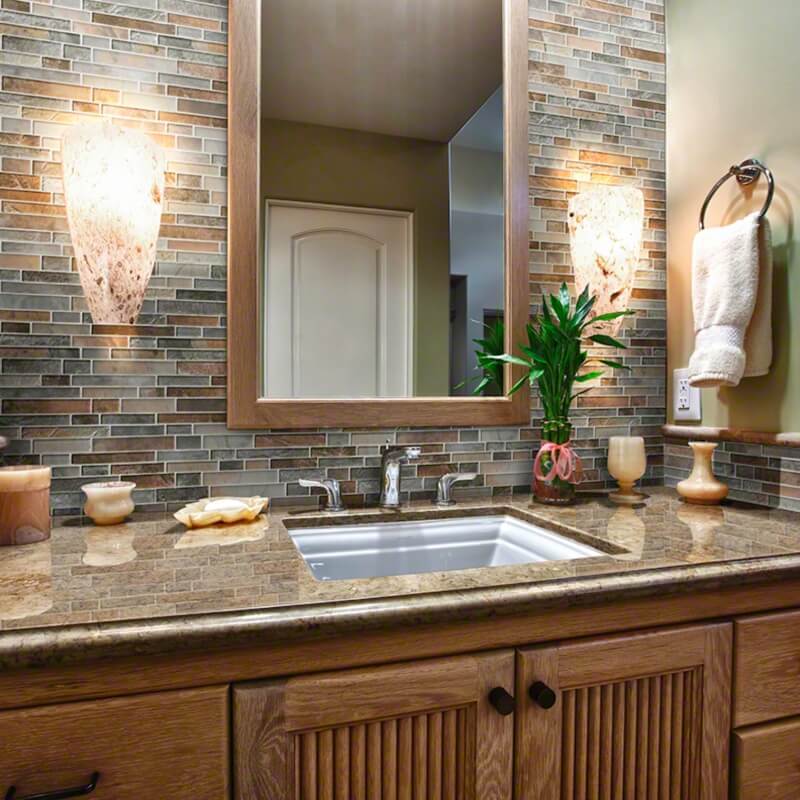 Featured: Taos Interlocking Pattern 8mm Glass Mosaics
The dramatic glass tile in this monochromatic bathroom marries the different elements and makes it seem like the vanity area is one large piece. Taos Interlocking is an inkjet glass mosaic that beautifully blends together warm golds, browns, and cool grays. The backsplash perfectly picks up on the wood tones in the mirror frame and vanity cabinetry as well as the natural stone countertop in a similar tone.
Heavenly Hexagon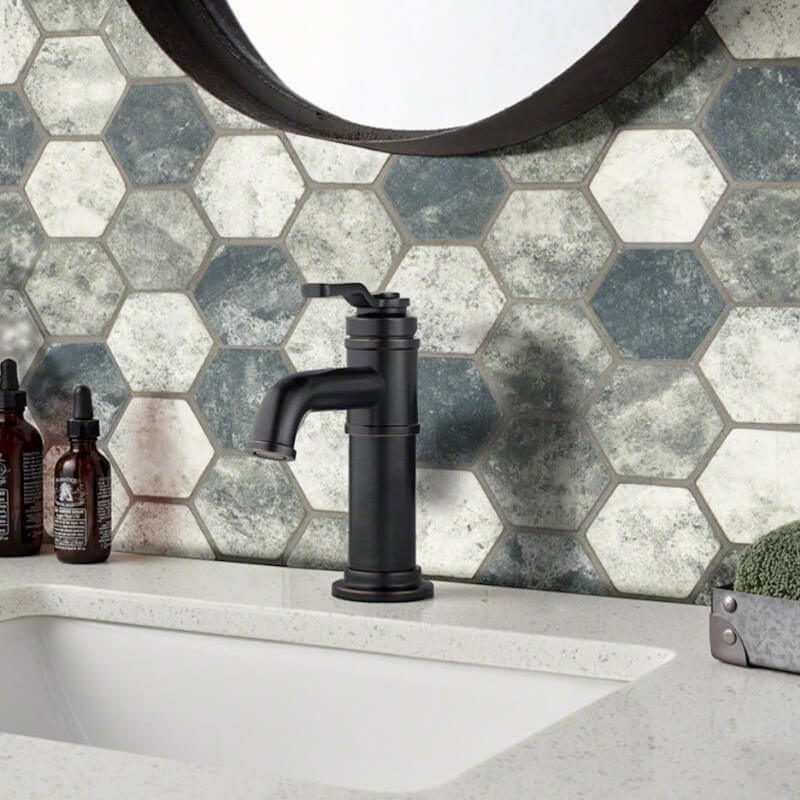 Featured: Urban Tapestry Hexagon 6mm Glass Mosaic Tiles
This powder bathroom is designed around the peaceful color palette of the Tapestry Hexagon mosaic tile. The 2-inch hexagon shapes made from recycled glass come in white and light- to dark-gray shades. Since the tile backsplash creates such elegance and beauty, the rest of the modern farmhouse design is kept simple.
Soft Subway

Featured: Ice Subway Tile 4x12
White in the kitchen always keeps things bright and airy, but you can also use glass to brighten up a room. The installation of Ice Subway particularly softens the cooking space. The crystallized glass mosaic comes in a larger 4x12 size for a fresh take on a classic tile, and it seamlessly blends in with the white quartz countertops.
Riveting Rhomboids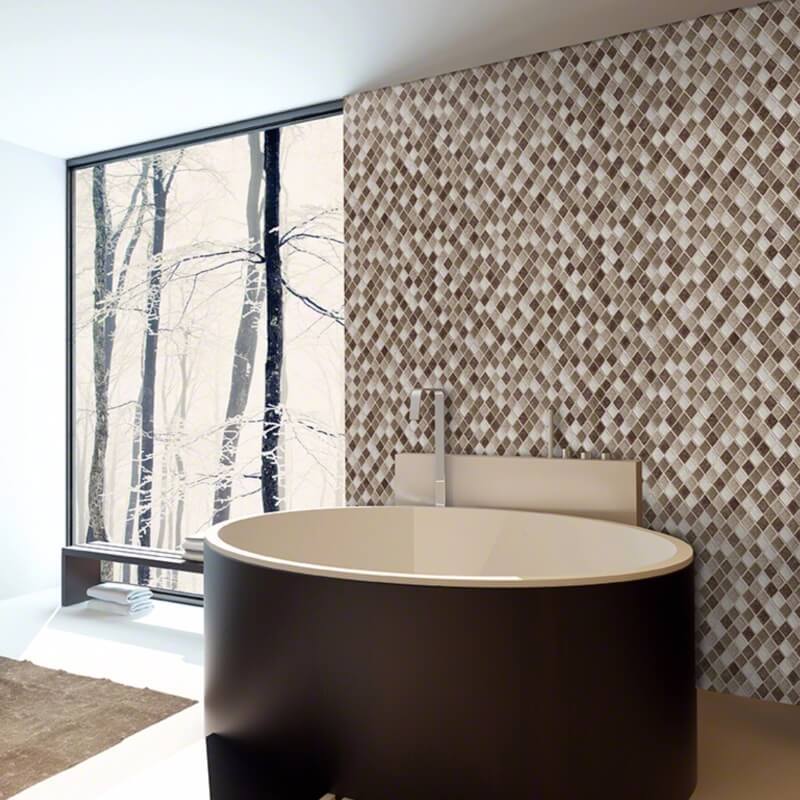 Featured: Saddle Canyon 1" Rhomboids 8mm Glass Mosaic Tiles
A bathroom design can be simple, but it's the shapes in this modern space that make it captivating. The small, 1-inch rhomboids found in Saddle Canyon wall tile juxtapose the rather tall and contemporary oval tub. The crackled glass mosaic randomly alternates the color pattern of snowy white, mottled black, muted jade, moss, and hunter green. The intricate design contrasted with the floor-to-ceiling window also creates an amazing impact.
Handsome Herringbone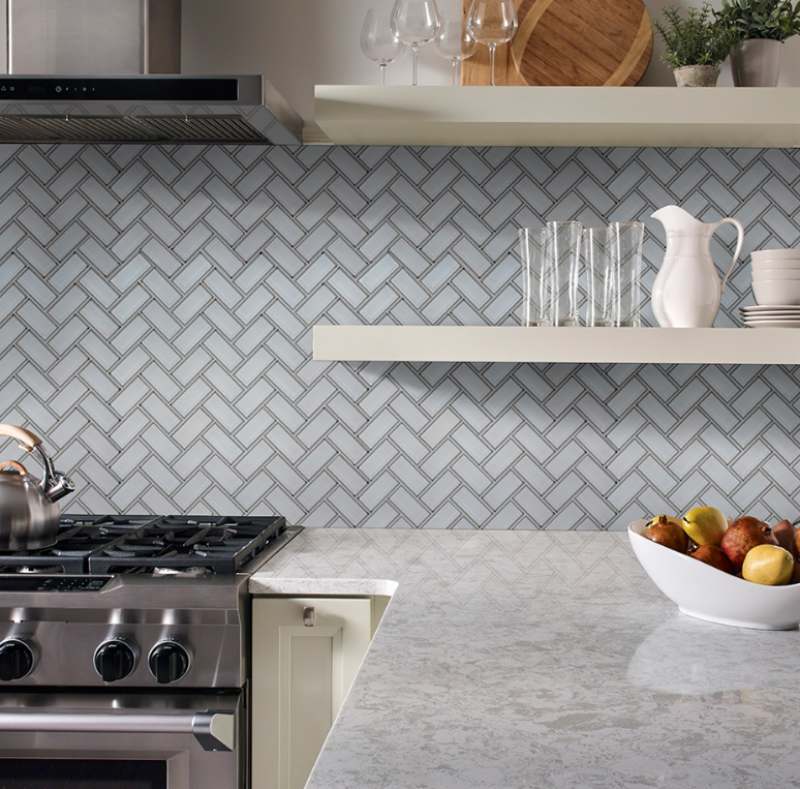 Featured: Ice Bevel Herringbone 8mm Glass Tiles
You'll never tire of a classic pattern for your kitchen backsplash, but you can make it fresh with a unique material like in this transitional kitchen. The timeless herringbone pattern in Ice Herringbone is given a new twist thanks to the 2x4 glass mosaic tile with a silvery white tone and beveled edges. The dark outline almost gives the striking tile a three-dimensional look, and it definitely draws the eye towards it.
Glass tile is not only great for backsplash designs because of its durable qualities, but it also comes in such a wide range of shapes, sizes, and colors to choose from. Just remember the simple steps above to keep your glass glistening and the appearance of water stains at bay.
READ MORE ABOUT THE DIFFERENT TYPES OF GLASS TILE
Bold and Beautiful Recycled Glass Backsplash Tiles
Essential Tips for Glass Backsplash Tile Installation And Care