Quartz Countertops In Natural Stone And Marble Looks
June 15, 2021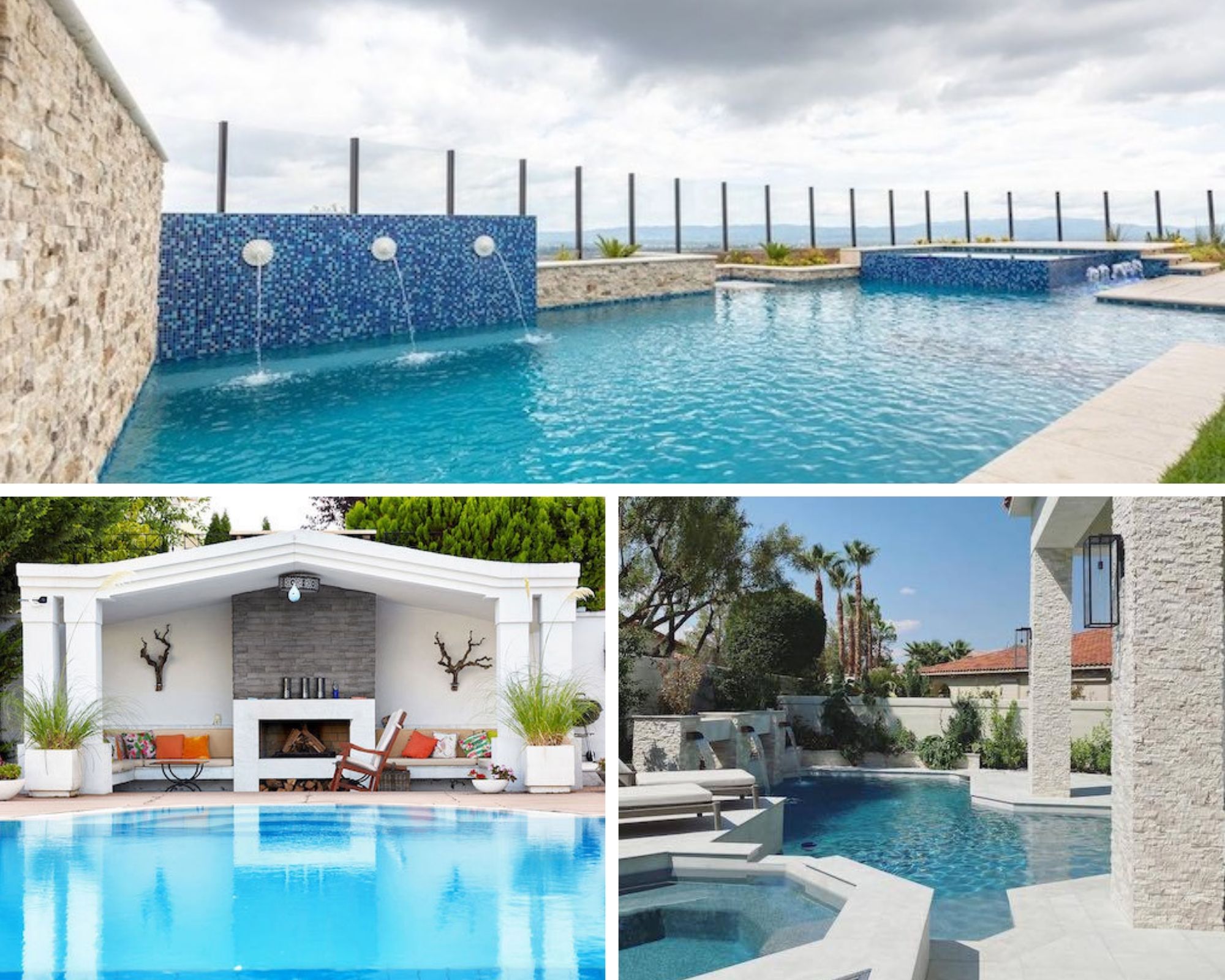 Home decor trends go in and out of style, but natural stone countertops for the kitchen and bathrooms have always been a constant favorite. Unfortunately, despite their upscale beauty, they have a few drawbacks — high maintenance being one of the most worrisome. Fortunately, quartz countertops allow homeowners to have all the benefits of natural stone without the headaches and drama that go along with them!
Engineered quartz countertops can be made to resemble any other type of countertop material in common use: marble, granite, travertine, limestone, and concrete, just to name a few. Quartz used to be associated with modern, contemporary design trends, and it still is. However, as the natural stone lookalikes have become incredibly authentic, quartz countertops can fit in just about anywhere.
What's the difference between quartz vs. granite and marble?
Composition
Just as you would expect, granite and marble countertops are 100% natural stone. They are cut from quarries all over the world, then cut into slabs, polished, and fabricated into countertops. Granite often contains visible crystals of quartz and other minerals, while marble typically features contrasting veins on a solid background. These stones' coloration depends upon the minerals they contain, and costs vary widely. Natural stone countertops in exotic, rare colors, as well as those quarried in distant parts of the world, will be priced much higher than more common colors sourced locally.
When you are comparing quartz vs granite, quartz countertops, by comparison, are engineered. Engineered quartz is manufactured with natural stone that is pulverized, as well as quartz crystals, pigments, and extremely strong resins that bond it all together.
Appearance
Because granite and marble countertops are natural products, every slab will have a slightly different composition. No two countertops will be exactly the same; they have unique patterns and colorations. For this reason, homeowners who want to install natural stone will often pick out the exact slabs they want to be fabricated into their countertops.
Quartz, as an engineered product, is more uniform in appearance. It is manufactured in a wide variety of colors and patterns, and modern quartz countertops mimic granite and marble so authentically that it's not easy to tell the difference. When you select a quartz pattern, you know exactly what it will look like without having to see the exact slab, as you would with natural stone. This has the advantage of making it much easier to match seams between quartz pieces or to match it with other materials.
Maintenance and Durability
One of the biggest advantages of natural quartz countertops over stone is how easy it is to care for. Granite and marble, as well as other types of natural stone, are porous. They require regular applications of sealer on an ongoing basis to keep them water-resistant and protect against stains. Although they are extremely durable, any natural stone countertops may have inherent flaws that make them prone to cracking or chipping.
Quartz is 100% waterproof and never needs sealing. This makes quartz countertop care and maintenance extremely simple and eliminates a lot of worry about stains and etching. Because quartz countertops are uniform throughout, they rarely crack.
For more information about the benefits of quartz countertops and how easy they are to maintain, visit this blog article: Quartz Countertops vs. Granite.
Take a look at these premium surfaces and see how remarkably well they replicate granite and marble so you can enjoy all of the beauty with none of the worry and work.
Calacatta Lago Quartz - Whether you install Calacatta Lago Quartz in a kitchen, bathroom, or other space, you can be confident about actually using it without worries about stains from foods or beauty products. It features dark charcoal and medium-gray veins that contrast sharply against a soft white background. With its bold movement, this quartz that looks like marble is an excellent complement to any color scheme.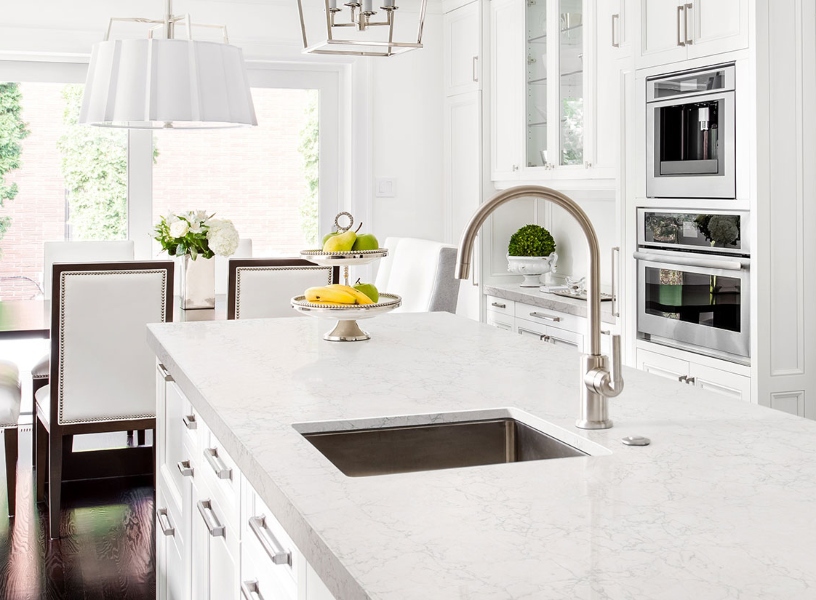 Lido Blanco Quartz - The delicate, web-like gray veins in Lido Blanco Quartz make it a favorite marble-look countertop for adding character to all-white kitchens, whether the design elements drift toward traditional, contemporary, or farmhouse rustic. It's easy to complement with other design elements too, including colorful tile backsplashes.
Statuary Classique Quartz - Classical marble kitchen countertops aren't just for model homes or magazine spreads, not when you can choose Statuary Classique Quartz. This white marble look with elegant gray veining resists stains, scratches, and etching with very little care required.
Portico Cream Quartz - If your heart is set on a beautiful white granite or quartzite countertop, but your head says you need a countertop that's safe from food stains, Portico Cream Quartz can please them both. A pale mixture of beige, cream, and gray, this countertop resembles natural quartzite, but yes, you can toss the salad without worrying about oil stains from the dressing.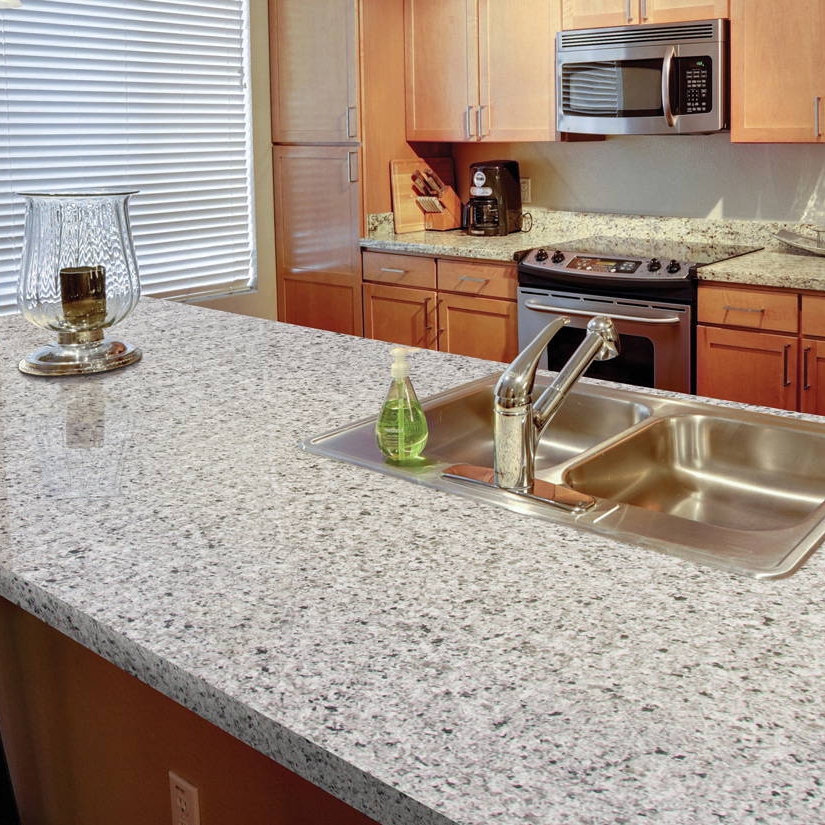 Pearl Gray Quartz - The classic neutral look of gray-and-white granite is so admired by homeowners that it even raises a home's resale value. With Pearl Gray Quartz, not only will you make your home easier to sell, but you'll also make it easier to live in. With a gorgeous kitchen like this one, why would you ever want to leave?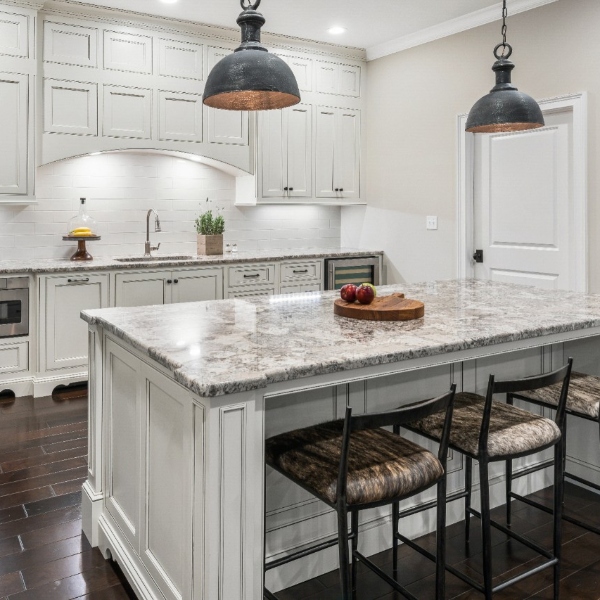 Alpine Quartz - Quartz crystals are what give granite its sparkling beauty, and engineered quartz countertops have captured that dazzle to create a realistic granite look. Alpine Quartz is the perfect example, featuring a combination of silver, pewter-gray, and heather-gray and a sleek polished finish.
With the development of natural stone looks in engineered quartz, high-maintenance marble and granite countertops are no longer the only way to get the elegant, upscale look you desire. Browse MSI's collections of quartz countertops to learn more about the quartz colors featured in this article, as well as many more.
More on Quartz Countertops
How Much Should You Expect to Pay for Quartz Countertops?
How To Get Marks, Stains and Water Spots Off of Quartz Countertops