Popular
Breakaway Modern Trends
August 22, 2017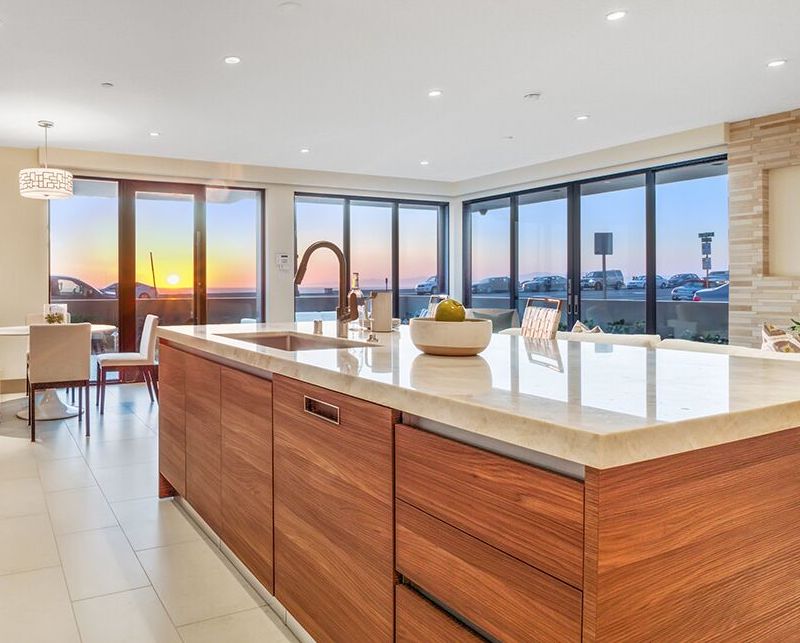 Featured: Taj Mahal Quartzite
The search for the finest modern surfaces takes us all over the map. Spain. Italy. Turkey. China. From bold geometric patterns to marble-look quartz to shimmering metallics to large-format subway tile, these fresh off the market finds bring everything we love about the Marvelously Mod movement to the surface: innovative materials, clean lines, and cool aesthetics. But don't let their chic looks fool you.
Reimagining interiors with these of-the-moment beauties aren't just for the contemporary set. A Top 5 Design Trend for 2017, trailblazers and traditionalists alike are making modern day surfaces their own. And it's not all about form. Most styles in our Marvelously Mod collection – like Q™ Premium Natural Quartz — are ultra-durable, low-maintenance and family-friendly.
Recently, our design team gathered the best and brightest looks of the moment, zooming in on nine super mod favorites to inspire you. Kitchens and bathrooms make and sell a house so we're (mostly) focusing on these spaces.
#1. Soak It All In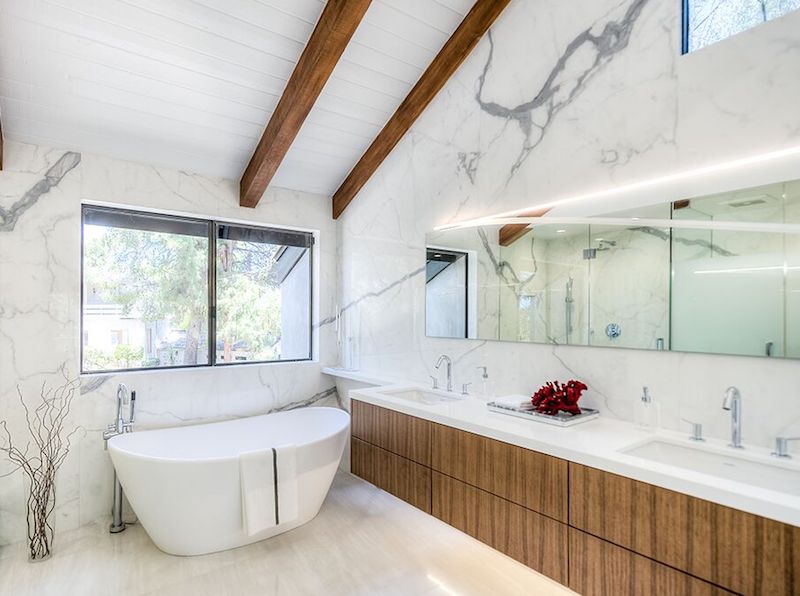 A portrait of perfection on walls, Statuario Altissimo Polished from our STILE collection, dials up the mod appeal in this master suite bath.
Move over floors and countertops, marble looks are inching up the wall with high-impact results. Sleek and oh so glamorous, we love the dramatic movement of Statuario Altissimo Polished paired with shiny white floor tiles, trough sinks, and midcentury cabinets.
#2. True-to-Wood Looks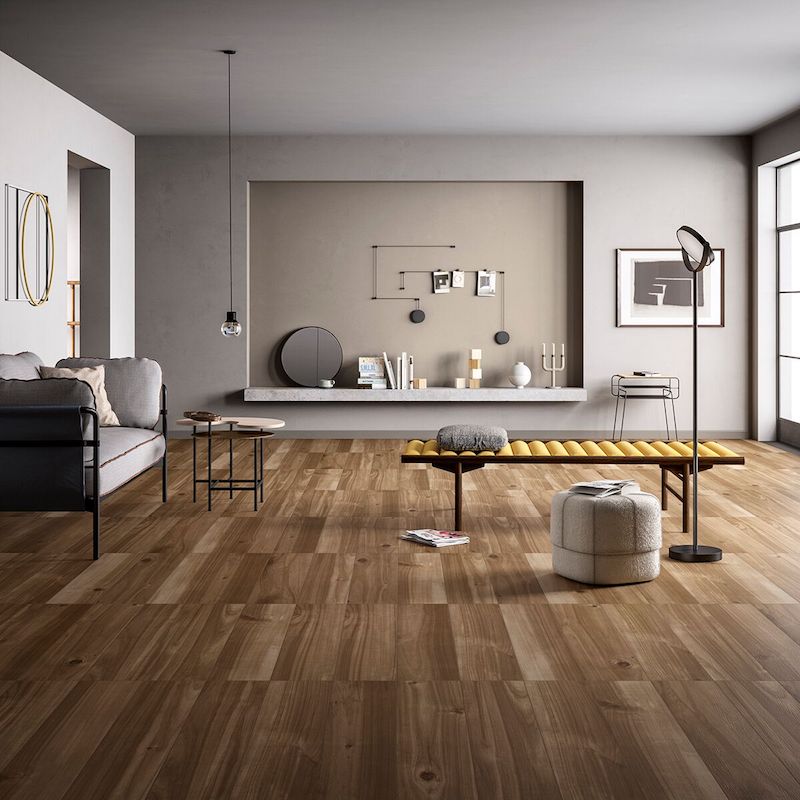 Imported from Italy, Saddle Porcelain from our Havenwood line warms up the cool vibe of this sleek contemporary living room.
Aged barn wood. Freshly cut timber. Exotic fossilized hardwood. The latest digital inkjet technology has turned our true-to-life wood look porcelain tile collection into a whole-house staple. Between authentic looking veins, knots, and textures, these realistic wood look-alikes have come a long way baby! (Um, you'll never be floor bored again.)
#3. Counter Culture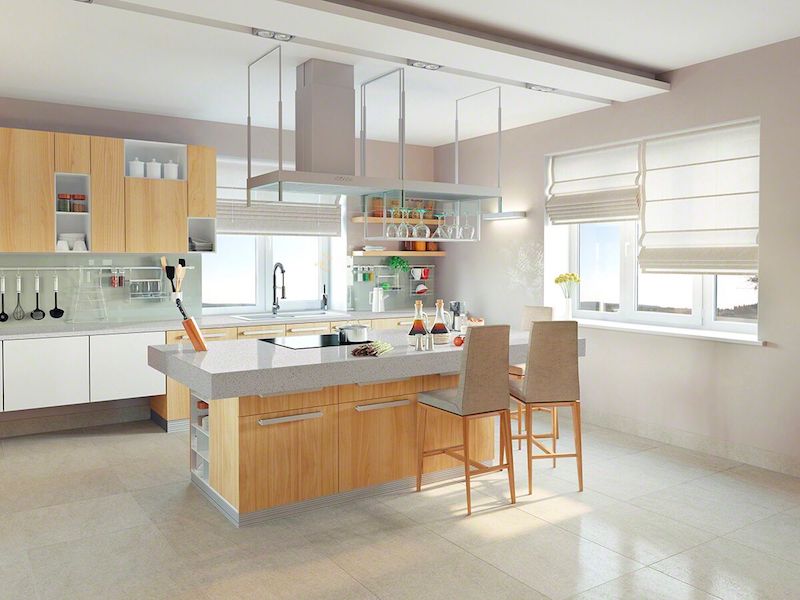 Thanks to Meridian Gray Quartz countertops, this sophisticated cook zone is kid-friendly.
Nothing launches us to our happy place faster than seeing our best-loved looks combined: Blonde cabinets, a high-functional island, and Q™ Premium Natural Quartz in any shade of gray. This part Scandinavian part science lab design gets our vote for its calm, cool and collected vibe. (Bring on the beakers!)
#4. Fabric-Inspired Luminaries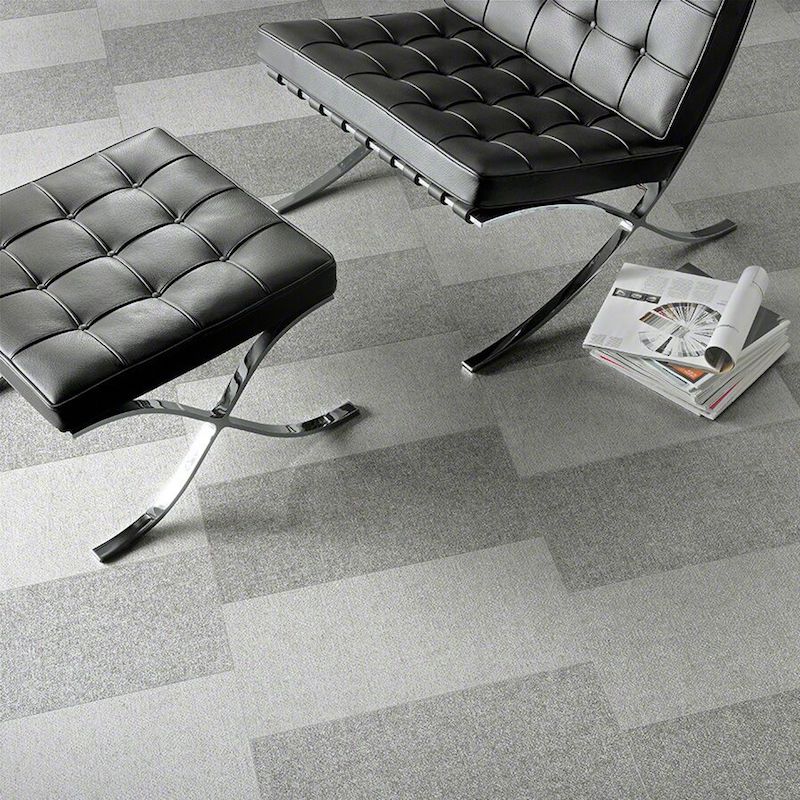 Another Italian import, this look pairs Hopsack Gray Porcelain with Hopsack Ivory Porcelain.
One of the things we love most about textile pattern porcelain tile is how unexpected it is. There was a time when designers used colored tiles like Terracotta to create warmth underfoot. Today, fabric patterns do that and more. Our TekTile Collection features styles like Lineart Gray Porcelain and Crosshatch Ivory Porcelain – which effortlessly add textural dimension and visual depth to a room.
#5. King-Size Tile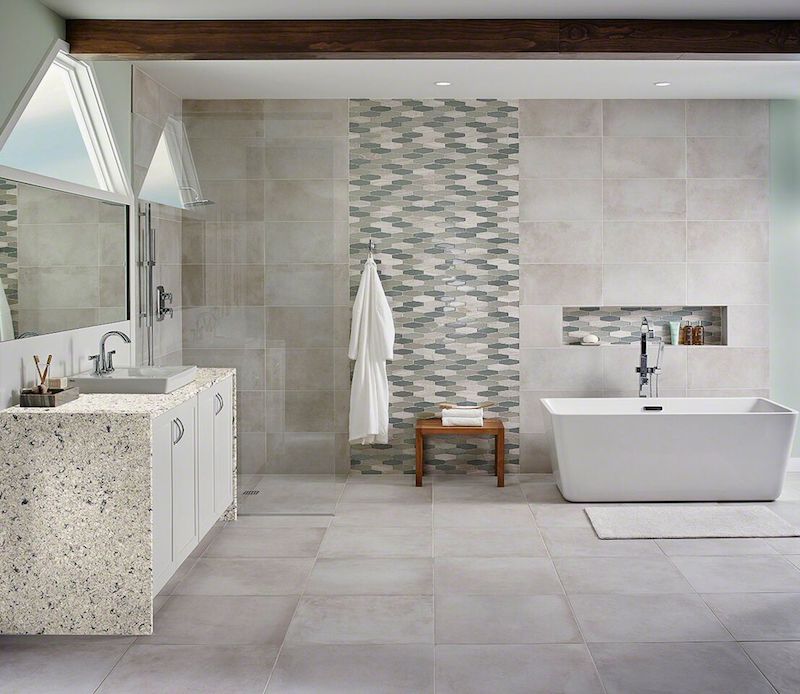 All workhorses should look this good: say hello to large-format floor-to-wall Talc Porcelain Tile from our Capella collection.
When large-format tile came onto the design scene, it was a cork-popping moment. Covering more ground, they require fewer grout lines. The result? A more streamlined, modern look. From 24 X 24 Talc Porcelain Tile to 9x48 Aspenwood Porcelain Planks to 6x12 Carrara White Subway Tile, we love the stunning looks and larger proportions of these square and rectangle beauties.
#6. Gush-Worthy Waterfalls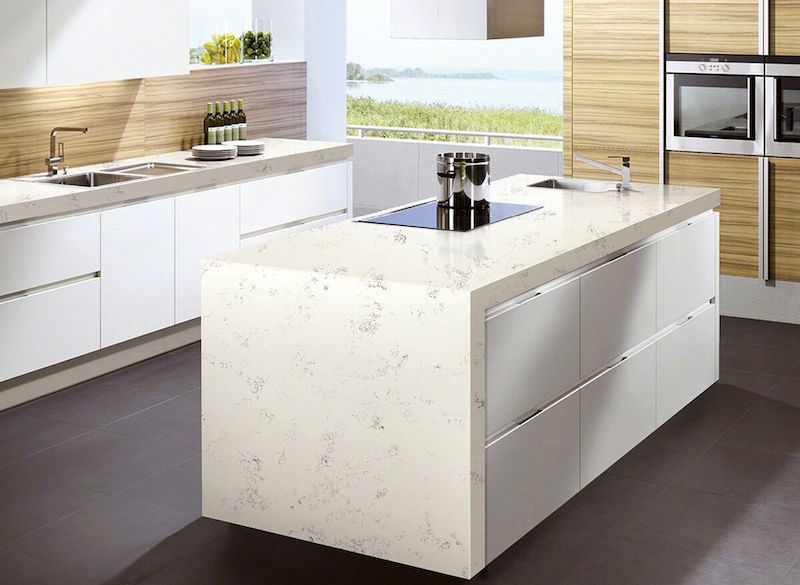 A Carrara Marmi Quartz 3 CM slab wraps around white cabinets on this island, a perfect complement to the sandy-toned backsplash/wall tile with horizontal grains.
The easiest way to throw our waterfall island crush into overdrive? White marble-look quartz from our Q™ Premium Natural Quartz Collection. This oh-so chic seamless pairing is a modern kitchen mainstay. Of late though, guess whose clean lines are making a splash in classic kitchens too? We'll take that as proof that modern looks are winning en masse.
#7. A Nod to Cement
The look and feel of poured cement, with Treviso Porcelain Tiles, adds a little edge to this transitional kitchen.
Once relegated to subfloors, industrial zones, and urban lofts, homeowners are embracing cement looks like never before. Whether it's concrete-like porcelain floor tiles from our Cemento collection or cement-look countertops from our Q™ line, isn't the modern design movement all about getting back to basics?
#8. Natural Wonders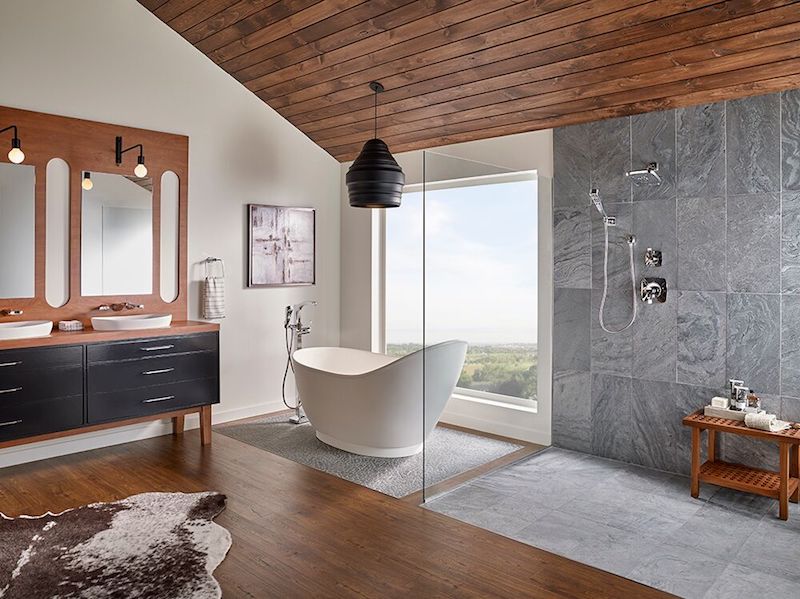 This India-sourced Ostrich Grey Quartzite natural stone on the shower wall and floor features rich grays and subtle veins.
Natural materials are the cornerstone of modern design. It's why marble, granite, quartzite, and soapstone (among others) will always be in vogue. The hottest looks in natural stone right now? Exotic linear formations. Designers are loving Palissandro Marble and Marmara White Marble for their eye-catching horizontal veins and contemporary aesthetics.
#9. It's Glow Time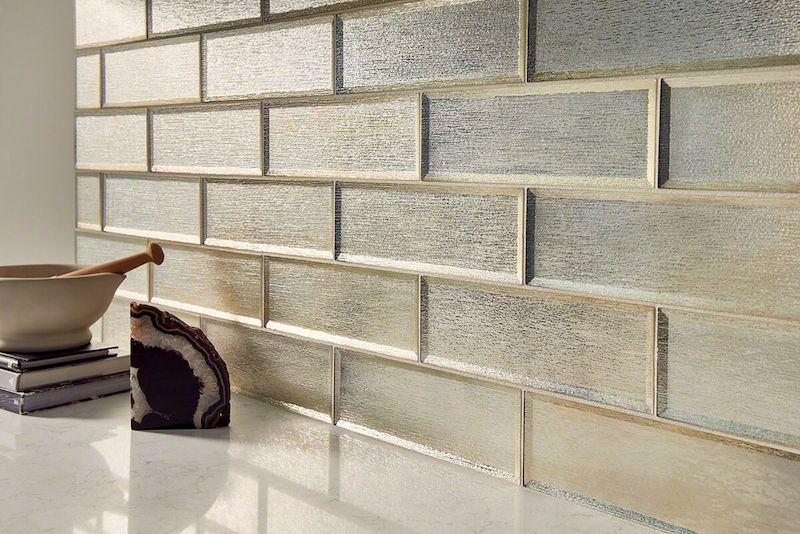 Fabulous in full, Silver Glisten Glass Subway Tile (from Asia) gives this home bar backsplash its high-octane radiance.
Not for the tile shy, metallic tile looks from our Glass Mosaics collection, create an ultra-glam backdrop with a modern edge. From lackluster to high-fashion, we love how easily these shimmering standouts wake up a room. Does your style run classic? Arctic Ice Glass Subway Tile always looks fresh and inviting.
With trending styles and chic color palettes available at every budget, there's nothing standing between you and the new look you've been dreaming about. Need more inspiration? Discover other top trends shaking up the design world this year.