Popular
Drama On The Homefront: A Striking Movement Guide
August 16, 2018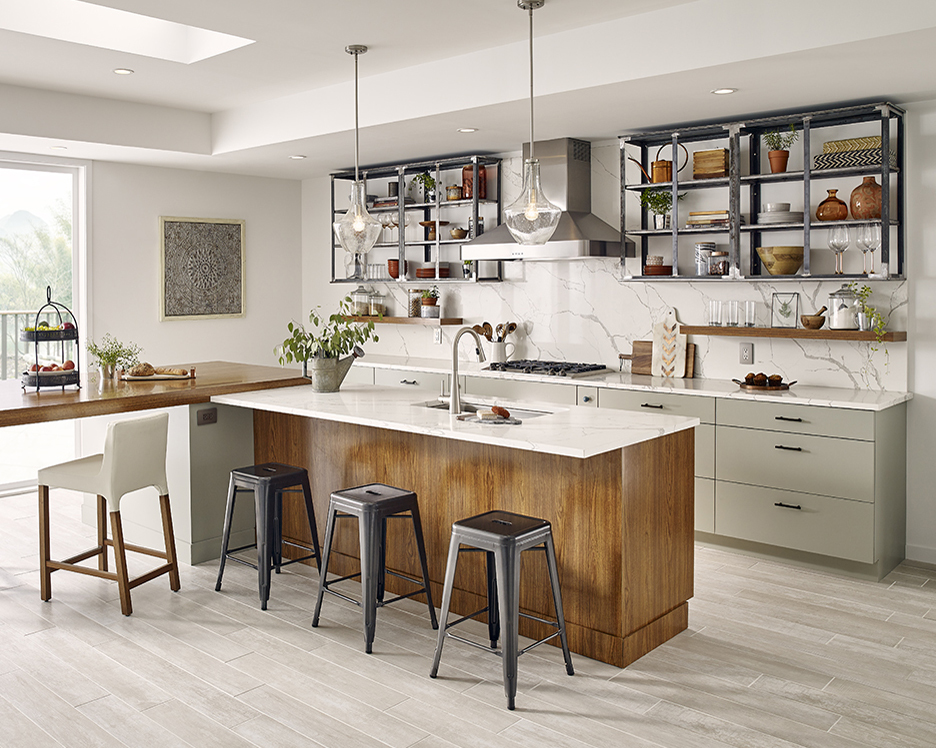 The hum on our mind these days? Summer, please never end. The only thing that makes us feel better about these end-of-season days—besides planting our toes in the sand as if our happiness depended upon it is dreaming about the months ahead. If you're remodeling before the holidays, perhaps our favorites from the Striking Movement Trend will inspire you. Drama on the home front—the bold-vein variety—never looked or felt this good. From cross-cut swirls in marble to vein-cut bands in quartzite to through-body veins in Q™, here's to finding your style on the lively and daring edge.
Riding the Wave: Island Style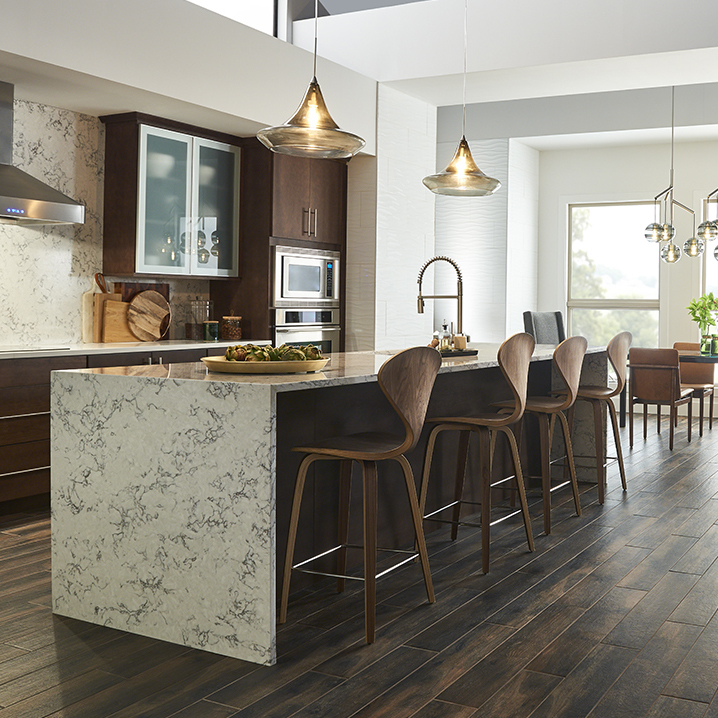 If this countertop were a person, we'd applause. Meet Blanca Arabescato.
Waterfall islands. High octane veins. Two of our favorite things combined – oh, we're never eating out again. There's a whole tribe devoted to this look, and we're partly to blame (thank you very much). A natural for contemporary homes, this edgy feature works in classic spaces too. Updating a traditional kitchen? An island with movement will give it a modern-day feel. Designers love the through-body veining of Q Premium Natural Quartz because the edges mimic authentic stone - no telltale signs it isn't an original.
Mind Your Marbles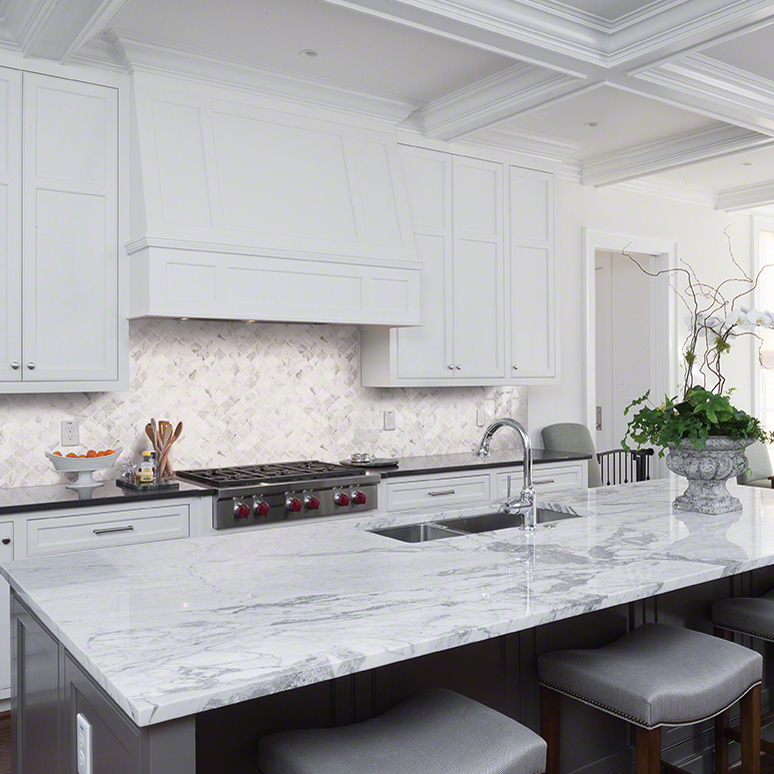 The best seats in the house are at this island: Arabescato Carrara.
For ages, coveting white marble countertops in kitchens and bathrooms have been a thing. It's not just a staple in uptown interiors; it's a selling point for any home on the market. Whether you prefer a linear look or iconic loops, it'll always be a calling card for luxury. Our marble lineup is fifty colors strong, and many feature a variety of finishes. If you prefer an earthy organic look, explore our honed finish options (we love the soft, matte look too). While it's best to seal marble, so it ages gracefully, there's just no wrong choice here.
Crushing on Quartzite?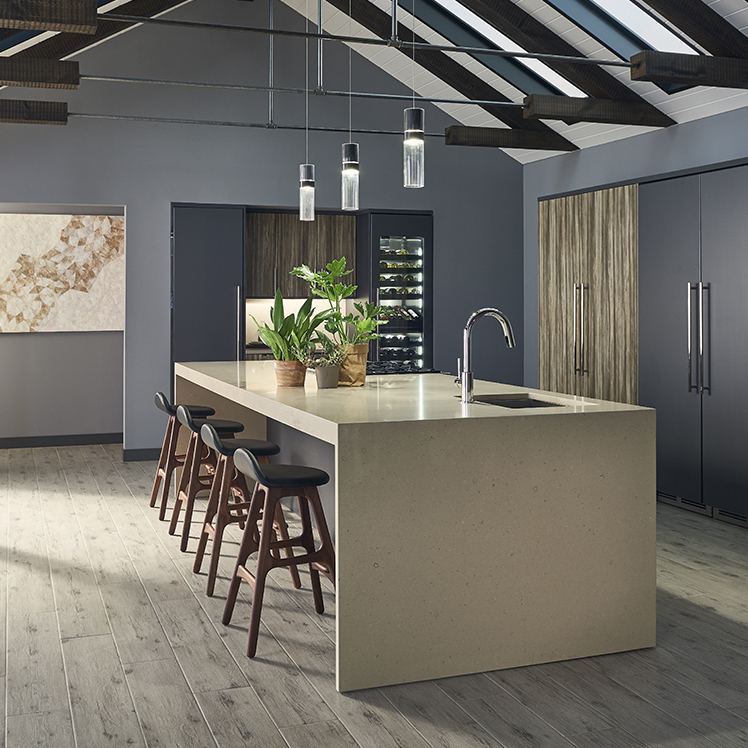 Prefer countertops jet black with dramatic gold veins? Meet celebrated Italian Belevedere Quartzite.
Marble and granite may get the lion's share of attention in the natural stone world. But talk to a quartzite devotee, and you'll hear the design equivalent of a love story. We're obsessed with the gray kitchen above, so the palette alone gets our vote. The quartzite island? Makes us want to pack our bags and move in. We made our feelings for this natural stone very public so you can watch it anytime, anywhere.
Dramatic Plans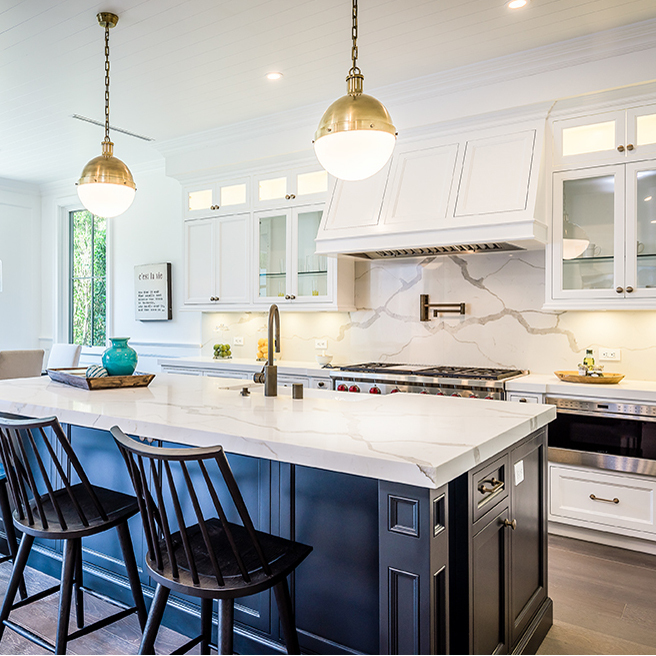 The heart wants what it wants – like this kitchen featuring Calacatta Verona (Q Premium Natural Quartz).
Interested in mixing a bold-vein countertop with a high-movement backsplash? We admire the commitment. To effortlessly double the dramatics, try an ice-breaker like Calacatta Verona. Or Stile in a bookmatched option. But why stop there? Go for a show-stopping trifecta by adding marble tile on the floor. Psst: in a small space, it'll look even more daring.
Color Stories

Marquina Midnight & white marble look quartz show off the beauty that is Q™.
Not entirely sold on the high-stakes vein movement? Dip your toes in. Skip the contrast for a more understated look without losing character. Simply pair deep-toned wood cabinetry with a dark bold-vein countertop like Marquina Midnight. For the fabulous white on white trend, marble-inspired quartz is lovely with pale cabinets.
Here, There, and Everywhere: Porcelain Phenoms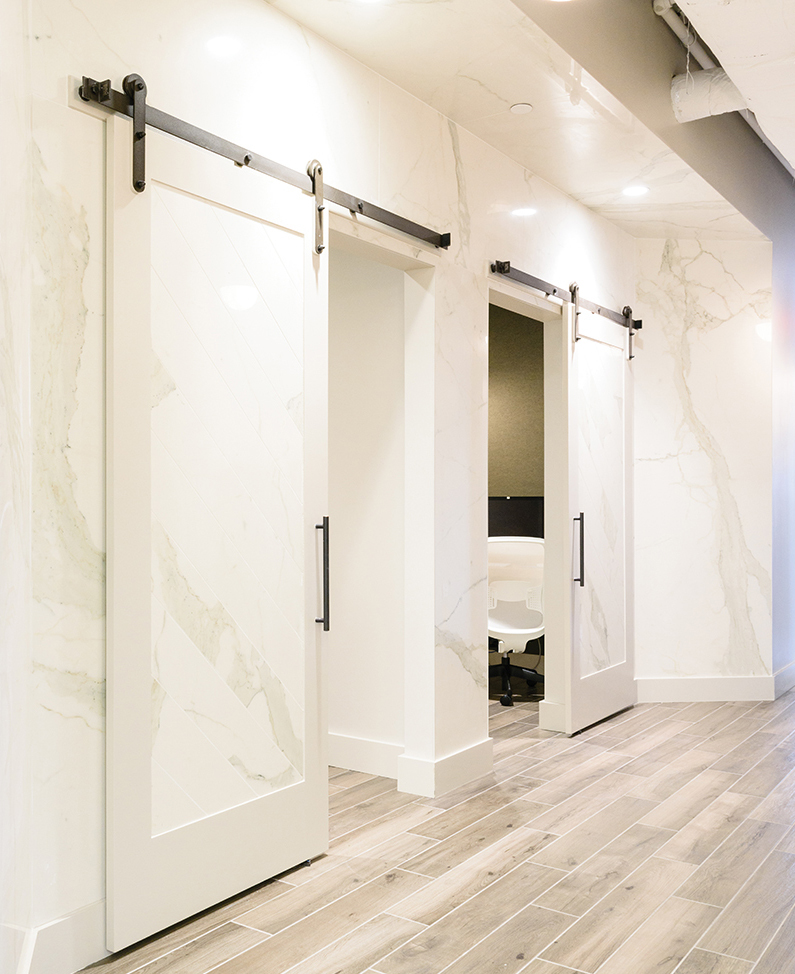 HGTV made barn doors famous, Stile takes it up a notch: Statuario Polished.
We got carried away with dramatic-movement kitchens, but let's not forget the rest of the home – including hardworking bathrooms, laundry rooms, mudrooms, and hallways. Stile puts our love of bold veins and modern sophistication on display in large format, lightweight porcelain panels. Looks wise? Think of this go-anywhere lineup like marble's distant cousin (by marriage, of course). Same beautiful veining but in an affordable ultra-thin polished porcelain – for floors, walls, fireplaces, and backsplashes.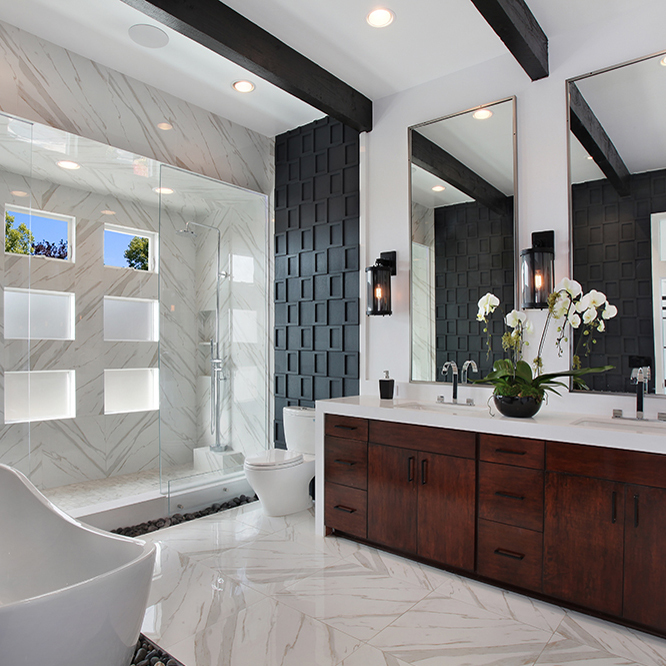 Arctic White Quartz Countertops.
The floor-to-wall treatment in the bathroom above looks like a million dollars, but it's another one of our wallet-friendly classics. A savvy way to update your kitchen and bath before listing a property? Go for the marble lookalikes in the Q countertop and porcelain tile collections.