MSI Introduces 1.5 CM Q Natural Quartz Countertops
October 02, 2021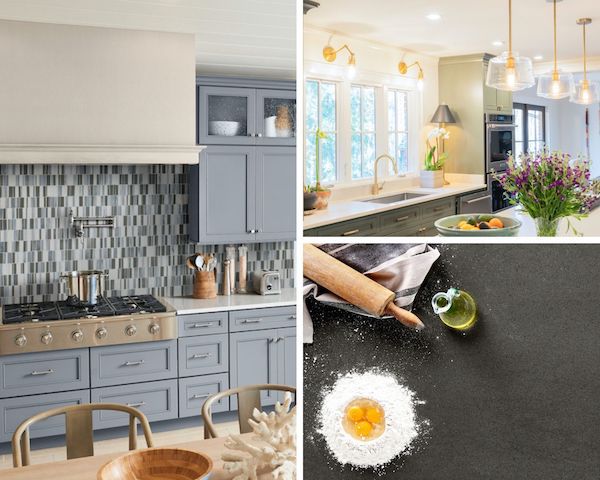 High-glamour styles and life-long durability are just some of the reasons why so many homeowners and designers alike opt for quartz countertops. These engineered surfaces are designed to be beautiful and built to last, and MSI is one of the innovators making waves again with the introduction of their 1.5-cm quartz slabs. The lighter material comes with all of the same benefits as regular quartz but in a limited colorway. Let's dive into the benefits of this new quartz offering and check out the stunning options.
Benefits of 1.5 CM Quartz
Quartz premium surfaces deliver when it comes to durability, colors and designs, low maintenance, and ease of cleaning. Now, MSI's latest 1.5-cm offering from its Q Premium Natural Quartz line is no different. The slimmer profile creates a sleek, cutting-edge look that will instantly update any space. The five exclusive colors range from bright whites to modern grays, and each selection offers a sophisticated style.
These gorgeous slabs deliver lightweight surfaces for easier installations, so it will help you stay on track with scheduling your new build or remodel. They come with the same scratch-, stain-, heat-, and impact resistance as thicker quartz slabs, and the same low maintenance means you'll never have to seal your surfaces. With quartz, cleaning is easy with warm water and gentle dish soap on a soft cloth.
The 1.5-cm-thick quartz can be used for countertops plus more, including tub surrounds, wall applications, and flooring. This means you can mix and match your selected 1.5-cm quartz or a combination of slabs in different areas of the home or parts of a room for a cohesive design.
Sparkling White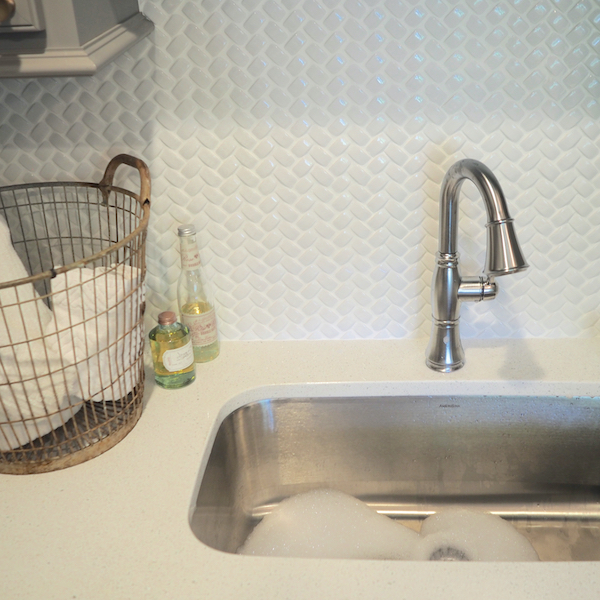 Like a shimmering snowy day, Sparkling White Quartz from MSI features a cool white background with icy speckles in flecks of bright whites, light grays, light taupes, medium grays, and charcoals. The polished finish gives it an elegant look and glistening appearance. Because of the thousands of specks, the countertop will always be a show-stopping standout when installed over white, colored, or wood-tone cabinetry.
Quartz makes for a perfect low-maintenance surface in the laundry room, too. This space includes Sparkling White with a stainless steel sink and white tile mosaic backsplash. The result is a neutral yet beautiful room because of the variations in textures and tones.
Manhattan Gray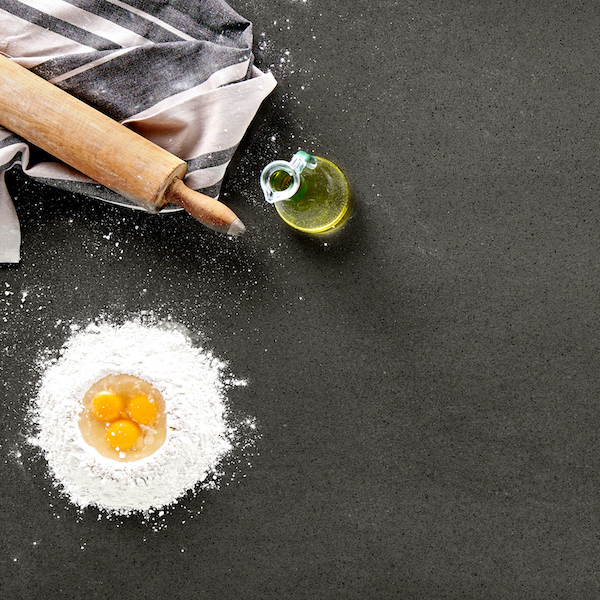 For a cool, sophisticated style, Manhattan Gray Quartz from MSI offers a fresh contemporary look with its soothing gray background and darker specks for subtle dimension. The smooth, polished texture gives this modern style a refined finish. Continue with the moody nature by pairing the dark countertop with gray or black cabinets, or give it contrast by using the gray as an alternative to a black-and-white space.
Engineered quartz is an excellent work surface for baking and cooking since the non-porous counter won't harbor germs or bacteria. When you have quartz that looks like concrete, the darker color makes for a dramatic backdrop that highlights all of your delicious eats and treats.
Iced White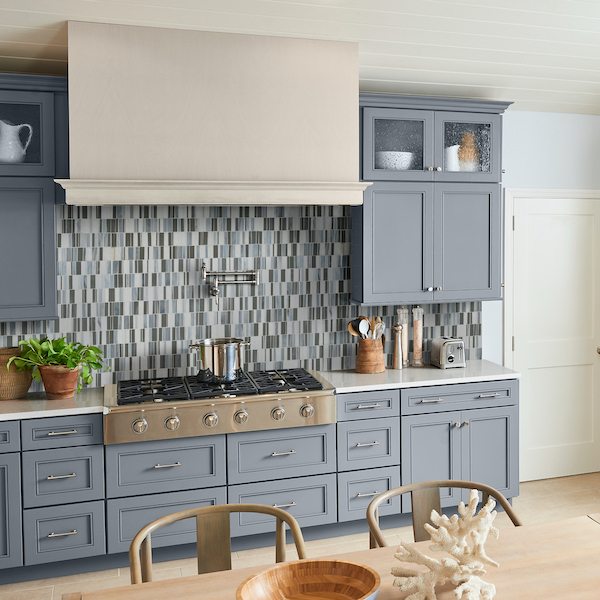 A modern aesthetic that transcends trends, Iced White Quartz from MSI is a timeless white style with soft white shades and lovely gray accents for visual interest. The polished finish is the perfect touch for a timeless surface, and the color blends in beautifully with white cabinets or pops atop gray or wood storage in the kitchen or bathroom.
This stunning contemporary kitchen features Iced White with slate cabinetry and a fun patterned tile backsplash that ties together the white, blue, and gray tones throughout. The slim lines of the countertop contribute to a clean aesthetic, while the white surface connects with the wall color and white shiplap ceiling.
Carrara Marmi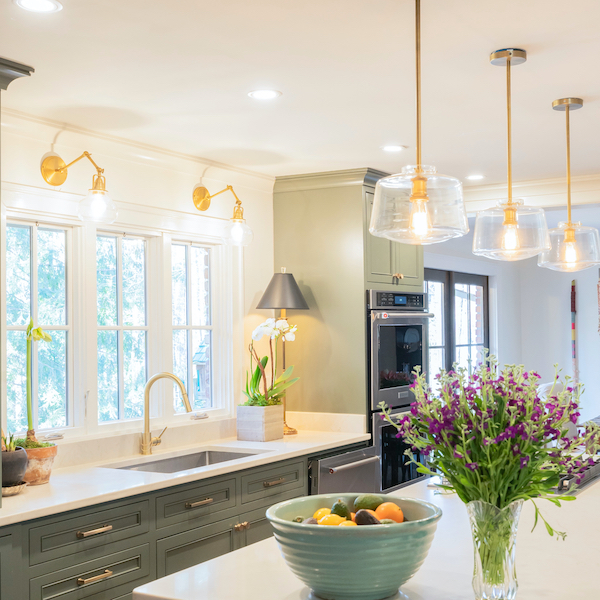 Mimicking a dreamy marble-look, Carrara Marmi Quartz from MSI features a soft white background with whispery gray veins and a polished finish for a sophisticated touch. The subtle style is something that will elevate just about any kitchen or bath design. And, although marble is beautiful to look at, it isn't fun to keep clean. The natural stone is very porous, which means it's prone to absorbing stains and etching, and you'll have to seal it once or twice a year to help keep problems at bay. However, with quartz like Carrara Marmi, you'll enjoy a beautiful marble-look counter that's user-friendly, so no more stressing over spills and splashes because your white countertop will stay, well, white!
Elegance is all over this charming kitchen, and you can tell lighting is an important feature in this cooking space. The stunningly bright quartz that looks like marble bounces so much natural light off the windows above, while the gold light fixtures perfectly highlight the surfaces. The green cabinetry also pulls in the lovely green from the trees outside, and suddenly it makes this kitchen look like it's wrapped in a warm hug from nature.
Frost White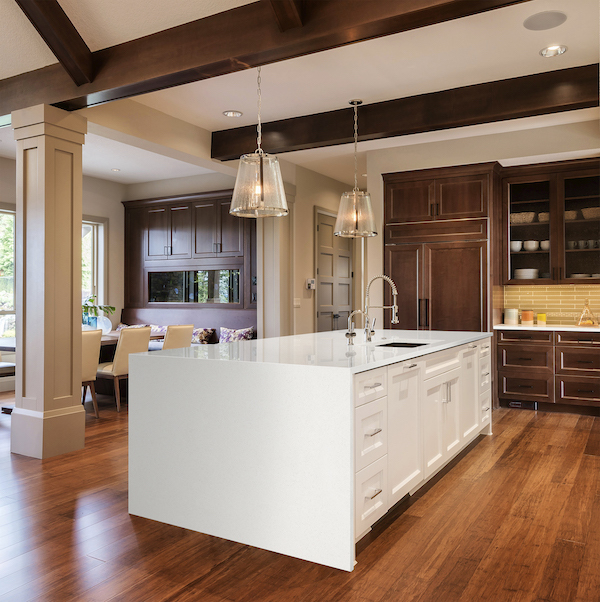 An elegant look with a touch of sparkle, Frost White Quartz from MSI offers a cool white background with a brilliant mix of shimmery whites. The modern surface with a polished finish perfectly adds a bit of pizazz to any kitchen or bathroom. The look is more subtle and neutral than Sparkling White, so it will work with any color palette you choose.
A waterfall edge makes a big, bold statement in a space, and this clean, white, modern island greatly contrasts with the rest of the more traditional wood and molding throughout the open-concept kitchen and dining combination. While some waterfalls use a thicker slab, the slimmer line of the 1.5 cm quartz adds to the modern aesthetic without creating unnecessary bulkiness and visual heaviness to the space.
Which Quartz Will You Choose?
With these five slimmer-profile quartz counters, you can get the clean, modern kitchen or bathroom you desire with all of the benefits of low-maintenance quartz. From marble looks to concrete styles to whispery whites, there are quartz countertop colors and patterns to suit any design aesthetic. The 1.5-cm quartz slabs offer sleek looks for countertops, islands, and waterfall edge installations. So, which standout quartz is your favorite?