Quartz Countertops: An Environmentally Responsible Design Choice
December 30, 2019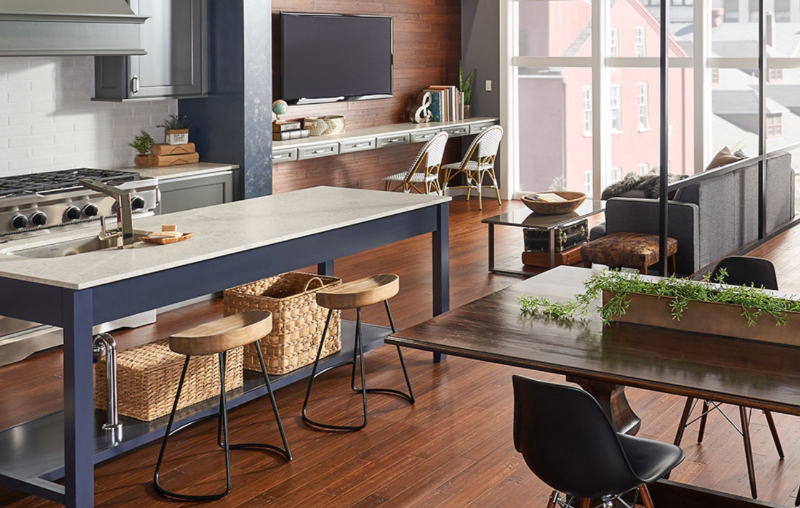 Non-toxic living and environmental responsibility continue to increase in priority for many homeowners and design professionals. While a green lifestyle can mean so many different things to different people, each have their own list of what's important to them. One thing we can agree on is that quartz countertops are a smart, sound design choice. From its natural and recycled content to third-party certifications for rigorous testing, quartz may be a lot greener than you think. Learn what makes this man-made material a safe, healthy surface for both buyers and the environment.
Includes Natural Stone
Quartz countertops are made up of natural stone quartz, polymers, and resins to bind the materials. Quartz stone is actually the second most abundant natural resource on Earth, which makes the surface accessible to more people because there are mines all around the world. Engineered quartz can be made from quartz that's mined using heavy equipment and explosives or from waste rock.
Natural stone quartz is found in most rock types, so it can be a recycling waste product from other stone-based materials that are quarried or mined. Quartz countertops often feature other crushed up waste materials like granite, marble, or other natural stone as well recycled components like ceramic, glass, or mirrors. MSI is constantly thinking about how to reduce their environmental impact, and part of its responsible manufacturing includes 35% post-consumer recycled glass being included in the Q Premium Natural Quartz line. You might not ever know that when examining your quartz that looks like concrete.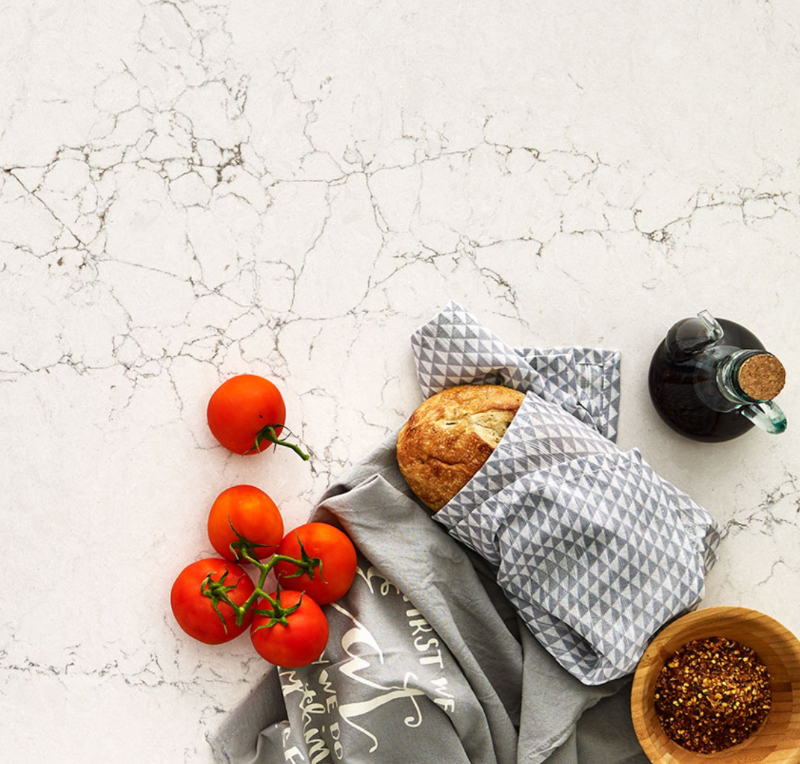 Is Recyclable
Even though eco-conscious consumers are likely looking to purchase durable products that are made to last, they also may be thinking about what will happen to their countertop after-the-fact. One of the pluses of this man-made surface is that it's recyclable and helps reduce waste generation. Although they're designed to last for decades, with MSI offering a residential lifetime warranty, you should still talk to your manufacturer to get more information on how to go about recycling your countertops if or when the time comes.
Doesn't Need Toxic Cleaners
One of the many benefits to quartz is its low maintenance, including daily care. The non-porous surface won't become a breeding ground for bacteria and germs, so the non-toxic counter is easy to maintain with non-toxic cleaners. Your daily routine only requires a soft dish cloth or non-abrasive sponge and some warm water. For more stubborn messes, add a bit of dish soap to warm water on a soft dish cloth or non-abrasive sponge. For tough stains, start with a wet cloth and then use Bar Keeper's Friend Soft Cleanser to get the stain out completely, but be cautious when using the cleanser because it is abrasive. Cleaners with a high PH level could actually discolor the surface, so be sure to avoid anything acidic, and harsh cleaners with bleach can affect the finish.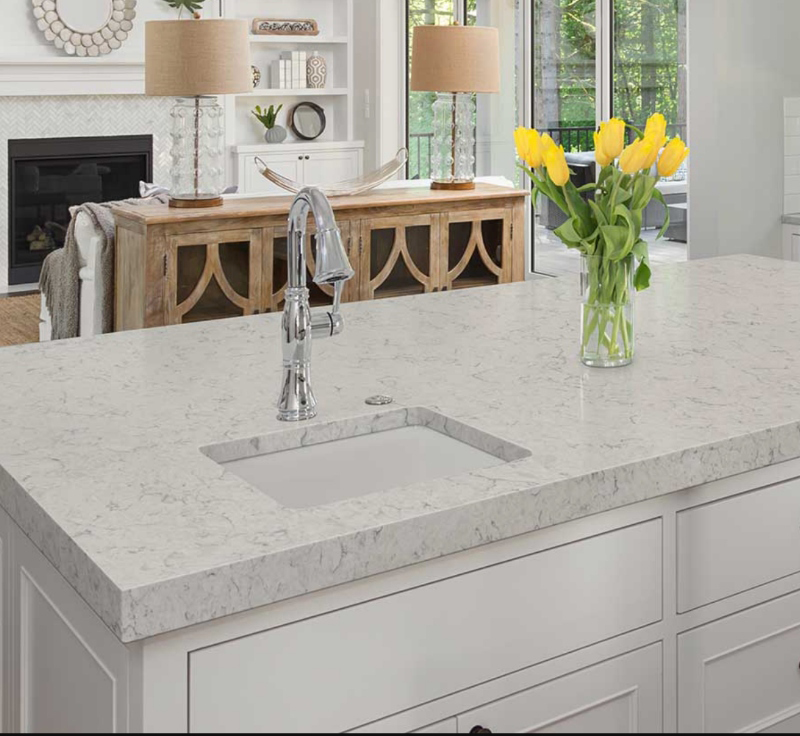 Void of Harmful Substances
You can feel confident with quartz because it doesn't have any foreign substances that might be hurtful to your health or the environment. The non-porous surface also reduces contaminants like mold spores, pesticides, and other chemicals. Check for third-party certifications to ensure the safety of your surface. Products like Q include GREENGUARD, LEED, NSF, and Kosher certifications.
Airborne chemicals, known as volatile organic compound (VOC) emissions, are found in manufacturing and maintaining things like building materials to furniture to cleaning products. Although the additives used to bind quartz, such as polymers and resins, have caused concern with emissions in the past, there are certifications in place to ensure a safer indoor environment. The GREENGUARD Gold Certification for Q contributes to better indoor air quality by limiting the total chemical emissions and emissions for more than 360 VOCs. Under this certification, the quartz is also approved for use in schools and healthcare facilities, so you can rest assured knowing that it's safe for little ones or those who may be dealing with health issues. Avoiding toxic cleaners is another way quartz lowers VOC exposure.
The Leadership in Energy and Environmental Design (LEED) is a point system certification for the design community. Green builders and architects may use Q quartz as a material that contributes toward LEED points as a result of its low VOCs and recycled content.
The National Sanitation Foundation International (NSF) is an independent, non-profit organization that certifies products for food and water industries. The NSF certifies that products like the Q line are safe for direct contact with food preparation areas. This means that you can prepare food safely on your surface with confidence and keep it maintained using non-toxic cleaners.
The contemporary quartz surfaces from MSI's Q even carry a Kosher certification with the Seal of the Kosher Trust (Seal-K), the highest standards of Halachah-Jewish Law. Those following these food standards can continue doing so safely on quartz.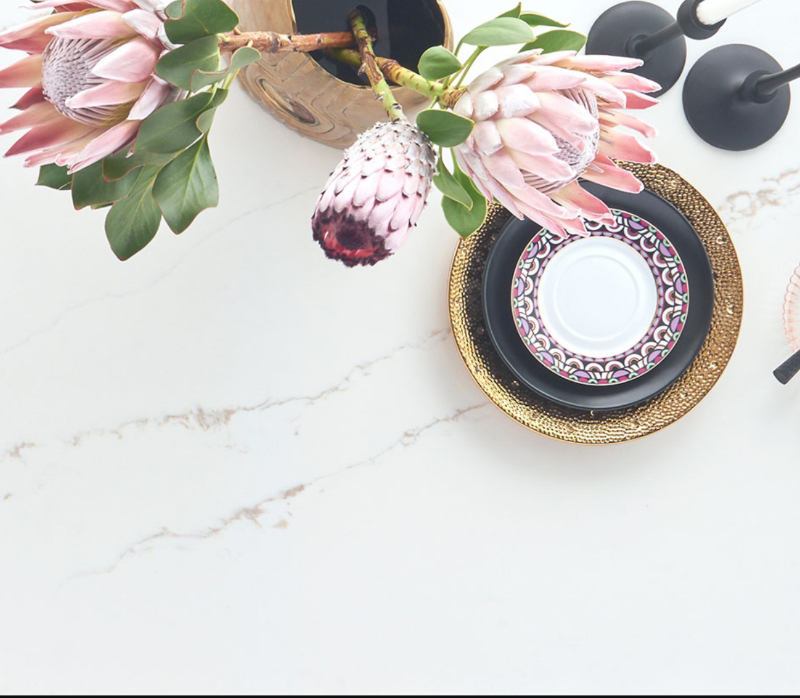 Comes in Unlimited Color Choice
Quartz does a great job mimicking the looks of natural stone, but it also comes in a wide range of solid colors, including everything from white quartz to gray quartz to red quartz to black quartz. The white or clear quartz crystals that are crushed into smaller sand- or pebble-like pieces are given consistent coloring by adding pigments to the man-made mixture. While these perfect hues were manufactured and not formed by Mother Nature, the color process allows all of the stone waste to be used. With natural stone, manufacturers may be mining more exotic stone types and colors that are harder to find or offer slabs with undesirable or inconsistent patterns.
Make a Responsible Decision
Choosing quartz for your home is a healthy decision for your family, especially when there are certifications to confirm its safety. The non-porous surface helps contribute to healthy indoor air quality with its natural materials, low VOCs, and non-toxic cleaners. Its recycled content and recyclable features are more reasons why it's an enticing choice for eco-conscious consumers. If these environmentally friendly features are important to you, then select marble look quartz or any of its many colors and feel good doing it!
More on Quartz Countertops
Quartz Countertop Alternatives to White Carrara Marble
Are Quartz Countertops Really Timeless?
Which to Choose: Quartz Versus Granite
How To Choose A Quartz Countertop That Matches Your Kitchen Colors
Black and White: Our Favorite Quartz Countertops