5 Fabulous Prefabricated Granite Countertops
February 16, 2017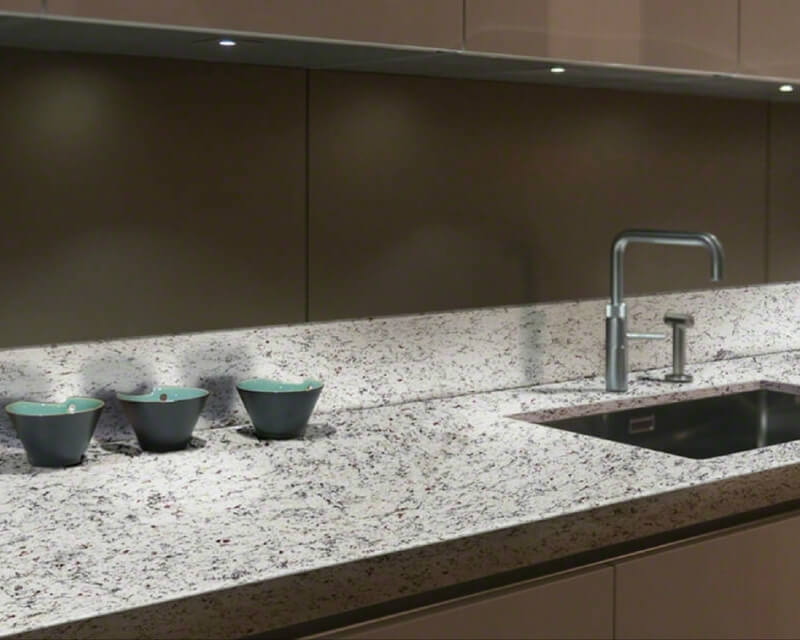 Beautiful and durable, easy to clean, low-maintenance, and ready for installation—these qualities are the hallmarks of prefabricated granite. Prefabricated granite countertops are not a manmade product; it is the same natural granite available in custom cut slabs. In fact, the only real difference is that 3 of the stone's 4 edges are already finished, allowing for a reduction in the overall cost of new granite counters.
With over 50 varieties of natural granite in prefabricated granite sizes available from MSI, you won't have to sacrifice your color, pattern, or style preferences. Soft whites, warm creams, dramatic greens and blues, fiery reds and golds, and deep blacks—all of these and more are available to complement virtually any décor. To get the creative juices flowing, let's explore our "Fab 5"—the most popular neutral prefabricated granite colors, perfect for any kitchen and bath in your home.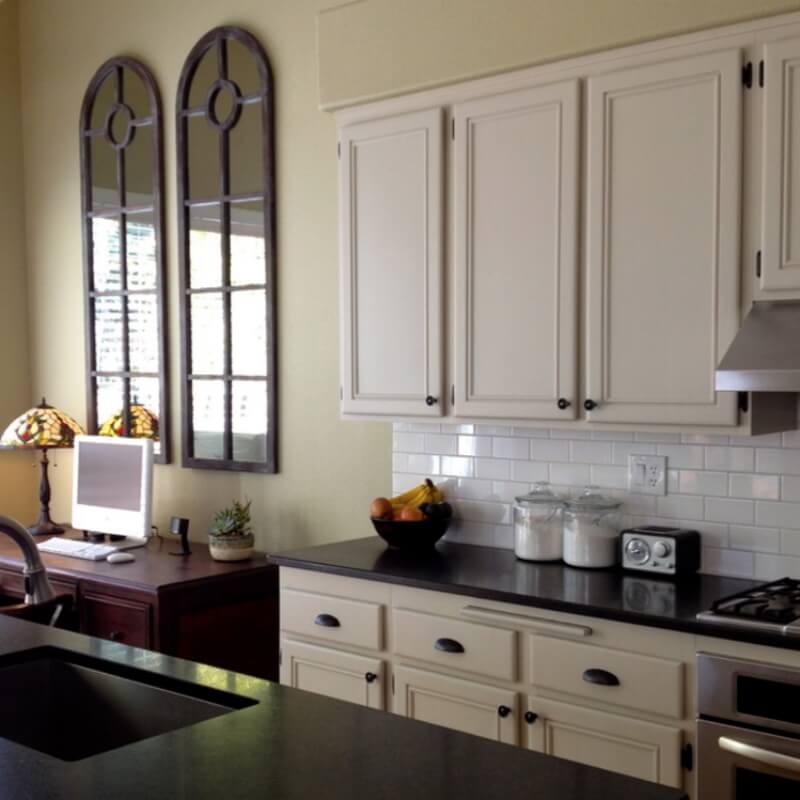 Featured: Black Pearl Granite (Photo Credit: Houzz)
Black and white kitchens simply never go out of style. This kitchen's crisp white cabinetry, white subway tiles, and elegant Black Pearl Prefabricated Granite blend together effortlessly to create a timeless space. In the future, this kitchen can be updated painlessly with the addition of new colorful accessories and a new paint color on the walls.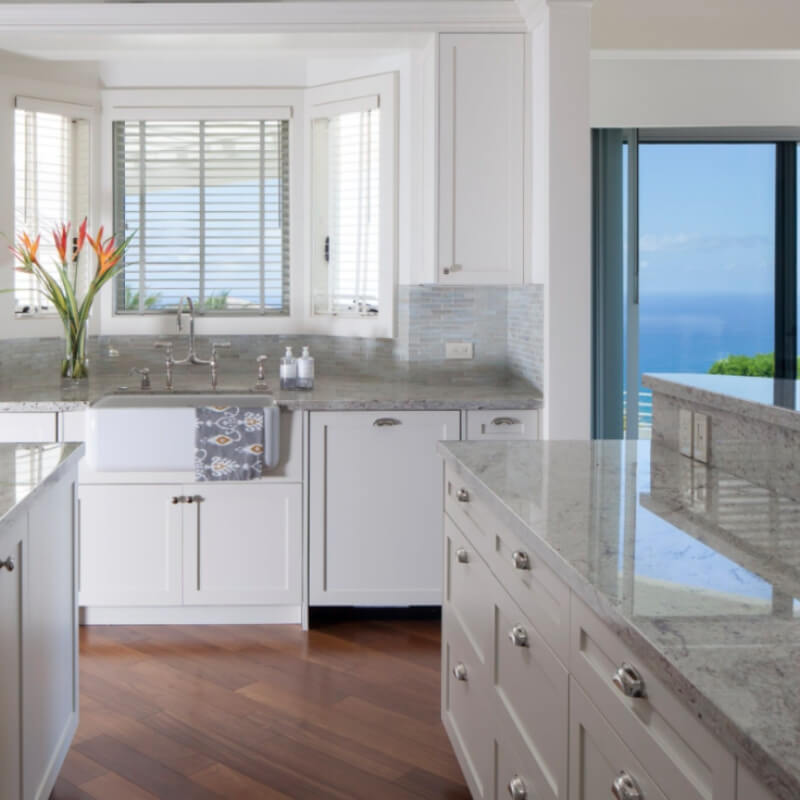 Featured: River White Granite (Photo Credit: Houzz)
For homeowners and homebuyers, white kitchens continue to be a top choice. Not the least bit sterile and cold, new white kitchens that feature swirling white granite and white cabinetry perfectly set the stage for classic style and comfort.
Here, River White Prefabricated Granite is featured on the perimeter countertops, as well as on both islands and the bar top. The gorgeous ocean view is obviously the showstopper in this chic kitchen, but even if your home isn't beachside, sunlight will flood your kitchen and warm every surface.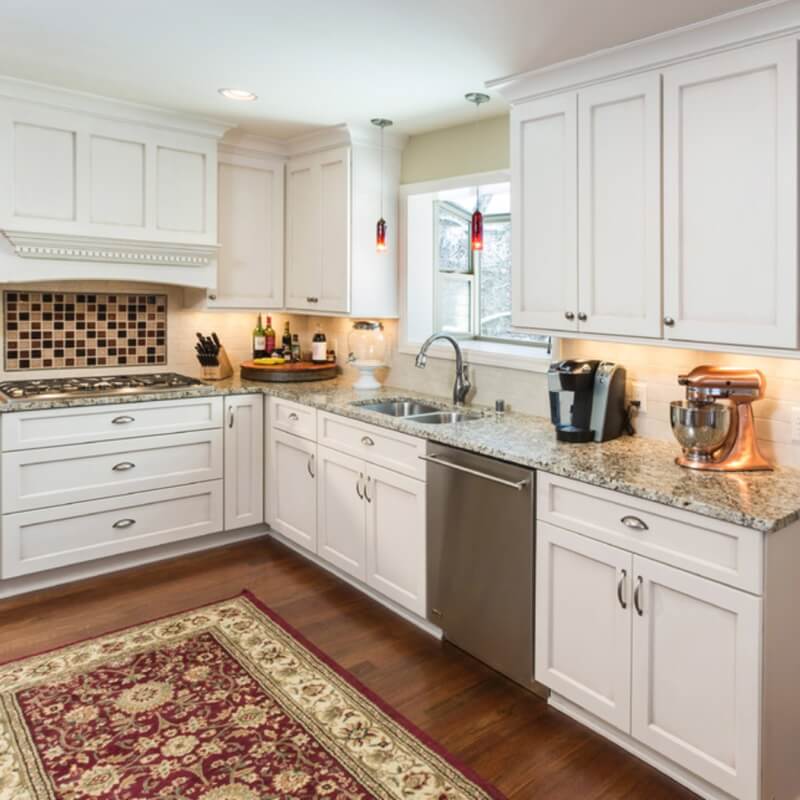 Featured: Santa Cecilia LC Granite (Photo Credit: Houzz)
One of our consistently best-selling granite colors is Santa Cecilia LC Granite, and it is easy to see why in this transitional kitchen. This lovely granite blends cool grays and whites together with warm beiges and hints of yellow, creating the perfect bridge between modern stainless steel appliances and warm and classic hardwood floors and accessories.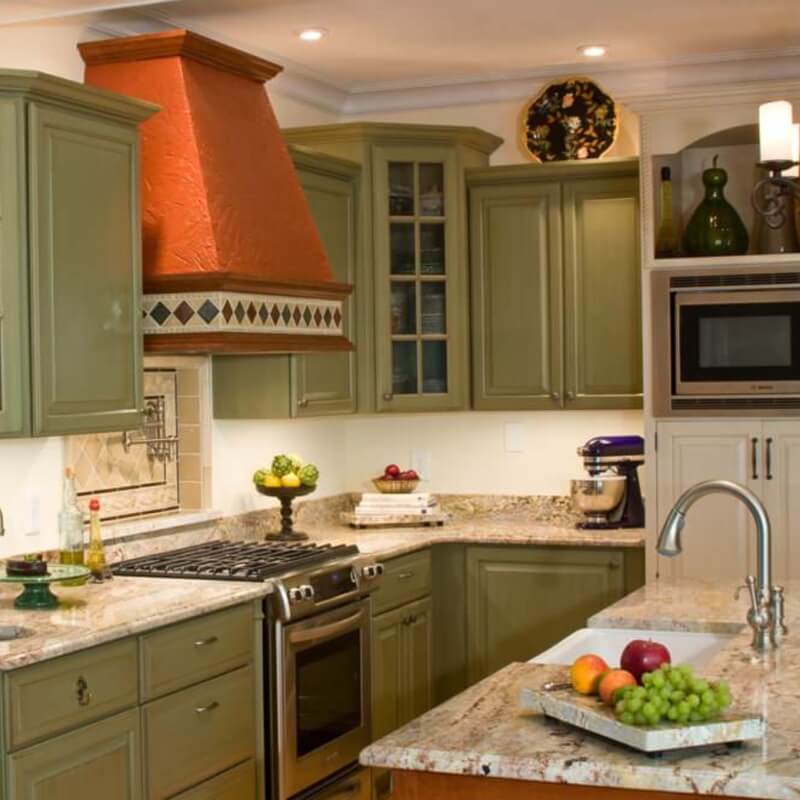 Featured: Siena Beige Granite (Photo Credit: Houzz)
What countertop can unify olive cabinetry, a rust-colored range hood, and colorful accessories? Warm and inviting Siena Beige Granite, of course! Here, both perimeter counters and center island feature this warm natural granite, effortlessly fusing together all design elements into a welcoming and cohesive space.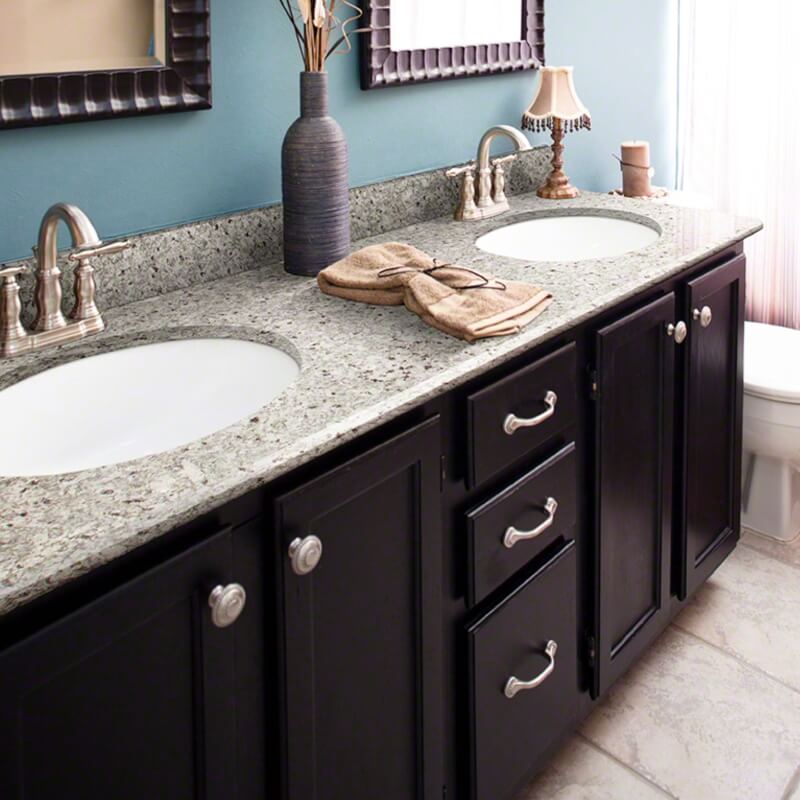 Featured: Moon White Granite
Kitchens aren't the only place where prefabricated granite can be used! Granite countertops are durable, easy to clean, and low maintenance, making them the ideal choice for busy family bathrooms.
Here, natural Moon White Prefabricated Granite counters contrast beautifully with dark cabinetry, giving this cozy bathroom elevated style and a touch of glamour. In the future, this bathroom can easily be updated to reflect changing style by swapping paint colors, accessories, and shower curtains; the vanity and the granite will transition beautifully with timeless staying power.
When choosing a natural granite countertop for your kitchen or bath, you can enjoy an updated, custom look for a lower overall cost by choosing a prefabricated granite slab from MSI. Granite's durability, low maintenance requirements, and vast number of colors and patterns are why it is still America's most popular natural stone!
Learn More about Granite Prefabricated Countertops
5 Prefabricated Natural Granite Countertop Designs for a Custom Look
How to Save Money With Prefabricated Granite Countertops
Granite Slab or Prefab: What's the Real Difference?
Fabulous Prefab Granite Countertops: Your Questions Answered
READ MORE ABOUT GRANITE COUNTERTOPS
Granite – Number One Choice for Outdoor Countertops
5 Granite Colors For A Chic And Modern Fireplace