6 Beautiful Kitchens Featuring Quartz Countertops
June 06, 2022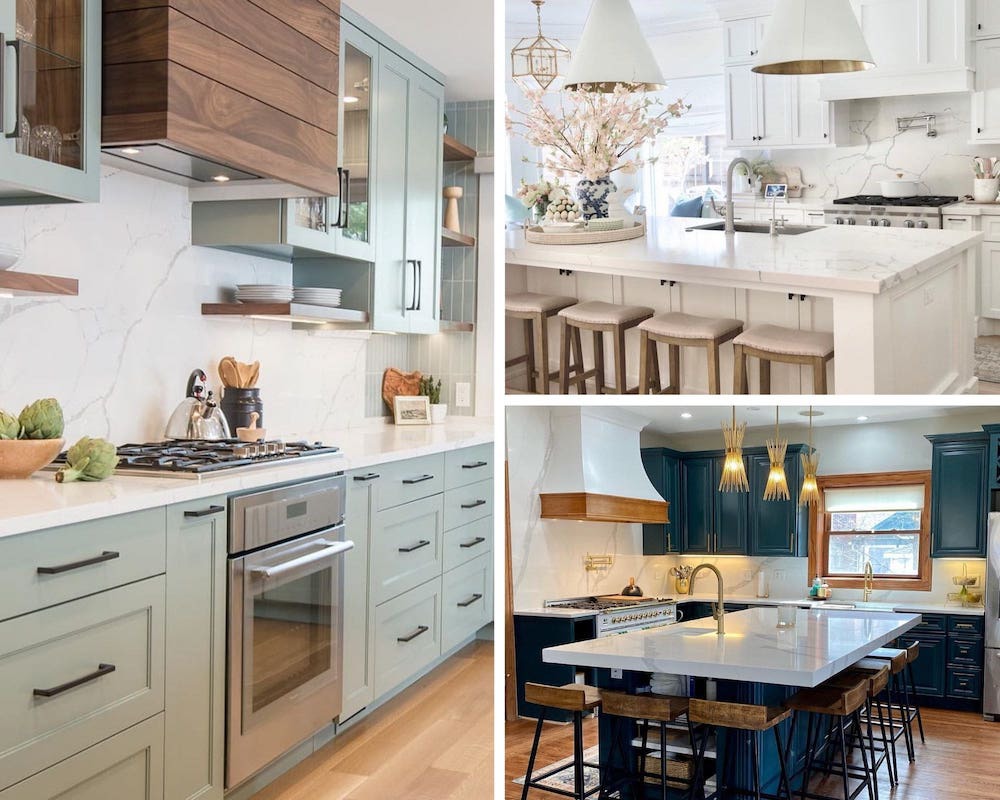 Lately, quartz countertops have become an ideal solution for modern homeowners. They're strong and durable, the non-porous surface is food safe and easy to clean and maintain, and best of all, they can mimic the look of marble, granite, and other natural stone options, with added practical benefits.
As a modern countertop material, it's hard to argue with the advantages of quartz, but you might naturally wonder how it will fit with the rest of your interior design. When you choose a premium MSI counter surface, you'll be pleased to discover you can pair it with both modern and traditional designs, as well as trendy colors, a range of cabinet materials, and all kinds of flooring and backsplash options.
Sophisticated White
When it comes to kitchen design, creating a space that is visually interesting involves a complex pairing of design elements. You'll want to consider color, texture, pattern, and shine.
A good place to start is by considering quartz colors. The countertop is typically the focal point of a kitchen space, but it doesn't necessarily have to be, if you choose to place the emphasis on other elements.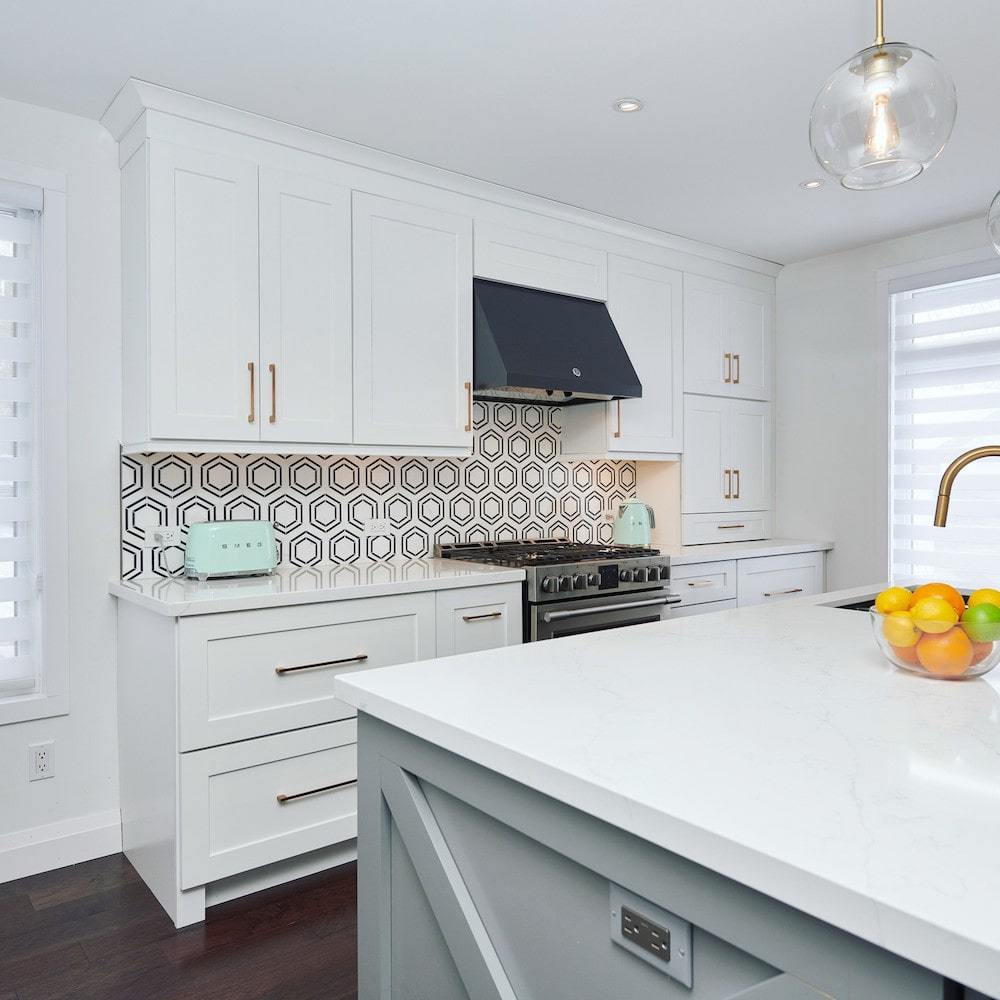 The Calacatta Botanica quartz in this white kitchen, for example, is soft white with delicate, barely-there strokes of pale gray that are hardly a pattern at all. Next to white cabinetry, this could read as rather bland.
However, the design is enhanced with a kitchen backsplash in bold, Georama Nero tile, as well as a black range hood. This serves to create a relatively bright kitchen space, but with a clear focal point centered on the stove.
Warm White Tonal Kitchen
You might think a warm kitchen space requires wood cabinets, but this inviting kitchen proves that's not true. You can have an airy, white kitchen that's still warm and welcoming without filling every spare inch with white oak or walnut.
The color scheme and overall design of this kitchen delivers the simplicity of Scandinavian design, with an ambience that's clean and inviting at the same time. Pale wood flooring, paired with white cabinets and countertops, as well as gold lighting fixtures, makes for the perfect combination of cool and warm surfaces.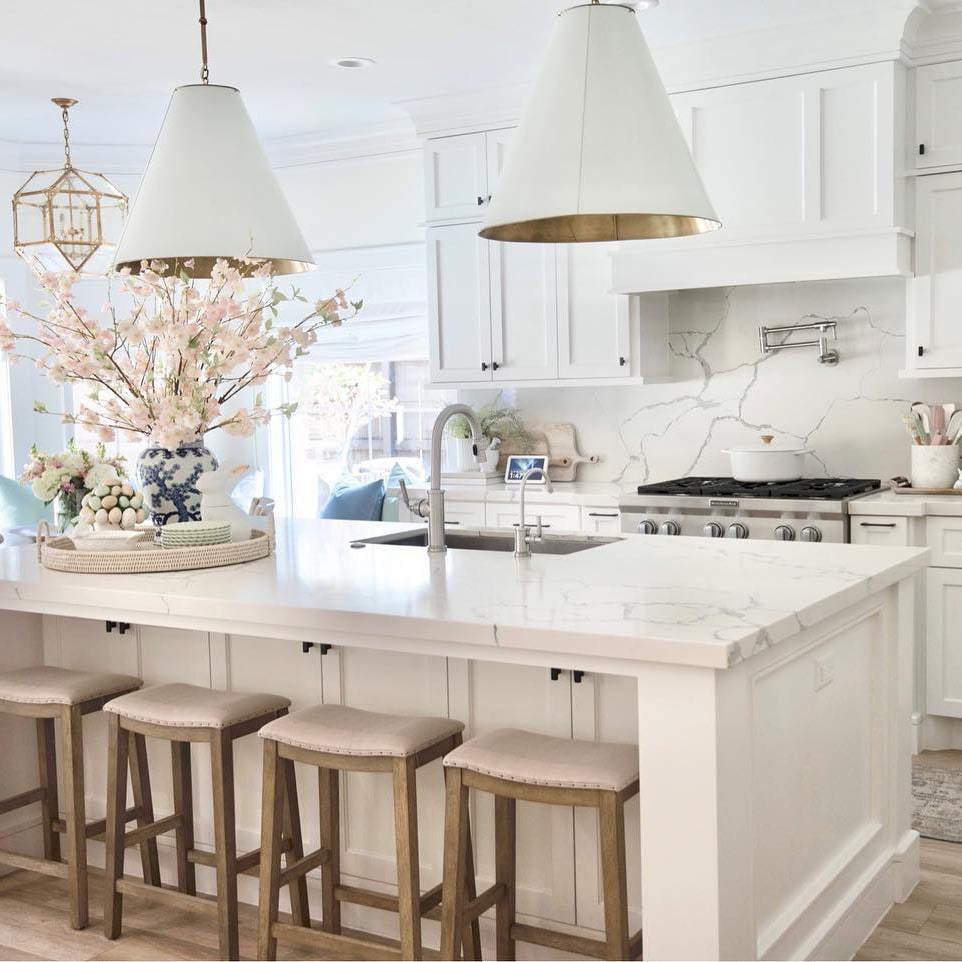 While some quartz countertop colors are bold and bright, others mimic the look of natural stone. This is the case with the lovely Calacatta Laza quartz seen here, featuring a bright, white background and striking striations in gray, similar to a classic Calacatta marble. It adds a lot of visual interest not only as a counter surface, but extending into the expansive backsplash area.
Bright and Breezy with a Trendy Pop of Color
An all-white kitchen may provide the clean aesthetic you love, but it can also come off as somewhat bland and sterile if you're not careful. A well-placed pop of color can really elevate this modern design style.
For example, the bright white cabinets in this farmhouse kitchen, paired with white subway tile that extends to the ceiling, could appear rather dull in an all-white design.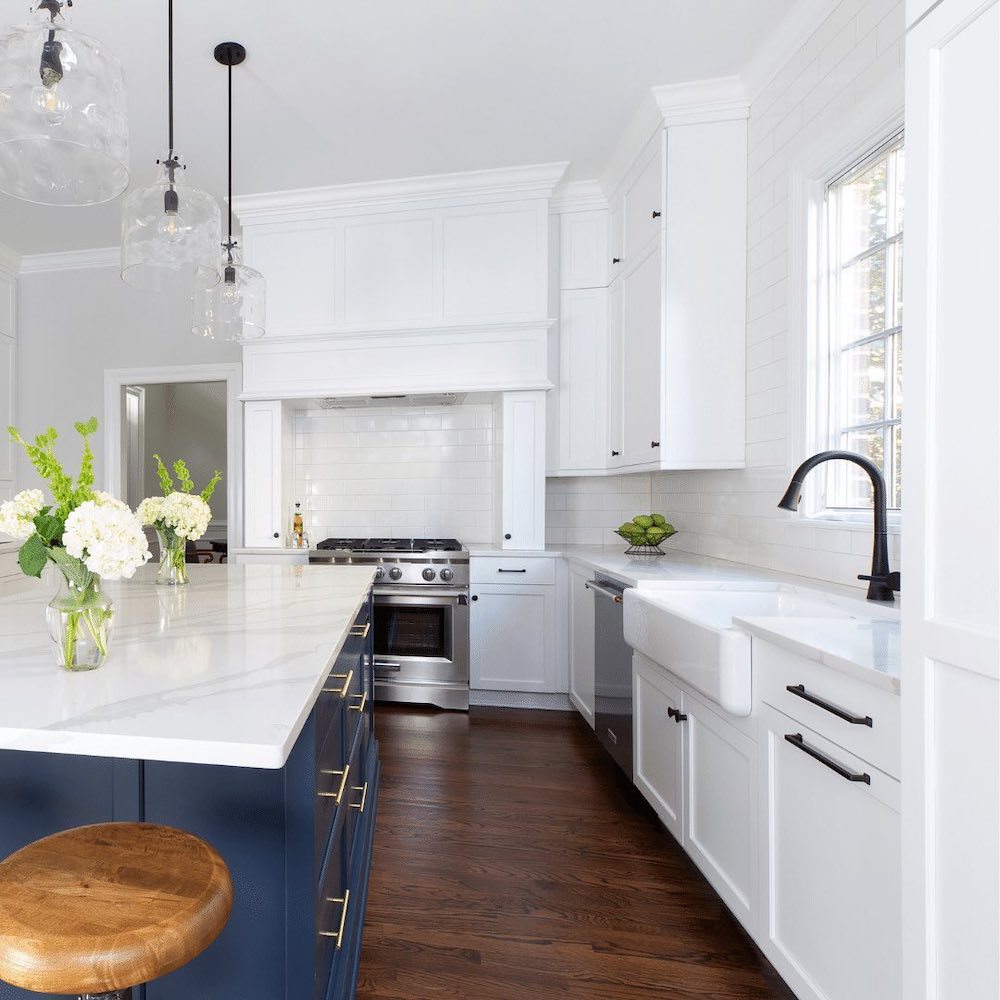 Although the Statuary Classique quartz countertops add eye-catching appeal, thanks to stunning gray veins on the soft, white background, it's really the navy blue island base that adds personality to the space. Dark wood flooring grounds the room, while black hardware and fixtures draw on darker elements in the space.
Classic Black and White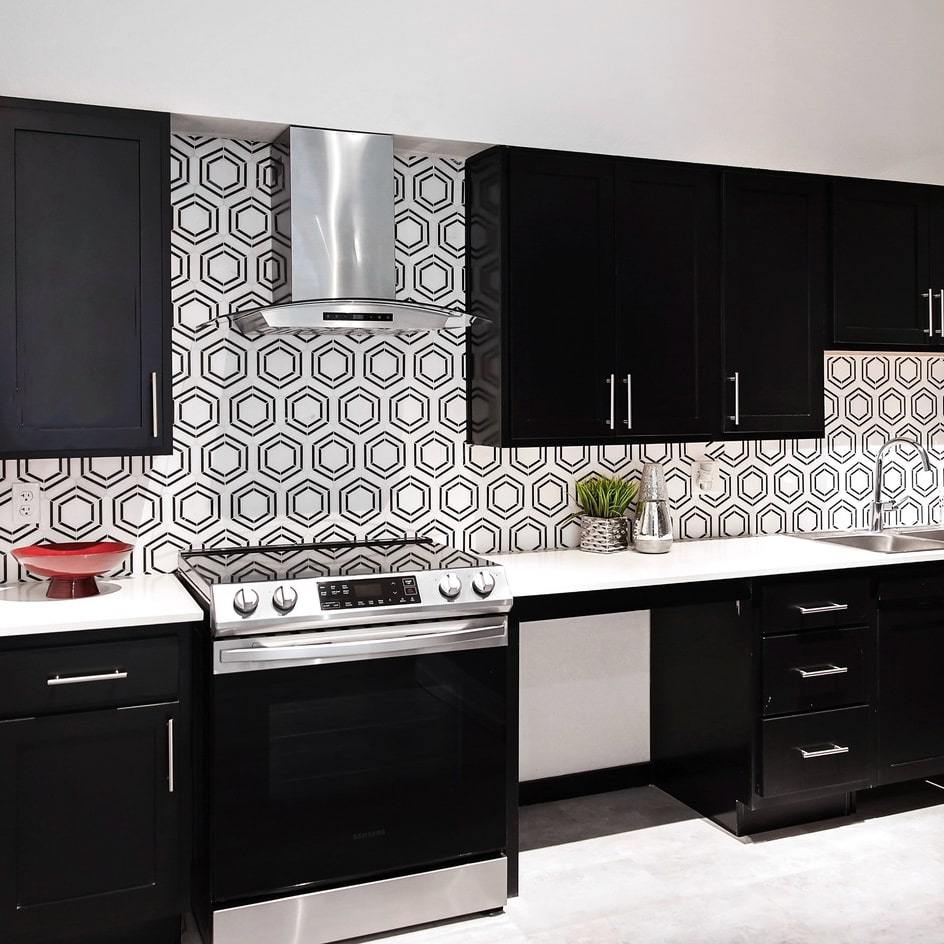 A mod look can be a bit overwhelming, but when you opt for modern appeal, your kitchen space becomes your own. Black and white kitchens are classic, and this room featuring solid, Arctic White quartz paired with contrasting black cabinetry certainly fits the bill.
However, the drama of the design is softened by the cloudlike hues of Mountains Gray floor tile, and broken up by the black and white Georama Nero backsplash tile. Overall, this modern take on a classic kitchen delivers a sleek, polished finish that's perfectly suited to contemporary sensibilities.
Bold and Moody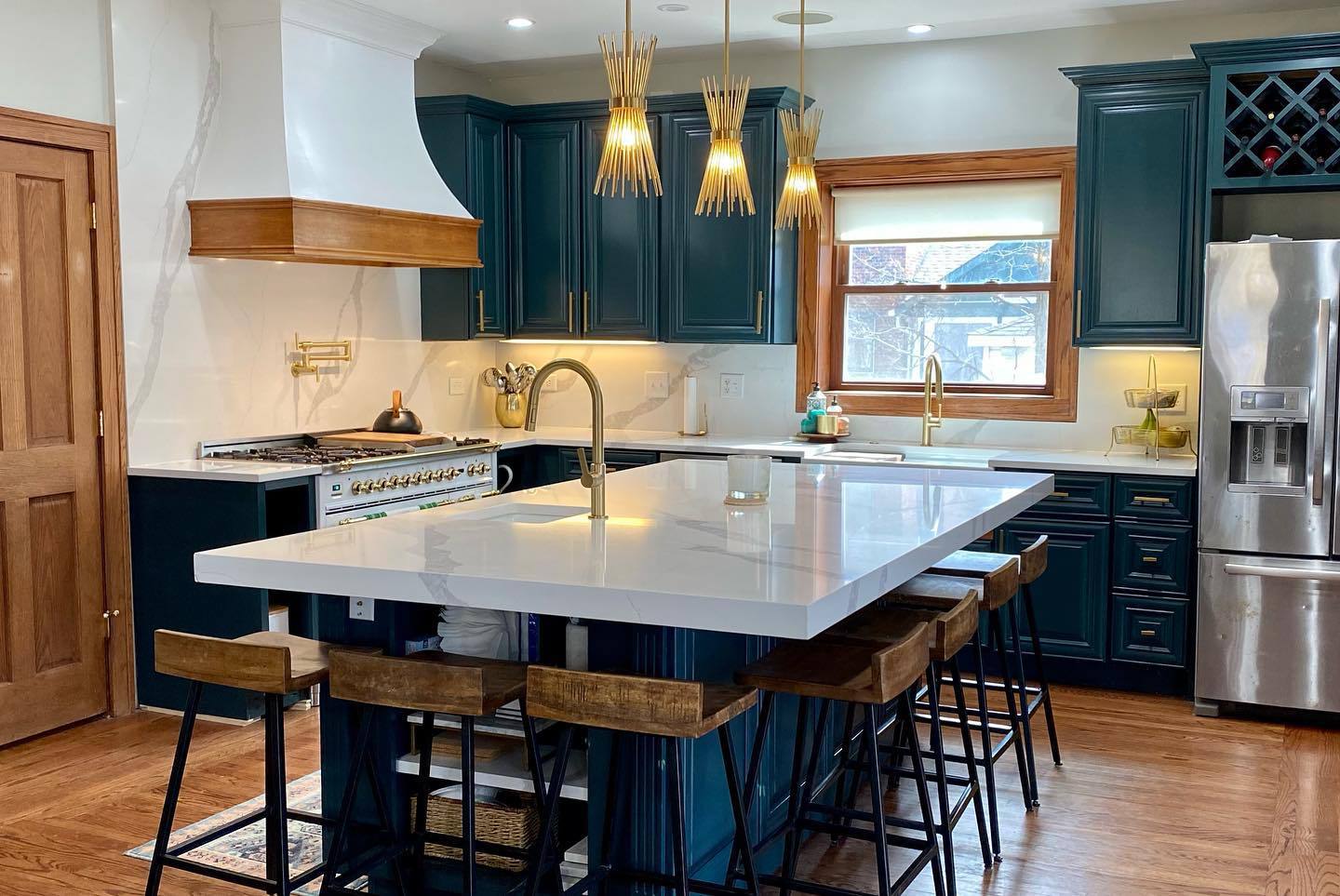 A few decades ago, a bold color palette for kitchen cabinets was practically unheard of. Today, colored cabinetry is de rigueur, and it can be used to astonishing visual effect.
This kitchen remodel is a great example, thanks to the pairing of warm wooden elements (flooring, window and door frames) with teal cabinetry all around and a bright countertop in Calacatta Leon quartz. The dark colors really make the milky white surface, streaked with brown veining, the star of the show.
The quartz continues up into the backsplash for even greater effect. The choice of thick countertop edges for the island and a thinner profile for the perimeter countertops ensure that the central island in this large kitchen remains the focal point.
A Modern Take on Timeless Style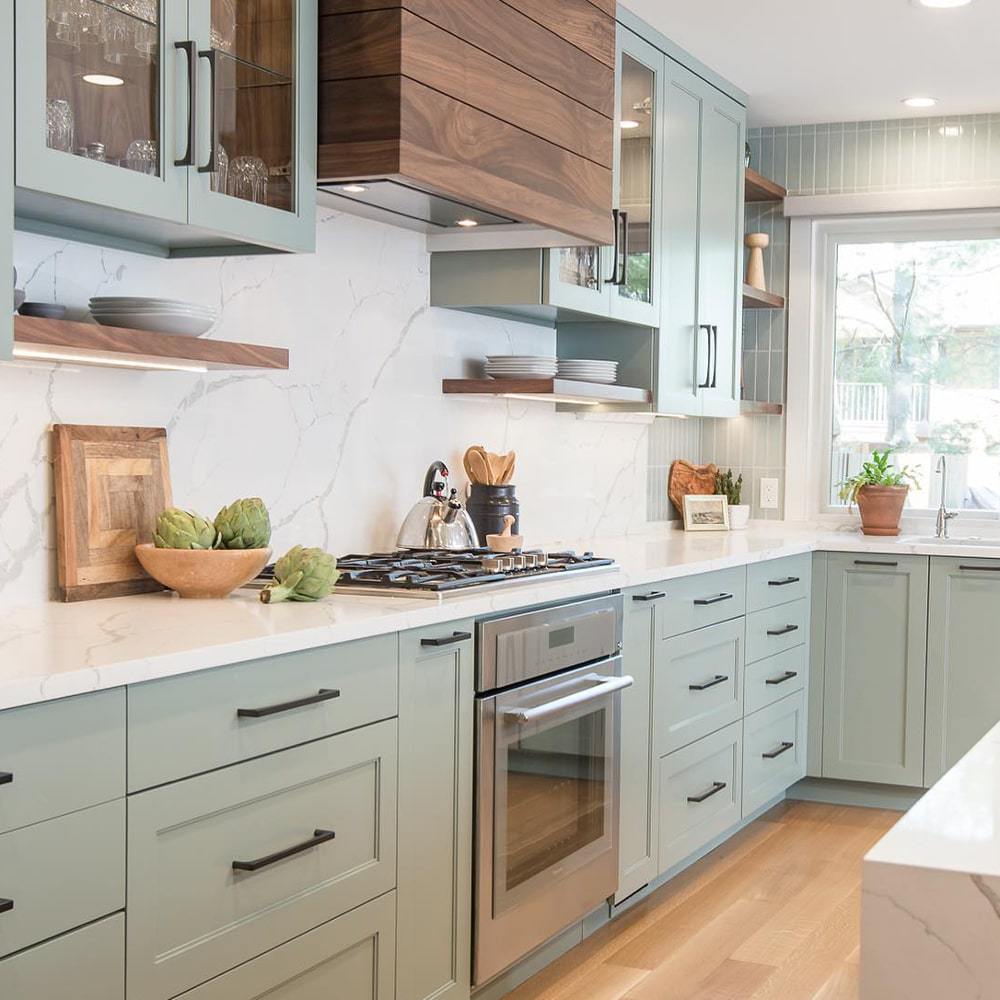 Interior designers love quartz because it offers an ideal marriage of form and function, especially when it comes to the realistic look of marble-like designs. Calacatta Laza quartz is a great example, thanks to a soft white background marked by dramatic, ropy veining in pale and mid-tone gray.
Making the Most of Your Quartz Countertops
Now you have some idea of how your kitchen could look with beautiful quartz countertops, you might want to check out the kitchen design tool to mix and match your favorite MSI quartz, backsplash tile, and LVT flooring options. You already know quartz is a great practical choice, and this is especially true when it comes to proper cleaning and maintenance.
For daily cleaning, all you'll need is a soft sponge or dishcloth and water to wipe up spills. For stubborn grime, adding a gentle liquid cleanser should do the trick. What about tough stains? A gentle abrasive like Bar Keeper's Friend Soft Cleanser will lift stains without dulling the surface.
While you'll want to avoid abrasives and bleach that could scratch the surface, and it's best to use hot pads or trivets to prevent scorching, you'll be pleased to learn that non-porous engineered quartz never needs to be sealed.
MSI premium quartz countertops also include a residential lifetime warranty for your peace of mind, making them a great choice for the busy modern kitchen. The fact that they're incredibly beautiful is icing on the cake.
Read More About Marble and Concrete Looking Quartz Countertops
Alternative Finishes: Concrete Looks For Quartz Countertops
New Calacatta Quartz Colors are Now Available!
Why Interior Designers Choose White Quartz Countertops
MSI's Top 10 Lumaluxe Quartz Countertop Colors
MSI's New Elite Quartz Manufacturing Facility