Transform Your Home With These New Calacatta Quartz Colors
July 17, 2022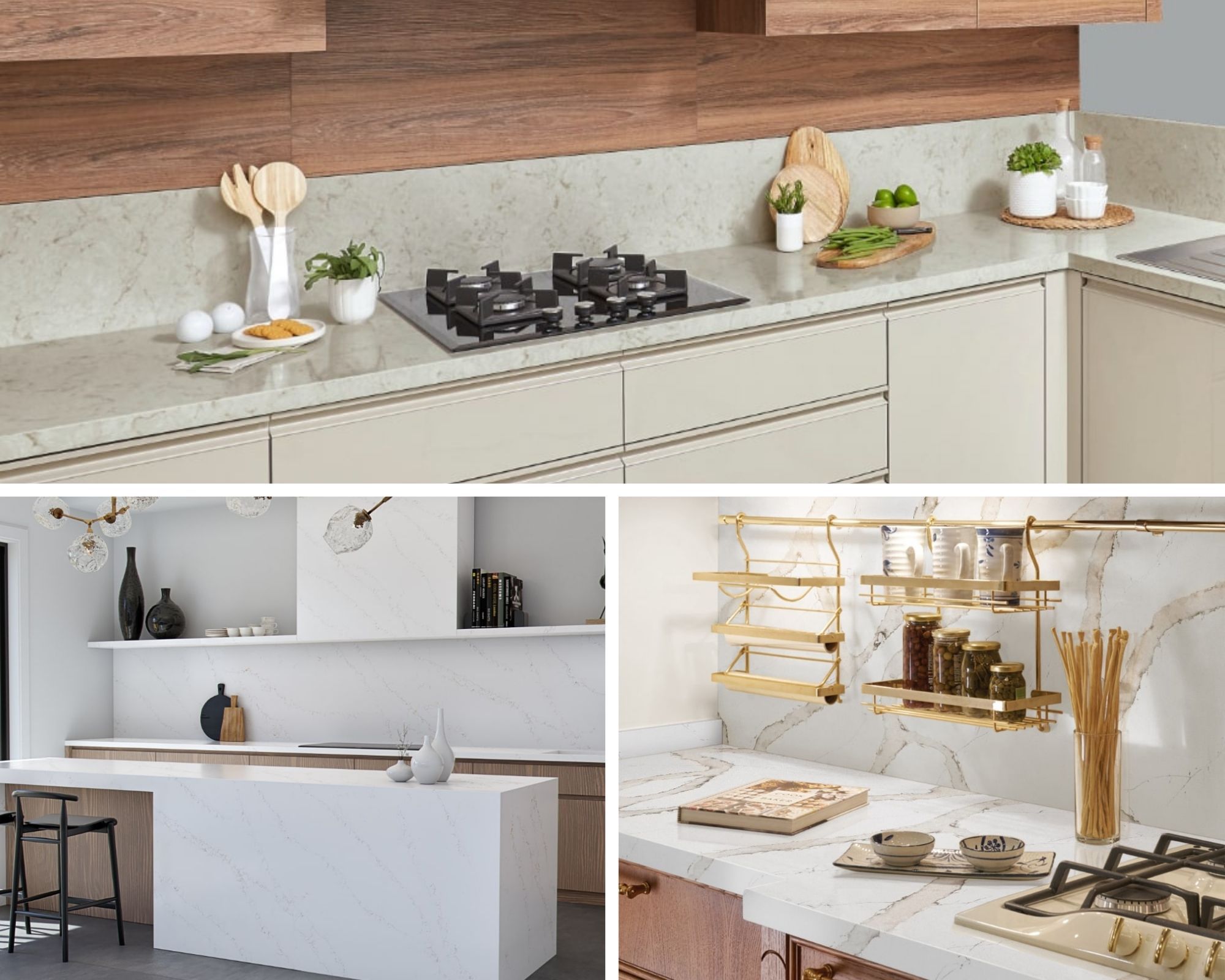 Cooking a meal for your friends and family, getting ready for a romantic night out and baking a pie to enjoy at your next holiday party. Aside from evoking a sense of excitement and joy, there is one thing these three situations have in common: they all take place around your countertop. To double this joy, opt for brand new Calacatta Quartz during your next remodel.
Be it your kitchen, bathroom or even elsewhere, your countertops are what tie the rooms in your home together, both stylishly and functionally. They allow you to introduce new colors and textures into otherwise static spaces and make for a focal point you and your family may gather around.
When it comes to choosing the right countertops for your home, quartz is one of the best materials for any style. Both luxurious and durable, quartz countertops are the perfect choice for your home. Whether your decor leans modern, traditional or in between, quartz is the right material for you.
Keep reading to find out more about the newest Calacatta Quartz colors, and discover the one that will transform your home into a work of art.
The Latest in Calacatta Quartz
Sleek and sophisticated, Calcatta Quartz countertops are just what you need to make your home feel luxuriously modern. And with brand new colors to choose from, there is sure to be one that blends effortlessly with your style.
Calacatta Karmelo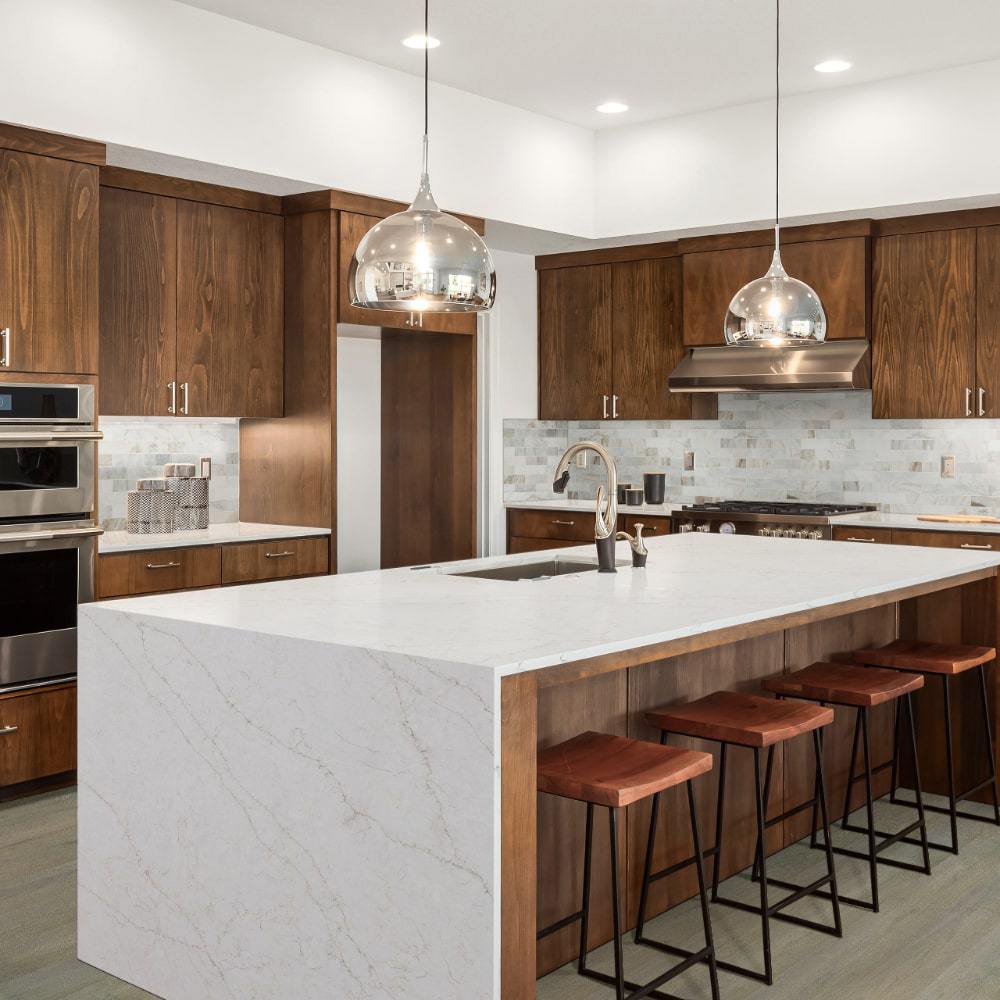 Wonderfully soft and chic, Calacatta Karmelo is perfect for those who want their home to be warm and inviting without losing their sense of luxury. A soft white background acts as a backdrop to subtle brown veins for a high-end look that can blend effortlessly with any design style.
Understated yet still elegant, this quartz countertop color is a great choice for those whose interior color scheme features notes of brown or other warm shades. Add it to your home on the counter, wall, or even the floor to add a touch of luxury to any room for years to come.
Calacatta Goa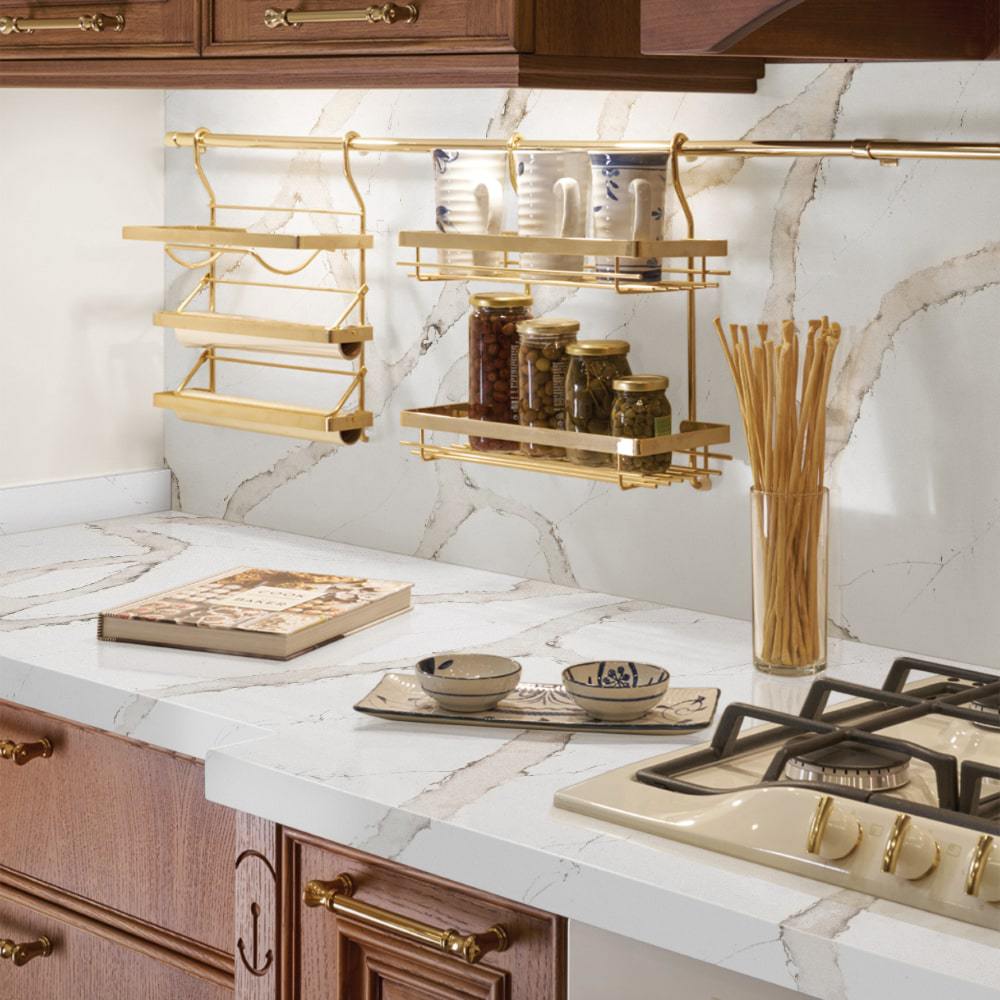 Dramatic and eye-catching, Calacatta Goa makes for a focal piece no matter what room it's in. The warm white background is overlayed with thick russet veins for quartz that will truly stand out in your home. Hints of dark brown mixed throughout give this quartz countertop a striking quality.
MSI's specialty LumaLuxe formulation alters how the surface interacts with light, giving it an ethereal quality that enhances the look and feel of any room. For rooms that need a central focus point to tie them together, this multi-layered Calacatta Quartz can truly make an impact.
Cashmere Taj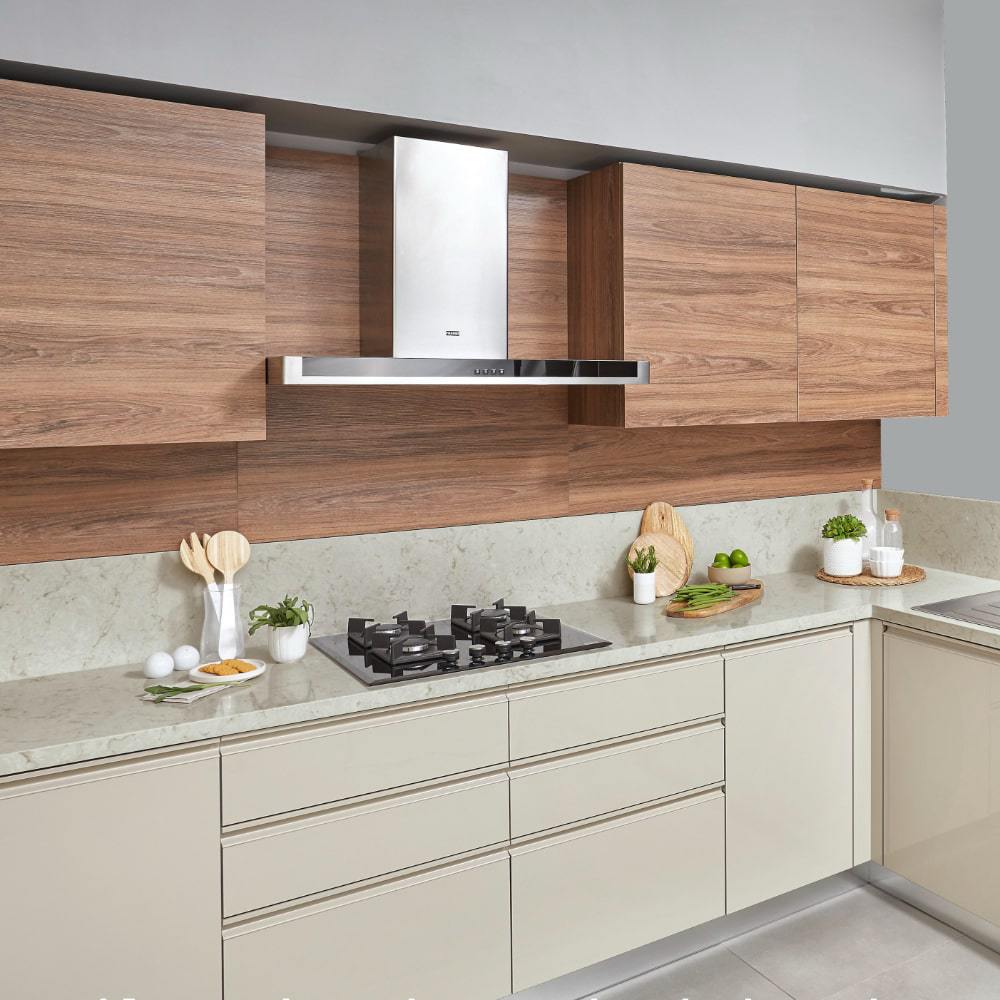 Cashmere Taj enhances any room with its warm, earthy presence. The soft, creamy beige background grounds any room, while bronze and gold veining gives the quartz an inherently natural feel. This quartz countertop is subtle yet chic, making it the perfect enhancement to any interior style.
The surface's high-gloss finish adds to its soft coloration, allowing the subtle design to shine in any room. Plus, this ultra-chic material is extremely durable and easy to maintain, making it perfect for a variety of applications, both residential and commercial. Understated yet sophisticated, the Cashmere Taj surface is trendy and timeless.
Calacatta Delios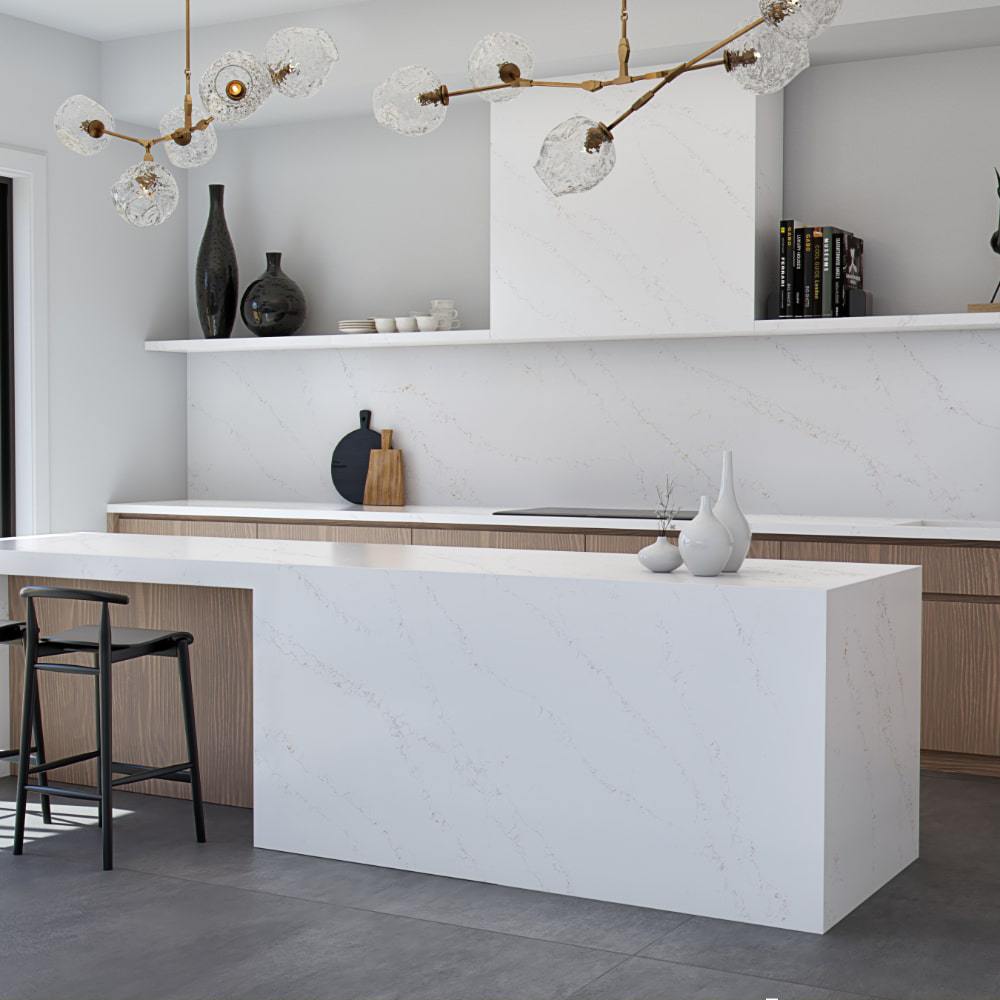 For a subtle yet eye-catching addition to any room, Calacatta Delios is the perfect focal point. Sleek and modern, this surface features a crisp white background overlayed with delicate veins of bronze and gold. With a unique cracked effect, shades of gold subtly shine through each vein for an understated look that draws the attention of any visitor.
This high-performing surface is low-maintenance and extremely durable, making it ideal for weathering frequent use as a countertop, kitchen island or even a floor. And with a LumaLuxe finish, this luxury surface mingles with the light for pleasing visuals in any space. Blending seamlessly with both warm and cool interiors, this quartz countertop is capable of elevating the look of any space.
The LumaLuxe Difference
Watch in wonder as your new quartz countertop dances and blends with the light in your home at any time of day. With the specialty LumaLuxe surface finish, your countertop will appear to be imbued with its own inner light.
The LumaLuxe finish alters the way light interacts with your new countertop, giving it a living quality. This enhanced luminosity brings out the warmth and richness of each vein and adds a new dimension to the surface. For a truly luxurious and eye-catching addition to your home, LumaLuxe-finished quartz is just what your space needs.
Quartz Over Granite: Finding the Right Surface for Your Home
Plenty of arguments have been made in the quartz vs. granite debate. But when it comes to the material you use in your home, only the best and most luxurious will suffice.
These new Calacatta Quartz countertops come out on top in every category. Quartz is extremely durable and requires very little in terms of maintenance, making it ideal for use in a variety of applications, including countertops. Plus, quartz is environmentally friendly, so you can feel comfortable enjoying the look of natural stone. Choosing quartz also gives you more control over the final design of your countertops as you can select the color and finish that best fits your personal style.
Luxury Quartz Countertops from MSI
When selecting a new countertop for your home, it's essential to pay attention to the details on every level. With MSI's latest quartz collections, you can enjoy the look and feel of chic and sophisticated surfaces that have been specially tailored to enhance your space.
Experience the joy of gathering around a luxury quartz surface with your friends and family. Select your new favorite Calacatta Quartz color from our website, save it as a "favorite", and transform your space today.
Read More About Marble and Concrete Looking Quartz Countertops
Alternative Finishes: Concrete Looks For Quartz Countertops
Why Interior Designers Choose White Quartz Countertops
MSI's Top 10 Lumaluxe Quartz Countertop Colors
MSI's New Elite Quartz Manufacturing Facility
6 Beautiful Kitchens Featuring Quartz Countertops