Tips From The Trade: Solve Your Kitchen Remodel Emergency With Prefab Quartz Countertops
September 13, 2018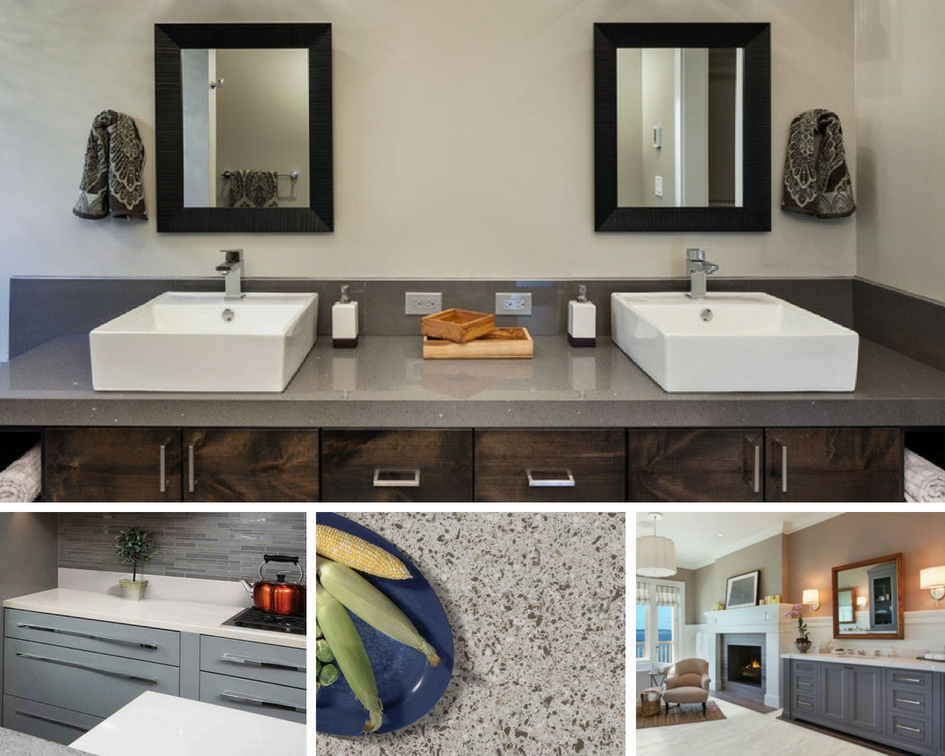 Do you ever binge-watch remodeling shows and think to yourself, "I can do that!" If so, you've probably been tempted to take a day off, grab a friend, and rip your kitchen or bathroom apart to transform it in a weekend. Realistically, though, you know that it's not going to go as smoothly as a heavily edited hour-long tv program makes it look! So, if you aren't contractor or an experienced DIY weekend warrior with several successful projects, like installing quartz countertops, already under your belt, be prepared for any weekend reno to go awry, leaving you with an incomplete project come Monday morning when you head back to work.
In addition to common pop-up problems like finding mold in a bathroom or accidently causing a flood, along with other lesser known kitchen design mistakes, homeowners often underestimate the time that goes into completing each step of a renovation. For example, installation of slab countertops requires templating, custom fabricating, and installation…and that often takes weeks to complete. So, if you are dreaming of a new kitchen or bath in a single weekend, traditional slab countertops aren't a viable solution, because the cabinetry must be installed and set prior to your countertop fabricator beginning their process.
What's a quicker fix? The simplest choice that won't delay your remodel is to use prefabricated quartz counters. What are prefab quartz counters? They are a budget-friendly, luxurious surface available in a variety of colors and designs, and they are pre-finished and pre-sized for your project. In other words, you can already have them standing by while the cabinets are being installed.
For most projects, there's really no need to pay more for custom fabrication, even if you are adding an element like a kitchen island as prefab quartz countertop cost is quite affordable. Adding an island not only adds function to your space, but it also creates a natural gathering space. In this contemporary kitchen, Shadow Gray quartz counters add a touch of modern drama, the smooth, muted design forming a perfect backdrop for the streamlined cabinetry and reflective glass backsplash. This quartz color is available in two prefabricated sizes—108x42x2 and 112x26x2—allowing you to easily match a new island to your perimeter counters.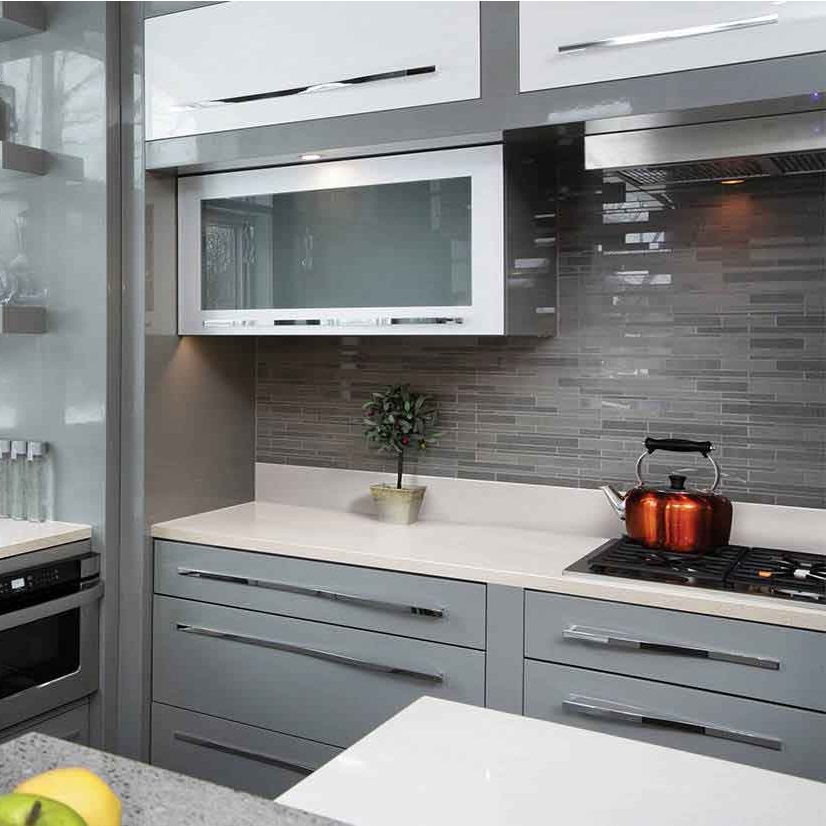 Featured: Frost White Quartz
Another benefit of choosing a prefab quartz countertop is that each size includes a matching 6-inch high backsplash. This can also help to facilitate a smooth remodel. After all, with the clean edge of this built-in backsplash already in place, you can always add a stunning backsplash tile above the quartz backsplash next weekend. Prefab quartz counters come finished with a flat edge on one long side and on the two ends. Gray and white are a timeless kitchen color pairing. The dove gray lower cabinets and exquisite interlocking backsplash of this design pair with Frost White quartz counters, which echo the white of the upper cabinets for a stunning contemporary design.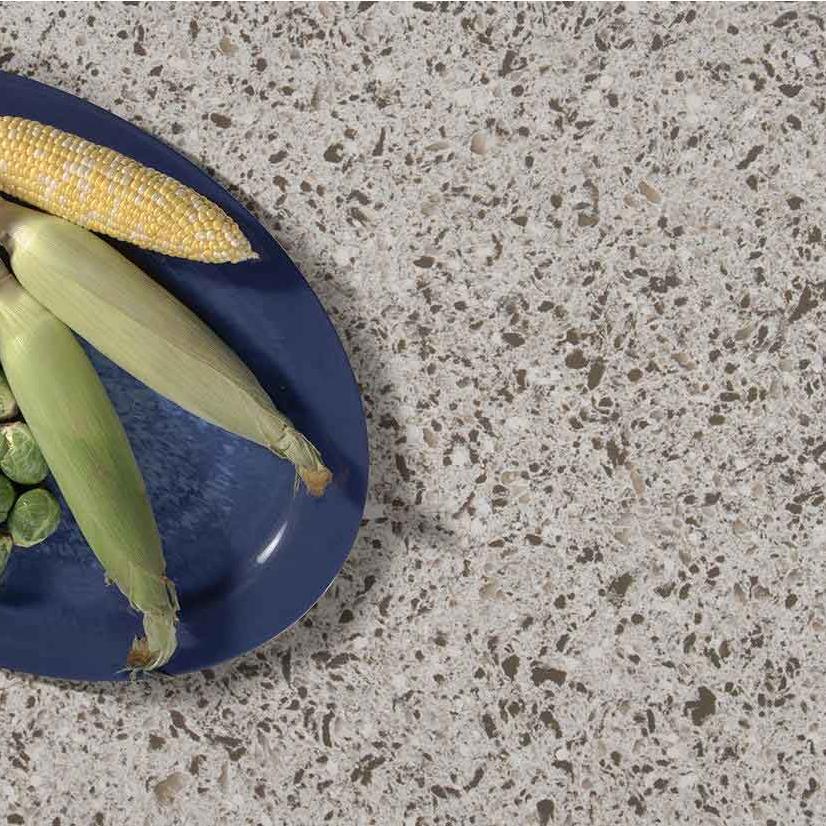 Featured: Cascade White Quartz
One of our most popular prefab quartz countertop colors is Cascade White. This beautiful quartz has inflections, sparkles, and flecks that give dimension and elegance to your remodeling project. This quartz coordinates well with design styles from traditional to contemporary, and look gorgeous with both chocolate-hued cabinetry or white cabinetry. In its prefab form, you can easily and quickly swap out dated tile or laminate countertops for an elegant quartz that will immediately add both aesthetic and financial value to your home.
Stepping outside of the kitchen, are you inspired to add extra counter space to your living room or den to facilitate entertaining? Or perhaps you want a dedicated coffee or wine bar! Either way, in just one weekend, you can avoid a remodel emergency by selecting an off-the-shelf cabinet and topping it with a beautiful marble-look quartz countertop. Our Carrara Grigio gives you the undeniably luxurious look of natural marble, but in a far more durable product. The soft white background and wispy gray veins give this feature a classic look that will stand the test of time.
And, let's not forget weekend bathroom remodels! As with kitchen remodels, bathroom projects can easily spiral way over budget, and take a lot longer than anticipated. However, by using standard-size cabinetry, or even by creating a unique custom install with modular cabinetry pieces and topping it with prefab quartz counters, your weekend bathroom remodel dreams are possible. Modern looks that pair heavily grained hardwood cabinetry with concrete-look countertops like Stellar Gray quartz create a dynamic and unique style. Create your signature spa-like retreat in a weekend with the right tools, the right skills, and the right materials.
When you want to complete a remodeling project fast, prefab quartz counters are an excellent way to add a luxurious yet durable feature to the space. Not only is it exactly the same quality material that is available in custom slabs, it is also a cost-effective and time-friendly way to complete your project in a pinch. Browse through all of our prefab quartz colors, which range from low-variation solids to on-trend natural stone looks. Each is crafted to exacting specifications and includes a matching 6-inch backsplash. Purchased off-the-shelf, prefabricated finishes of quartz countertops cost less than custom cut and fabricated countertops. With our beautiful quartz counter options, you can quickly swap out countertops and island tops, or create new features without having to pre-order weeks or months in advance for custom countertops.
Read more on Quartz countertops:
6 Quartz Countertops That Look Like Concrete
7 Quartz Colors That Look Like White Marble
Monochromatic Quartz Countertops: A Contemporary Trend
Are Quartzite and Quartz Countertops The Same Thing?