How To Use 2 Different Quartz Countertop Colors In The Kitchen
October 31, 2018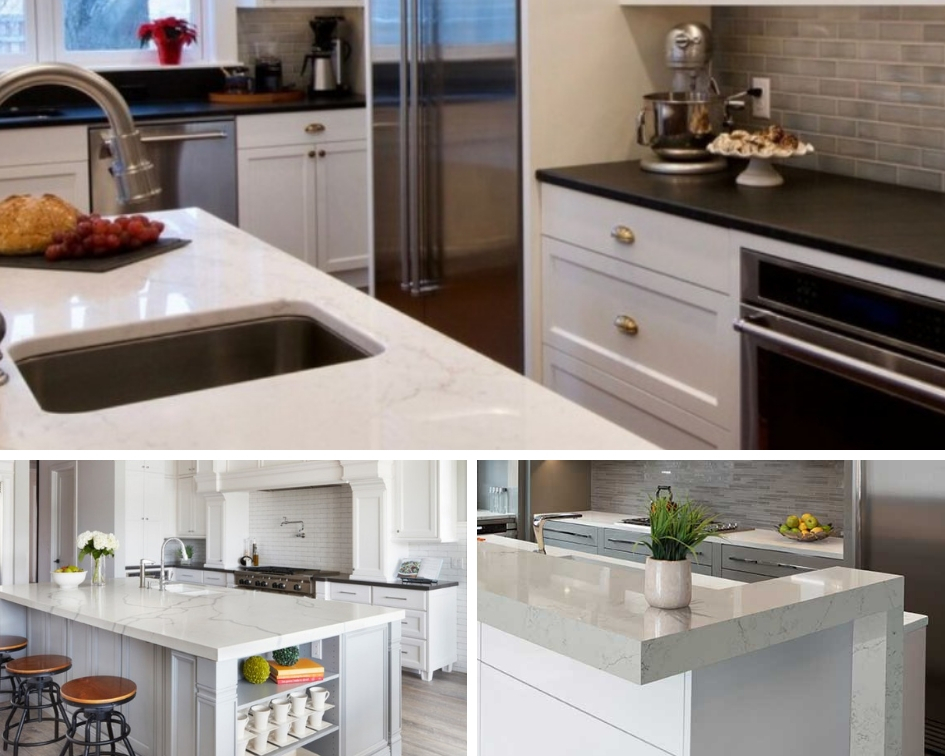 In the kitchen, there are so many colors that call attention, from the wall paint and backsplash tile to the cabinet color and floor tile. So is it a good idea to introduce two different countertop colors, too? Absolutely! Although it may seem counterintuitive, installing two different quartz countertop colors can actually add to the harmonious color palette of your cooking space.
While they can certainly be similar in tone or pattern, it's not always necessary. One can be light while the other is dark, or one can mimic natural stone while the other clearly screams modern. When it comes to quartz colors, you really can't pick a wrong combination because they all go together so well. Take a look at some of our favorite quartz duos for some inspiration, and you just might be surprised by some of the white kitchen design ideas!
Alabaster White with Arctic White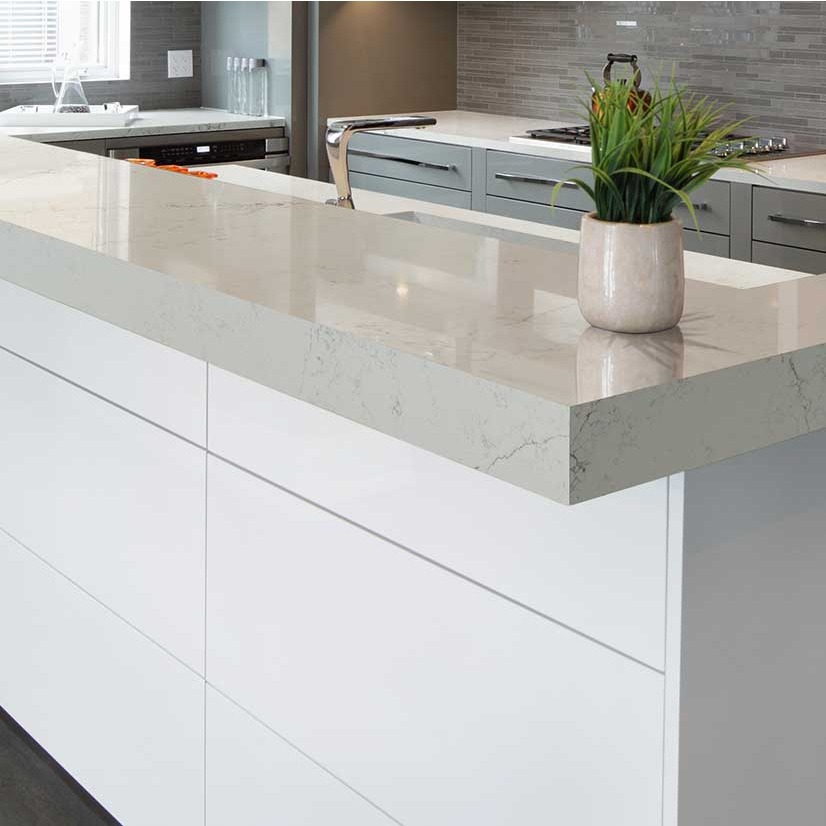 Featured: Alabaster White Quartz with Arctic White Quartz
A contemporary kitchen shouldn't be unsophisticated. This sleek cooking space includes a high-end marble look quartz with a bright white countertop. Alabaster White adds a bit of elegance and detail with its soft white background with luxury gray veining. The brilliant white of the kitchen island is picked up again in the Arctic White quartz countertop. The solid color with no added details or accents pops against the gray cabinetry and mixed-gray mosaic backsplash.
Stellar White with Calacatta Luccia
You'd expect detail in a traditional French-inspired kitchen, but the design doesn't have to go overboard. This exquisite kitchen features a mostly white countertop front and center and the most authentic marble look quartz on the counter and back wall. Stellar White looks like it's a solid color, but the soft white background is subtly accented by soft gray flecks for added character. The large, square island provides plenty of space for rolling out delicious French pastries and draws the eye to the magnificent hood range that stands out against the Calacatta Luccia quartz. The milky white background and dramatic yet soft veining elevate the design with its essence of modern sophistication.
Calacatta Botanica with Midnight Majesty Concrete
A black-and-white kitchen is the perfect opportunity to feature opposite colors, but they can offer a little more pizazz than just plain black and white. This transitional space mixes an elegant white marble look with a handsome black quartz. Calacatta Botanica is a timeless, Italian-inspired surface with its soft white background and light gray veining. It works well with all of the white cabinetry that's finished with Midnight Majesty Concrete quartz. The black countertop comes with a velvety, brushed-like finish to give it a more modern appeal. The darker stainless steel appliances and dark island cabinetry tie it all together.
Statuary Classique with Midnight Majesty
Installing a product you love the most can become more special when featured in only one spot. This mostly white kitchen includes a magazine-worthy marble look accented by black quartz. Statuary Classique offers a soothing white background with delicate veining, and the softer look definitely works with the rest of the bright and neutral space. Yet, it does incorporate some surprising elements like the industrial barstools in black and brown that tie in with Midnight Majesty. The black quartz with its concrete finish blends in more easily with the modern stovetop, just one of the modern conveniences featured in this classic space.
Fairy White with Sparkling Black
You can create a black-and-white look even if you incorporate other accent colors. This transitional kitchen includes a subtler marble look with a more dramatic black countertop. Fairy White is stunning on the large island with the porcelain white background and delicate sterling and dove gray veining. Across from it is Sparkling Black, an intriguing quartz in a deep black punctuated by sophisticated sparkles. Take away the colored pots and pendant light to the vibrant cookbooks and bowl of fruit on the counters to the classic subway tile in a gray blue tone, and you're left with white cabinetry and both black and white quartz countertops, but it's these touches that give it personality.
We think you'll love having durable quartz in the kitchen no matter if you're remodeling your current one or starting with a blank slate for a new build! You can recreate one of these stunning surface combinations or check out the 90 color and pattern options from MSI.