How To Use 2 Different Quartz Countertop Colors In The Kitchen
October 31, 2018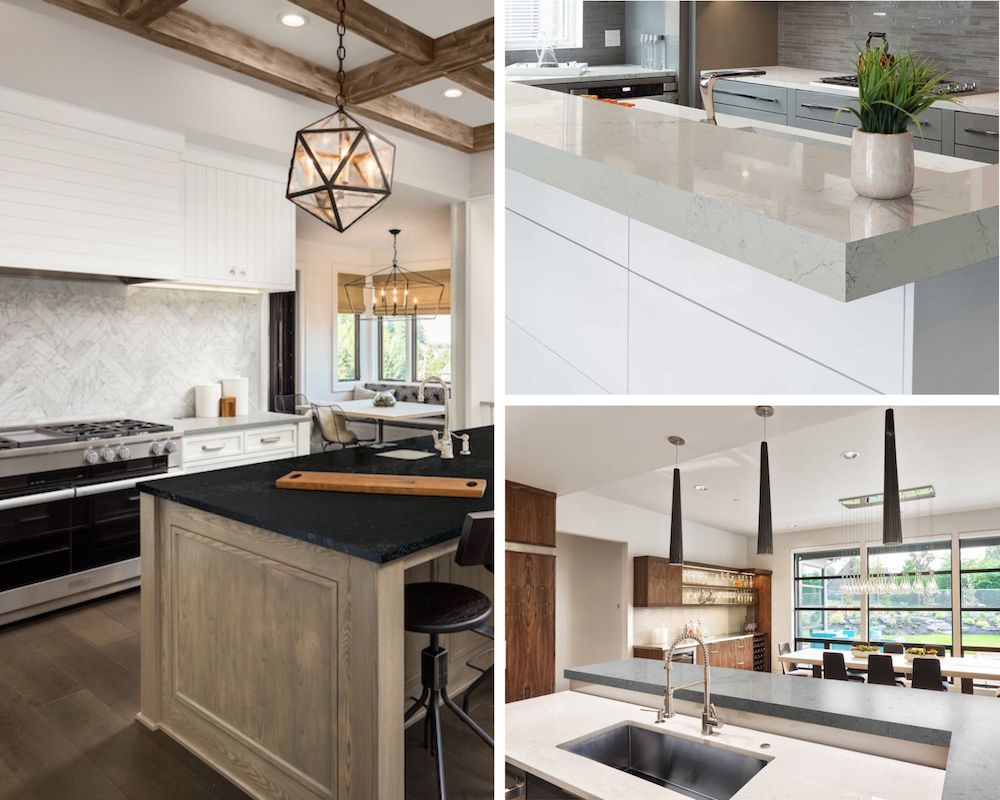 In the kitchen, there are so many colors that call attention, from the wall paint and backsplash tile to the cabinet color and floor tile. So is it a good idea to introduce two different countertop colors, too? Absolutely! Although it may seem counterintuitive, installing two different quartz countertop colors can actually add to the harmonious color palette of your cooking space.
While they can certainly be similar in tone or pattern, it's not always necessary. One can be light while the other is dark, or one can mimic natural stone while the other clearly screams modern. When it comes to quartz colors, you really can't pick a wrong combination because they all go together so well. Take a look at some of our favorite quartz duos for some inspiration, and you just might be surprised by some of the white kitchen design ideas!
Alabaster White with Arctic White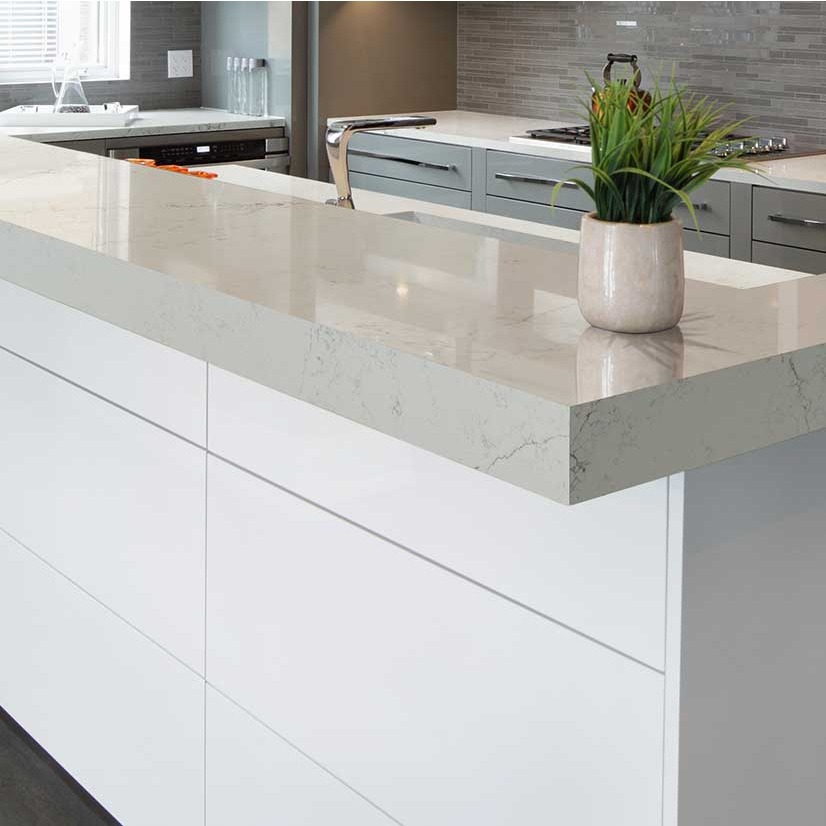 Alabaster White Quartz with Arctic White Quartz
A contemporary kitchen shouldn't be unsophisticated. This sleek cooking space includes a high-end marble look quartz with a bright white countertop. Alabaster White adds a bit of elegance and detail with its soft white background with luxury gray veining. The brilliant white of the kitchen island is picked up again in the Arctic White quartz countertop. The solid color with no added details or accents pops against the gray cabinetry and mixed-gray mosaic backsplash.
Fantasy Gray with White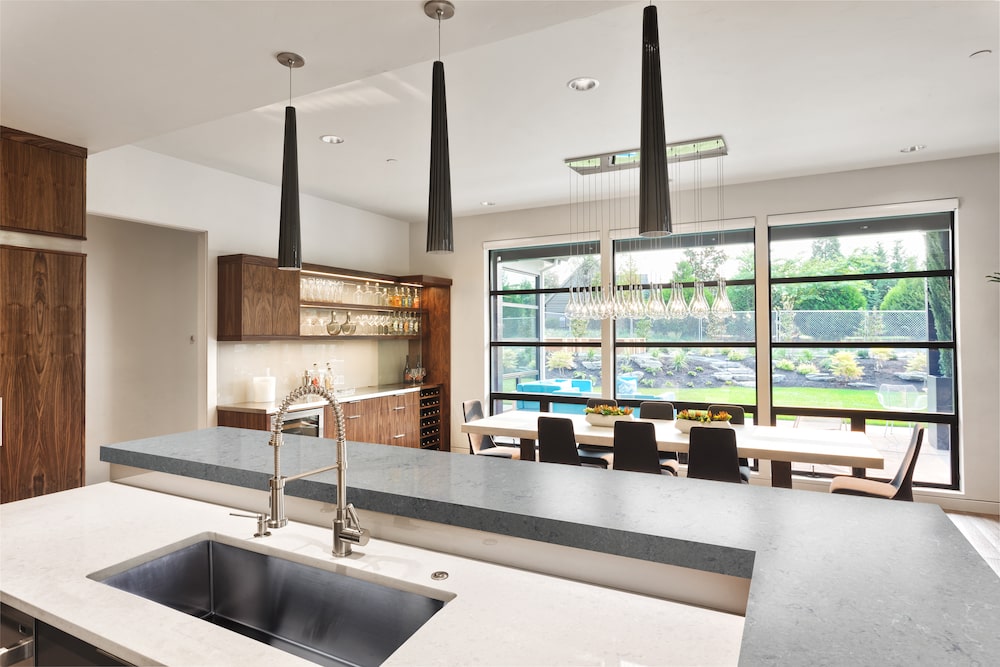 Fantasy Gray Quartz
In the realm of modern kitchen aesthetics, Fantasy Gray quartz seamlessly harmonizes with a pristine white quartz countertop, evoking an atmosphere that combines elegance with contemporary allure. Departing from ornate traditional culinary spaces, this kitchen design strikes a perfect balance. The forefront of this exquisite setting showcases a predominantly gray, concrete-look countertop, while the counter surrounding the sink and rear wall embraces the mesmerizing authenticity of marble-look quartz —a marriage of elements that epitomizes modern sophistication in design.
Midnight Corvo with Grey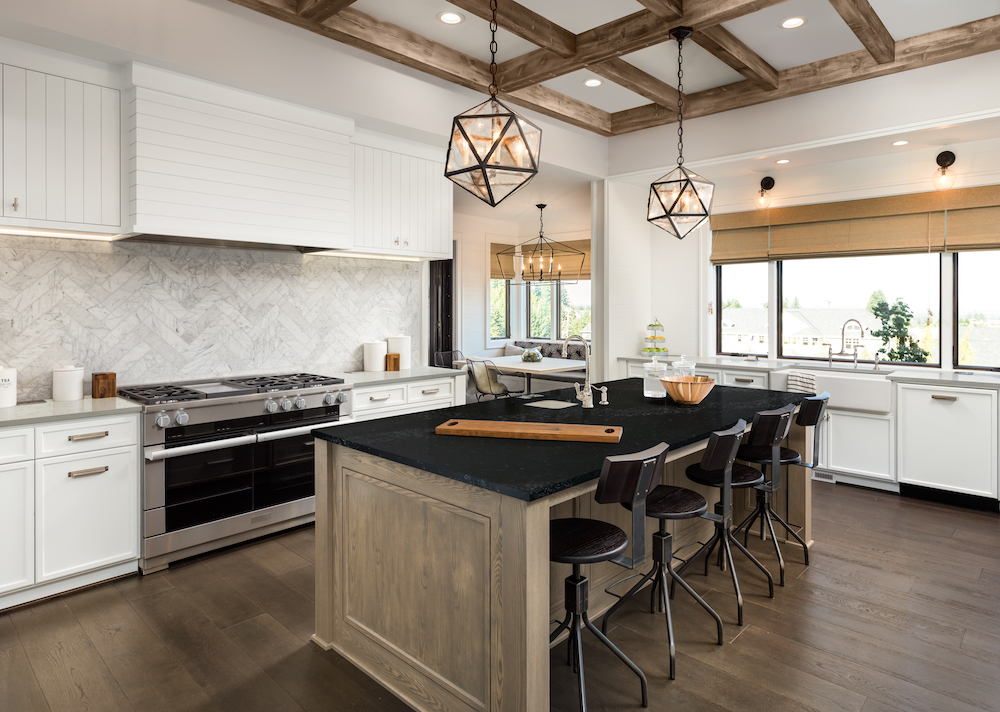 Midnight Corvo
In a kitchen that plays with black and grey tones, things get more exciting than the usual black-and-white setup. This in-between style mixes a deep, neutral-toned black backdrop adorned with delicate veins of cool white with a timeless grey quartz with its soft background and light gray lines. It goes really well with all the white cabinets and reclaimed wood-look flooring. The black countertop has a smooth, brushed-like finish that exudes contemporary elegance, making it feel modern. The appliances in stainless steel and the cabinetry of the island in a dark shade bring everything together nicely.
Midnight Majesty with Calacatta Classique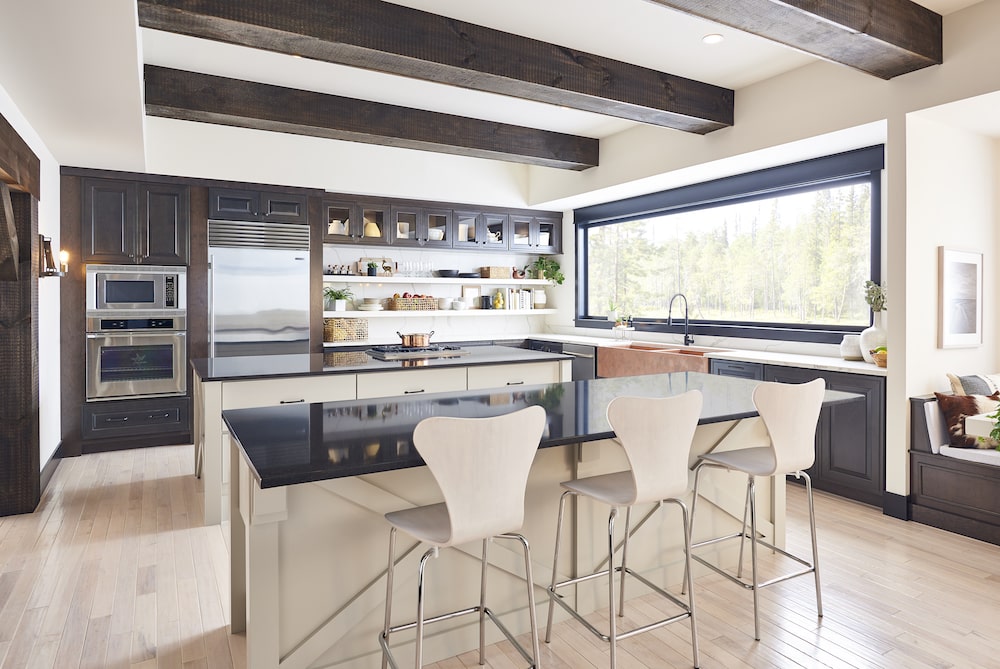 Midnight Majesty Quartz and Calacatta Classique Quartz
Installing a product you love the most can become more special when featured in only one spot. This high-contrast, magazine-worthy black quartz is accented by marble-look quartz. Calacatta Classique offers a soothing white background with delicate veining, and the softer look definitely works with the rest of the bright and neutral space. Yet, it does incorporate some surprising elements, like the modern industrial barstools in cream to help tie in with Midnight Majesty. The black quartz with its polished finish reflects the stainless steel appliances, just some of the modern conveniences featured in this classic space.
We think you'll love having durable quartz in the kitchen, no matter if you're remodeling your current one or starting with a blank slate for a new build! Recreate one of these stunning surface combinations, or create your own! Start exploring the possibilities by chatting with us online, visiting an MSI showroom, or contacting an authorized MSI dealer near you.
LEARN MORE ABOUT QUARTZ COUNTERTOPS
NEW FEATURE ALERT: QUARTZ COUNTERTOP DESIGNER TIPS
5 PERFECT QUARTZ COUNTERTOPS FOR YOUR DREAM KITCHEN
THE BENEFITS OF INSTALLING KOSHER-CERTIFIED QUARTZ COUNTERTOPS IN YOUR KITCHEN
DESIGN YOUR DREAM KITCHEN WITH MSI'S MULTI TONE QUARTZ COUNTERTOPS