Best Examples Of Colored Grout With Porcelain Tile
May 26, 2018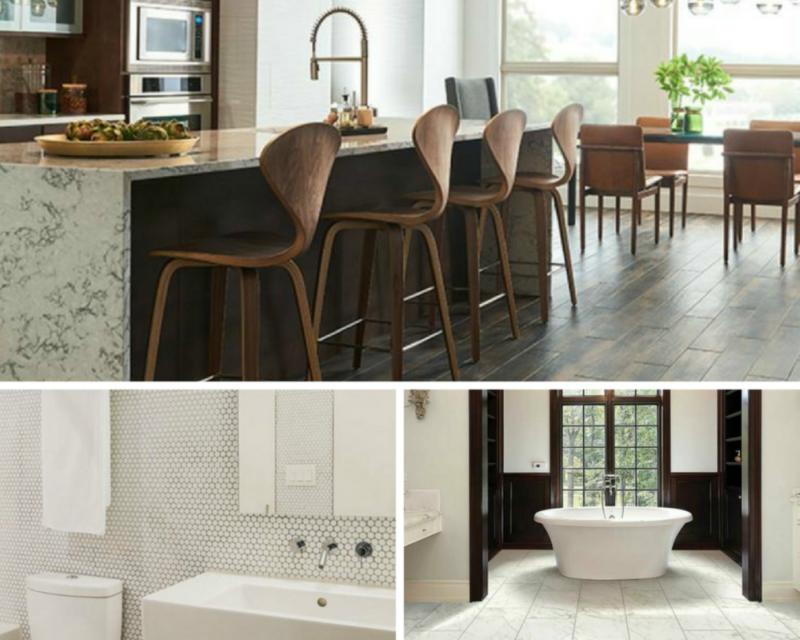 Choosing the right porcelain tile for your design is important, but the choices don't stop once you've selected your material. Your grout selection is another key player in the design game because it serves as more than just "filler." In fact, this simple mixture of water, cement, and sand is itself an essential part of the décor, and can completely change the look of your tile installation.
One reason homeowners sometimes go with a colored rather than plain white grout is because a brighter or darker hue helps to outline the tile, making intricately designed tiles stand out even more. In contrast, colored grout can also be a perfect pick when it is chosen to match the tile, disguising seams.
This is especially useful in wood-tile installs in order to mimic the look of wood flooring as closely as possible. Now that we've got you considering colored grout for your new floors, here are some of our favorite examples of pretty porcelain with colored grout!
Bark Country River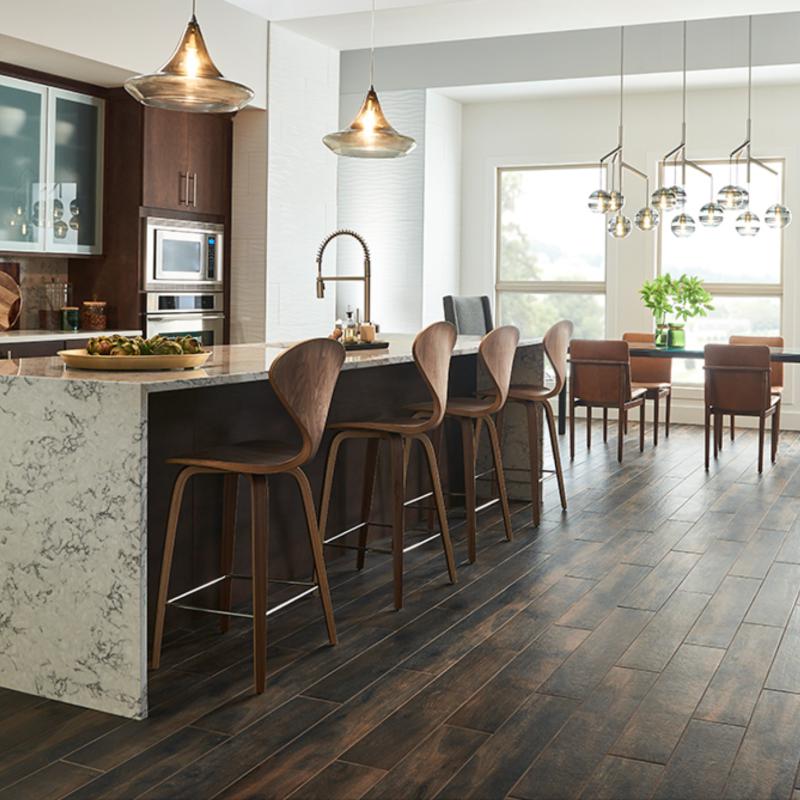 Featured: Bark Country River Wood Look Tile
Don't be fooled by this floor's authentic wood grain look! Today's wood-look tile mimics real hardwood so closely that you wouldn't guess it's porcelain. Part of that trickery is thanks to the colored grout.
This combined kitchen and dining great room features Bark Country River Wood Look Tile, 6x36 planks composed of porcelain. The rich brown tones, realistic knots and grains, and dark brown grout all contribute to its authentic appearance. These porcelain tiles pair perfectly with the dark kitchen cabinets and a light island countertop to bring everything together.
Carrara Pietra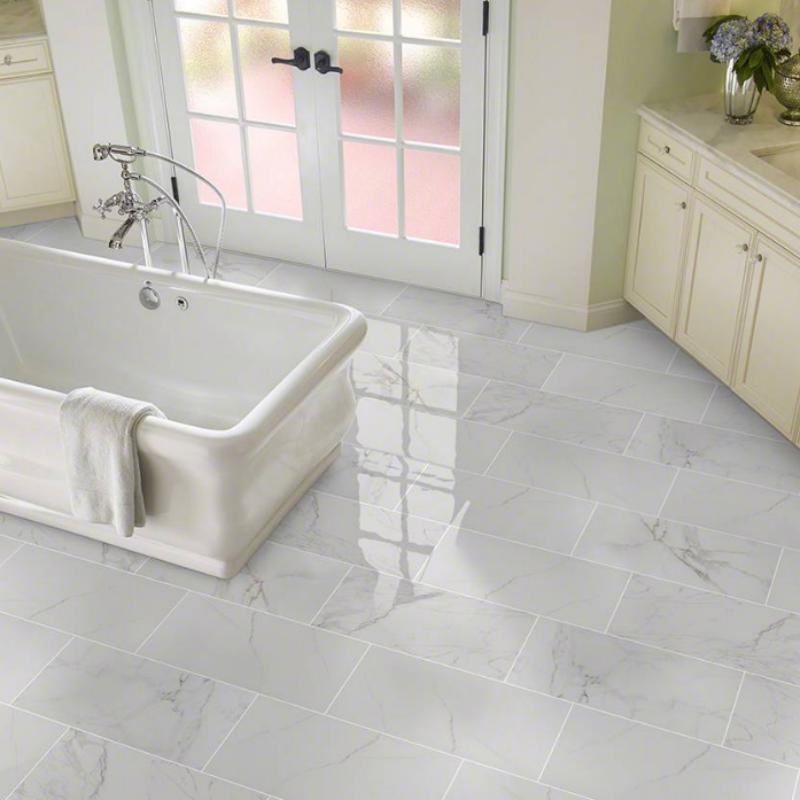 Featured: Carrara Pietra Porcelain
Does the flooring in this elegant bathroom make you do a double take? No, these fabulous freestanding tubs aren't surrounded by luxurious marble. Instead, these breathtaking bathrooms feature porcelain flooring, a great way to get the grand look of natural marble, but without the big price tag or troublesome maintenance.
Featured: Carrara Pietra Porcelain
Depending on the color of grout used, the look of Carrara Pietra Porcelain tile can vary once installed. Gray grout will emphasize the dramatic gray veins that mimic real Carrara marble, while the white grout will the porcelain floors light, bright, and elegant.
Brina Kenzzi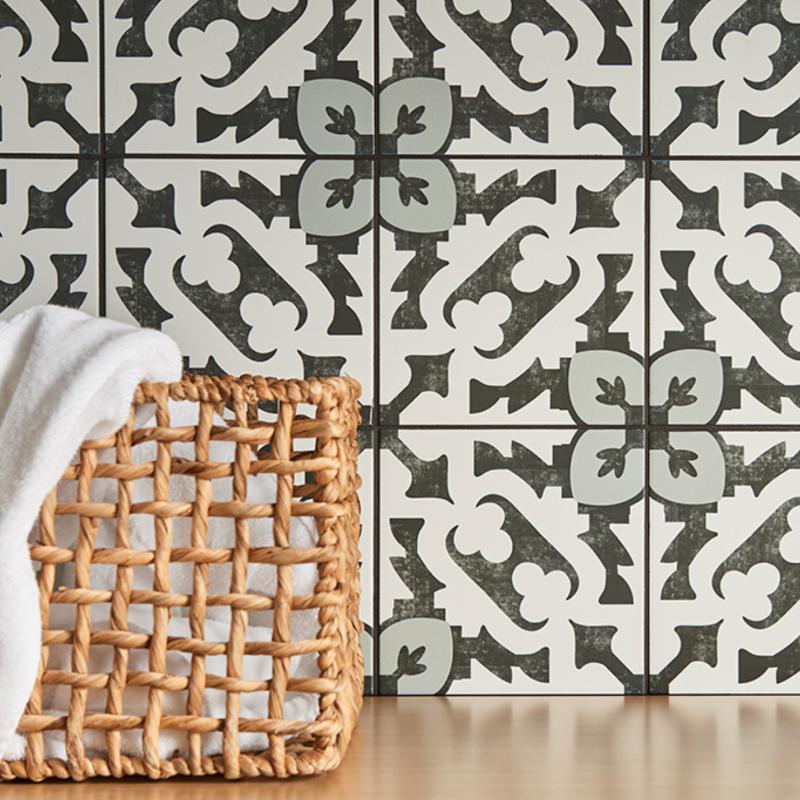 Featured: Brina Kenzzi Porcelain
No, you didn't travel back in time when you glanced at these intricate encaustic tiles... they're making a big splash in today's design world! The original ceramic tiles were composed of multiple layers of colored clay, and have long been all the rage when it comes to adding a pattern punch to any room.
But you can achieve the same effect with porcelain. Brina Kenzzi Porcelain is an 8x8 porcelain tile from Turkey with an on-trend graphic white, black, and gray pattern. This installation with black grout makes certain patterns stand out, while others fade into the grout lines.
White Glossy Penny Round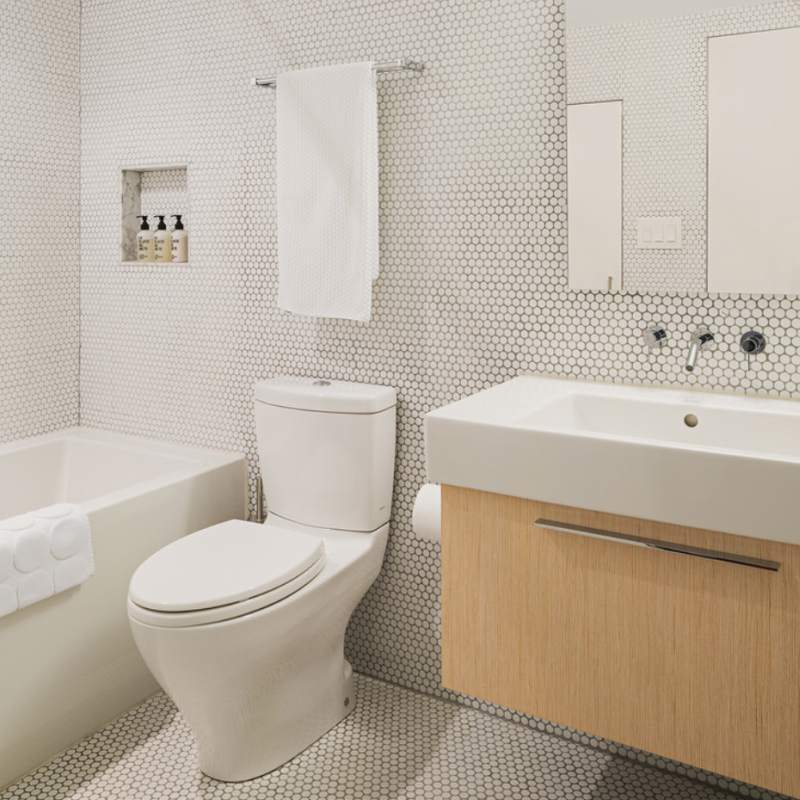 Recreate this look with MSI's White Glossy Penny Round Mosaic (Photo Credit: Houzz)
My, oh my... mosaics! These tiny tiles are turning heads in more applications than just as a small backsplash behind a sink. This modern bathroom features the classic design of the White Glossy Penny Round Mosaic tile everywhere from the floors to the walls, but the porcelain circles pop with the contrasting gray grout. Another option is to keep it traditional by using a grout similar in tone and color to the white tile.
Almond Glossy Arabesque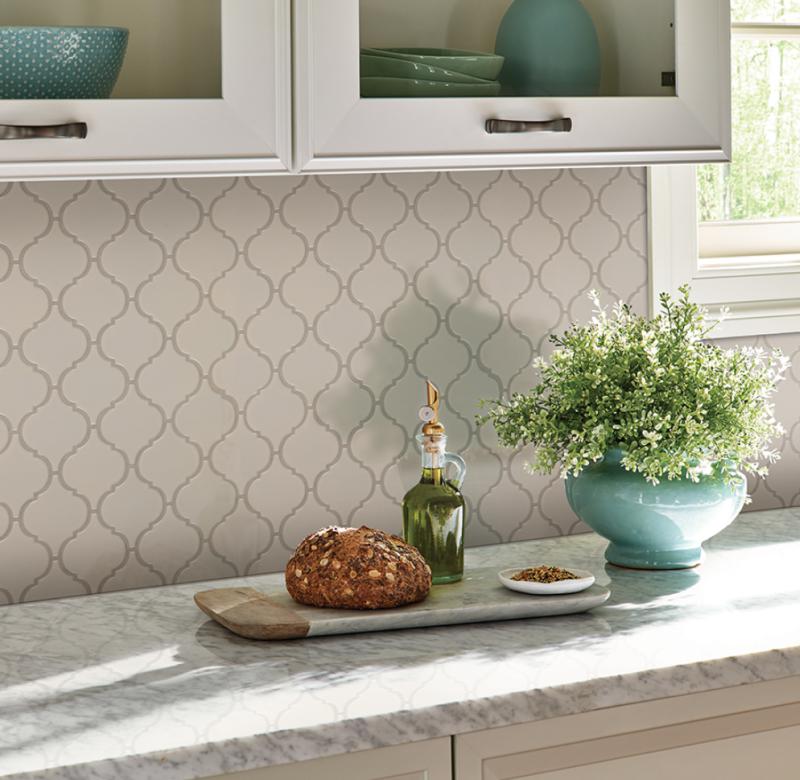 Featured: Almond Glossy Arabesque Mosaic
Say hello to sophistication with arabesque tile! This pattern is typically traditional and ornamental in design but you can also choose one with contemporary flair. This kitchen includes Almond Glossy Arabesque Mosaic, a warm, almond-hued porcelain mosaic backsplash with simplified curves.
The colored grout is similar in hue to the tile, making the glossy mosaic pop but without overwhelming the design. To give arabesque more punch, use a white or other contrasting grout color for your porcelain installation.
Changing up the color of your grout can make your tile look seamless or transform it into a bold statement. We think it's a good idea to explore a variety of grout options before choosing what looks perfect for your own project!
However, if you find you're still unsure whether colored grout is right for your tile, check out this helpful article on how to choose your grout.
READ MORE ABOUT THE BENEFITS OF PORCELAIN TILE
Create Signature Statements with Antoni Porcelain Tile
Create Stunning Visual Appeal with A Porcelain Slab Backsplash
2018 Porcelain Tile Patterns We Love