Sanded Vs. Non Sanded Grout Backsplash
November 16, 2016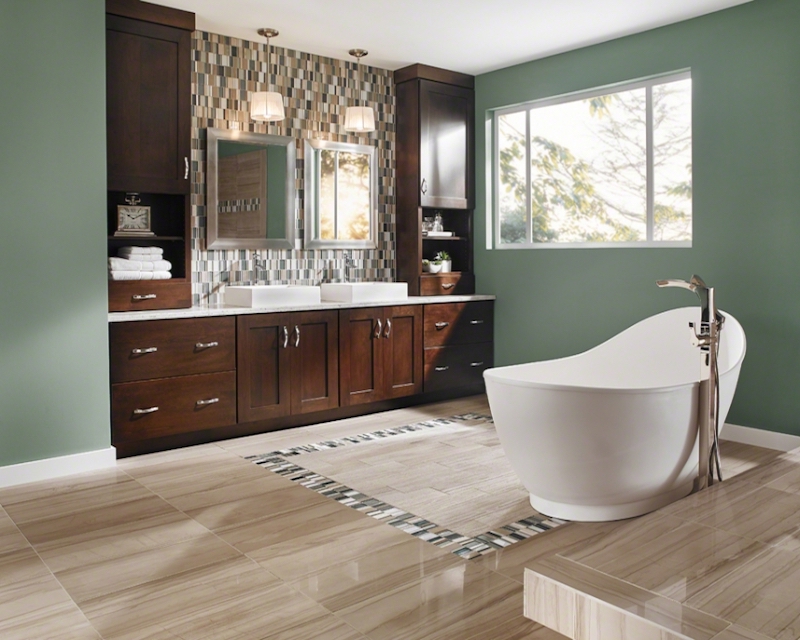 When it comes to selecting a beautiful backsplash tile for your brand new kitchen or bathroom renovation or build, there are thousands of materials, sizes, and shapes to choose from. There are also more than 100 different colors of grout available. And once you've got your style and colors in the bag, you will need to decide which type of grout will best complete your look—sanded or non-sanded.
Choosing the right kind of grout is key to the overall look and staying power of your backsplash. Typically, the main factors to consider include the joint size between the tiles and the type of tile being used.
Sanded grout includes—you guessed it—sand. Sand gives grout added strength, enabling it to resist the cracks that can develop over time as a result of shrinkage. The best application for this type of grout is for spaces of 1/8-inch wide or larger between tiles since it can be difficult to slot the gritty quartz or silica sand mixture into tight joint spaces.
While the coarseness of sanded grout may make it a bit more challenging to clean, the sand itself shouldn't scratch most types of ceramic or glass tiles. However, if you have tile with a high-gloss finish, you should spot-test a small amount of the dry grout on a loose tile prior to grouting and installing it. It may also be possible for a softer marble tile to be scratched by a sanded grout. And although unpolished stone in a tumbled or natural finish won't be susceptible to scratches, it might be vulnerable to staining. To avoid this issue, use several coats of tile and grout sealer on the stone, wipe away the excess, and let it dry before you grout.
Generally speaking, non-sanded grout is best used on joint areas that are smaller than 1/8-inch wide. Its smooth texture makes it easier to install with these narrow joints. Because it is certain not to scratch tile surfaces, non-sanded grout is commonly used for ceramic tile, polished stone, metal tile, and glass tile installations.
Tuscany Platinum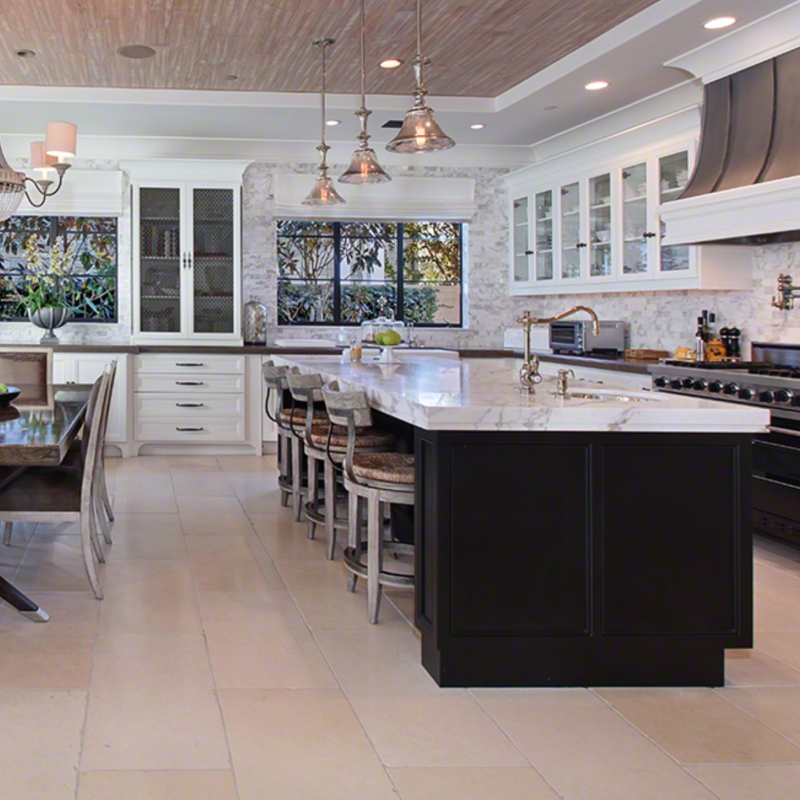 Featured: Tuscany Platinum Travertine
This traditional kitchen features a number of natural stone elements, from the wall tile to the countertops to the flooring. The Tuscany Platinum Travertine floor tiles add warmth to the room with their beige and cream colors, and the sanded gray grout ties in with the white and gray marble kitchen backsplash tile.
Arctic Ice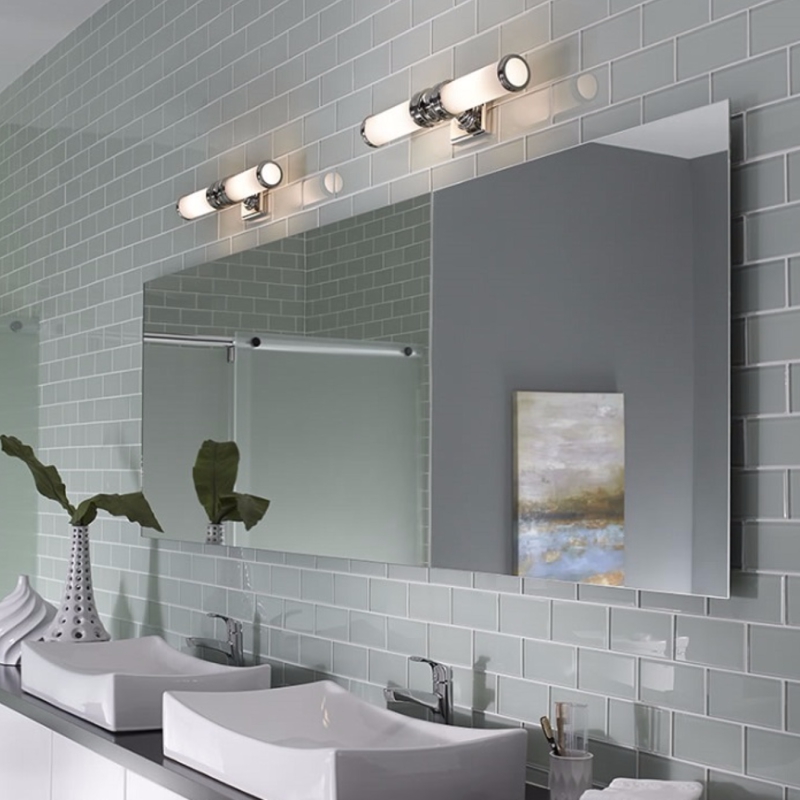 Featured: Arctic Ice 3x6x8mm Tile
When you want to add a cool factor to a contemporary bathroom, use a refreshing tile like Arctic Ice 3x6x8mm. This crystallized glass tile is perfect for a wet space because it's easy to clean. The non-sanded white grout makes the backsplash pop and ties in with the rest of the white in the room.
Arabescato Carrara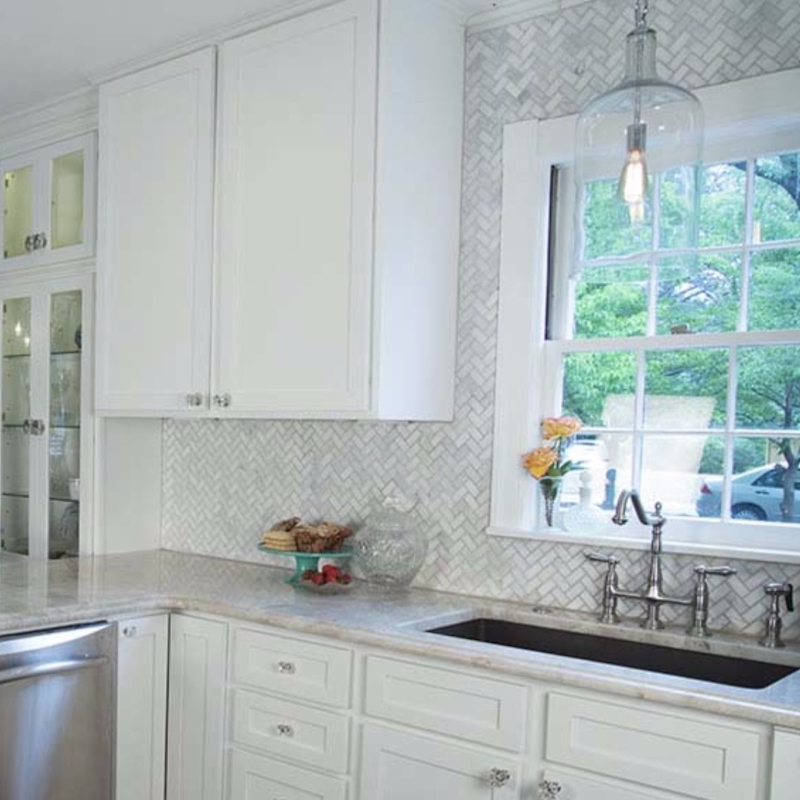 Featured: Arabescato Carrara Herringbone Pattern Marble
If you love a classic kitchen, then opt for a herringbone backsplash, with a contrasting grout color for an updated touch. The Arabescato Carrara Herringbone Pattern Marble mosaic tiles beautify any space with their soft white background and recognizable gray veins and swirls. If you're opting for a sanded grout instead of a non-sanded grout, make sure to seal this honed stone since the porous material is vulnerable to staining.
Tundra Gray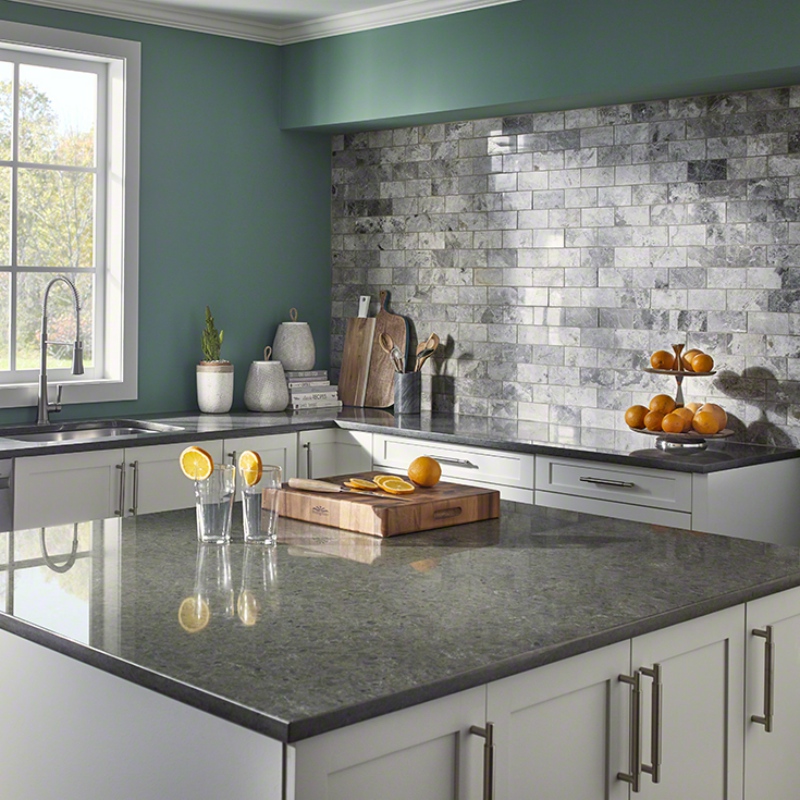 Featured: Tundra Gray 3x6 Polished Tile
This farmhouse-chic kitchen features a stunning Tundra Gray 3x6 Polished subway tile backsplash that makes a big impact on the overall design. The mixture of medium and darker grays in this polished marble isn't your traditional coloring, but it blends in well with the countertops. It also makes the room feel brighter by bouncing light coming from the picturesque window.
Paradise Bay Blend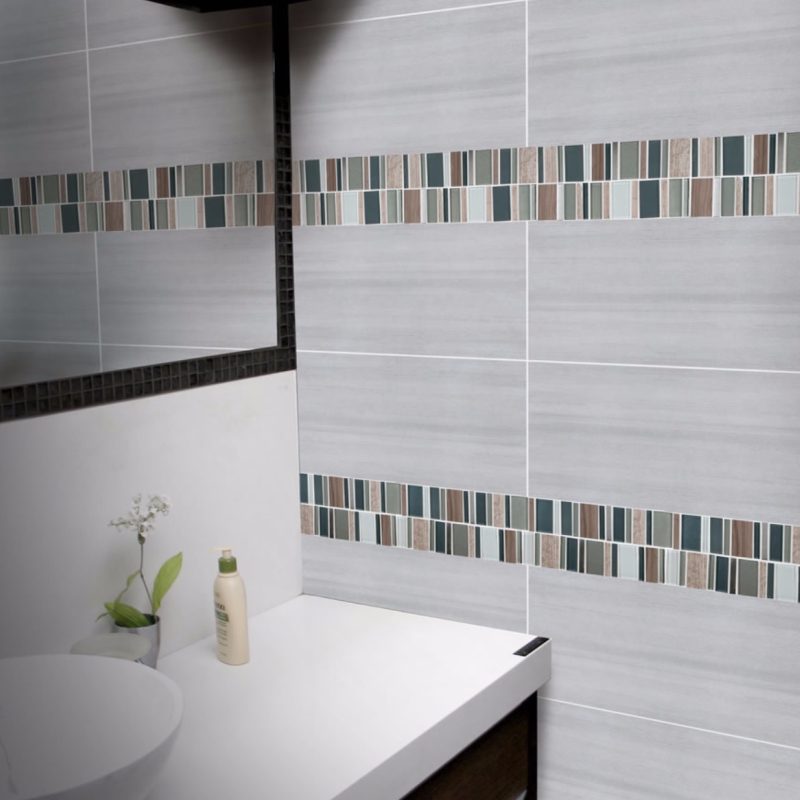 Featured: Paradise Bay Glass Stone Blend
Adding several colors to a space can be tricky, but this graphic contemporary bathroom does it just right with the combination of two mosaic tile bands. Paradise Bay Glass Stone Blend mixes warm tones of taupes and creams with cooler blues and grays. The white non-sanded grout matches with the grout used for the rest of the wall tile.
Whether you have already selected your backsplash material or are still unsure of what color or type of grout to choose, check out MSI's virtual kitchen designer. Here, you can test out thousands of design combinations, including backsplash, countertop, and flooring options.
READ MORE ABOUT DIFFERENT TYPES GROUT
Tricks To Cleaning the Grout On Your Kitchen Backsplash
The Difference Between Sanded Vs. Un-sanded Grout For Backsplash Tile