Is Granite Tile A Good Idea For High-Traffic Areas?
April 18, 2018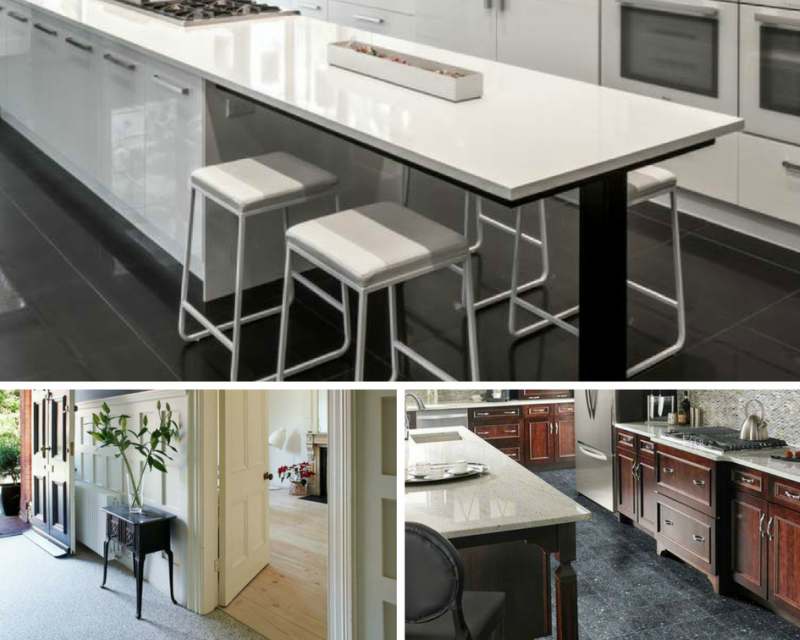 Granite has long been a popular flooring choice because of its beauty and resiliency. However, it's a common error to assume that this luxury surface is a high maintenance material that is easily damaged. The truth? Granite is one of the hardest minerals on earth! In other words, homeowners can rest assured that granite tile will be able to withstand the demands of busy, high-traffic areas.
Granite may require a bit more care than some other flooring—such as the yearly sealing to make it nonporous—but its benefits greatly outweigh any additional maintenance. Even without sealants, this natural stone is naturally resistant to moisture, which makes it a perfect flooring option for busy kitchens and bathrooms. And because of its many available gorgeous patterns, granite adds stylish design to any room, hallway, or entryway.
Ready to see for yourself what granite could do for your home? Let's take a look at some of the exciting ways this popular and durable stone is being installed in designer interiors.
Caribbean Green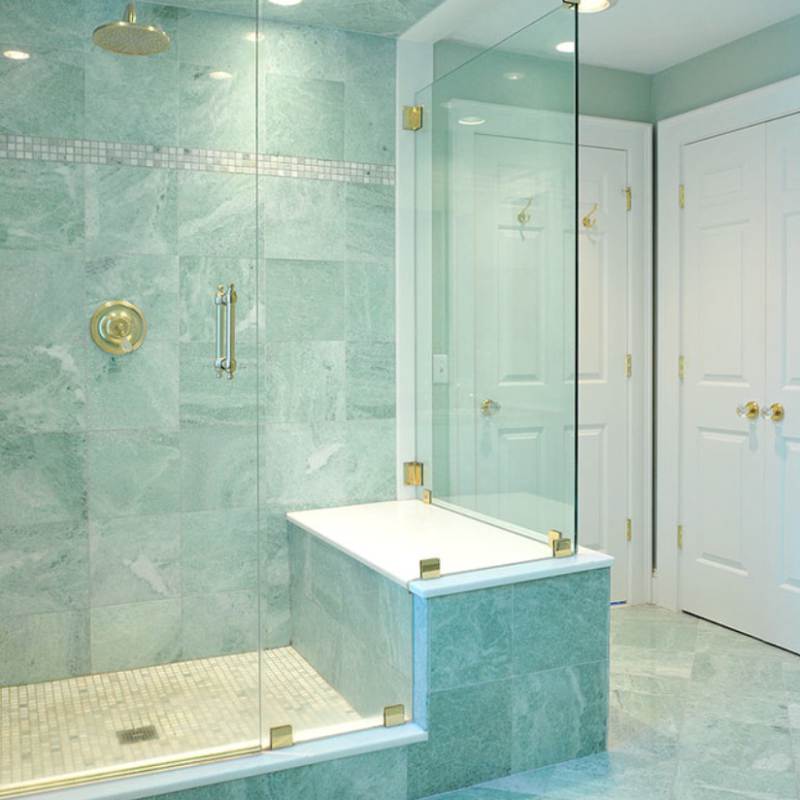 Recreate this look with MSI's Caribbean Green Granite (Photo Credit: Houzz)
Caribbean Green Granite is a pale green and beige granite with a polished finish. This application features a thickness of 3 cm. Here, the natural stone is definitely the star of this bathroom, featured everywhere from the floors to the shower surround. The glass shower enclosure ensures that the stone is front and center, and the complementary color palette fades into the background. Its soft, beautiful coloring evokes the calm serenity of a luxury spa or beach resort.
Blue Pearl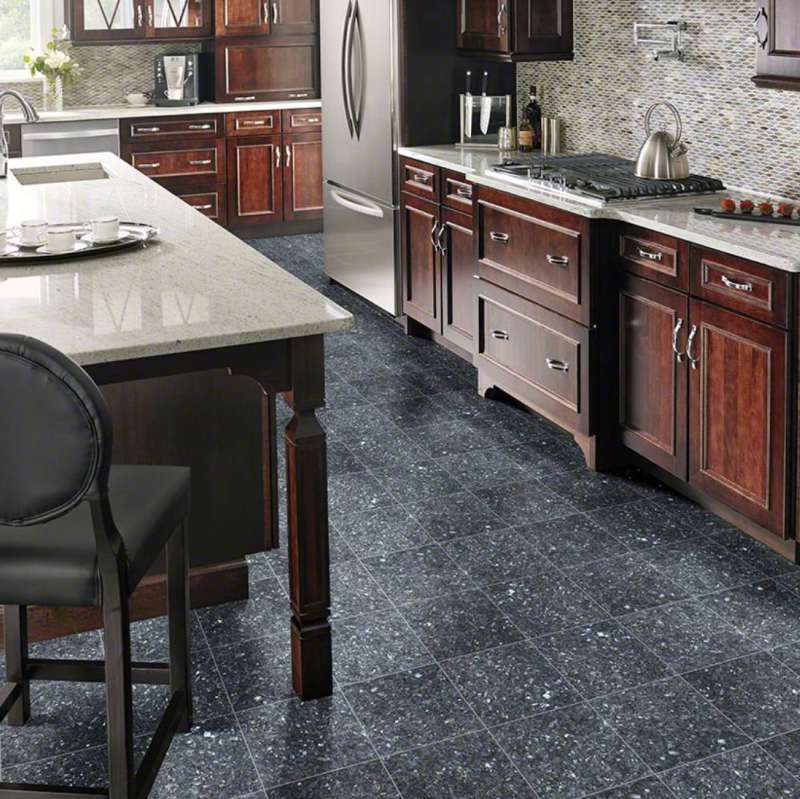 Featured: Blue Pearl Granite
Norwegian Blue Pearl Granite is a midnight blue, gray, and beige granite dusted with natural sparkle. The northern night sky with its twinkling stars comes to mind with this beautiful dark stone.
This granite tile comes in a polished finish and is available in 12- or 18-inch squares with a 2- or 3-cm thickness. The deep color grounds this large transitional kitchen and works well with other natural materials, such as the rich wood cabinets and granite countertops in a lighter greige hue.
Bianco Catalina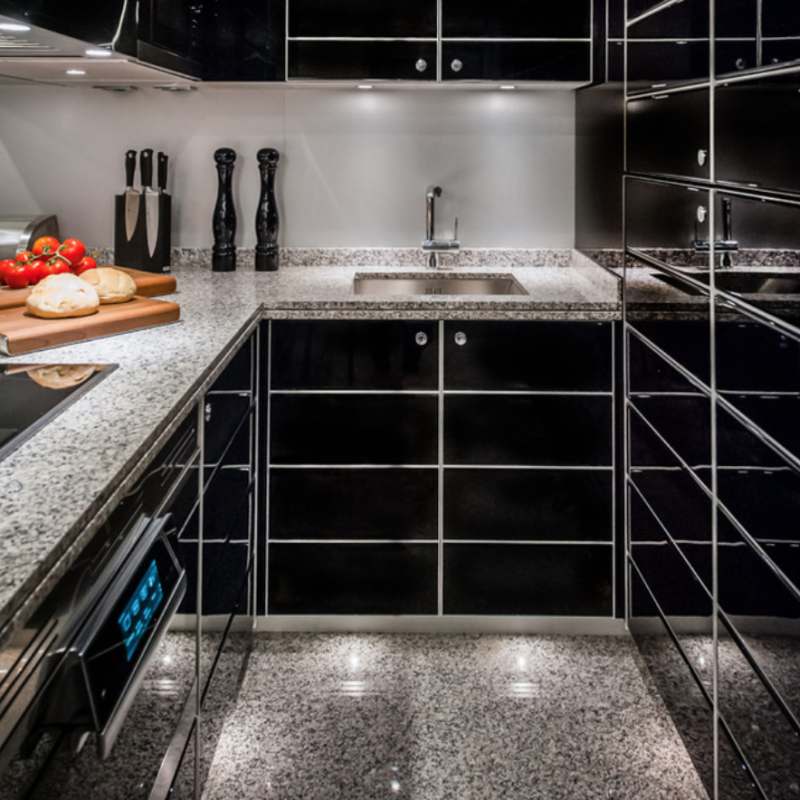 Get this look with MSI's Bianco Catalina Granite (Photo Credit: Houzz)
Bianco Catalina Granite is a white, black, and gray granite with subtle speckles. These polished finish tiles are available in 12x12 tiles with a 2- or 3-cm thickness.
Although this granite also pairs beautifully with other granite materials, the more modern look of this compact kitchen was achieved by using the same granite for flooring as for the granite counters. The polished finish of the granite, paired with high-gloss black cabinetry, bounces light to make the small cooking space look bigger and brighter.
Impala Black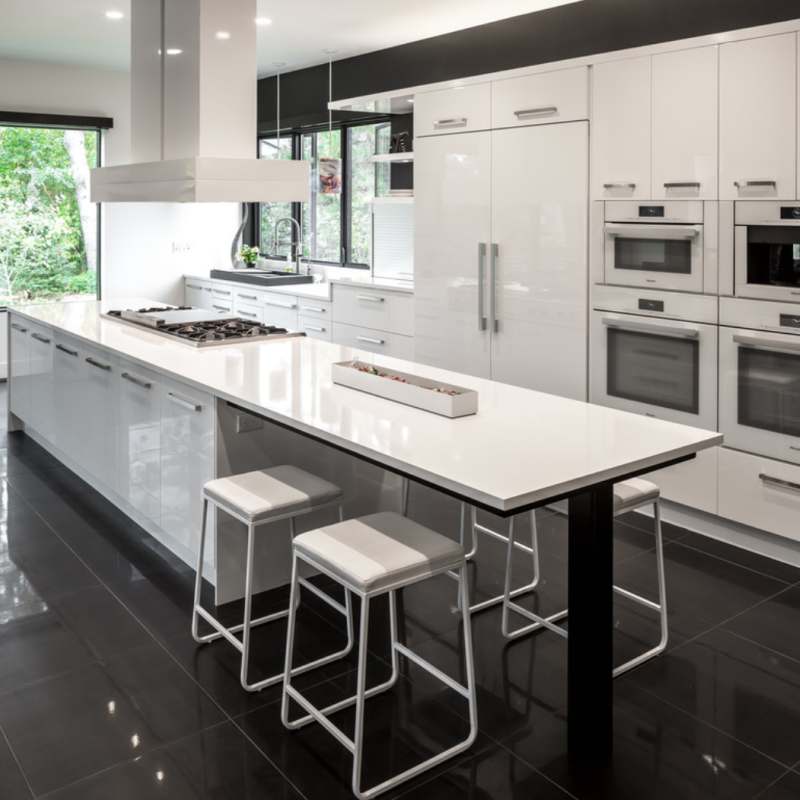 Create this look with MSI's Impala Black Granite (Photo Credit: Houzz)
Impala Black Granite is a deep gray and black granite, also with a polished finish. This low-variation natural stone hails from South Africa and is available in 12x12 tiles with a 2- or 3-cm thickness. This lustrous flooring adds glamour to this ultra-modern kitchen, grounding the glossy white cabinetry and countertops. Modern stainless steel accents provide the finishing touch for a high-style contemporary white-on-black design.
Blanco Taupe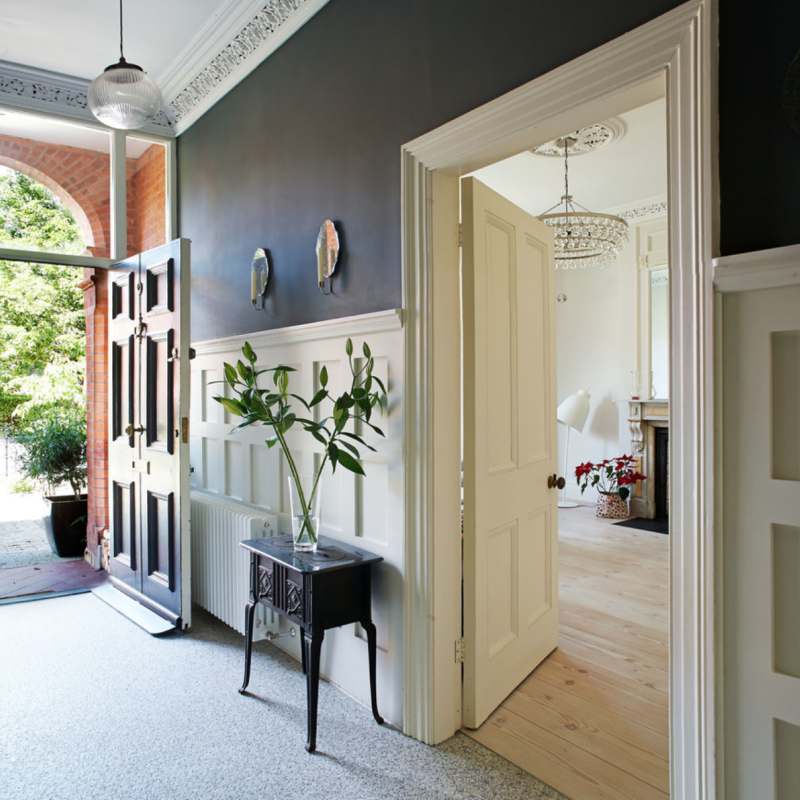 Recreate this look with MSI's Blanco Taupe Granite (Photo Credit: Houzz)
In this traditional foyer, the design is the details. For example, the Blanco Taupe Granite floor featured here is a stunning white and gray polished stone with low variation. Its pebble-like pattern is unique and timeless. The 2- or 3-inch durable stone tiles look seamless and provide an elegant natural touch to the entryway. The coloring complements the classic design details, such as the white paneling, dark wall color, and ornate crown molding.
If you still aren't sure if stone floors are right for your home, check out this article about how long stone flooring lasts. You might be surprised! And believe it or not, MSI offers this premium surface in more than 50 granite colors.
So, when you're ready to beautify your home with this natural stone, take a look at all of our many granite tile selections, sizes, and finishes.
Read More about Granite Countertops
Why You Should Consider a Granite Tile Flooring Upgrade
Never Fear: Granite Stain Removal Made Easy
You Can Seal Your Granite Countertops Like a Pro!
How to Get Your Best Value With a Granite Countertop Investment
READ MORE ABOUT GRANITE COUNTERTOPS
How Much Do Granite Countertops Cost?
How to Keep Your Granite Countertops Looking New For Years
How to Remove Stains From Granite Countertops