Surprising Places You Can Use Stacked Stone On Your Exteriors
December 23, 2022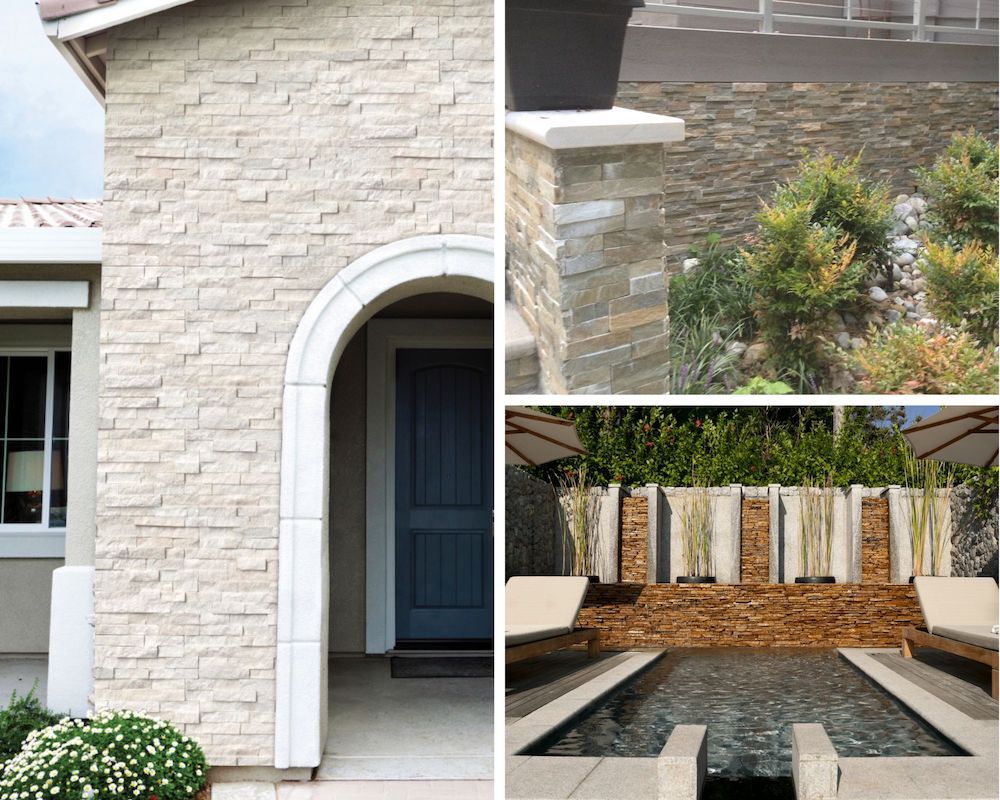 You've seen natural stone used to build gorgeous homes, and you might even be considering whether it's right for your next project. However, as impressive as this material is, the reality might deter you from working with stone. So instead, consider the less pricey and easier-to-use alternative: stacked stone.
Building with stacked stone gives you more options than its heavier counterpart. Also called "faux stone panels," this material has multiple uses as an exterior building option for homeowners and interior designers.
So, what is stacked stone, anyway? We'll explain everything you need to know about this material and how you can use it to design things like ledger panels, garden rocks, and all your other dream renovations here.
Understanding Stacked Stone Panels
As innovative technology makes other industries easier, it also works magic on building materials. For example, now, we have the ability to use faux stacked stone panels to reduce the expense and hassle of natural stone.
Stacked stone panels come already put together in blocks. These artificial stones look like natural or genuine stones without the bulky pieces of natural stone that make them so hard to use and expensive.
Because the panels are already stacked for you, installation is streamlined. In addition, the hassle of mixing cement to create your stone wall tile disappears.
You may need screws or a construction adhesive to keep the load-bearing optimal with your exterior and landscape stones. The manufacturer's instructions will offer the best suggestions, but it's wise to use both screws and adhesives for long-lasting effects.
Why Stacked Stone is the Go-To Exterior Material Today
There's no denying the beauty that stone brings to a home's exterior. Yet, the cost and cumbersome labor of using it prevents many people from enjoying this aesthetic.
Exterior stacked stone panels provide benefits that make it the preferred choice for today's home designers, like:
A boost in the home's resale value
The authentic look of natural or real stone without too much weight applied to the surfaces
A blend of classic and rustic styles with flair
Extra insulation as the stone panels naturally diminishes interior heat loss, reducing energy costs
Durable, resistant to harsh climates
Non-porous, making them easy to clean and maintain
With so many advantages over the real and natural stone counterparts, it's not surprising that the impressive stone homes you're checking out are actually stacked stone. And now, you can choose from an expansive variety of options, making it simple to match your style, color, and texture to your preferences. Take a look at his video of the many places you can use stacked stone - inside and out!
Ready to explore more about how stacked stone can enhance your home's exterior? Here are five surprising places to use this innovative material in your next project.
1. Exterior Walls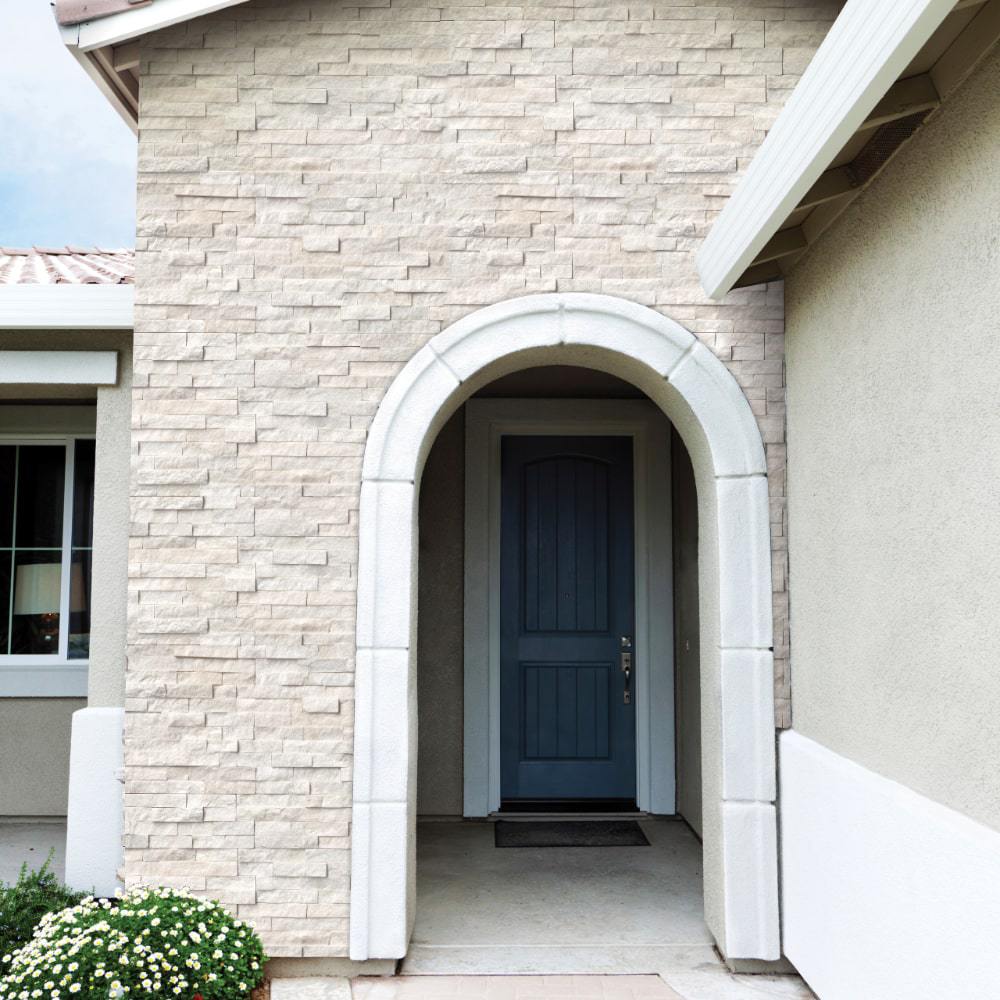 Your exterior walls are one of the most expensive renovations in a home. Covering the outside walls with stacked stones significantly reduces the cost and effort of this job, helping you stay within budget.
A stacked stone veneer doesn't have to mean covering the whole surface of the house. For example, some homes have a band around the bottom, stopping at a central point partway up the wall.
With MSI's ledger stone collection, you can customize your surfaces. Get the look of stone with a unique touch that makes your home stand out from the rest of the houses around you.
2. Pillars or Columns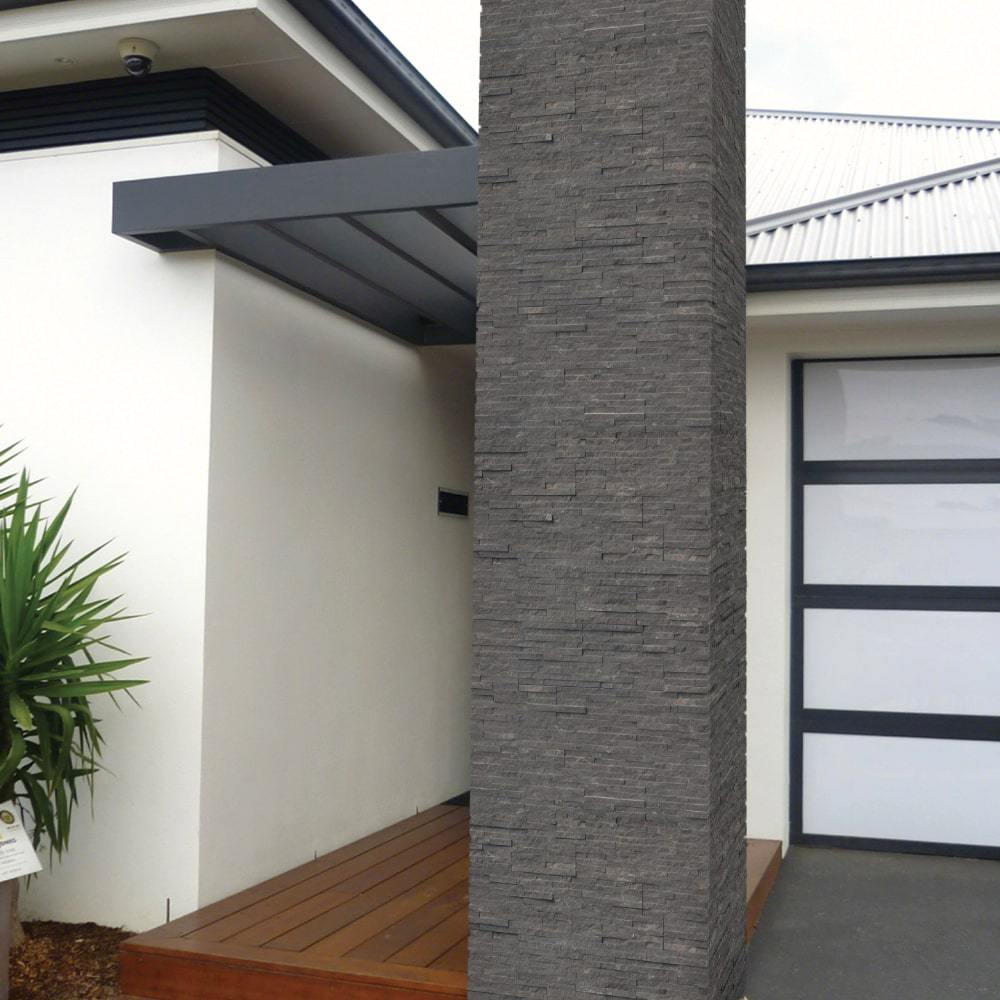 Another way to distinguish your home from the rest is to use stacked stone as a pillar or column. These panels create something similar to an interior accent wall, drawing the eye immediately to the column.
Using a pillar/column focal point for your corner pieces means you don't have to cover as much surface area. You can add this feature to the stacked stone panels along the walls or use it as a standalone way to bring in the same look without the expense.
3. Outdoor Fireplaces and Fire Pits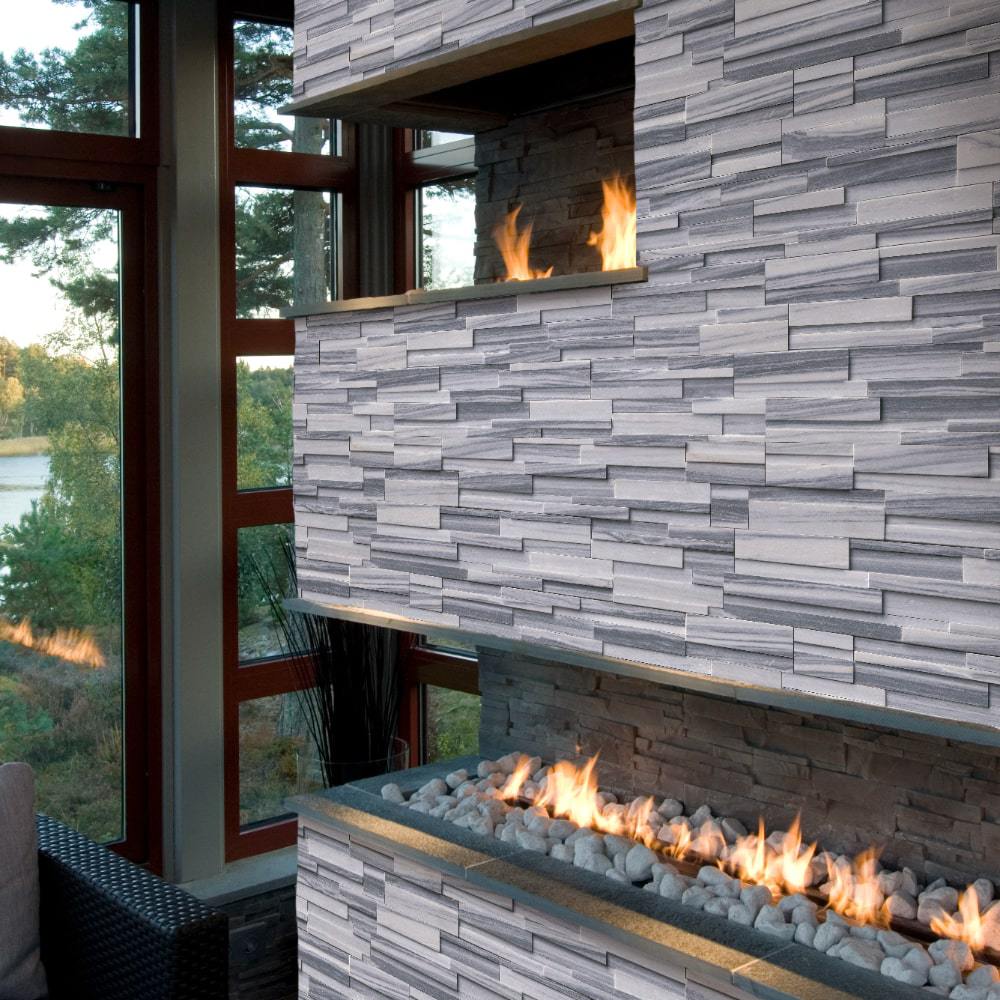 What better way to build a fireplace or fire pit than by using stone? Why, stacked stone, of course!
This material is heat-resistant, and since it's non-porous, it's easy to clean those charred remnants off the surfaces. They'll also hold up well against the elements.
When creating a relaxing, natural outdoor environment, use the stacked stone to build your fireplace. However, ensure your panels don't cover the vents and other safety features.
4. Garden Beds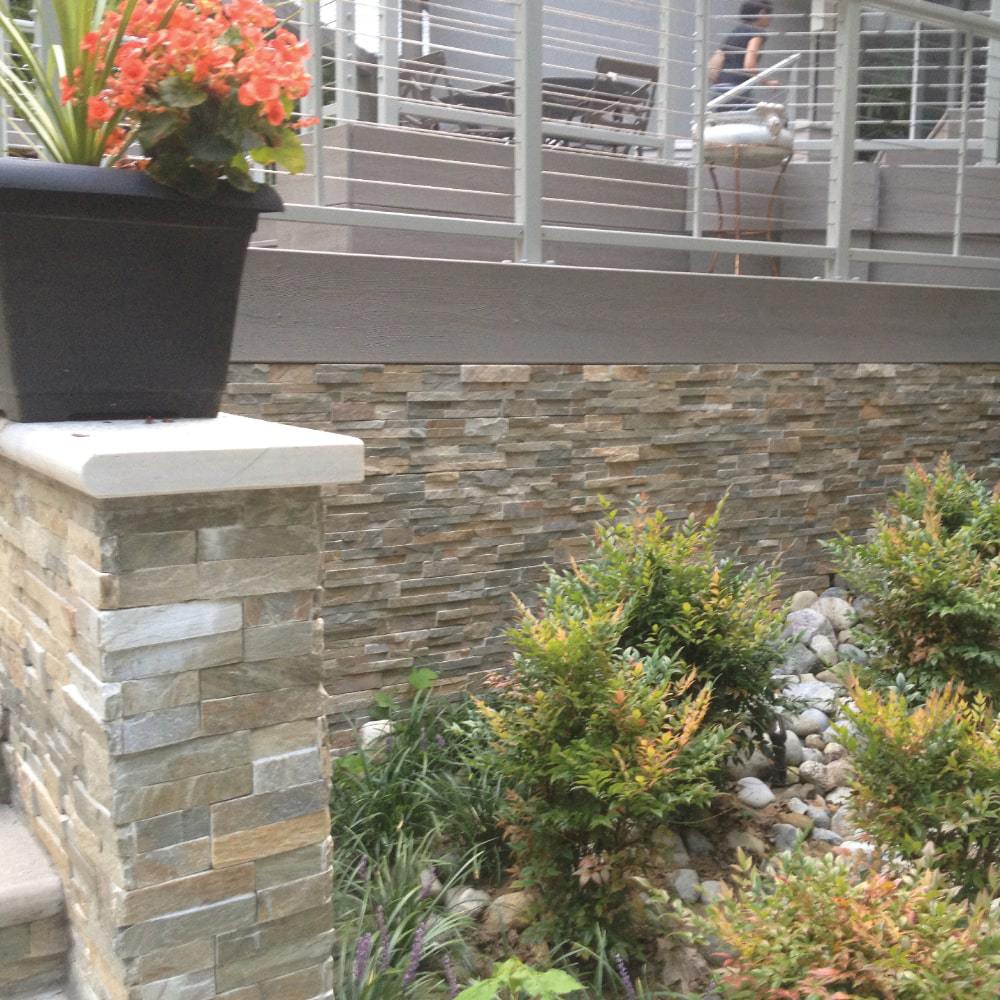 Stone and gardens go hand-in-hand. Make the most of your backyard by integrating stacked stone into your garden bed to copy the look of nature. The stones will also complement the soil and mulch and help prevent erosion.
5. Pools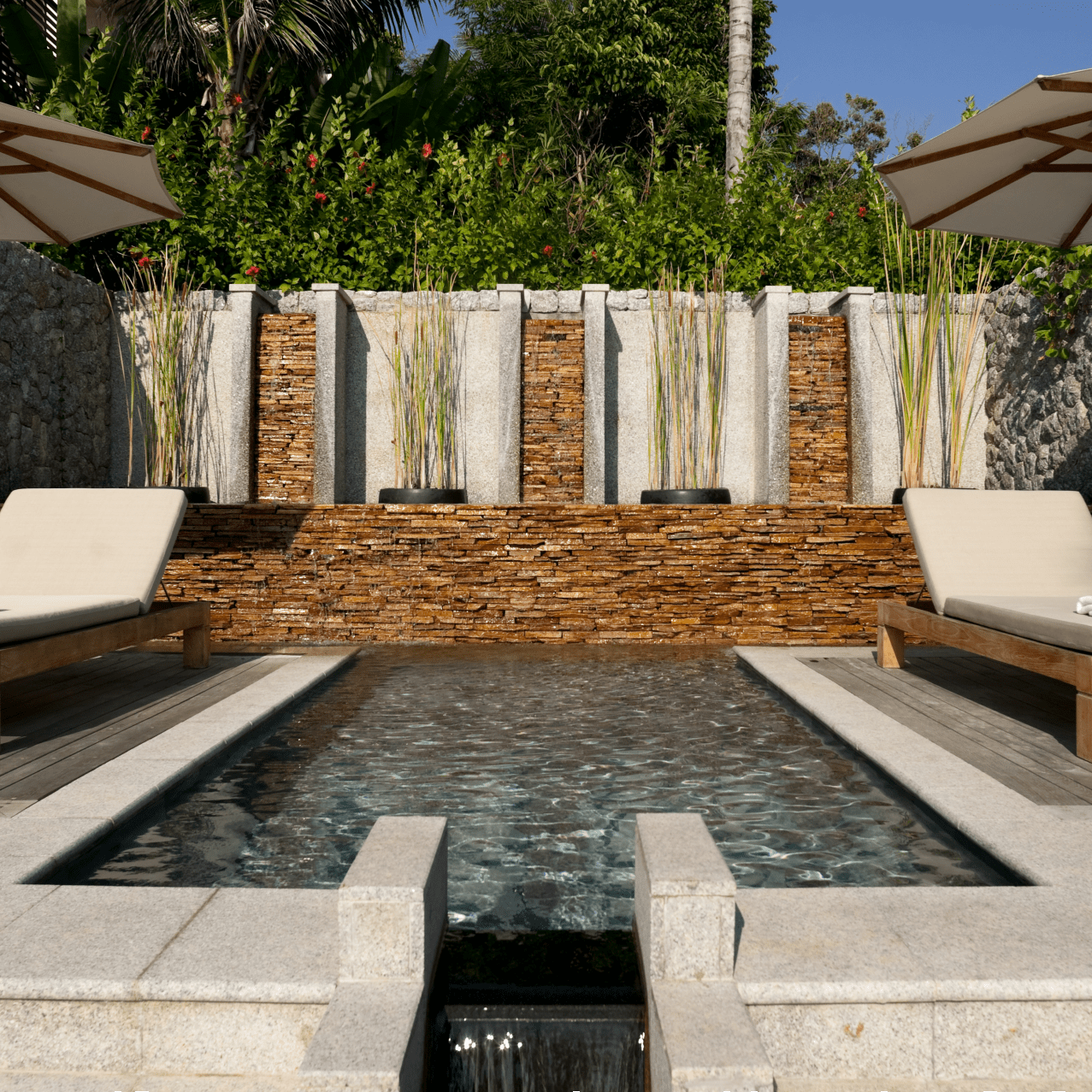 Pools are notoriously expensive, and many people end up cutting out the details they really want to stay within budget.
For instance, were you imagining a small waterfall connecting to the edge of your pool to add the gentle rush of running water to the atmosphere? Or maybe you wanted to separate the pool and add a hot tub, but the stone made this project less cost-effective?
Switching to stacked stone panels to enhance your pool can make the project affordable and exciting. Relax and enjoy the results of your hard work as the faux stone natural look surrounds you.
Let MSI Help You Design Your Stacked Stone Home Exterior
Faux stacked stone is a game-changer in the exterior home design industry. Now, homeowners and designers can bring the look of stone into their creations without the bulk and cost of the real thing.
Whether you're considering stacked stone for your garden bed, fireplace, exterior walls, or something else, talk to the experts at MSI first. Our industry professionals are ready to answer your questions and offer advice to help you maximize your stacked stone look.
Contact us online, use our chat feature at the bottom of your screen for real-time discussions, or head to one of our showrooms. We want to help you enjoy the benefits of stacked stone panels in your home.